Gusto Reviews
Get recent customer reviews of Gusto, with pricing, essential company info, and answers to common questions.
Updated on December 29th, 2019
The SMB Guide is reader-supported. When you buy through links on our site, we may earn an affiliate commission. Learn more
Gusto is a software company that creates web-based benefits, payroll, and human resource management software for small and medium-sized businesses that are based in the United States.
Special Offer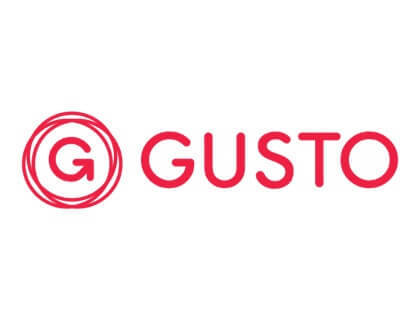 Get 1 month of Gusto FREE!
Start Free Trial
Get started in minutes.
Auto tax filing and digital paystubs.
Includes benefits, onboarding, and compliance features.
Pricing:
| Plan Name | Monthly Fee |
| --- | --- |
| Core | $39.00 (base price) + $6.00 per employee |
| Complete | $39.00 (base price) + $12.00 per employee |
| Concierge | $149.00 (base price) + $12.00 per employee |
Optional Add-Ons:
| Option | Setup Fee | Fee |
| --- | --- | --- |
| Health Benefits | $0.00 | $0.00 /mo. (pay only for premiums) |
| 401(k) Retirement Plans | $0.00 | $39.00 /mo. (base price) + $8.00 per participating employee |
| Workers' Compensation Insurance | $0.00 | $0.00 /mo. (pay only for premiums) |
| 529 College Savings Plans | $0.00 | $18.00 /mo. (includes 3 participants, extra participants are each $6.00 /mo.) |
| Health Savings Account (HSA) | $0.00 | $2.50 per participant /mo. |
| Flexible Spending Account (FSA) | $0.00 | $20.00 /mo. (includes 5 participants, extra participants are each $4.00 /mo.) |
| Commuter Benefits | $0.00 | $20.00 /mo. (includes 5 participants, extra participants are each $4.00 /mo.) |
| Service Charge | n/a | $200.00 /yr. total for the Health Savings Accounts, Flexible Spending Accounts, and Commuter Benefits |
Review:
Gusto is our top pick overall for payroll software. It's reliable – an essential quality for payroll software – easy to use, and saves businesses a lot of time.
It had the second-highest number of features among all the software we reviewed, beat only by Zenefits. Zenefits has data migration, activity dashboard, banking information management, and year-round record keeping.
Gusto has all of the standard payroll software features, including automated taxes, the ability to handle all tax forms, compliance management, and multi-state payroll. It also has net-to-gross calculations and easy payroll cancellations.
Gusto also has features like flexible payroll schedules, multiple payroll schedules, and unlimited payrolls, which top competitor Zenefits is missing. It's loaded with nice-to-have features, too, like the ability to pay contractors, bonus and off-cycle payrolls, 256-bit SSL encryption, and the ability to take digital signatures.
Finally, it's got several rare features, like taking into account the federal R&D tax credit, which can offset payroll for small businesses and startups doing R&D. It has the ability to allow employees to have charitable donations taken directly from their checks, something only one other payroll software offers. And it has lifetime accounts, which means that even after employees leave the company they can login to Gusto and get information like old paystubs – a feature that most services, including Quickbooks, do not have.
Gusto is also very affordable, and with such a broad range of features, we can recommend it to just about any company.
Key Information:
| | |
| --- | --- |
| Legal Name | Gusto |
| Founder | |
| Founding Date | Nov 01, 2011 |
| Address | 525 20th Street, San Francisco, CA 94107 |
| Number of Employees | 2500 |
| Number of Customers | 100000 |
| Email | |
| Telephone | |
| Website | |
FAQs:
What is the price range of Gusto?
Gusto's pricing ranges from $39.00 (base price) + $6.00 per employee per month to $149.00 (base price) + $12.00 per employee per month. This includes Gusto Payroll pricing. Gusto also offers various optional add-ons that are priced individually.
How do I get in contact with Gusto support?
You can reach Gusto support for payroll at the Gusto customer support phone number, (844) 302-5664. Gusto hours for customer service are from 6:00 am to 5:00 pm. You can also get help on the Gusto website by clicking "Chat with us" in the lower right corner. For questions about benefits email benefits@gusto.com.
Is there a Gusto app for my iPhone?
There isn't a Gusto payroll app for iOS or Android, for that matter, but they do have a mobile-friendly website that you can access your account from.
What is Gusto?
Gusto is a software company that offers a full suite of web-based services to meet small business HR needs. This includes payroll, benefits, onboarding, compliance and much more.
Does Gusto pay weekly?
Yes. With Gusto, you are able to pay your employees every week on a specific day of the week (52 payrolls per year). You can also set up a multiple pay schedule.
How does Gusto payroll work?
Gusto streamlines processes by combining payroll, health benefits, workers' compensation insurance and automated tax processing. The software is accessible from any web-based device.
Does Gusto pay on weekends?
No. Any payroll processing done on a weekend or bank holiday will only begin processing on the next business day.
Does Gusto track time?
Yes. With Gusto, you can automatically track, review and approve your team's working hours.
Does Gusto charge for contractors?
Yes, you can also pay contractors through Gusto. The software also automatically files and emails contractors their 1099s at the end of the year.
What are some Gusto alternatives?