Gusto Reviews
Get recent customer reviews of Gusto, with pricing, essential company info, and answers to common questions.
Updated on September 18th, 2019
The SMB Guide is reader-supported. When you buy through links on our site, we may earn an affiliate commission. Learn more
Gusto is a software company that creates web-based benefits, payroll, and human resource management software for small and medium-sized businesses that are based in the United States.
Special Offer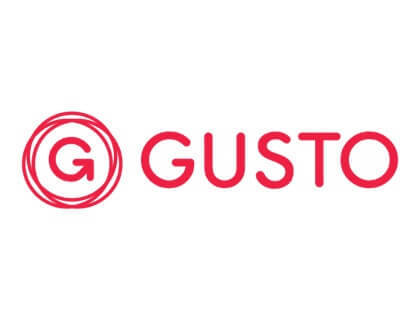 Get 1 month of Gusto FREE!
Start Free Trial
Get started in minutes.
Auto tax filing and digital paystubs.
Includes benefits, onboarding, and compliance features.
Pricing:
| Plan Name | Monthly Fee |
| --- | --- |
| Core | $39.00 + $6.00 per employee |
| Base | $39.00 + $12.00 per employee |
| Concierge | $149.00 + $12.00 per employee |
Optional Add-Ons:
| Option | Setup Fee | Monthly Fee |
| --- | --- | --- |
| Health benefits | $0.00 | $0.00 (pay only for premiums) |
| 401(k) retirement plans | $500.00 | $40.00 (includes 5 participants, extra participants are $8.00 per month) |
| Workers' comp insurance | $0.00 | $0.00 (pay only for premiums) |
| 529 college savings plans | $0.00 | $18.00 (includes 3 participants, extra participants are $6.00 per month) |
| Health Savings Account (HSA) | $0.00 | $2.50 per participant |
| Flexible Spending Account (FSA) | $0.00 | $20.00 (includes 5 participants, extra participants are $4.00 per month) |
| Commuter benefits | $0.00 | $20.00 (includes 5 participants, extra participants are $4.00 per month) |
Review:
Gusto has the most features out of any software we reviewed, and is our top pick overall. It has all of the standard payroll software features, including automated taxes, the ability to handle all tax forms, compliance management, and multi-state payroll.
Gusto has all common features like flexible payroll schedules, multiple payroll schedules, and unlimited payrolls, which top competitor Zenefits is missing. It's loaded with nice to have features too, like the ability to pay contractors, bonus and off-cycle payrolls, 256-bit SSL encryption, and the ability to take digital signatures.
Finally, it's got several rare features, like taking into account the federal R&D tax credit, which can offset payroll for small businesses and startups doing R&D. It has the ability to allow employees to have charitable donations taken directly from their checks, something only one other payroll software offers. And it had lifetime accounts, which means that even after employees leave the company they can login to Gusto and get information like old paystubs, a feature most services, including Quickbooks, do not have.
Gusto is also very affordable, and with such a broad range of features, we can recommend it to just about any company.
News & Activity:
Key Information:
| | |
| --- | --- |
| Co-founders | |
| Founded | 2011 |
| Headquarters | San Francisco, CA, USA |
| Number of Employees | 600 |
| Number of Customers | 60,000 |
| CEO | |
| Address | 525 20th Street San Francisco, CA 94107 |
| Phone Number | +1 844-295-6665 |
| Website | |
Customer Reviews:
| Source | Reviews |
| --- | --- |
| | Brex migrated payroll vendors two times in its first few years, which is not something we recommend. Brex started on Rippling (it was a fellow YC Winter'17 company) and then switched to Gusto because initially Rippling did not provide benefits. Our first hire wanted benefits and we wanted to be able to manage it in one system. At the time, our team was only four people and therefore not able to use Gusto's benefits offering. We then had to hire a separate benefits insurance broker and managed benefits administration of our health, dental and vision plans outside of Gusto. As we started to scale, we ultimately went back to Rippling for its added benefit of being easy to manage IT provisioning (every new employee gets automatically added to subscriptions like Dropbox, Slack, G-Suite and Office 365). Fortunately, Rippling allows you to use their new benefits offering or keep your original broker, but still manage benefits administration and onboarding in one software. The single largest driver for Brex to switch to Rippling was the integration with our hiring software, Lever. We wanted to seamlessly hire someone and then have our payroll system automatically update with that person's start date and compensation details. This eliminates the issue of human error, which is common in manual payroll processes. Brex did not use a PEO because it hired a CFO and General Counsel early on, who both had experience managing payroll and HR. |
| | Fast forward to ongoing frustration with Paychex and the difficulty of their archaic processes. I decided to hit up one of the simple online startups for HR that was more with the times and cancelled my contract with Paychex and switched to Gusto. This has been an amazing difference. I am receiving better support, it is 100x easier to use, and it costs considerably less. |
| | We use Gusto for our payroll. It's user-friendly and reliable. It also has handy features for employees to manage their own tax withholding or make charitable donations directly from their paychecks. |
| | For managing payroll for a small business, I highly recommend looking at Gusto. We use them and it's great. Direct deposit into employees accounts. They create and file all of the tax reports to government. |
| | Just switched from Gusto to JustWorks. JustWorks is much more expensive but they offer a lot more benefits even for super small two-person businesses like ours.Even though we are paying more per month in subscription for payroll now we are saving more than what we are paying extra by going with them and saving on health, dental and life insurance. And now the business pays for that stuff for us as an expense instead of us paying it out of pocket.If you have benefits/want benefits and you're a small business check them out. They'll give you quotes, etc before you have to sign up so you can determine if it'll be more affordable in the long run.Edit: Gusto was really great for what we needed it for. But them not allowing benefits for an owners-only small business kinda sucked. But in terms of ease-of-use and stuff it was great. |
| | I've used Gusto and Intuit. Gusto is very simple and does a good job at doing what they do, especially if you only have a couple employees. |
| | As a former bookkeeper for some years I feel like Gusto really is the best, too. |
| | Gusto really is the best at what they do. I've had no problems using it. |
| | We use Gusto for our contractors, it works well. |
| | We love Gusto at BBB! In fact, we use Gusto for our own payroll! |
| | We used Gusto for payroll for a long time, seemed pretty simple. Not sure if they do international stuff though. |
| | Our small company, of 7 full timers and a handful of part timers, switched to Gusto for payroll about a year ago. I know our founder who had previously managed all this himself has saved himself a ton of time and stress. He's generally a frugal person, so if he was won over it's probably worth a look. Since then I've know a few other agencies who have switched to Gusto as well. From an employees perspective I have to say it's been great. I get emails when I get paid, I can easily grab my paystubs, and access to my W-2 without and issue. |
| | I'm solo and I still find gusto to be worth the money. On the rare occasions I've needed to contact them, they have been great. |
| | We use Gusto for payroll and love them, they don't have benefits in NC yet :-( |
| | We use Gusto for payroll, but we can't use that for anyone outside the states, it's all inside. So, anyone outside of the states is basically considered a contractor. |
| | I use Gusto and like it for its simplicity. It makes a complicated part of running a company much smoother. |
| | We use Gusto across multiple jurisdictions where tax laws change every year and our bookkeeper our employees put them through funny circumstances. I've been impressed by how many problems they've made invisible (just notify us) or we sent over and they handled. Cannot say the same about other folks we use here (ex: Zenefits caused multiple lapses in coverage). |
| | We use Gusto for processing payroll. We love being able to access all our data anywhere with a wifi connection. |
| | We use Gusto (formerly Zenpayroll) and recommend it to our clients as its the easiest system out there and cheaper than most accountants. |
| | I'll second the recommendation of Gusto. We have employees in 3 states, plus contractors in many others.We've had only great experiences with Gusto - easy to use, easy to set up, reliable, and awesome support staff. |
| | Gusto has been the best and most affordable payroll software I've used. Love it. |
| | I recently switched from Gusto to OnPay. It's a bit cheaper and a lot faster (deposits in 2 business days instead of 4, contractors & employees. OnPay would probably do your onboarding and setup as well. |
| | I'm a gusto guy. I don't have any multi-state issues so I can't say how they've handled that, but I've had nothing but positive experiences. Great customer support and responsive live chat and super easy on boarding. |
| | We switched to Gusto (formerly Zen Payroll) and have never looked back. |
| | I second that. Gusto is awesome. It's so easy compared to Xero, and it's basically fool-proof. With Gusto, it's almost impossible to make a serious payroll or tax error. With Xero, I was always worried I would screw something up if I clicked the wrong button or forgot to review the tax submittals within the appropriate timeframe. And the few times I did screw something up, it seemed like there was very little I could do to make corrections afterwards. Another things about Gusto: customer service is excellent. It's totally worth the additional expense for payroll. No, I don't work for them :) |
| | I have used Gusto in the past, and it's very easy to use and integrates seamlessly. I'm currently using SurePayroll, and it's great as well. |
| | We use ADP and love it. They're very convenient and great customer service. Although initially very expensive, we switched to Gusto(also amazing) then back to ADP because they matched our rates(quick hack to get your rates down severely from ADP). |
| | We switched to Gusto payroll service provider. They handle all the setup, remit all the taxes, file all the monthly, quarterly, or annual filings with the state and federal government, generate W2s, and even have partners for workers comp and health benefits. It's very affordable and honestly I wish they were around when we hired our first employee. |
| | I just switched to Gusto a couple weeks ago. They are cheaper than ADP wholesale but are really clunky to do anything and require 4 business days to process direct deposit so I am regretting the move. Fortunately I only have 3 payroll clients plus my own firm. |
FAQs:
What is the price range of Gusto?
Gusto pricing ranges from $39.00 per month + $6.00 per employee to $149.00 per month + $12.00 per employee. This includes Gusto Payroll pricing.
See the full list of Gusto prices.
How do I get in contact with Gusto support?
You can reach Gusto support for payroll at the Gusto customer support phone number, (844) 302-5664. Gusto hours for customer service are 6:00 am - 5:00 pm. You can also get help on the Gusto website by clicking "Chat with us" in the lower right corner. For questions about benefits email benefits@gusto.com.
Is there a Gusto app for my iPhone?
There isn't a Gusto payroll app for iOS or Android, for that matter, but they do have a mobile-friendly website that you can access your account from.
What is Gusto?
Gusto is a software company that offers a full suite of web-based services to meet small business HR needs. This includes payroll, benefits, onboarding, compliance and much more.
Does Gusto pay weekly?
Yes. With Gusto, you are able to pay your employees every week on a specific day of the week (52 payrolls per year). You can also set up a multiple pay schedule.
How does Gusto payroll work?
Gusto streamlines processes by combining payroll, health benefits, workers' compensation insurance and automated tax processing. The software is accessible from any web-based device.
Does Gusto pay on weekends?
No. Any payroll processing done on a weekend or bank holiday will only begin processing on the next business day.
Does Gusto track time?
Yes. With Gusto, you can automatically track, review and approve your team's working hours.
Does Gusto charge for contractors?
Yes, you can also pay contractors through Gusto. The software also automatically files and emails contractors their 1099s at the end of the year.
What are some Gusto alternatives?