Gusto Reviews
Compare Gusto with Zenefits, Quickbooks and other top competitors. See full pricing, information on packages, features, and customer reviews.
Updated on August 27th, 2020
The SMB Guide is reader-supported. When you buy through links on our site, we may earn an affiliate commission. Learn more
Updates:
Updated 29th of January 2020
Updated pricing information and added a pricing comparison, plus details about each of Gusto's plans.
Updated 4th of February 2020
Added individual pricing comparisons to Zenefits and Quickbooks.
Updated 20th of August 2020
Added information about new hiring and onboarding tools to help businesses affected by Covid-19.
Pros and Cons:
Pros
Unlimited payroll.
Lifetime accounts for future access to information.
Run payroll in all 50 states.
Cons
No time management tools with the cheapest plan.
Limited integrations with sales apps.
No activity dashboard.
Special Offer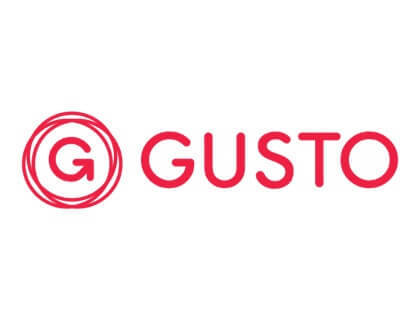 Get 1 month of Gusto FREE!
Start Free Trial
Get started in minutes.
Auto tax filing and digital paystubs.
Includes benefits, onboarding, and compliance features.
Review:
Gusto is our top pick overall for payroll software. It's reliable – an essential quality for payroll software – easy to use, and saves businesses a lot of time. It had the second-highest number of features among all the software we reviewed, beat only by Zenefits.
Highlights.
Includes all tax forms and multi-state payroll functions.
Automatic net-to-gross calculations.
Unlimited payroll with all plans.
Lifetime accounts for employees who may need to access their information in the future.
Shortcomings.
Gusto lacks several features that are offered by Zenefits, such as data migration, an activity dashboard, banking information management, and year-round record keeping. Although Gusto does offer some time tracking and accounting integrations, the platform does not allow for integrations with sales tools. Quickbooks Payroll, however, integrates with everything from WooCommerce to Insightly CRM.
Reputation.
While Gusto does have an excellent reputation overall, we did find several complaints about the response time of their customer service. Some customers reported via TrustPilot.com that when they encountered an error with the software, Gusto's support team was slow to respond with the information that they needed.
Pricing:
| Plan Name | Monthly Fee |
| --- | --- |
| Contractor | $6.00 per person |
| Core | $39.00 (base price) + $6.00 per employee |
| Complete | $39.00 (base price) + $12.00 per employee |
| Concierge | $149.00 (base price) + $12.00 per employee |
Price Comparison:
A direct pricing comparison is difficult because Gusto's main competitors - Quickbooks and Zenefits, are not primarily payroll solutions. Zenefits is a complete HR solution with a payroll add-on, while Quickbooks is an accounting solution with a payroll add-on. In contrast, Gusto is primarily a payroll platform with HR and accounting add-ons/integrations.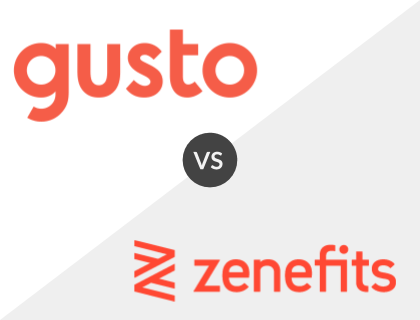 Gusto vs. Zenefits:
With Zenefits, our number two ranked solution, users must purchase the payroll add-on to use any of the payroll tools. Adding on payroll costs another $6.00 per employee per month, meaning that you would be paying $14.00 per employee per month to use Zenefits for your payroll. However, Zenefits has more onboarding and HR tools than Gusto.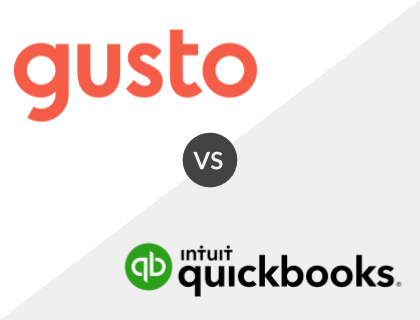 Gusto vs. Quickbooks:
Quickbooks is a popular payroll solution that can be used with or without Quickbooks' full accounting suite. Quickbooks payroll starts at $45.00 /mo. plus $4.00 per employee and includes unlimited payroll and an employee portal. Gusto is comparable with a starting price of $39.00 /mo. and the same basic features.
See our detailed comparisons.
Packages:
Contractor.
For entrepreneurs and freelancers who haven't hired any employees yet, the contactor package is the ideal solution. For just $6.00 per person per month, users can pay 1099 contractors. Unlike all of the other plans, there is no monthly base fee for the Contractor edition. The plan is very basic and only gives users access to a few select features, but it should be enough for anyone looking for a reliable and efficient way to pay their contractors.
Core.
With the Core package, small business owners get the essential tools that they need to run payroll for their employees. Companies that hire frequently and therefore require onboarding tools would have to upgrade to the complete package, but the Core plan does have a wide variety of payroll options that would suit the needs of most small businesses.
Complete.
The Complete plan costs $12.00 per employee per month in comparison to just $6.00 for the Core plan. The same $39.00 monthly base fee still applies. Although the per-employee cost is doubled, subscribers using the Complete plan do indeed benefit from a complete solution with HR tools, user management, time tracking, onboarding, and even the ability to send out employee surveys. Most businesses with 10 employees or less could do without these features, but the upgrade to the Complete plan makes sense for medium to large companies.
Concierge.
The Concierge package is the most expensive of Gusto's three options and it comes with everything offered in the Core and Complete packages, but in addition, it offers a host of HR resources like policy templates, a customized employee handbook, and access to HR professionals who can help you with compliance. Most beneficial of all, however, is the dedicated support that comes with the Concierge package. With dedicated support, companies are assigned their own representatives and are given a direct contact number so that they can have personalized product support whenever they need it.
Covid-19: New Suite of Features & Onboarding Tools
Gusto has rolled out 40+ new features to help businesses streamline their operations during the Covid-19 era. These tools include the ability to automate and send customized offer letters, e-sign key documents, onboard employees remotely, and obtain PPP advising and support, among others.
Optional Add-Ons:
| Option | Setup Fee | Fee |
| --- | --- | --- |
| Health Benefits | $0.00 | $0.00 /mo. (pay only for premiums) |
| 401(k) Retirement Plans | $0.00 | $39.00 /mo. (base price) + $8.00 per participating employee |
| Workers' Compensation Insurance | $0.00 | $0.00 /mo. (pay only for premiums) |
| 529 College Savings Plans | $0.00 | $18.00 /mo. (includes 3 participants, extra participants are each $6.00 /mo.) |
| Health Savings Account (HSA) | $0.00 | $2.50 per participant /mo. |
| Flexible Spending Account (FSA) | $0.00 | $20.00 /mo. (includes 5 participants, extra participants are each $4.00 /mo.) |
| Commuter Benefits | $0.00 | $20.00 /mo. (includes 5 participants, extra participants are each $4.00 /mo.) |
| Service Charge | n/a | $200.00 /yr. total for the Health Savings Accounts, Flexible Spending Accounts, and Commuter Benefits |
Features Comparison:
| Software | Compliance Management | Automated Taxes | Charitable Donations |
| --- | --- | --- | --- |
| Gusto | Yes | Yes | Yes |
| Zenefits | Yes | Yes | No |
| Quickbooks | No | Yes | No |
Integrations:
| Accounting | Time Tracking | Point of Sale | Business Operations |
| --- | --- | --- | --- |
| Freshbooks | Homebase | Clover | Kinderlime |
| Xero | T Sheets | SpotOn | Trainual |
| Quickbooks | When I Work | | Veryfi |
| Aplos | Deputy | | Accelo |
| Zipbooks | Ximble | | ClienTrak! |
| Expensify | Boomr | | Hubstaff |
| Receipt Bank | eBility Time Tracker | | vagaro |
At-a-Glance:
Suitable for businesses of all sizes.
Special package for paying contractors.
Used by over 100,000 small businesses.
Key Information:
| | |
| --- | --- |
| Legal Name | ZenPayroll, Inc. |
| Founder | |
| Founding Date | Nov 01, 2011 |
| Address | 525 20th Street, San Francisco, CA 94107 |
| Number of Employees | 1000 |
| Number of Customers | 100000 |
| Email | |
| Telephone | |
| Website | |
FAQs:
What is the price range of Gusto?
Gusto's pricing ranges from $39.00 (base price) + $6.00 per employee per month to $149.00 (base price) + $12.00 per employee per month. This includes Gusto Payroll pricing. Gusto also offers various optional add-ons that are priced individually.
How do I get in contact with Gusto support?
You can reach Gusto support for payroll at the Gusto customer support phone number, (844) 302-5664. Gusto hours for customer service are from 6:00 am to 5:00 pm. You can also get help on the Gusto website by clicking "Chat with us" in the lower right corner. For questions about benefits email benefits@gusto.com.
Is there a Gusto app for my iPhone?
There isn't a Gusto payroll app for iOS or Android, for that matter, but they do have a mobile-friendly website that you can access your account from.
What is Gusto?
Gusto is a software company that offers a full suite of web-based services to meet small business HR needs. This includes payroll, benefits, onboarding, compliance and much more.
Does Gusto pay weekly?
Yes. With Gusto, you are able to pay your employees every week on a specific day of the week (52 payrolls per year). You can also set up a multiple pay schedule.
How does Gusto payroll work?
Gusto streamlines processes by combining payroll, health benefits, workers' compensation insurance and automated tax processing. The software is accessible from any web-based device.
Does Gusto pay on weekends?
No. Any payroll processing done on a weekend or bank holiday will only begin processing on the next business day.
Does Gusto track time?
Yes. With Gusto, you can automatically track, review and approve your team's working hours.
Does Gusto charge for contractors?
Yes, you can also pay contractors through Gusto. The software also automatically files and emails contractors their 1099s at the end of the year.
What are some Gusto alternatives?