QuickBooks Review with Competitor Comparisons and Pricing
Compare QuickBooks to Sage 50cloud, FreshBooks, and other accounting software, learn about features and detailed pricing info, see customer reviews.
Updated on January 10th, 2023
The SMB Guide is reader-supported. When you buy through links on our site, we may earn an affiliate commission. Learn more
Quickbooks is a small business software that can handle accounting, payroll operations, sending invoices, billing management, inventory control, and more. There are both on-premise and cloud-based versions of QuickBooks that businesses can use to keep track of all of their accounting activities.
Updates:
Updated 23rd of January 2020
We have updated the pricing with the latest amounts on QuickBooks' website.
Updated 26th of February 2020
We have added more information about QuickBooks, including packages, features, products, and comparisons with top accounting software competitors.
Save 50%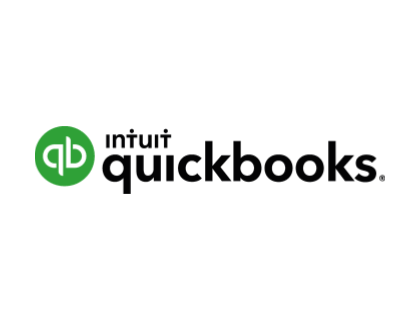 Track inventory, payroll, mileage, expenses tax deductions and much more with QuickBooks for small business.
Try it Free
Expert support.
Capture receipts with your phone.
Integrates with many popular apps.
Pros and Cons:
Pros
Many easy-to-use features.
Cloud-based.
Good tax support.
Mobile app offers a good range of features.
Cons
Customers have reported very poor customer support.
It can be expensive with all the add-ons.
Difficult to navigate and has a steep learning curve.
Review:
QuickBooks offers both accounting software and payroll services for businesses of any size. It offers a variety of services tailored to various business needs and provides these at a reasonable price. Clients can benefit from the ease of a single source for payroll and accounting services, making any upgrades to services more streamlined and ensuring that your data is preserved.
Highlights:
All QuickBooks Online products are 50% off for the first three months of service, and a 30-day free trial is available on their website. All packages have the option of including payroll services with a 50% discount. The reporting features are detailed and they offer customizable invoices and support multiple currencies. QuickBooks Online offers an intuitive platform with many automated features.
Shortcomings:
Their Simple Start package excludes features like invoice scheduling, project profitability tracking, and inventory tracking. While the Desktop Pro package offers a few more perks than Plus, as well as several discounts, the range of features is limited and customers have reported difficulties in moving from desktop to online. Customers have also complained of poor customer support and very long support wait times.
Reputation:
A general search of other review sites showed users loved the streamlined interface, the great tracking features, the automated processes, and the wide range of integrations. Users did not enjoy the price hike after the 3 months' discount, the poor customer service, the difficulty in moving from QuickBooks Desktop to QuickBooks Online, and the difficulty in canceling subscriptions.
Positive customer reviews focus on the great features that are always being added, the efficient mobile app, and the usefulness of the platform. Negative customer reviews tend to focus on some invoicing bugs, the costly add-ons, and the lack of support.
One star ratings were given due to poor customer service, mistakes with billing, late payments, and cancellation fees for services that were not working to begin with. This customer said that although QuickBooks was a useful product with easy access for her accountant, the learning curve was too great for her and she was not happy with the price hike.
At-a-Glance:
| | |
| --- | --- |
| Reporting and analysis | Yes, but business analysis is only available on the Advanced plan. |
| Automation | Yes. |
| Automatic updates | Matches receipts to transactions and can be connected to bank accounts. |
| Customization | Yes, with invoices, estimates, reporting, and user roles. |
| Mobile compatibility | Yes, iOS and Android. |
| Interoperability | Yes, expense tracking data is used for tax preparation. |
| Security | Yes. |
QuickBooks Security:
The Intuit company offers an online security center with resources for protecting your home, business, information, and computer. On this page, you will also find a security blog, tips, and alerts.
QuickBooks Online Pricing:
| Plan Name | Monthly Price |
| --- | --- |
| Self Employed | $7.00* |
| Simple Start | $12.00** |
| Essentials | $20.00* |
| Plus | $35.00* |
| Advanced | $75.00* |
*Discount only applies to the first 3 months of service. After 3 months, customers must pay full price (2x what is listed in the table).
**After 3 months of service, the Simple Start plan is priced at $25.00 /mo.
QuickBooks Discounts:
QuickBooks offers a 50% discount on the first 3 months of service or a 30-day free trial. Potential customers must choose one option and will not have the 50% discount if they choose the 30-day free trial.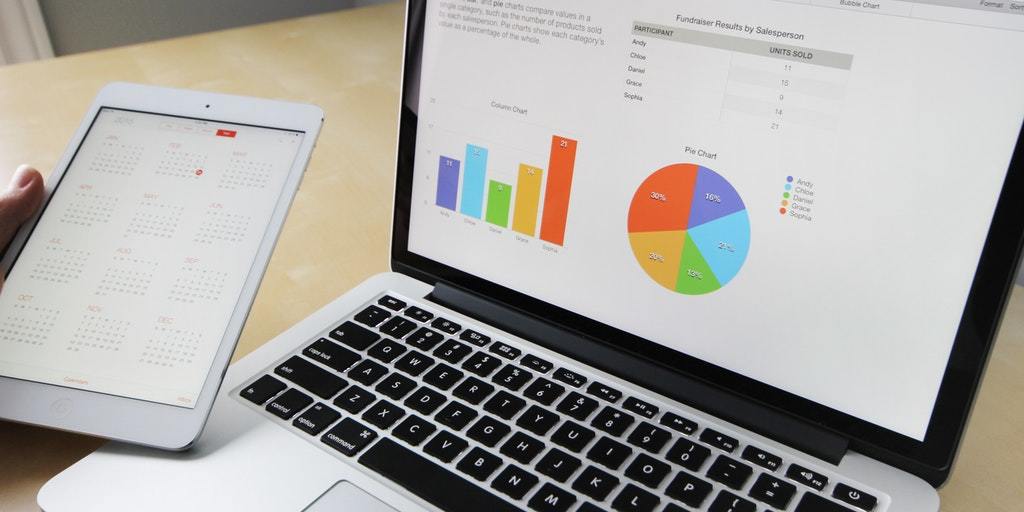 Information on the best accounting software companies, including Freshbooks, QuickBooks, and Sage. See pricing, features, comparisons, and more.
Jan 16, 2023
QuickBooks Online Packages:
QuickBooks Online's 5 plans offer users a generous range of options to suit budget and business needs. Their Self-Employed plan is best suited to freelancers and independent contractors who file Schedule C. It offers some basic features like income and expense tracking, organizing captured receipts, estimating quarterly taxes, invoicing and accepting payments, mileage tracking, and running basic reports.
However, if you own a small business, you should take a look at QuickBooks' other plans. All plans include the basics offered in the Self-Employed plan, as well as maximizing tax deductions, running more powerful and in-depth reports, sending estimates, tracking sales and sales tax, and managing 1099 contractors.
QuickBooks Essential and QuickBooks Plus are similar plans but the Essential plan is better suited to service-based businesses who need to invoice for their time and the Plus plan is better suited to product-based businesses who need to track inventory. As such, the Essential plan only includes bill management and time tracking, but the Plus plan includes those two features plus tracking inventory and project profitability.
QuickBooks Advanced plan is the most comprehensive plan offered by QuickBooks and includes many new features, such as online backup and restore and automated workflows. The Advanced plan is best suited for growing or expanding businesses as it gives users access to business analytics and insights, a dedicated account manager, and on-demand online training.
QuickBooks Online Packages:
| Simple Start | Essentials | Plus | Advanced |
| --- | --- | --- | --- |
| Best for new business just starting out. | Best for service-based businesses who invoice for their time. | Best for product-based businesses who track inventory. | Best for growing businesses who need need more productivity and insights. |
| Includes 1 user. | Includes 3 users. | Includes 5 users. | Includes 25 users. |
| No bill management. | Includes bill management. | Includes bill management. | Includes managing and paying bills. |
| Run general reports. | Run enhanced reports. | Run comprehensive reports. | Run the most powerful reports. |
QuickBooks Desktop Pricing:
| Plan Name | Pricing |
| --- | --- |
| Pro 2020 | $299.95 one-off. |
| Premier 2020 | $499.95 one-off. |
| Enterprise 20.0 | $1213.00 /yr. |
QuickBooks Desktop Packages:
QuickBooks's desktop packages have been upgraded for 2020 and include new features such as automatic payment reminders, allowing customers to search for invoice emails by PO number, consolidating multiple invoices into one email, improved navigation through reports, and enhanced help content.
QuickBooks Pro 2020 features are detailed and robust. They include income and expense tracking, invoicing, reports, estimates, sales tax tracking, bill and accounts payable management, time and inventory tracking, up to 14,500 item list limit, and 1099 contractor payments.
QuickBooks Premier 2020 differs from the Pro in that it offers a wider range of reporting options. It also features a forecasting function as well as some industry-specific features. These features include tracking profitability by product or by project and client, billing clients by job phase, and running industry-specific reports.
QuickBooks Enterprise 20.0 is the most powerful and customizable option. It differs from the first 2 packages in that is offers advanced reporting, inventory, and estimates. The Enterprise package also features mobile inventory barcode scanning, a dedicated customer success manager, and enhanced pick, pack, and ship. It also includes unlimited customer support, which is not available on the Pro and Premier packages without an upgrade.
QuickBooks Desktop Packages Comparison:
| Pro | Premier | Enterprise |
| --- | --- | --- |
| Offers over 100 reporting options. | Offers over 150 industry-specific reporting options. | Offers over 150 industry-specific reporting options and consolidates reports for multiple companies. |
| Allows up to 3 users (each license sold separately). | Allows up to 5 users (each license sold separately). | Allows up to 30 users (each license sold separately) with advanced roles. |
| Unlimited customer support, data backups, and upgrades requires an add-on. | Unlimited customer support, data backups, and upgrades requires an add-on. | Unlimited customer support, data backups, and upgrades included. |
QuickBooks Online vs. QuickBooks Desktop:
Similar to QuickBooks Online, QuickBooks Desktop is an accounting and business management software that is desktop compatible. QuickBooks Desktop offers all of the same features as QuickBooks Online but some of the features require extra fees. However, QuickBooks Desktop does offer two features not available to QuickBooks online users. With QuickBooks Desktop, users can calculate discounts by customer and calculate and rebill job costs.
QuickBooks Online vs. QuickBooks Desktop Comparison:
| QuickBooks Online | QuickBooks Desktop |
| --- | --- |
| Bank transactions is included. | Bank transactions fees may apply. |
| Support is included. | Support is $89.00 for 90 days or included in select products. |
| Automatic data-encrypted backups is included. | Automatic data-encrypted backups is $9.95 /mo. or included in select products. |
| Access to the latest product and feature updates are included. | Access to the latest product and feature updates cost $299.95 for annual repurchase or are included in select products. |
| Cloud access hosting is included. | Cloud access hosting is $44 - $200 /mo. /user. |
| Access for up to 25 users is included. | Access for up to 25 users requires separate subscriptions for each user. |
| Lacks the ability to calculate and rebill job costs. | Calculating and rebilling job costs is included. |
| Lacks the ability to calculate discounts by customer. | Calculating discounts by customer is included. |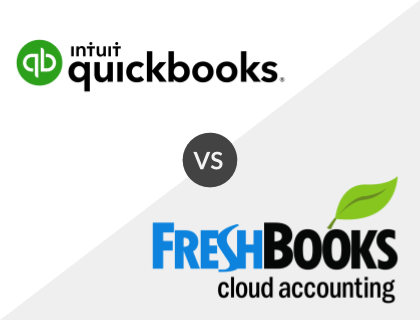 QuickBooks Online vs. FreshBooks:
QuickBooks is a great accounting and payroll platform, with the payroll and billing features that are missing from FreshBooks. While both companies offer customizable invoices and strong reporting features, FreshBooks has the edge on QuickBooks with their double-entry accounting, easy tax functions, and cheaper price.
QuickBooks Online vs. FreshBooks Comparison:
| Offer | QuickBooks Online | FreshBooks |
| --- | --- | --- |
| Starting Price | $7.00 /mo. | $15.00 /mo. |
| Highest Price | $150.00 /mo. | Custom pricing. |
| Customizable Invoices | Yes. | Yes. |
| Expense Tracking | Yes. | Yes. |
| Inventory Tracking | Yes. | No. |
| Tax Reports | No, focuses on tracking sales tax and creating tax categories. | Yes. |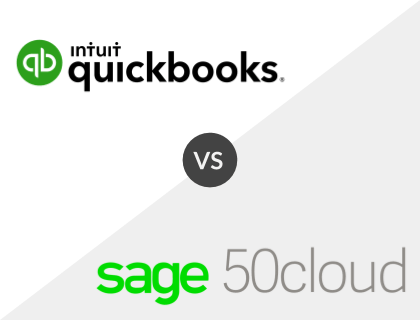 QuickBooks Online vs. Sage 50cloud:
QuickBooks Online and Sage 50cloud are both excellent accounting platforms with double-entry accounting, but QuickBooks Online offers extra features that are not present on Sage's platform, such as taxes and online payment acceptance. QuickBooks is also more affordable than Sage, which is almost double the price of QuickBooks.
QuickBooks Online vs. Sage 50cloud Comparison:
| Offer | QuickBooks Online | Sage 50cloud |
| --- | --- | --- |
| Starting Price | $7.00 /mo. | $50.58 /mo. |
| Highest Price | $150.00 /mo. | Requires quote. |
| Customizable Invoices | Yes. | Yes. |
| Expense Tracking | Yes. | Yes. |
| Inventory Tracking | Yes. | Yes. |
| Tax Reports | No, focuses on tracking sales tax and creating tax categories. | No. |
Features:
| Feature | Description |
| --- | --- |
| Income and expense tracking | Connect QuickBooks to bank accounts, credit cards, PayPal, Square, and more to import expenses. Take photos of receipts, automatically categorize expenses for taxes, and manage cash flow. |
| Invoicing and payment acceptance | Offer online invoicing with payment through credit cards, debit cards, and ACH bank transfer right in your online invoice. Personalize templates with business logos and colors, set up recurring invoices, automatically add billable hours with time tracking, receive notifications, and automatically match payments to invoices. Also features accelerated invoicing for duplications. |
| Tax deductions | Automatically sorts business expenses and receipts into tax categories, view Sales Tax Liability reports, and automatically calculate quarterly taxes. |
| Mileage tracking | Automatic and manual GPS tracking can be categorized into business and personal trips for potential tax deductions. View detailed mileage reports and transfer your mileage when you upgrade your QuickBooks plan. |
| Business reporting | View cash flow and business performance with detailed reporting tools. Users can tailor reports to meet their business needs, create spending roadmaps, track current trends, customize professional financial summaries, and view reports on open invoices, customer balances, and past due amounts. |
| Estimates/proposals | Create personalized estimates with discounts, product stock keeping units, payment terms, line items, and more to send over email or for customers to accept and sign on your mobile device. Templates are fully customizable, can be converted into invoices, and include a Pay Now button so that clients can pay through the invoice. |
| Sales and sales tax tracking | Automatically calculates sales tax added to invoices based on date, location, type of product or service, and customer. |
| Bill management | Track bills and their due dates, automatically track and record bill payments, automatically import transactions from your bank account, and record in your books. Set up online bill payments with third-party apps, schedule recurring product orders, make partial bill payments, and integrate with third-parties like Bill.com, PayPal, and Apple Pay. |
| Manage multiple users | Control roles and permissions, allow time-tracking only access, and limit report access. |
| 1099 Contractor management | Track payments to 1099 contractors throughout the year, automatically create 1099 forms for tax time, separate vendor payments, automatically file online through QuickBooks (additional cost), and buy official 1099 forms from QuickBooks and print directly from your printer. |
| Job costing | View the profitability of your projects, calculate costs, and connect with QuickBooks Payroll and TSheets. Only available on the Plus and Advanced plans. |
| Inventory tracking | Automatically update inventory quatities, receive automate low-stock alerts, view reports on best sellers, and sunc with online sales. Only available on the Plus and Advanced plans. |
| Mobile App | Fully-featured mobile app with automatic cloud back up and syncing across all devices. Users can access accounting reports, send invoices, accept mobile payments, and track expenses from their phones. |
Integrations:
QuickBooks integrates with over 600 popular third-party apps. They divide their categories into quotes, funds, payments, customers, human resources, projects, analytics, taxes, payments, payroll, invoices, data syncing, expenses, inventory, and time. With its robust list, it's a good bet that you will find the apps that you need to integrate with QuickBooks. They post a full list of third-party apps on their app store page.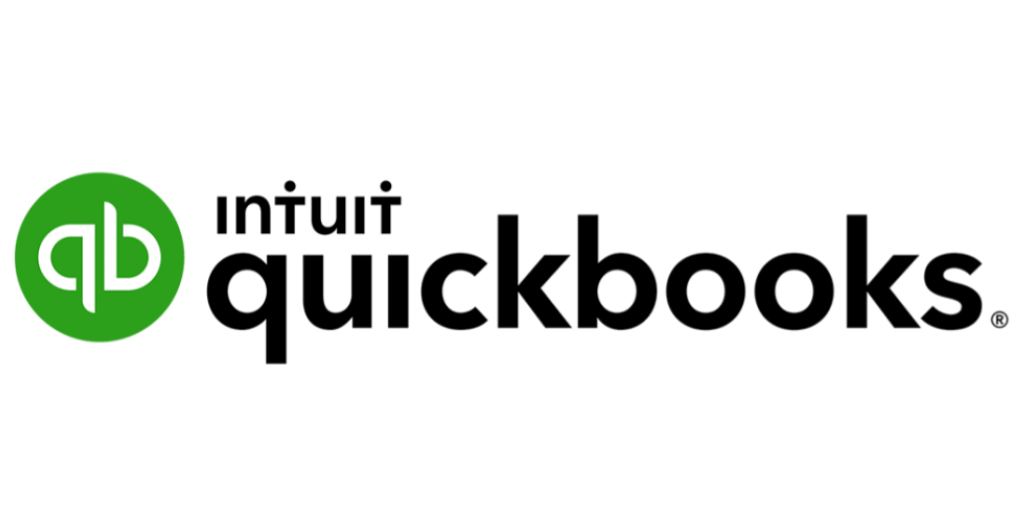 Discover QuickBooks POS's point of sales (POS) solutions for small businesses. Includes info on QuickBooks POS, free trials, reviews, pricing, and FAQs.
Mar 19, 2022
Other Products:
QuickBooks Live Bookkeeping:
QuickBooks Live Bookkeeping gives users access to a dedicated team of virtual experts who will assist with everyday bookkeeping tasks, categorize transactions and reconcile accounts, and accurately close books each month.
A one-time session to set up your bookkeeping will cost you $50.00. The Full-Service Bookkeeping starts at $200.00 a month, but pricing depends on your monthly expenses and can go up to $600.00 a month. However, to purchase the Full-Service Bookkeeping plan, you must have a QuickBooks Online plan.
QuickBooks Enterprise:
For growing businesses, QuickBooks offers an Enterprise plan ($120.00 /mo.) which is great for manufacturers, wholesalers, retailers, and general contractors. The Enterprise plan is slightly cheaper than the Advanced plan but, while it features up to 30 users, you will pay per seat.
QuickBooks Enterprise includes customizable and automated pricing, price rules based on a combination of factors, and the ability to apply multiple price rules at once. It also features great inventory tracking with end-to-end sales order fulfillment. Users can access industry-specific reports and set up to 115 user permissions and up to 14 user roles.
QuickBooks Checks and Supplies:
QuickBooks offers printable checks designed exclusively for QuickBooks. Users can keep their check records in one place, and QuickBooks will automatically fill in your checks for you. There are a variety of check styles that are customizable and feature QuickBooks' exclusive security coating to keep them safe from tampering. QuickBooks supplies users with check value packs, deposit slips, and security envelopes.
QuickBooks Point of Sale:
QuickBooks offers POS solutions for small retail businesses, home improvement stores, furniture and furnishing stores, sporting goods and bicycle stores, and apparel and accessory stores. They offer both software and hardware and can accept multiple forms of payment, which is then reconciled in QuickBooks.
There are 3 QuickBooks Desktop POS plans:
Basic: from $1,200.00.
Pro: from $1,700.00.
Multi-Store: from $1,900.00.
Hardware requires an additional purchase and ranges from $109.95 for a cash drawer to $409.95 for a wireless scanner.
TSheets by QuickBooks:
TSheets is QuickBooks' time-tracking software. It allows users to review, edit, and approve time tracked, save time when doing payroll, manage paid time off, and keep projects on track. It is also accessible on mobile, desktops, and tablets. TSheets is priced at $8.00 per user per month plus a $20.00 base fee.
Business Insurance:
QuickBooks is partnered with AP Intego to provide affordable insurance coverage. AP Intego compares plans from multiple insurance carriers and finds the coverage best suited to your unique business needs.
Non-Profit Organizations:
QuickBooks also offers easy accounting for non-profit organizations, including charities, religious groups, and private foundations. Users can automate their fund and program accounting, accept and track donations, connect to donation apps, sync to the bank to keep financials updated, and create specialized reports to stay IRS compliant. Additional features include time tracking, payroll, and donor management.
Key Information:
| | |
| --- | --- |
| Legal Name | Intuit Inc. |
| Founder | |
| Founding Date | Jan 01, 1983 |
| Address | 2700 Coast Ave., Mountain View, CA, 94043 |
| Number of Employees | 200 |
| Number of Customers | 2000000 |
| Telephone | |
| Website | |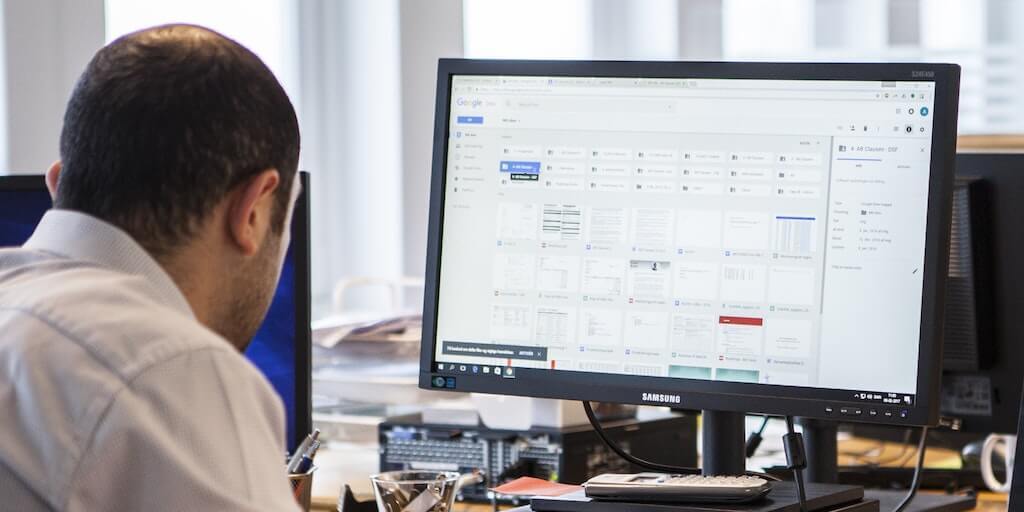 Compare different payroll software providers, including the leading services Gusto, TriNet Zenefits, and QuickBooks. See reviews, pricing information, and FAQs.
Dec 28, 2022
FAQs:
Is there a monthly fee for QuickBooks?
QuickBooks monthly plans range in price from $7.00 to $75.00 per month.
What is unique about the QuickBooks self-employed version?
The self-employed plan costs only $7.00 per month. This version of QuickBooks is designed for use by sole proprietors who have simple accounting tasks to manage. Business owners can use this software to track mileage, organize receipts, generate invoices, and more.
How do I download QuickBooks for Mac?
Select the QuickBooks product that you would like to purchase and proceed to the checkout. You will be able to select which version you would like before you finalize your purchase.
Is there any QuickBooks training available?
QuickBooks has a complete online training center for new users. Just go to quickbooks.intuit.com/learn-support/tutorials to watch tutorials and learn more about the aspects of the software.
How do I contact QuickBooks support?
You can visit the QuickBooks online support center at quickbooks.intuit.com/learn-support, or you can call the Quickbooks technical support phone number at 1 (800) 488-7330. When you call the Quickbooks support number, an official Quickbooks customer service agent will help you with your issue.
What are some QuickBooks alternatives?
Accura Software Payroll.
BOR-GO.
What is the QuickBooks file doctor?
The QuickBooks file doctor is a tool that you can use within QuickBooks if you can't open certain file types. The file doctor can also help if you have incomplete or missing customer data lists.
Does QuickBooks sell point of sale software?
QuickBooks POS solutions include hardware and software. With a QuickBooks POS system, you can fully integrate your QuickBooks accounting system with your POS system to automate transactions.
What are QuickBooks Pro and QuickBooks Enterprise for?
QuickBooks Pro is the QuickBooks on-premise accounting solution. This version is optimal for mid-sized businesses with a more complex accounting structure than small businesses. Enterprise is an enterprise-level solution that has six times the capacity of other QuickBooks products.
How does the QuickBooks Payments solution work?
With QuickBooks Payments, your customers can pay you online through a secure payment gateway. This means you can get paid faster, and every payment that comes in is automatically uploaded to your accounting records.
What is field service management in QuickBooks?
QuickBooks integrates with Intuit Field Service Management, a field service management tool that is a web-based work order scheduling and dispatching system designed for service, installation, and repair businesses. It offers efficient job scheduling, immediate invoicing and payment capturing, as well as real-time field updates.