Best POS Systems for 2023
Ratings and pricing for the best POS systems, including POS systems for restaurants, bars, retail, online and more. Includes answers to common questions.
Updated on December 26th, 2022
The SMB Guide is reader-supported. When you buy through links on our site, we may earn an affiliate commission. Learn more
A point of sale (POS) system allows businesses to calculate sales and accept payment from customers. It may include hardware such as a scale, scanner, cash register, tablet, and computer, as well as software to help operate it.
Such systems are practical investments for small businesses because they track sales and inventory, simplify accounting and staffing, offer analytics tools, and automate many time-consuming tasks.
However, POS systems can be expensive to set up, need a considerable investment of time and effort to implement, and a fair amount of research is critical for understanding features, cost implications, and hardware requirements.
We reviewed and ranked the best POS systems to help you find the best fit.
Updates:
Updated 3rd of February 2020
Added information on mobile, wireless, and fixed POS systems, with basic descriptions and details about which businesses each type serves best. Added the latest info on EMV and NFC technology.
Updated 11th of February 2020
Rearranged ranking to reflect the best POS software for 2020. Lightspeed moved up to 2nd place because of its impressive eCommerce features, ease of use, and multiple options for small businesses. ShopKeep moved up to third because of its highly impressive inventory features. Loyverse dropped a position to make space for ShopKeep, and Erply came in to the top five for its comprehensive system.
Updated 18th of February 2020
Added main features comparison between Square, Lightspeed, and ShopKeep.
Our Pick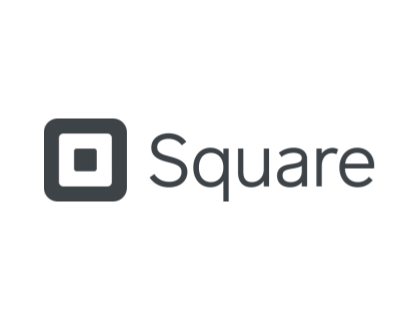 Easy to Set Up and Use
Sign Up Free
Used by more than 2 million businesses.
Robust reporting.
Custom invoices.
Why We Chose Square:
Square offers a highly intuitive POS system that is easy to set up and presents a gentle learning curve. Users benefit from its offline functionality, responsive inventory management tool, and detailed, real-time sales reporting features. Square is highly mobile, making it easy for users to do business from virtually anywhere.
Another stand-out feature is Square's comprehensive customer directory which is automatically updated after each sale. Square also offers a plethora of add-ons, such as a loyalty program, customizable gift cards, and email marketing. Optional cash drawer management and HR-related software readily support the daily running of users' businesses.
With Square, there are no setup or monthly fees and no contracts. Instead, Square charges a standard rate per swipe and clients can cancel at any time without incurring penalties. This pricing structure is often suitable for low-volume businesses. High-volume businesses should enquire about discounts to gauge the cost-effectiveness of this product.
If free is what you're looking for, be sure to view our detailed list of the best POS systems that don't cost a penny.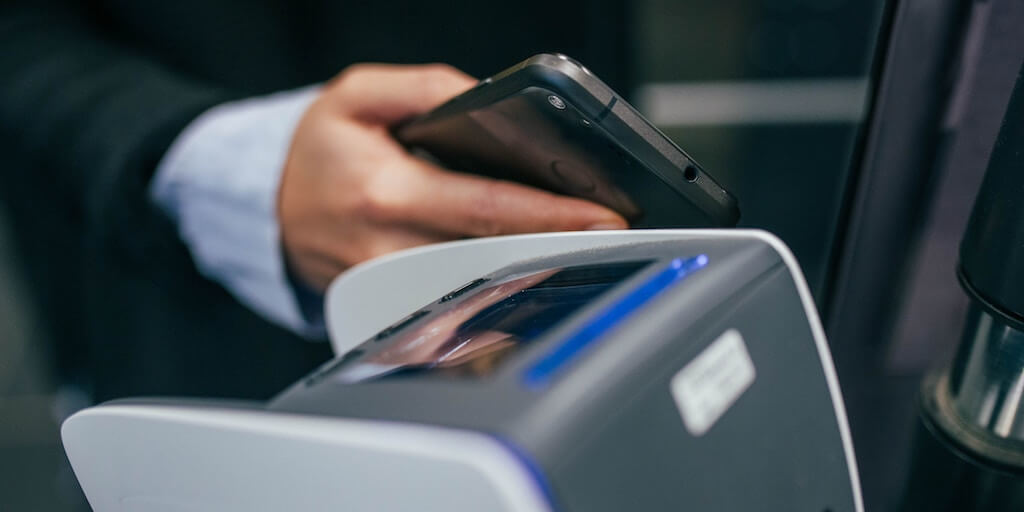 Compare the top Free POS Software systems, including Square, Loyverse, eHopper, and more. Learn about transaction rates, features, and security.
Dec 26, 2022
Things to Consider When Evaluating POS Systems:
POS systems should be fairly easy to operate. Highly mobile businesses should evaluate the ease of transporting their preferred systems before finalizing their choices.
Your chosen POS solution should be compatible with your business's existing software. Be sure to check for integrations with pertinent accounting, staffing, and e-commerce platforms, among others.
Industry-specific POS systems, such as those designed for restaurants and jewelers, may offer helpful features that are not included in general POS systems.
Analytics tools, security measures, and offline functionality are incredibly important features to look for in a POS system.
Three Types of POS System:
1. Fixed POS. The traditional form of POS where devices are connected via hardware cables. Well established, trusted, and arguably more robust, Fixed POS is preferred by large businesses such as department stores, convenience stores, specialty stores, etc.
2. Wireless POS. Wireless POS consists of a base station connected to a network and a number of wireless handheld devices, effectively bringing the counter to the customer. Wireless POS frees up space, allows staff the ability to accept payment anywhere, and is preferred by delivery services, restaurants, coffee shops, etc.
3. Mobile POS. Tablets and smartphones are turned into POS terminals by attaching card swipers and connecting them to cloud-based apps. Mobile POS is cheaper to set up and is much more flexible. It is good for vendors, food trucks, pop-up stores, trade shows, etc.
Pros and Cons for Using POS:
Pros
Accurately track sales.
Improve customer service.
Automatic record keeping.
Manage employees and operations.
Generates data for analysis.
Cons
Initial costs can be expensive.
Requires technical support.
System failure due to power outages, server problems, user errors, etc.
Requires training.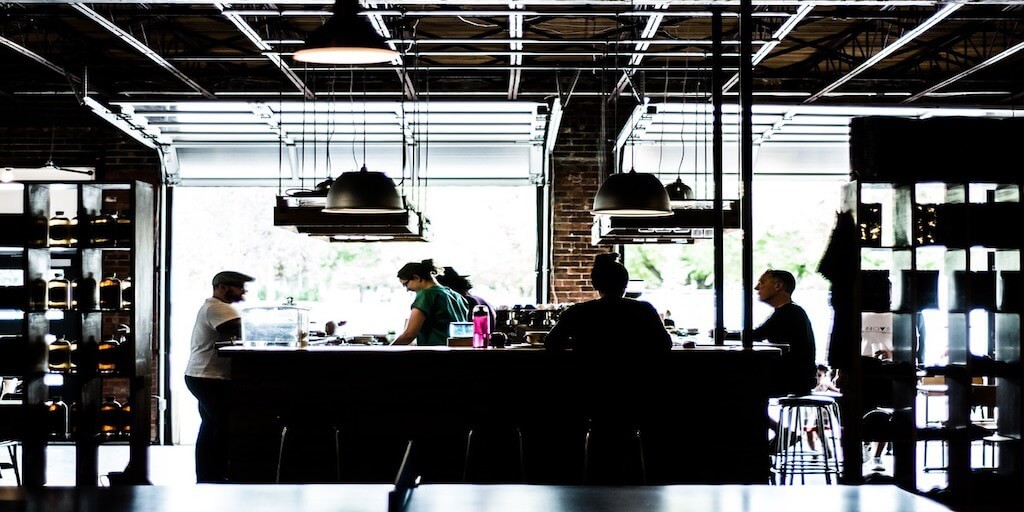 Find ratings and FAQs for restaurant POS software and discover restaurant point of sale systems for your business.
Jan 4, 2023
Best POS Systems for Small Business:
| Rank | Name | Offer | Review | Learn More |
| --- | --- | --- | --- | --- |
| 1. | | Free. | User-friendly system with very few shortcomings, but there are cheaper options. | |
| 2. | | $59.00 /mo. | Robust and intuitive with excellent reporting capabilities, but the transfer inventory tool could be better. | |
| 3. | | $69.00 /mo. | Straightforward with solid inventory tracking capabilities, but doesn't include a table mapping feature. | |
| 4. | | Free | Includes sales recording capabilities but inventory management could be improved. | |
| 5. | | $49.00 /mo. | Great reporting and inventory management features, but missing PinnacleCart and WooCommerce integrations. | |
| 6. | | $29.00 /mo. | User-friendly system with various payment options, but the Basic plan lacks some useful features. | |
| 7. | | $69.00 /mo. | Reasonably priced and great for busy restaurants, but could be more user-friendly. | |
| 8. | | $99.00 /mo. | Includes a great inventory management tool, but add-ons can be costly. | |
| 9. | | $195.00 /mo. | Simple-to-use offering that includes helpful reporting features, but cannot integrate with PinnacleCart. | |
| 10. | | $54.00 /mo. | Straightforward and inexpensive option that's suitable for small businesses. | |
| 11. | | $75.00 /mo. | Excellent reporting and inventory tracking features, though some users have reported product-related issues. | |
| 12. | | Free | Cost-effective system with email integration, but new customers can't be added through the app. | |
| 13. | | Free | Intuitive and responsive product that includes a few bugs post-update. | |
| 14. | | Free | Secure, feature-rich option that can be costlier than competing products. | |
| 15. | | $120.00 /mo. | Easy-to-use product with good inventory management features, but lacks FreshBooks and Kashoo integrations. | |
| 16. | | $79.00 /mo. + $499.00 setup. | Advanced yet user-friendly, but clients are restricted to using Toast credit card processing. | |
| 17. | | $99.00 /mo. | Intuitive with great reporting capabilities, but lacks catalog management. | |
| 18. | | $75.00 /mo. + $500.00 setup. | Affordable and dependable with great customer service, but missing basic updates. | |
| 19. | | $89.00 /mo. | Includes sophisticated reporting and inventory management tools, but can't integrate with Freshbooks or Clear Books. | |
| 20. | | $119.00 /mo. | User-friendly product with superb offline processing capabilities, but lacks inventory tracking features. | |
| 21. | | $69.00 /mo. | A restaurant- and bar-specific option that's competitively priced but lacks an Android app. | |
| 22. | | $72.00 /mo. | Robust and user-friendly, but lacks a built-in feature that supports bulk importing of data. | |
| 23. | | Free | An easy-to-use product that only includes credit card processing in the paid version. | |
| 24. | | $1,295.00 /yr. | Offers useful reporting and inventory management features, but doesn't integrate with Shopify or WooCommerce. | |
| 25. | | $25.00 /mo. | Includes key features but lacks telephonic support. | |
| 26. | | $69.00 /mo. + $895.00 setup. | An intuitive and reliable web-based system that isn't accessible on Android devices. | |
| 27. | | $1,200.00 one-time payment. | Includes many features, but frequent updates can be difficult to keep up with. | |
| 28. | | $49.00 /mo. + $1,495.00 setup. | A scalable, easy-to-use option that lacks kitchen and menu management tools. | |
| 29. | | $25.79 /mo. | Solid offering with a clear pricing structure, but company information is tough to come by. | |
| 30. | | $9.95 /mo. | Easy setup with seamless integrations, but users are restricted to using Clover's hardware. | |
| 31. | | Contact for Quote | Intuitive and efficient product that requires occasional updates. | |
| 32. | | $29.00 /mo. | Solid reporting tool and helpful customer support, but the entry-level plan lacks some useful features. | |
| 33. | | Contact for Quote | A well-established system designed for franchises, can't integrate with Shopify or FreshBooks. | |
| 34. | | $1,190.00 per license. | Feature-rich and readily customizable, but pertinent hardware can be costly. | |
| 35. | | $49.00 /mo. + $449.00 hardware. | Inexpensive and equipped with basic features that need upgrading. | |
| 36. | | $108.00 /mo. | User-friendly product with an excellent reporting tool, but the Training Mode requires work. | |
| 37. | | Contact for Quote | Includes many features, but lacking barcode scanning and discount management features. | |
| 38. | | Contact for Quote | Affords many integrations a superb scheduling tool, but lacking possibilities for customization. | |
| 39. | | $99.99 /mo. | An excellent option for hospitality businesses. It offers sales analytics and inventory management, but no loyalty program. | |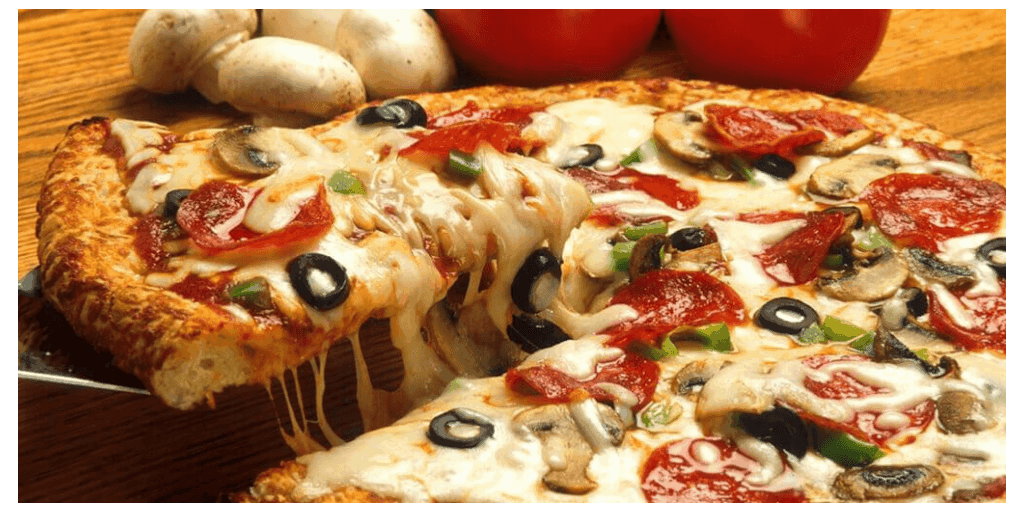 Learn more about the best pizza POS system for small businesses, with pricing, rankings, and FAQs.
Jan 1, 2023
Square POS vs. Lightspeed vs. ShopKeep POS.
If you're looking for a get-up-and-go POS, Square is your best option. You can download the basic POS app and start accepting payments immediately, only paying transaction fees. ShopKeep POS will build you exactly what you need, but it is a process, and Lightspeed needs one-on-one onboarding (Lightspeed offers this service for free). Square has way more integrations, making syncing with other software practically hassle-free.
Businesses that need their POS to do a lot, should go with Lightspeed. Lightspeed offers the most features out of the three. Square has culled many features to keep their POS lean and nimble, and ShopKeep builds only custom packages, which is risky considering you might not get what you actually need the first time around.
If your business relies heavily on inventory management, you could go with either ShopKeep or Lightspeed. Both offer impressive inventory management features, but ShopKeep's are more advanced, even though Lightspeed offers 3,000 vendors in its integrated vendor catalog.
If a mobile card reader is important to your business, stick to Square and ShopKeep. Both companies supply their own card readers. To use a mobile card reader with Lightspeed you must have a third-party payment processor, not Lightspeed Payment, and purchase the card reader from them. This complicates things.
Square POS vs. Lightspeed vs. ShopKeep POS Comparison:
| Features | Square POS | Lightspeed | ShopKeep POS |
| --- | --- | --- | --- |
| Monthly pricing | $0.00 - $60.00 | $69.00 - $229.00 | Quote only. |
| Inventory management | Basic | Advanced | Advanced |
| No. of integrations | 100+ | 50+ | 5 - 10 |
| Employee management | Basic | Basic | Advanced |
| No. add-ons | 4 | 9 | 2 |
| Customer support | Phone, email | Phone, chat | Chat |
| Termination fees | No | Yes | Yes |
| Free trial | Free version | 14-day trial | No |
| Mobile Credit Card Reader | Square Reader for Magstripe | Third-party only. | iDynamo 5 Lightning Credit Card Swiper |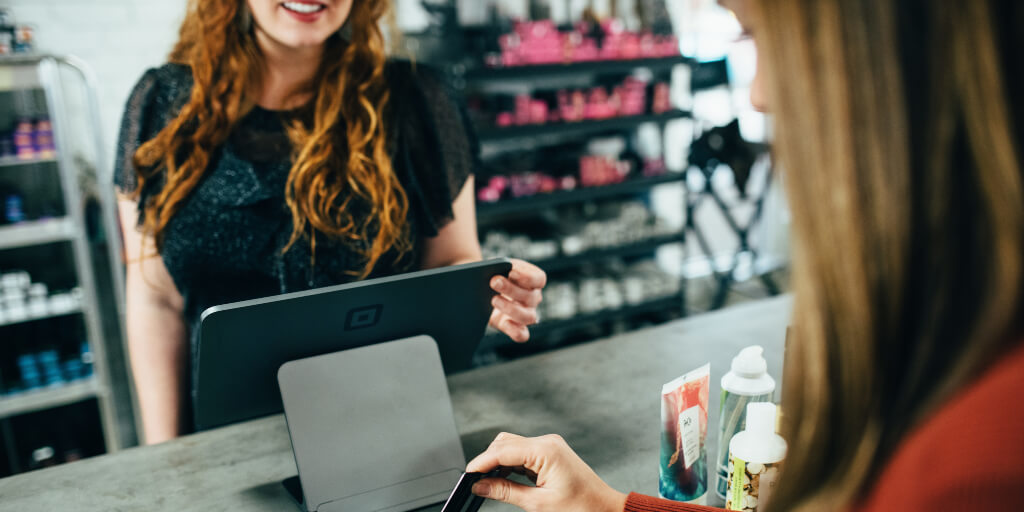 Compare Square, Lightspeed, Vend, and other top retail POS systems. Includes ranking, pricing, reviews, and frequently asked questions.
Dec 28, 2022
Trends in POS Technology:
What is EMV?
EMV stands for Eurocard, Mastercard, and Visa, and it is a fairly new international standard for cards and the machines and systems that read them. Developed in the 1990s to address credit card fraud, EMV cards store data on computer chips as well as on the traditional magnetic stripe. The technology only became available in the U.S. in 2015.
How does EMV work?
When used in a purchase, an EMV card generates a unique code that can only be used once. If the information from a particular purchase is hacked and stolen and used in another transaction, the transaction would be denied.
There are two types of EMV cards: chip-and-signature, and chip-and-PIN. With the first, a receipt needs to be signed for the purchase to be completed, and the second requires PIN-authorization.
Do I need EMV?
There are three reasons why your POS system should be EMV compliant:
1. Swipe-and-sign cards are still popular in the U.S., but that's changing. According to Visa, there was a 219% increase in the use of their chipped cards between October 2015 and March 2019. Consumers are becoming more security conscious and will be choosing this payment option more often.
2. EMV cards address card-present (CP) counterfeit payment fraud. There has been a drop of 76% in CP-related crime over the last four years. EMV is safer and more secure.
3. By updating to EMV you won't be held liable for fraud. The new standard holds the "least equipped" agent liable for losses in the case of fraud. If you process a counterfeit or stolen chipped card with your non-EMV card reader, you are responsible for covering the losses. If your business is EMV-compliant, the issuer of the card is liable.
What is NFC?
Near-field Communication (NFC) technology allows two devices to interact when near enough. More commonly used in access card security, NFC is now being used for "contactless payment".
A customer completes a contactless transaction by tapping or hovering their mobile device above a store's NFC reader.
Do I need NFC?
1. NFC technology offers a higher degree of security. Much like EMV-chipped cards, NFC mobile payments are ever-changing and encrypted.
2. Contactless payment is fast and convenient. To complete a transaction, all a customer has to do is hold up their phone.
3. More and more people are choosing it as a method of payment. According to statista.com, there were about 278 million NFC-enabled mobile devices around the world in 2014, and in 2018 there were 1.9 billion.
FAQs:
What does a POS system do?
Inventory management.
Customer marketing.
Reporting.
Reduces paperwork.
Minimizes data entry time.
What is an example of a POS?
What is the cheapest POS system?
How do I choose a POS system?
Review what you need out of a POS system.
Do you need hardware, or can you use an iPad POS system with your own devices?
How detailed do you need the reporting to be?
Will you need barcodes?
From there, you can take free trials or demo different POS system software.
How much does a POS system cost?
A POS system can cost between $0.00 and $1,295.00 per year or much more, depending on how many devices you need to take payment from, what types of devices you need, the number of locations, and the features your business needs.
Which is the best POS system?
How does a POS system work?
A POS system allows businesses to calculate sales and accept payment from customers. It may include hardware such as a scale, scanner, and cash register, as well as software to help operate it.
Why is a POS system important?
Avoids unrecorded sales, human error, and the time wasted correcting them.
Accurately collects and records data.
Offers organization and consistency.
Automatically logs all sales in real-time.
Collates data for detailed analysis.
Can track staff members and work hours.
What are the key features of a POS system?
Inventory management with a database, counting, and transfers.
Low-stock notifications with auto-order.
Product reports.
Sales and promotions.
Third-party software integrations.
Employee reporting and management.
Built-in bookkeeping.
CRM.
What's the full meaning of POS?
POS stands for 'point of sale,' and refers to the method by which a customer makes a payment to a business.
How should I choose our POS system for retail?
The right POS system can make inventory management, bookkeeping, and reporting much easier. Check out customer ratings and POS system reviews, then see a demo or take a free trial before making a final decision.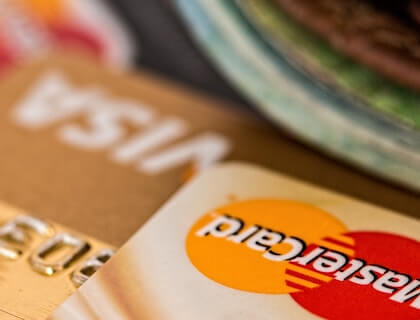 What are the best retail POS systems?
How should I choose a bar POS system?
POS systems for bars should include easy check splitting, credit and debit card pre-authorization, menu management, discounts for specific times (happy hour), and inventory management. You'll want to demo or do a trial of a couple to see which is best for your business.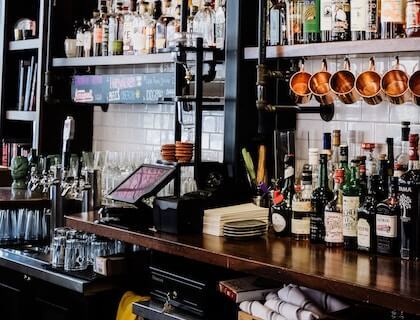 What are the best POS systems for bars?
What is the best POS system for small business?
Choosing a POS system for small business has a lot to do with what kind of business you run. There are POS systems for bars, restaurants, and retail. You may need a convenience store POS system, a grocery store POS system, a salon POS system, or even a pizza POS system.
Do I need to get a POS system cash register?
It depends on the needs of your business. Some may be able to get by with a POS system for iPad, or an Android POS system on a tablet. If you're looking for an online POS system, you won't need a cash register.
How much does Focus POS cost?
Focus costs between $30.00 and $300.00 per month, and $1,000.00 per month with the inclusion of POS hardware.