Paypal Here
Learn more about Paypal Here. Includes Paypal Here key information, pricing, customer reviews, and FAQs.
Updated on October 1st, 2021
The SMB Guide is reader-supported. When you buy through links on our site, we may earn an affiliate commission. Learn more
Paypal Here is a mobile credit card reader that accepts secure credit card payments in person or on-the-go from a compatible device. PayPal Here allows users to process credit card payments, track sales, create invoices, and more from a compatible mobile device.
Pricing:
| Type of Transaction | Pricing Per Card Swipe |
| --- | --- |
| Card present transactions | 2.7% |
| Keyed transactions | 3.5% + $0.15 |
| PayPal transactions in store | 2.7% |
| Cross-border transactions | 4.2% |
| Cross-border transactions (keyed transactions) | 5% + $0.15 |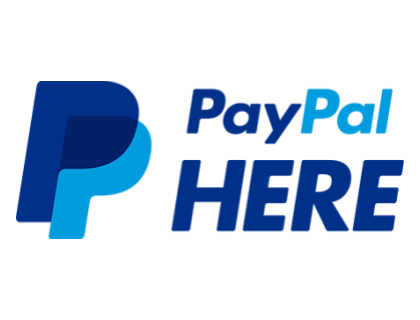 Review:
Pros: Features an easy-to-use interface with great mobile compatibility and no monthly fees or commitments.
Cons: PayPal Here is not ideal for businesses with high transaction volumes.
Bottomline: A great contract-free service that is compatible with an extensive range of devices and predictable flat-rate pricing.
Key Information:
| | |
| --- | --- |
| Legal Name | PayPal, Inc. |
| Founder | |
| Founding Date | Dec 01, 1998 |
| Address | 2211 North First Str., San Jose, California, USA 95131 |
| Number of Employees | 23200 |
| Number of Customers | 305000000 |
| Telephone | |
| Website | |
FAQs:
Can I use PayPal Here for personal use?
PayPal Here will automatically update any user with a personal account to a business account upon sign up. Users must be approved by PayPal to use PayPal Here.
How long does it take to get approved for PayPal here?
PayPal Here approval typically takes up to 48 hours, particularly if any documents are needed.
What does PayPal Here cost?
PayPal Here's pricing is based on a flat fee, ranging from 2.7% to 5% + $0.15 per transaction.
Does PayPal Here have a monthly fee?
No, PayPal Here does not require a monthly fee or contract.
Does PayPal report to the IRS?
PayPal will report to the IRS if you reach $20,000 in gross payment volume from goods and services sales in a single year as well as 200 payments for goods or services in the same year.
Does PayPal Here run a credit check?
To access PayPal Here, you will first need to sign up for a PayPal account, and PayPal may run a credit check before or while setting up your account.
Does PayPal Here work on laptops?
Yes. PayPal Here is available for free from the Windows Store and is compatible with PC, laptops, and mobile devices. You will still need to request a mobile card reader.
Does PayPal Here hold funds?
PayPal Here has a weekly limit of $500.00 for keyed-in or swiped cards and any payments above this limit processed in a rolling 7 day period will be held by PayPal for 30 days.
Can you use PayPal Here offline?
Yes, PayPal Here allows users to accept payments on the go with a smartphone or tablet.
Can PayPal Here accept payments over the phone?
Yes. You can use the PayPal Here app to accept payments over the phone. Simply tap on the card number and enter the customer's card number, expiry date, 3 digit CVV number, and postal code. You can then send a receipt via email or phone after the payment has been authorized.
What tablets are compatible with PayPal Here?
PayPal Here is compatible with iOS devices, iPad devices, and selected Android smartphones and tablets. You can find a full list on PayPal's website.
Can PayPal Here track inventory?
PayPal Here only offers an inventory catalog tool. However, you can integrate it with Shopventory for a fully-featured inventory tracking tool that automatically imports all your PayPal Here data.