How to Get UPC Codes
Learn more about getting UPC codes. Includes information on barcodes, sizing requirements, and a step-by-step guide, as well as FAQs.
Updated on August 17th, 2022
The SMB Guide is reader-supported. When you buy through links on our site, we may earn an affiliate commission. Learn more
Universal Product Codes, or UPC codes, are the 12-digit numbers given out by Global Standard 1 (GS1), a nonprofit group, and serve as a standardized means of tracking inventory and distinguishing sellers by location. The barcode, together with the UPC under it, is scanned at the time of a sale.
We spoke to Michelle Covey, VP of Commercialization at GS1 US, about the advantages of utilizing UPC codes to increase sales, prepare for channel expansion, and participate in the global market of retail.
Distinguishing Between UPCs, GTINs, and EANs:
While the UPCs, GTINs, and EANs are used interchangeably, there are certain nuances that distinguish these items and together create a holistic system of product identification that's used universally for retail purposes.
1. UPCs.
Universal Product Codes (UPCs) are barcodes that act as the identification system for a unique product sold via online marketplaces, e-commerce, and retail channels. While there's no way to scan the barcode online, e-commerce sellers may use UPCs for logistical purposes.
2. GTINs.
Global Trading Identification Numbers (GTINs) are globally unique numbers that are 12 digits in length and can be found just under the UPC barcode. Primarily used in the U.S. and Canada, GTINs provide sellers with unique product identifications that are accepted at all major retailers and can be used globally.
GTINs can be used with two different types of barcodes: Universal Product Codes (UPCs) and European Article Numbers (EANs).
3. EANs.
European Article Numbers (EANs) are the European versions of GTINs: they are 13-digit product identification numbers found just under the UPC barcode. These barcodes are licensed by GS organizations outside the U.S. but are accepted and used globally.
Michelle Covey, VP of Commercialization at GS1 US
"
Our goal at GS1 is to create a global language for trading partners to exchange product information. We also aim to bring retailers, government agencies, and trade associations together to discuss business standards, supply chain efficiencies, and industry guidelines.
"
Global Trade Identification Number Data Structures.
GTINs can be used with both UPCs and EANs. UPCs are mainly used in the U.S. and Canada and consist of two main types: UPC-A, which has 12 numbers (e.g., 036000291452), and UPC-E, which also has 12 numbers but with all zeros suppressed (e.g., 36291452). Most countries outside of the U.S. and Canada will use EANs. There are two main types of EANs: EAN-13, which has 13 numerical digits, and EAN-8, which has eight numerical digits.
Buying UPCs for Amazon:
Amazon requires all listings to have a UPC code in the Product ID section and will remove your listing if your UPCs don't match the information on GS1 US's database, so it is important that you buy legitimate UPCs for any product that you wish to sell on Amazon. Furthermore, if you go to a third-party reseller to buy a replicated UPC, the code will not link your product with your company.
You can follow the steps below to buy legitimate GS1 UPCs for your Amazon products.
Why you should get UPC codes:
Unique UPCs are required for every product being sold by retailers, wholesalers, and online marketplaces. If you want to distribute and sell your products, you will need one of these universal, standard codes.
How to Get Your Unique UPC Codes:
1. Calculate how many products need UPC codes.
You will need a different UPC for each product, including different sizes, volumes, flavors, etc. For example, if you have dress pants that come in red, green, and blue, and each color comes in small, medium, and large sizes, you will need 9 UPCs all together: three for the red pants, three for the green pants, and three for the blue pants, respectively.
Take inventory of all your products that require UPCs to estimate how many Item Reference Numbers (IRNs) you will need, as well as how many digits your highest IRN will have. The number of digits in your highest IRN will make up part of your 12-digit UPC.
You can then calculate how many digits your company prefix should have by subtracting the number of IRN digits from 11. The 12th number of your UPC will be the check digit, which is mathematically calculated from the other numbers.
As an example, if you have 9,145 products that need UPCs, your highest IRN will be 9145 (4 numbers). Your company prefix will then be 7 numbers long (11 - 4). Thus, your UPC will look like this: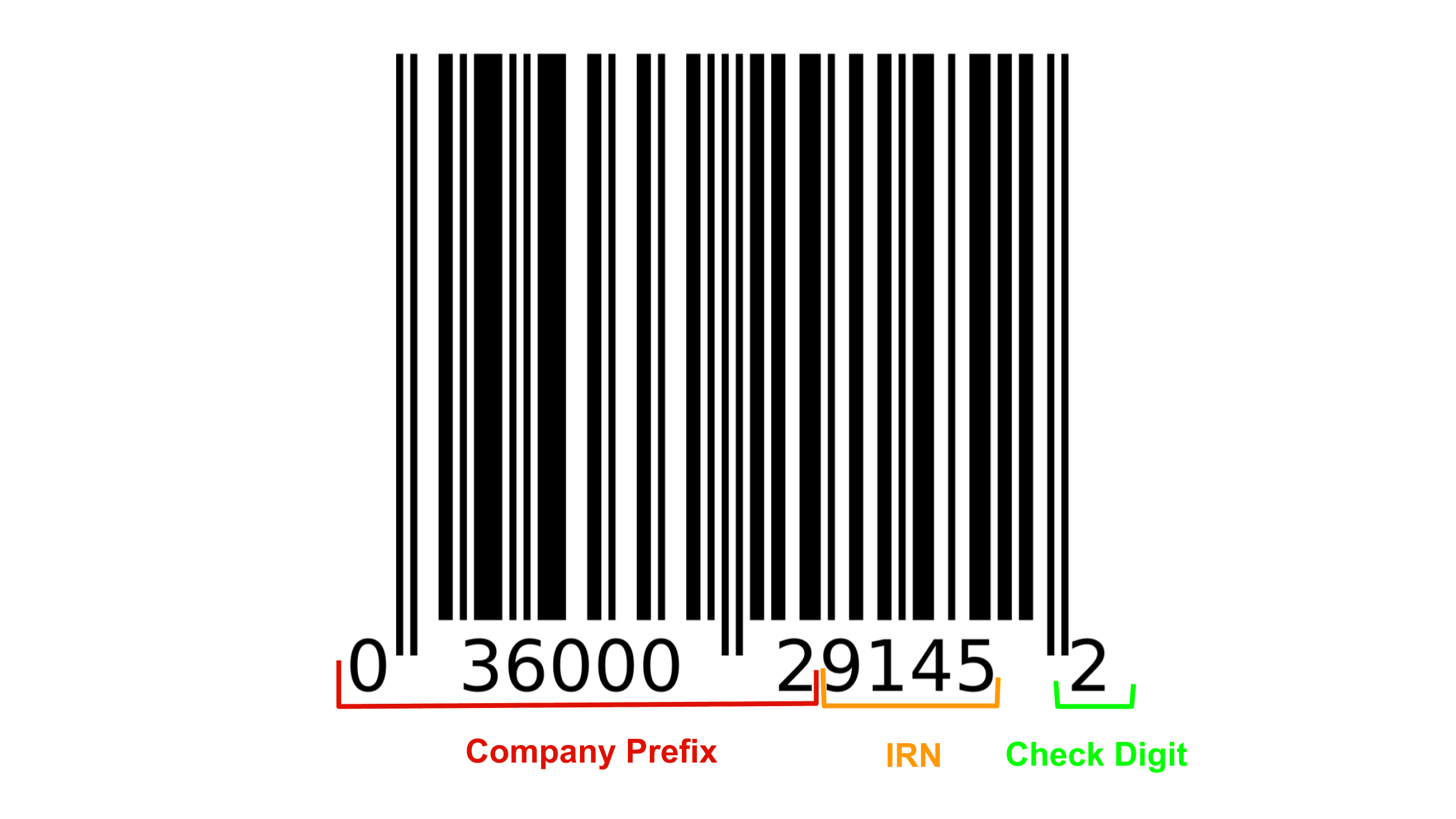 2. Join GS1 US and apply for your GS1 company prefix.
GS1 is the only legitimate producer of UPC codes, giving U.S. businesses access to unique GTINs and global supply chain and e-commerce standards.
You will need to apply for membership so that you can be assigned your company prefix, which is a unique set of digits that identifies your company as the manufacturer for your product supply chain.
Your membership fee, as well as the number of digits in your company prefix, will depend on the number of UPCs you need. See our table below for the GS1 US pricing guide.
You can fill in GS1 US's online application to apply for membership and your company prefix. You will need to add your company's contact details and your prefix pricing plan before paying online.
GS1 US Pricing:
| Number of Products | Initial Fee | Annual Renewal Fee |
| --- | --- | --- |
| Single GTIN | $30.00 | n/a. |
| 1 - 10 | $250.00 | $50.00 |
| 11 - 100 | $750.00 | $150.00 |
| 101 - 1,000 | $2,500.00 | $500.00 |
| 1,001 - 10,000 | $6,500.00 | $1,300.00 |
| 10,001 - 100,000 | $10,500.00 | $2,100.00 |
| NDC/NHRIC Company Prefix | $2,100.00 | $2,100.00 |
"
While GS1 does work with solutions partners to offer UPC codes and GTIN products, we are still the sole issuers and licensers of GTIN — no other organization can do that. — Michelle Covey.
"
3. Assign a unique product number.
You will need to create a unique product number for each of your products. This will be based on how many digits are in your IRN.
Using the example above, if you have 9,145 products, you will start assigning product numbers from 0001 all the way through to 9145. These unique product numbers will then be added to your company prefix to form 11 out of the 12 numbers in the UPC.
You can assign the IRNs to each product yourself and use GS1's check digit calculator, available for free as part of your membership, to calculate the 12th digit of the UPC. However, if you have a large range of products, keeping track of all the IRNs can be a challenge. As part of your GS1 membership, you will have access to their online Data Hub, which will help you to create, track, and double-check your IRNs.
4. Choose a barcode design.
Standard barcodes are vertical black stripes on a white background, but you can also choose blue stripes on a yellow or red background. Choose the color variety that you like and that best suits your products.
The standardized size for a UPC barcode is 1.469 inches wide by 1.02 inches tall. However, the barcode size can range from 1.1875 inches wide by 0.813 inches tall to 2.92 inches wide by 2.04 inches tall. Ensure that the UPC code is at a readable size. There should also be unprinted space to the left and right of the barcode for easy scanning.
5. Determine how to display the barcode.
If you have not yet printed your products' packaging or labels, you can order digital barcodes which can then be incorporated into the package or label design. You will need to place the digital barcode in an area of the packaging or label that will stay flat and unwrinkled for easy scanning. You will also want to double-check the size you need as changing the size of the barcode can affect scanning. Digital barcodes are usually placed in the lower right-hand corner on the back of the packaging.
If you have already printed your products' packaging or labels, you can order printed barcodes in the form of adhesive labels and apply them physically to your packaging or labels. You should place the barcode labels in the same location on all your products.
6. Order your UPC barcodes.
You can order digital barcodes with your unique UPCs from GS1's website. You will receive your UPC barcodes in EPS file format which you can then add to your label or packaging design with a program like Adobe Photoshop.
You can also order physical barcodes with your unique UPCs from GS1's website. You will receive adhesive labels with the printed barcodes on them which you can then physically apply to all your products.
Pricing for UPC barcodes ranges from a single GTIN for $30.00 to $10,500.00 per batch, depending on how many UPCs you order. This pricing excludes your membership fee.
7. Test the printed barcodes.
Once you have ordered your barcodes and included them in your packaging, you will want to test the printed barcodes and verify that they will scan properly. You can use a certified service that will verify your barcodes for a price, or you can buy your own verification equipment through GS1.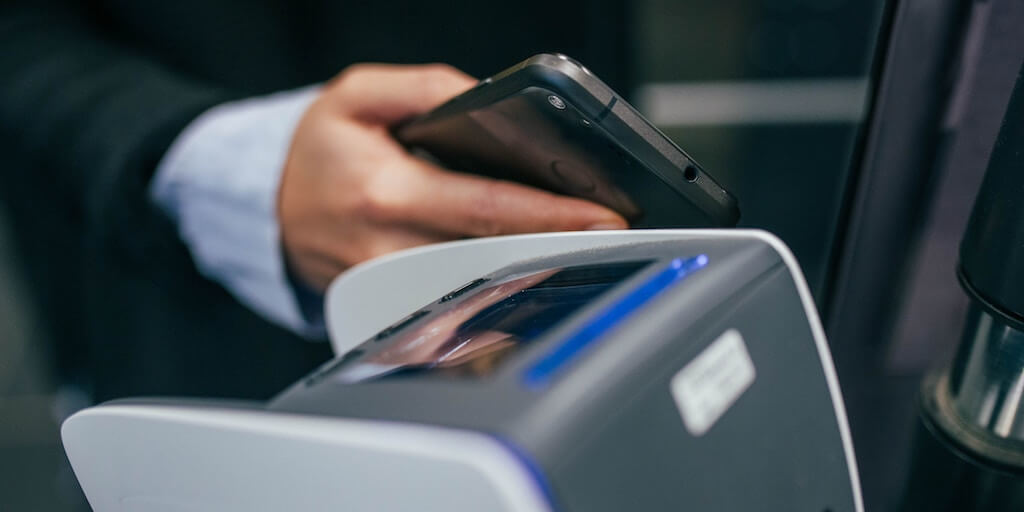 Compare the top Free POS Software systems, including Square, Loyverse, eHopper, and more. Learn about transaction rates, features, and FAQs.
Jan 25, 2023
Advantages of GS1 UPC Barcodes:
1. Google Search.
According to Google, products that include GS1 GTINs have a 40% higher click-through rate and generate around 20% more sales. Ultimately, UPC barcodes help Google prioritize listings and improve the chances of items showing up in search.
2. Authenticity.
GS1 US also provides an extra layer of security against illegitimate sellers. While it is cheaper to buy from these sources, they are typically less authentic than GS1's UPC codes. Thanks to their GPIR Database, GS1 is able to maintain UPC code information accurately and securely, providing users with truly unique barcodes that have not been used by other retailers.
In comparison, third-party sources may sell users made-up codes or codes from businesses no longer in existence, which can lead to long-term complications, such as having to repackage or re-label products. However, GS1 does provide several solutions partners with unique UPC barcodes.
Many retailers and marketplaces specifically list GS1 GTINs in their seller guidelines as a requirement to ensure consistent product identity and inventory management. If listings don't contain authentic GTINs from GS1 and are purchased from a third-party source, Amazon will hide those listings, resulting in lost sales.
"
GS1 essentially helps small businesses compete with big market players at an affordable price. We also coach new members through the item setup process so companies know they can comfortably plan for product expansion, adding more retail channels, creating shipping and carton labeling, etc. — Michelle Covey.
"
Other options for getting UPC codes:
While GS1 is the only legitimate producer of UPC codes, there are legitimate third-party internet sources that sell single UPC barcodes at discounted rates. However, most big retailers, such as Amazon, will not accept these barcodes as they were used by other companies and are no longer in use.
Legitimate Third-Party UPC Sellers:
| Company Name | Starting Price | Details |
| --- | --- | --- |
| | $5.00 per UPC code. | Buy UPC codes in bulk directly from GS1. They also offer a 100% money-back guarantee if your UPC code is not accepted by Amazon. |
| | $5.00 per UPC code. | They buy their UPC codes directly from GS1 in bulk and their customers are not required to pay additional fees. The more barcodes you buy, the bigger your discount. |
| | $12.00 per UPC barcode. | They sell a subset of the UPCs and EANs that their company owns, which means the company prefix will lead back to the manufacturer. They offer certificates of authenticity with purchases, but do state that it may be problematic to use their UPCs on Amazon. |
More Information:
The GS1 US podcast is a valuable resource for users interested in tech thought leadership, interviews with titans of industry, supply chain best practices, global logistics trends, and more.
FAQs:
How much does it cost to get UPC codes?
GS1 US offers a single GTIN for $30.00 with no renewal fee that's ideal for micro-businesses. They charge between $400.00 and $13,000.00 per batch for printed or digital barcodes, depending on the number you order. This price includes your membership fee to GS1. You can also purchase discontinued or bulk UPCs from third-party resellers at discounted rates.
How do UPC codes work?
UPCs consist of a company prefix, an item reference number (IRN), and a single check digit. The number of digits in your company prefix depends on how many digits are in your highest IRN, but together there should be a total of 11 digits, with the check digit being the 12th number.
The UPC is found under the black vertical lines of the barcode and is scanned together with the barcode at the point of sale. The company prefix will link the product to your company, and the IRN will identify the exact product.
What is a UPC number?
UPC codes are the 12 digit numbers found under barcodes on any point of sale product. They are made up of a company prefix, an item reference number, and a check digit.
How long does it take to get UPC codes?
GS1 processes applications daily, so you will normally get your company prefix within 24 hours.
How many UPC codes do I need?
You will need one company prefix and unique IRNs for each of your products and their variations. For example, if you have dress pants that come in red, green, and blue, and each color comes in small, medium, and large sizes, you will need a total of nine UPCs.
Are barcodes and UPCs the same?
The UPC code is 12 numerical digits that are found under the barcode. The barcode is a machine-readable version of the UPC and is in the form of vertical black lines. UPCs must be purchased from legitimate sources, while barcodes can be generated online.
Can I create my own UPC code?
No, a company can not "make up" its own UPC code. For a product barcode to scan at point of sale, it needs a UPC number that contains a GS1 assigned Company Prefix.
Can I print my own UPC labels?
After applying for a GS1 Company Prefix, you'll be able to assign each of your products a unique number. You can then define the features of your label, such as placement, size, color, and adhesive, and get them printed at a reliable label printing company.