Avaya
Read about Avaya pricing, customer ratings, and frequently asked questions. Includes comparisons to RingCentral and 8x8.
Updated on February 6th, 2023
The SMB Guide is reader-supported. When you buy through links on our site, we may earn an affiliate commission. Learn more
Avaya is a multinational technology company that provides a portfolio of communication solutions and products to businesses of all sizes. Its offerings range from PBX phone systems to cloud platforms and contact center solutions.
Also Consider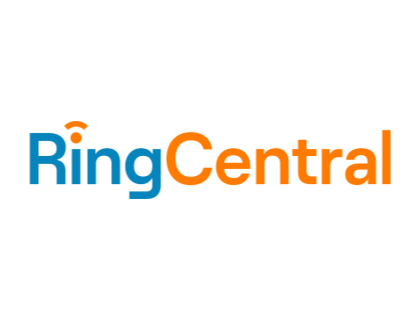 Full Featured Phone System, Fax, VoIP, and More
Get a Quote
Free trial available.
No contract required.
Includes call recording, call logs, conferencing, and more.
Avaya Pros and Cons:
Pros
Feature-rich plans for a competitive price.
Plans are suited for small and large businesses.
Avaya Spaces (90-day free trail).
Mobile and Desktop app.
Cons
Add-ons can be costly.
Not ideal for solo entrepreneurs and startups.
No voicemail capabilities.
Faxing features cost more money.
Limited integration.
Review:
Avaya's business phone system is a powerful, all-in-one solution tailored to meet the communication needs of small to large-sized businesses. Avaya's cloud-hosted phone system includes all standard features, including auto attendant, unlimited calling in the United States, call forwarding, and more.
Users will enjoy Avaya's wide selection of features and add-ons, including the Avaya Spaces application which lets you video, chat, and talk to clients or employees using HD quality conferencing. However, for businesses that require numerous integrations, Avaya is not the ideal choice.
Pros:
Plans are feature-rich, boasting collaboration tools like file sharing, instant messaging, video conferencing, and ring groups.
Avaya is competitively priced, with their most basic plan starting at $19.95 per user, per month. You can find similar prices with competitors like RingCentral and Vonage.
Avaya plans come with a meeting and conferencing application call Avaya Spaces. Users can enjoy a 90-day free trial.
Avaya also has a mobile and desktop app for employees on the go.
Cons:
If you require voicemail features, you may be more interested in plans by Vonage or OnSIP as Avaya does not provide any common voicemail tools. In addition, while most competitors include some faxing capabilities for free, Avaya's faxing services will cost you between $13.00 and $35.00 per month.
Reputation:
Out of the 150 user reviews posted on Gartner, Avaya received an average star rating of 4.4, with users mostly highlighting the ease of use and great call quality. However, a handful of users did point out minor bugs that resulted in poor reporting and dropped calls.
We found 21 reviews on Software Advice that praised the ease of use. However, several customers also noted that the system can be quite costly, especially if you have to purchase hardware and licenses.
Pricing:
Avaya's pricing is not readily available on its website. Interested users should fill out the site's online contact form for a custom quote.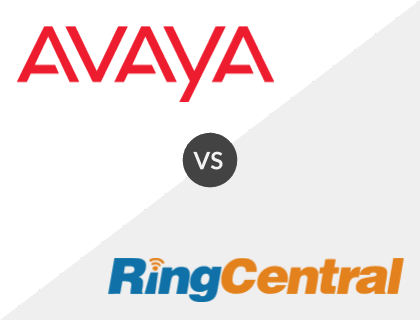 Avaya vs. RingCentral:
while users need to contact Avaya for a custom quote, RingCentral's basic plan costs $32.00 per user per month. Both platforms offer auto-attendant, HD voice, and call-forwarding tools. However, Avaya only features nationwide unlimited calling.
Avaya vs. RingCentral Comparison:
| Features | Avaya | RingCentral Standard |
| --- | --- | --- |
| Unlimited calls within the U.S. and Canada | Unlimited U.S. calls only. | Yes |
| Auto attendant | Yes | Yes |
| HD voice | Yes | Yes |
| Voicemail | No | Yes |
| Call forwarding | Yes | Yes |
| Reports | No | Yes |
| Business SMS | Yes | Yes |
| Call recording | No | Only on-demand. |
| Video conferencing | No | Yes |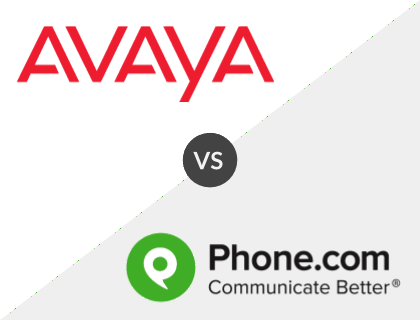 Avaya vs. Phone.com:
Phone.com's basic plan includes sought-after features like auto-attendant, call forwarding, and business SMS. Phone.com has a lot to offer, boasting many features missing from Avaya, such as voicemail and hold music.
Avaya vs. Phone.com Comparison:
| Features | Avaya | Phone.com Basic |
| --- | --- | --- |
| Unlimited calls within the U.S. and Canada | Unlimited U.S. calls only. | Yes |
| Auto attendant | Yes | Yes |
| HD voice | Yes | Yes |
| Voicemail | No | Yes |
| Reports | No | No |
| Business SMS | Yes | Yes |
| Call recording | No | On-demand. |
| Hold music | No | Yes |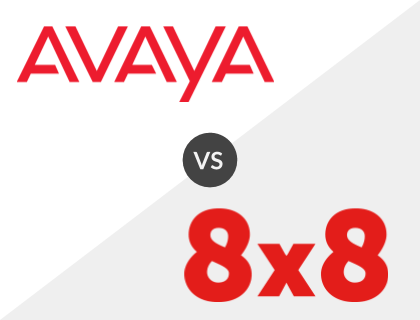 Avaya vs. 8x8:
For $15.00 per user per month, 8x8 includes auto attendant, call routing, video meetings, and much more. Avaya's pricing is not readily available on its website, but has similar features to 8x8, with the addition of standard reporting and ring groups.
Avaya vs. 8x8 Comparison:
| Features | Avaya | 8x8 |
| --- | --- | --- |
| Unlimited calling within U.S. and Canada | Limited to U.S. only. | Yes |
| Call forwarding | Yes | Yes |
| Business SMS | Yes | Yes |
| Auto attendant | Yes | Yes |
| Voicemail | No | Yes |
| Reports | Yes | No |
| Call recording | Yes | Yes |
| Ring groups | Yes | No |
| Faxing capabilities | No | Yes |
Avaya OneCloud Business Phone Systems:
Avaya offers an all-in-one business phone system packed with standard features to help enhance calling, meetings, team collaboration, and much more. Users have the option of purchasing an on-premises or cloud-based phone system, each with its own benefits and drawbacks.
The cloud-based solution is Avaya's top-choice, as it requires no additional hardware maintenance or software installation, meaning your business will ultimately save money. In addition, the cloud-based phone system allows employees to stay in contact with their colleagues, clients, and managers wherever they go.
Delivery Options:
Public: Using the Avaya OneCloud solution with the public delivery option means users can easily access the cloud contact center and unified communications software applications. The public route is best for small and midsize businesses, as well as large enterprises that want to create special projects or departments on a public cloud infrastructure.

Private: With the private option, your business will receive a private cloud solution that you have complete control over. Avaya simply helps install, operate, and manage your cloud migration solution based on the service agreement you create. This option often appeals to very large, global enterprises.
OneCloud IX Workplace.
For businesses that require a more robust phone system, Avaya introduced their Unified Communication as-a-service (UCaaS) solution called OneCloud IX Workplace. With this comprehensive solution, you combine chat, meet, video, and more, in one complete system. Avaya's UC solutions are available on a subscription basis and can be delivered through a public, private, or hybrid cloud.​
Avaya's UC solutions' plans come in three variations:
The Essentials plan was created for solo users, breakrooms, and lobby receptionists. Users enjoy features like a cloud-based phone system, virtual meeting rooms, unlimited domestic calling, and employee instant messaging.

The Business plan delivers all the features provided in the Essentials plan, with the addition of standard reporting, business integrations, simultaneous ringing, and more. This plan was tailored for businesses that need strong conferencing, video, and mobile applications.

The Power plan was created with exceptional integration capabilities and comes equipped with all features listed in the Business plan. The Power plan also includes additional features like advanced call reporting and direct video calling.
Avaya's full pricing can be found in the pricing table listed above. Avaya's pricing is based on the number of users your business needs. The more users your business needs, the less you'll pay per seat. Customers have the option of choosing a month-to-month package or commit to 1, 3, or 5-year plans.
It's important to note that the pricing listed above is for small to midsize businesses with up to 2,000 employees. If your business has over 2,000, you can contact Avaya for a personalized quote.
Avaya OneCloud IX Workplace Features:
Standard telephony features.
Unlimited calling nationwide.
Virtual Receptionist.
Ring and hunt groups.
HD voice.
Meetings and collaboration space.
Instant messaging.
Simultaneous ringing.
Soft desktop client.
Call recording.
Advanced and standard call reporting.
Direct video calling.
OneCloud IX Contact Center.
Avaya provides a high-performance contact-center-as-a-service (CCaaS) solution that offers everything from voice to self-service administration. For contact centers that require a powerful business phone system, the Avaya IX Contact Center is the ideal fit, launching in the cloud—public, private, or hybrid—or on your premises.
The system comes equipped with a range of products to help improve digital channels and workplace engagement, such as inbound and outbound video, voice, email, and chat. Other features include auto attendant, skills-based routing, call recording, and quality management.
OneCloud IX Contact Center Features:
Business voice features (answer, hold, transfer, etc.).
Call center routing.
Call center reporting.
Compliance recording + 90-day storage.
IVR.
Cloud webphone.
Screen capture.
Quality management and coaching.
CPaaS.
Avaya's OneCloud communication platform as-a-service (CPaaS) helps businesses create and integrate applications into any workflow platform or with your current communications systems. Ultimately, Avaya's CPaaS option lets you customize your phone communication system to meet your business's specific needs.
For example, if your business requires MMS and SMS applications, you can simply build one using Avaya's solution. The CPaaS solution includes API integrations for speech recognition, SMS and MMS, phone calls, and text-to-speech, to name a few.
Other Products by Avaya.
Avaya Cloud Office by RingCentral.
Avaya's Cloud Office offers the Unified Communications (UC) system experience in one powerful application. Created in partnership with RingCentral, Cloud Office is a powerful all-in-one platform that provides businesses with all the tools they need to stay connected. With this system, you can effortlessly meet, chat, video call, or collaborate with team members using a cloud-based server.
Ideal for mobile devices like smartphones and tablets, the Cloud Office app allows you to stay in contact with the office while on the move. Users enjoy unlimited audio (1,000 participants) and video conferencing (500 participants), file and desktop sharing, business SMS and MMS, and task management tools.
You can contact the Avaya sales department for a personalized quote.
Avaya Spaces.
Avaya Spaces is a cloud-based collaboration and meeting solution created for businesses of all sizes. Recently launched, the Avaya Spaces solution boasts a wide selection of powerful features including file sharing, messaging, and audio and video conferencing, among others.
Avaya Spaces is great for laptops, tablets, and smartphones, ensuring employees who are frequently on the move stay connected to the office wherever they go. In addition, you can manage tasks, organize files and messages, and meet with clients face-to-face thanks to features like HD voice and video conferencing, unlimited file sharing, and group task management.
Integrations:
| Software | Integration |
| --- | --- |
| Customer Relationship Management (CRM) | |
| Video Conferencing | |
| Project Management | |
| Search Engine | Google |
Key Information:
| | |
| --- | --- |
| Legal Name | Avaya Inc. |
| Founding Date | Jan 01, 2000 |
| Address | 4655 Great America Prkwy, Santa Clara, CA 95054 |
| Number of Employees | 7900 |
| Number of Customers | 100000 |
| Telephone | |
| Website | |
FAQs:
How much does an Avaya phone system cost?
Avaya's pricing is not readily available on its website. Interested users should fill out the site's online contact form for a custom quote.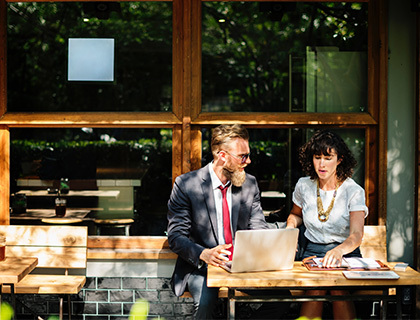 What does Avaya stand for?
Avaya Inc. is a telecommunications company that provides a suite of solutions and products to small, medium, and large enterprises around the world. Avaya is headquartered in Santa Clara, California, and services thousands of customers in over 150 countries.
What is the Avaya phone system?
The Avaya phone system offers a solution that helps manage all business communications on the devices, such as laptops, mobile phones, or office phones. The system uses a wireless or broadband connection to connect.
Who is the CEO of Avaya?
Jim Chirico is the CEO of Avaya.
Is Avaya a VoIP?
No, but Avaya does offer a business VoIP option. The Avaya VoIP phones are supported on the Avaya IP Office and Communications Manager platform.
What is an Avaya Session Manager?
Avaya Session Manager performs SIP routing and integration functions. With this option, businesses can integrate all the SIP entities across the entire network within a company.
What is Avaya Media Server?
Avaya Aura Media Server is a scalable software that utilizes the latest open standards for media control and media processing.
What is Avaya Contact Center?
Avaya Aura Contact Center is Avaya's comprehensive contact center solution created to help mid-sized enterprises manage their customers' experiences. It offers multimedia routing, workforce optimization, and outbound self-service.
What is Avaya PBX?
Avaya PBX, also known as Avaya IP Office Platform, delivers telephony, contact center, messaging, conferencing, and unified communications within a complete integrated system. The platform is flexible and scalable and allows employees to engage anytime from anywhere in the world.
What are the advantages of Avaya Unified Communications?
The Avaya Unified Communications portfolio offers an all-in-one communications solution comprised of multi-media messaging, video conferencing, cloud-based infrastructure, and more.
All solutions are user-friendly in an effort to simplify team interactions, improve efficiency and effectiveness, and increase customer satisfaction.
What is Avaya Equinox?
Avaya Equinox is a premium solution that works across applications, browsers, and devices used by employees every day. Key capabilities include "always-on" messaging, in-app UC experiences, web streaming, HD video, and flexible deployment on your premises or in the cloud.
How do I get in touch with Avaya support?
Go to support.avaya.com where you will find a knowledge base of articles and videos. This is also where you can speak to a live agent via online chat. Alternately, call Avaya's customer service number on 1 (908) 953-6000.
How does Avaya phone call forwarding work?
There are various user guides for each Avaya phone system. Refer to your Avaya phone manual or visit their support page.
What are some alternatives to Avaya?
Did Avaya buy Nortel?
Yes. The final auction for Nortel Enterprise occurred in September 2009, ending with Avaya buying the company with a bid of $900 million.