Best PBX Phone Systems for 2019
Discover the best PBX phone systems for small businesses. Includes pricing, rankings, and frequently asked questions.
Updated on June 4th, 2019
The SMB Guide is reader-supported. When you buy through links on our site, we may earn an affiliate commission. Learn more
A PBX phone system is a private phone system that is used within a company. PBX stands for Private Branch Exchange. PBX systems use local or hosted servers to create private phone networks that communicate with each other, or with outside callers.
Many businesses use PBX phone systems because they are secure and very affordable in comparison to other telephone configurations.
Below is a list of the best PBX phone systems for small businesses.
Best PBX Phone Systems:
| Our Rank | PBX System | Starting Price |
| --- | --- | --- |
| 1. | | $25.00 |
| 2. | | $25.00 |
| 3. | | $29.95 |
| 4. | | $15.00 |
| 5. | | $12.99 |
| 6. | | $12.99 |
| 7. | | $20.00 |
| 8. | | $9.95 |
| 9. | | $24.00 |
| 10. | | $19.95 |
Standard PBX Phone System Features:
Call recording.
Calls can be recorded and saved for playback at a later date. This is often useful in customer service and training environments.
Call forwarding.
Automatically forward incoming calls to another phone line within or outside of the network.
Caller ID.
The system gathers information about incoming calls and displays the number and name if it is available.
Conference calling.
A connection can be formed between three or more numbers to start a conference call.
Extension dialing.
Other lines within the PBX network can be dialed using an extension number instead of a full phone number.
FAQs:
How much is a PBX phone system?
If you are using a PBX business phone system that is hosted by a software company, as most small businesses do, then you can expect to pay between $3.00 and $30.00 per month. If you are hosting your own PBX system, it may cost you up to $1,000 per employee to implement.
What is an analog PBX phone system?
An analog system requires old fashioned phone lines to make and receive calls. A digital PBX system does not need separate phone lines or a central switchboard since it forms connections via a central internet server.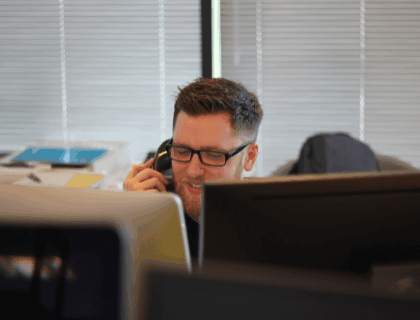 Best Office PBX Phone Systems:
Can I buy used PBX phone systems?
You can buy used office phones that plug into a PBX system. Used and refurbished phones can be purchased on Amazon, Ebay, and other e-commerce sites.
What does PBX stand for?
PBX stands for Private Branch Exchange. A PBX system is a secure, private network that uses a server to create communication lines.
Types of PBX Phone Systems:
| Name | Description |
| --- | --- |
| Traditional PBX | Uses physical hardware that is hardwired to a landline. |
| IP PBX | Uses VoIP technology to make phone connections digitally. Still requires PBX hardware. |
| Hosted PBX | Creates digital connections through a VoIP service. Hosted by a third party, so no hardware is necessary. |
| Virtual PBX | Similar to a hosted PBX, but with limited features. |