eVoice is a virtual phone system that automatically answers calls and routes them to any phone number or mobile device of your choice.
eVoice Customer Ratings:
| Reviewer | Rating | Review |
| --- | --- | --- |
| Jaci E. | 1/5 | The customer service is horrible. After picking a vanity toll free number and having it confirmed as available by the rep, he apparently ordered the wrong vanity number on my account. This is despite him reading the number to me multiple times correctly. |
| Deborah H. | 4/5 | I have found eVoice is an affordable, easy option to manage our number. We have been able to change our settings easily as needed. |
| Aimee B. | 1/5 | Awful, awful, awful. Their website is an absolute pain to use to administer your account, call quality is marginal at best and their customer service is beyond terrible. |
| Tanya B. | 4/5 | Helpful, explained options well, kept me informed via emails on the progress. Replied promptly to email questions. |
| Alex S. | 1/5 | Product doesn't work, and once you sign up they did not let me cancel. I had to call my credit card company to dispute the charges. Save yourself the aggravation and stay away from eVoice.com. |
| Carolyn V. | 5/5 | From the first call to investigate what we could do to the allocation of number and service starting it was professional, helpful and easy. |
| Peter W. | 1/5 | Initial contact was good, contacted eVoice regarding an account charge error and being double charged for 3 separate accounts. However since then, I'm utterly disappointed by the lack of contact & poor service that I've received from eVoice. |
| Andrea S. | 1/5 | eVoice is terrible. We have called them numerous times to get help with our account and they could not find our account in their system... we have had our account with them for years. |
| Hannah H. | 4/5 | Good service and good quality of calls. Customer service is great just sometimes hard to get through but they do call back. |
| Alex S. | 1/5 | I signed up for their free trial recently. It didn't work at all, and would not even let me create my account. It did manage to get my credit card info. I then told them to cancel later the same day, but they refused to accept. I told them I would simply dispute the charge, as it was a free trial and never worked. |
eVoice Pricing:
| Plan Name | Monthly Price |
| --- | --- |
| eVoice Lite | $12.99 |
| eVoice 1 | $29.99 |
| eVoice 2 | $49.99 |
| eVoice 3 | $79.99 |
eVoice Key Information Table:
| | |
| --- | --- |
| Co-Founders | Mark Klein, Wendell Brown, Taro Gold |
| Founded | 2000 |
| Headquarters | Los Angeles, CA |
| CEO | Vivek Shah |
| Number of Employees | 1,000+ |
| Number of Customers | 5,000+ |
| Phone | 1 (877) 581-5789 |
| Address | j2 Global, Inc. 6922 Hollywood Blvd., 5th Floor, Los Angeles, CA |
| Website | |
eVoice FAQs:
What is the price range of eVoice?
The eVoice virtual business phone service has four price tiers ranging from $12.99 to $79.99 per month. eVoice Lite gives you 300 minutes, 2 extensions, and 6 business telephone numbers. With eVoice Plan 1 you get 1,000 minutes, 5 extensions and 6 phone numbers, Plan 2 offers 2,000 minutes, 10 extensions and 30 phone numbers, and Plan 3 offers 4,000 minutes, 15 extensions, and 45 business phone numbers respectively.
What is eVoice and how does it work?
eVoice is a virtual phone system that can automatically answer and route incoming calls to any device, person or department, no matter where you are. It is marketed as a small business phone service but because the platform is customizable, mid-large businesses can also make use of it. Businesses are able to choose local, toll-free, or international numbers. You can create your own custom greeting and all incoming calls are answered 24/7 by an auto attendant. Features include call routing schedules, voicemail messages, inbound faxing, and extensions that you can easily activate via the eVoice cloud-based interface online.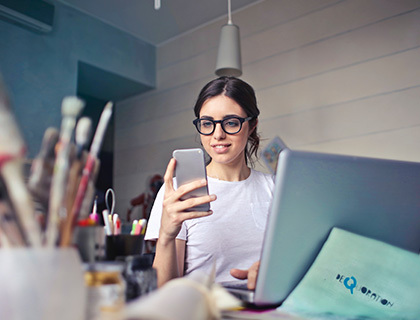 eVoice vs. Grasshopper
Grasshopper offers three tiers ranging from $29.00 to $89.99 per month, which is comparable with eVoice. Although Grasshopper offers fewer phone numbers and extensions, you get unlimited call handling and minutes. Both providers offer the same features but Grasshopper's reputation surpasses eVoice.
What is eVoice Live Receptionist?
If you prefer a human voice to an auto attendant's, eVoice Live Receptionist is a premium answering service with a dedicated team of 4-6 virtual receptionists that answer and route your calls, schedule appointments, and handle administrative tasks. The team is available between 8am - 8pm ET. There are three plans ranging from $129.99 to $399.99 per month.
What is eVoice click to call?
eVoice Click to Call is a widget that allows you to create your own custom "Call-Me" button for your website, blog, email or marketing material. This feature is included in your eVoice plan.
Is there an eVoice app?
Yes, you can install the free eVoice mobile app for iOS and Android.
How can I get in contact with eVoice customer service?
Go to evoice.com/support for the eVoice knowledge base. You can also speak to an eVoice customer service representative via online chat 24/7, or call them on 1 (866) 761-8109.
Where do I find the eVoice login page?
You can log in via their website or go to evoice.com/login.