Grasshopper Phone
A Grasshopper phone system could change the future of your business. Read customer reviews, pricing and FAQs for Grasshopper software.
Updated on September 19th, 2023
The SMB Guide is reader-supported. When you buy through links on our site, we may earn an affiliate commission. Learn more
Grasshopper phone software is a business phone system that allows users to set up a toll-free line, manage extensions, forward calls and more. Grasshopper can turn a smartphone or computer into a business line with full texting capabilities.
Also Consider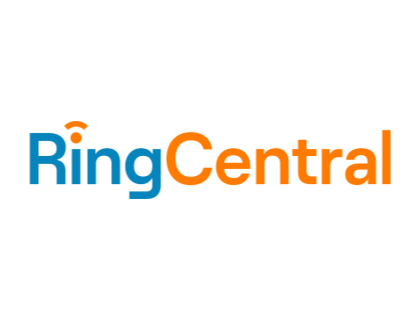 Full Featured Phone System, Fax, VoIP, and More
Get a Quote
Free trial available.
No contract required.
Includes call recording, call logs, conferencing, and more.
Pros and Cons:
Pros
Desktop and mobile apps.
Feature-packed.
Designed for startups and solo entrepreneurs.
Grasshopper Connect.
Good customer support.
Cons
Limited plans.
Not suited for medium to large-sized businesses.
Number porting process takes up to 10 days.
Mobile app needs improvement.
Review:
Grasshopper's feature-packed plans were created for the solo entrepreneur and small business owner looking to unify their communications system.
Grasshopper is a powerful business phone system that helps small business owners efficiently manage operations with standard features like business calling and texting, custom greetings, call forwarding, voicemail, and much more. With a mobile and desktop app, you and your employees can remain in touch, receive and send text messages, and view call history from anywhere.
Pros:
Grasshopper plans may be limited but the plans that are available are feature-packed.
Grasshopper Connect is a separate all-in-one communications system that lets you view and manage business calls.
The plans available were strategically created for a sole proprietorship, startups, and small business owners.
Desktop and mobile apps.
Cons:
Unlike most of its top-competitors, Grasshopper does not offer a plan that is suited for medium and large-sized business. In addition, Grasshopper's plans are quite limited when you look at competitors like 8x8 and RingCentral, which include hold music, unlimited calling, auto attendant, and video conferencing features.
Reputation:
Grasshopper users excellent good customer support and reviews have highlighted the great mobility of the platform. However, we found customer reviews that mentions the poor mobile app and call quality.
Pricing:
| Plan | Monthly Pricing* |
| --- | --- |
| Solo | $31.00 |
| Partner | $51.00 |
| Small Business | $89.00 |
*Discounts are available for annual subscriptions.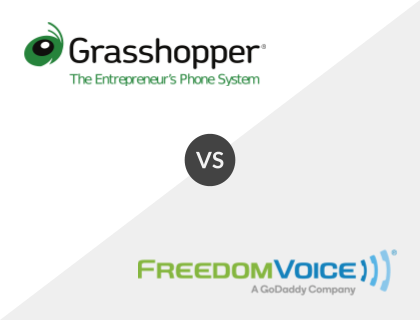 Grasshopper vs. FreedomVoice:
FreedomVoice is an affordable business phone system, with prices starting at $9.95 per month, per line for a basic cloud phone. Grasshopper is more expensive, starting at $29.00 per month. However, Grasshopper includes more advanced features like custom greetings and incoming call control.
Grasshopper vs. FreedomVoice Comparison:
| Feature | Grasshopper | FreedomVoice |
| --- | --- | --- |
| Unlimited calling within the U.S. and Canada | No | No |
| Local or toll free number | Yes | Yes |
| Unlimited Business SMS | No | Yes |
| Call forwarding | Yes | Yes |
| Faxing capabilities | Yes | Yes |
| Hold music | No | No |
| Auto attendant | No | Yes |
| Voicemail | Yes | Yes |
| Reports | Yes | Yes |
| Customer greetings | Yes | No |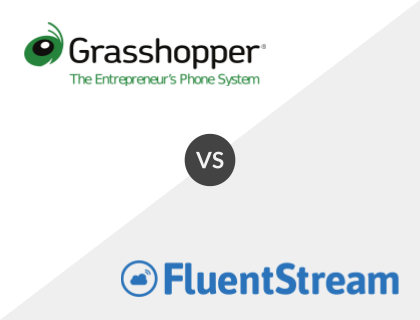 Grasshopper vs. FluentStream:
FluentStream has plans starting from $5.00 per user per month and features services like call forwarding, auto attendant, caller ID, and much more. Grasshopper offers fewer features for $31.00 per month but does include basic services like business texting and voicemail.
Grasshopper vs. FluentStream Comparison:
| Feature | Grasshopper | FluentStream |
| --- | --- | --- |
| Unlimited calling within the U.S. and Canada | No | No |
| Call forwarding | Yes | Yes |
| Auto attendant | No | Yes |
| HD voice | No | Yes |
| Voicemail capabilities | Yes | Yes |
| Custom greetings | Yes | No |
| Business SMS | Yes | No |
| Faxing capabilities | Yes | Yes |
| Reports | Yes | No |
| Caller ID | No | Yes |
Virtual Phone System for Small Businesses:
Grasshopper offers a virtual phone system equipped with all the communication tools needed for businesses to grow. The phone system includes both standard and advanced features, such as business texting, call forwarding, voicemail, and incoming call control, among other features.
With the Grasshopper system, you can make and receive business calls and texts from anywhere and take multiple calls at the same time. The system also showcases your business's professionalism thanks to robust features like custom greetings and extensions that welcome callers and transfers them to the appropriate department or employee.
The Grasshopper phone system plan comes in three variations:
The Solo plan includes one number and three extensions, and is ideal for the solo entrepreneur or sole proprietorship.
The Partner plan was created for startup businesses with 1-3 employees. The plan includes three numbers and six extensions.
The Small Business plan is exactly that, a plan designed for growing businesses that require flexibility. This plan includes five numbers and unlimited extensions.
Additional Grasshopper Features:
Voicemail transcription.
Call transfers.
Incoming call controls.
VoIP/Wi-Fi calling.
Desktop and mobile apps.
Reporting.
Virtual fax.
Features:
Desktop and Mobile Apps.
Grasshopper's desktop and mobile apps are designed for small business owners who need to be on the go. Customers use Grasshopper apps for business calls to keep work and personal lives separate, send and receive text messages, and view call history.
You can use the mobile app to keep your personal and business phone number separate, and is equipped with all the virtual phone system features. The mobile app is available on Android and iOS devices.
The desktop app uses internet connection to make and receive VoIP calls, text messages, and view voicemails and call history so you can respond to clients efficiently. Grasshopper is available for Windows and Mac devices.
Key Information:
| | |
| --- | --- |
| Legal Name | Grasshopper |
| Founder | |
| Founding Date | Jan 01, 2003 |
| Address | 320 Summer St., Boston, MA 02210 |
| Number of Employees | 100 |
| Number of Customers | 350000 |
| Telephone | |
| Website | |
FAQs:
How do you use a Grasshopper phone?
Choose your number and plan.
Download the Grasshopper apps.
Configure your settings.
Get to work.
How much does Grasshopper cost per month?
Grasshopper's monthly plans range from $31.00 to $89.00 per month, depending on the package.
Is Grasshopper a VoIP?
No, Although Grasshopper is managed online, Grasshopper is not a business VoIP solution. You can't make a phone call the same way you would with a VoIP phone.
Can you port a Grasshopper number?
Yes, you can port your existing number to Grasshopper at no additional charge.
Do I need new phone lines if I get a Grasshopper phone system?
No, Grasshopper is a virtual phone system, so your business phone line can run on the internet instead of being hardwired to a phone line.
Does Grasshopper's small business phone service include texting?
All of the Grasshopper virtual phone plans include business texting capabilities, call forwarding, and custom greetings.
Can I make long distance calls on a Grasshopper business phone?
Yes, you can call any country in the world on a Grasshopper internet phone. Each country has a different per minute rate. You can check the rates at grasshopper.com/international-rates.
Can I get a free business phone number with Grasshopper?
No, business phone numbers are not free with Grasshopper. To get a number, you have to at least sign up for their cheapest business phone plan, which costs $29.00 per month.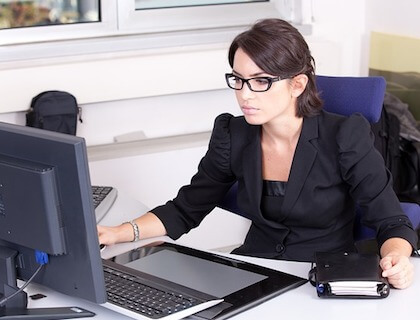 What is a virtual receptionist phone system for small businesses?
A virtual phone receptionist can welcome callers with a pre-recorded message and present them with a list of numbered options that they can select. This helps to give your business a more professional feel and to filter calls as they come in.
How many small business phone lines can I get with Grasshopper?
You can get up to five phone lines per account with Grasshopper's business telephone service.
Is Grasshopper a cheap business phone line?
Grasshopper does not sell the cheapest small business phone lines, but at a starting price of just $31.00 per month, you could consider it to be an affordable business phone service. Call routing systems for small businesses vary widely in price, but Grasshopper is a good entry-level solution.
Does Grasshopper provide a free virtual phone system?
All of Grasshopper's plans require a paid subscription. Bitrix24 and Nexmo have free versions, but their usefulness is limited and you certainly will not have access to all of the features that Grasshopper has.
What are some alternatives to Grasshopper?