Zenefits Review
Learn more about Zenefits for your business. Includes info on Zenefits, pricing, customer reviews, and frequently asked questions.
Updated on August 21st, 2020
The SMB Guide is reader-supported. When you buy through links on our site, we may earn an affiliate commission. Learn more
Updates:
Updated 4th of February 2020
We added pricing comparisons for Quickbooks and Gusto.
Updated 19th of March 2020
We added a question & answer section with responses from a Zenefits representative.
Updated 21st of August 2020
We updated the pricing section.
14-Day Free Demo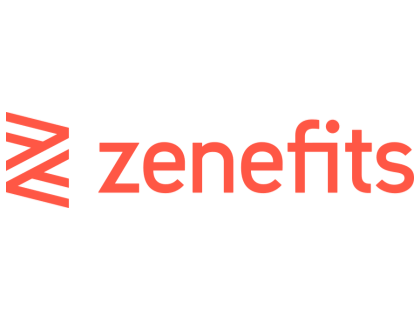 Start a 14-day demo.
Get Started
Includes phone support.
Handles benefits, payroll, and HR.
Automatically assists with compliance.
Pricing:
| Option | Monthly Price Per Employee (Billed Monthly) | Monthly Price Per Employee (Billed Annually) |
| --- | --- | --- |
| Essentials Base Plan | $10.00 | $8.00 |
| Growth Base Plan* | $18.00 | $14.00 |
| Zen Base Plan* | $27.00 | $21.00 |
| Payroll Add-on | $6.00 | $6.00 |
| Advisory Services Add-on | $10.00 | $8.00 |
| Benefits Admin Using Own Broker Add-on | $5.00 | $5.00 |
*Due to Covid-19, Zenefits is offering small businesses 1 free year of payroll with an annual subscription to their Growth and Zen plans, for new and existing customers.
Review:
Zenefits is one of our top choices for payroll software because it has many useful and intuitive features. It has all of the standard payroll software features, such as automated taxes, multi-state services, and direct deposit for paychecks. It also includes lifetime accounts so that former employees can access pay stubs and locate tax information.
Highlights.
Includes year-round record keeping, banking information management, an activity dashboard, and data migration.
Lifetime accounts and expense integrations.
Federal R&D tax credits.
Run payroll in multiple states.
Shortcomings.
Zenefits does not offer net-to-gross calculations or easy payroll cancellations, both of which are offered by Quickbooks. While Zenefits is useful for companies looking for a complete HR solution, the pricing structure does not make it optimal for businesses that are looking for a standalone payroll platform.
Reputation.
Zenefits has a positive reputation overall as it is known for being a comprehensive and reliable customer service solution that improves benefits administration and payroll. However, as with most companies this size, we did find some complaints. There were some complaints from customers regarding the difficulty of setting up health benefits. Some customers found that setting up their benefits plan was complicated and that even after a manual setup their deductions and benefits were not calculated properly.
Q&A with Zenefits:
We chatted with a representative from the Zenefits team to find out more about what makes their platform stand out.
Q: Some of your competitors offer payroll with their starting packages. You only offer it as an add-on. Why is that?
A: The correct question is actually the opposite: why do many - if not all - of our competitors require that their customers use their Payroll services in order to have access to their HR offering? We start with core HR because we believe that the employee record is the rightful hub of the HR tech ecosystem and that other tools (time tracking, benefits tech, and especially payroll) serve solely to either input data into or export data from a core HR tool. We're extremely proud of our Payroll product and we see roughly 70% of new customers using it. But in that same vein, if a customer is happy with their existing payroll provider but still wants to use Zenefits' Core HR product as the foundation for their HR tech platform, we are happy to support them.
Q: Why should business owners choose Zenefits over Gusto?
A: Gusto is laser-focused on serving super small businesses and they do a good job of this. But as these businesses mature and their needs evolve, they can outgrow the feature set offered by Gusto. Zenefits not only understands and meets the needs of the super small business but also businesses with hundreds and even 1,000+ employees. Offerings such as complex Payroll features, robust Time Tracking tools, Scheduling, Performance Management, Compensation Management, Well-being, and HR support for international workers are natively-built, core parts of the Zenefits platform that are not offered by Gusto.
Q: Who is the ideal Zenefits customer?
A: Zenefits supports small and medium-sized businesses with anywhere from 2 to more than 1,000 employees. Our platform is priced and packaged to support our customers across this size range as they grow and their needs evolve. Built for ease of use by employees and administrators alike, we are the go-to tool for company founders, CEOs, and COOs/Heads of Finance. As companies mature beyond 50, and sometimes up to 150 employees, we start to see HR leaders join our customers' businesses to manage people operations.
Q: Are there any industries/businesses where Zenefits may not be helpful?
A: As an HR tool for small and mid-sized businesses, we are applicable and heavily relied upon in nearly every vertical market sector.
Q: How are you working to improve your product?
We continually advance our unified People Platform and push out updates weekly, if not daily, to ensure that our customers' and their employees' experiences continue to set the bar in the industry. This includes feature enhancements across our mobile product along with new products. Last year, for example, we introduced new products in Well-being and Compensation Management, as well as support for contingent workers and deeper payroll functionality.
Q: What happens when I request a product demo?
A: A sales development representative will reach out to you to schedule your demo. During this time, the sales development representative will ask you questions about your business in order to connect you with the best possible person to demo the product for you. This will also make sure that they demo the parts of the product that are the best fit for your business.
Q: What is the biggest change/benefit that your customers notice when they start using Zenefits?
A: This can depend on the previous state of the business, however, the beneficial change that is almost universal among new customers is the fact that when someone starts using Zenefits, they no longer need to update a bunch of different systems every time an employee is onboarded, terminated, or undergoes any other change that HR systems would need to reflect. From both the administrative and employee perspective, it's about having one place to go to make changes about yourself and see the most up-to-date company information. It's eliminating a ton of redundant work and making sure that your business processes like payroll, performance reviews, etc, run automatically based on everything else going on.
Price Comparison:
Zenefits starts at $8.00 per employee per month. However, since Zenefits is primarily a human resources platform, any plan that you choose only offers payroll if you select it as an add-on, which costs $8.00 per employee per month.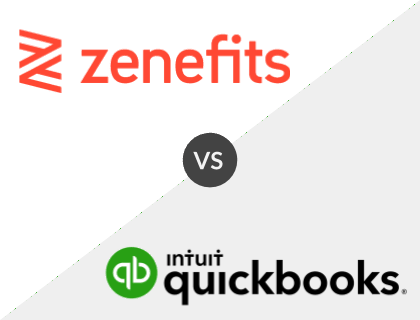 Zenefits vs. Quickbooks:
Quickbooks and Zenefits have many features in common, but Zenefits is primarily a human resources tool while Quickbooks is an accounting tool. The Zenefits payroll add-on costs $6.00 per employee per month, while the Quickbooks payroll add-on starts at $45.00 /mo. + $4.00 /mo. per employee.
Zenefits vs. Quickbooks Comparison:
| Offer | Quickbooks | Zenefits |
| --- | --- | --- |
| Free Trial | 30 days | 14 days |
| Payroll Add-on | $45.00 /mo. + $4.00 /mo. /employee | $6.00 /mo. /employee |
| Integrated Time Tracking | $75.00 /mo. + $8.00 /mo. /employee (payroll add-on) | $8.00 + $6.00 /mo. /employee |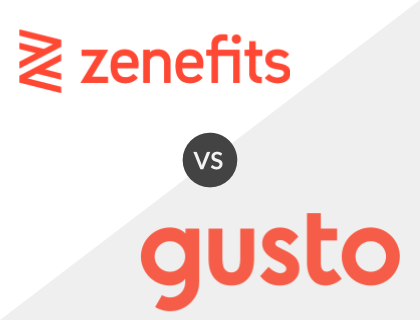 Zenefits vs. Gusto:
Gusto charges just $6.00 /mo. per employee plus a $39.00 monthly base fee. Zenefits, by comparison, charges $8.00 per month per employee for their "Essentials" plan, but users must purchase the $6.00 /mo. per employee, payroll add-on to use any of the payroll tools. This means that you actually have to pay $14.00 per employee per month to use Zenefits for your payroll.
Zenefits vs. Gusto Comparison:
| Offer | Gusto | Zenefits |
| --- | --- | --- |
| Free Trial | 30 days | 14 days |
| Payroll Only | $39.00 /mo. + $6.00 /mo. /employee | Only available as an add-on ($6.00 /mo. /employee) |
| Payroll + HR | Starting at $39.00 /mo. + $12.00 /mo. /employee | $14.00 /mo. /employee |
See our detailed comparison.
Packages:
Essentials.
The Essentials plan costs just $8.00 per employee per month and includes time management tools, basic HR functions, and a mobile app. However, payroll functionality is treated as an add-on and costs an extra $6.00 per employee per month.
Growth.
With the Growth plan, users benefit from compensation and performance management on top of everything that's included in the Essentials plan. The Growth plan costs $14.00 per employee per month, but, as with all of Zenefits' plans, payroll is an add-on option that costs $6.00 per employee per month.
Zen.
Zen, the highest tier of Zenefits' packages, includes all of the tools and features in the Essentials and the Growth packages, plus their "Well-Being" tools. Included within the "Well-Being" set are progress tracking reports, productivity recommendations, and integrated solutions from Thrive Global - an employee wellness platform.
Optional Add-ons:
| Add-on | Monthly Price |
| --- | --- |
| Advisory services | $10.00 /employee |
| Payroll | $6.00 /employee |
| Benefits administration (with your own broker) | $5.00 /employee |
Pros and Cons:
Pros
Payroll and HR compliance.
Complete benefits management for employees.
Unlimited payroll.
Payroll reporting tools.
Cons
Free trial is only available for 14 days.
Payroll is an add-on with an additional fee.
Features Comparison:
| Payroll (add-on) | Time & Scheduling | Benefits Management | Integrations |
| --- | --- | --- | --- |
| Automatic salary changes | Time card fraud protection | Aggregated compensation data | Zapier |
| Time-off calculations | Built-in compliance | Medical, dental, and vision | Box |
| Task reminders | Clock-in by location | Plan enrolment through the dashboard | G-Suite |
| Detailed pay stubs | Track paid time off | Mobile app | Office 365 |
| Contractor payments | Notifications | Supplemental benefits | Quickbooks |
| Direct deposit | Real-time activity monitoring | ACA compliance | Expensify |
| Timeline reporting | Clock-in and out with the mobile app | | Uber |
| Multiple pay rates | | | Carta |
| Automatic tax filing (state & federal) | | | Breezy HR |
| Garnishments | | | & more! |
While Zenefits shares many features in common with Quickbooks and Gusto, each platform offers its features in different configurations. For example, Gusto users can access all of the features found in Zenefits' payroll add-on simply by purchasing Gusto's Core plan. Likewise, Quickbooks offers all of the same payroll features in its own payroll add-on.
Where Zenefits is notably different is in its inclusion, even in the "Essentials" package, of useful onboarding tools like offer letters and background checks. Furthermore, the business intelligence tools in the Essentials plan allow business owners to track things like turnover, compensation, stock options, and so on.
Zenefits offers some services that our top-rated software solution, Gusto, doesn't. These services include year-round record keeping, banking information management, an activity dashboard, and data migration. However, Gusto offers federal R&D tax credit and charitable donations.
Key Information:
| | |
| --- | --- |
| Legal Name | YourPeople, Inc. |
| Founder | |
| Founding Date | Feb 17, 2013 |
| Address | 50 Beale Street, San Francisco, CA 94105 |
| Number of Employees | 500 |
| Number of Customers | 11000 |
| Email | |
| Telephone | |
| Website | |
FAQs:
What is Zenefits' price range?
When billed monthly, Zenefits' pricing starts at $10.00 per employee per month for the Essentials base plan + $6.00 per employee per month for the payroll add-on. When billed annually, users pay a discounted rate of $8.00 per employee per month for the Essentials base plan + $6.00 per employee per month for the payroll add-on. Users must pay for a minimum of 5 employees, even in instances where their teams are smaller.
How much does Zenefits cost with add-on features?
Zenefits' base plans start at $8.00 per employee per month when billed annually, and $10.00 per employee on a month-to-month basis. The total cost of each plan, including optional extras, depends on the add-ons that you select. The Zenefits payroll add-on is $6.00 per employee per month. Zenefits Advisory Services is $10.00 per employee per month. Benefits Admin Using Own Broker is $5.00 per employee per month.
What are the advantages of Zenefits vs Gusto?
Many people compare Gusto with Zenefits, and they're similar in ways. Both offer easy setup, benefits administration, payroll management, and great security. They differ a bit on pricing, though. Zenefits charges extra for payroll and benefits administration, whereas these features are part of Gusto's base price, which is comparable to Zenefits' features.
How do I get in contact with Zenefits customer service?
You can contact Zenefits through help.zenefits.com or by clicking Contact Us toward the bottom of the page to get direct assistance.
Is there a Zenefits app for my phone?
Yes, Zenefits has apps for both iOS and Android devices that you can download to use Zenefits from a phone or tablet.
Is there a Zenefits API we can use for integrations?
Yes, Zenefits does offer an API you can use for custom integrations.
Where can I read Zenefits health insurance reviews?
Health insurance services and benefits administration is one of the key features Zenefits offers. Most reviews you'll find of Zenefits include a review of their insurance services. If you're looking for a Zenefits payroll review, you'll find that the same applies – most people review all of their services together.
What is Zenefits?
Zenefits is a Software as a Service (SaaS) company that provides a cloud-based platform for businesses of all sizes. With the help of their features, you are able to manage multiple HR services including health insurance, payroll, compliance, paid time off, benefits, and employee onboarding.
Where is Zenefits located?
Zenefits headquarters is located in San Francisco.
What are some Zenefits alternatives?