Zenefits Reviews
Learn more about Zenefits for your business. Includes info on Zenefits, pricing, customer reviews, and frequently asked questions.
Updated on November 4th, 2019
The SMB Guide is reader-supported. When you buy through links on our site, we may earn an affiliate commission. Learn more
Zenefits is a cloud-based software platform for managing human resources tasks including payroll, compliance, PTO, benefits, onboarding, stock options, and health insurance.
14-Day Free Demo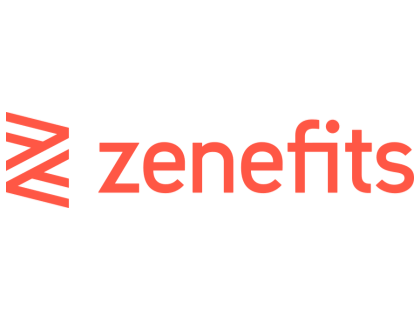 Start a 14-day demo.
Get Started
Includes phone support.
Handles benefits, payroll, and HR.
Automatically assists with compliance.
Pricing:
| Plan Name | Monthly Price Per Employee |
| --- | --- |
| Essentials Base Plan | $10.00 |
| Growth Base Plan | $18.00 |
| Zen Base Plan | $27.00 |
| Payroll Add-on | $6.00 |
| Advisory Services Add-on | $10.00 |
| Benefits Admin Using Own Broker Add-on | $5.00 |
Review:
Zenefits is one of our top choices for payroll software for its affordable fees, and for having the second-highest number of features out of the 100+ companies we've reviewed. It has all of the standard payroll software features, such as automated taxes, multi-state services, and direct deposit for paychecks.
Zenefits offers some services that our top-rated software solution, Gusto, doesn't. These services include year-round record keeping, banking information management, an activity dashboard, and data migration. However, Gusto offers federal R&D tax credit and charitable donations.
Compared with our 3rd ranked payroll software, Quickbooks, Zenefits has features like compliance management, expense integration, lifetime accounts, email support, 256-bit SSL encryption, and overtime tracking. However, Quickbooks offers a few services that Zenefits doesn't, like net-to-gross calculations, easy payroll cancellations, and SuperStream Compliance.
Users will also find features that you would only find in top-tier competitors, such as lifetime accounts and expense integrations.
We highly recommend Zenefits to businesses of any size looking for a comprehensive payroll platform. Zenefits payroll pricing begins at $16.00 per employee per month, compared to similarly-ranked payroll software Gusto and QuickBooks which start at $39.00 + $6.00 per employee per month and $57.00 per month + $4.00 per employee per month, respectively.
Key Information:
| | |
| --- | --- |
| Founder | |
| Founded | 2013 |
| Headquarters | San Francisco, California |
| Number of Employees | 500 |
| Number of Customers | 10,000+ |
| CEO | [Jay Fulcher] (https://www.linkedin.com/in/jayfulcher/) |
| Address | 50 Beale Street, San Francisco, CA 94105 |
| Phone Number | +1 888-249-3263 |
| Website | |
Reviews:
| Source | Reviews |
| --- | --- |
| | We were among the first 10-15 customers at Zenefits (IIRC), and they were really great when they were small. The problem is that they scaled far faster than they could handle, and we are now happy customers of Gusto. My only rule with Benefits and Payroll is: do not make me look like an ass in front of my employees. If they don't get paid, or if they lapse in coverage, that makes me look like an ass. They give exactly zero shits about which company failed and where and why; they only know that they lapsed in coverage or didn't get paid. Zenefits screwed that up multiple times, and Gusto has yet to let me down. That's not to say Zenefits is filled with bad people - I happen to like Parker quite a bit, for example. They just aren't set up to help me win quite yet, whereas Gusto seems to have figured it out. |
| | we had the exact same bad experience with Zenefits. It looked easy and nice at the beginning, but quickly became a nightmare when they did mistakes for half of our employees. Once mistakes were done, it became harder and harder to contact their customer service. The rep was nice but completely ignorant. |
| | Zenefits has been great for on-boarding new hires, but they made mistakes in our health insurance coverage that ended up costing us ~$20k/year. I'm sure Parker and Co. are aware of these issues and working hard to improve, but the reality is that hyper-growth and quality are often somewhat orthogonal. |
| | I just counted and I have two threads with Zenefits - one with sales and one with acct mgmt. The first thread with sales has 38 emails, and the account management thread has 16 emails. All of this to get set up as a new, tiny little company (4 employees at the time). The craziest thing was that I didn't need to be ""sold."" I had used Zenefits previously, and filled out the form on their site to create an account, and got kicked into an incredibly long and painful manual onboarding process that took over five weeks, multiple calls, and 50+ emails. Gusto got us set up in 20 min. with one automated workflow. I understand that enrolling in healthcare is a more complex process than payroll, but it felt like I was working with a very traditional insurance broker. Running a startup myself, I'm usually really empathetic toward startups with growth pains, but there were many things about the process where Gusto far exceeded expectations and Zenefits really underwhelmed me. |
FAQs:
What is Zenefits' price range?
Zenefits pricing starts at $10.00 per employee per month for the Essentials base plan + $6.00 per employee per month for the payroll add-on. Zenefits requires a minimum of 5 employees to purchase their product, so your basic monthly payment could be Essentials + Payroll for 5 employees at $80.00 /mo.
How much does Zenefits cost with add-on features?
It depends on the add-on features you want. Zenefits Payroll costs $6.00 per month per employee. Zenefits Advisory Services is $10.00 per month per employee. Benefits Admin Using Own Broker is $5.00 per month per employee.
What are the advantages of Zenefits vs Gusto?
Many people compare Gusto with Zenefits, and they're similar in ways. Both offer easy setup, benefits administration, payroll management, and great security. They differ a bit on pricing, though. Zenefits charges extra for payroll and benefits administration, whereas these features are part of Gusto's base price, which is comparable to Zenefits' features.
How do I get in contact with Zenefits customer service?
You can contact Zenefits through help.zenefits.com or by clicking Contact Us toward the bottom of the page to get direct assistance.
Is there a Zenefits app for my phone?
Yes, Zenefits has apps for both iOS and Android devices that you can download to use Zenefits from a phone or tablet.
Is there a Zenefits API we can use for integrations?
Yes, Zenefits does offer an API you can use for custom integrations.
Where can I read Zenefits health insurance reviews?
Health insurance services and benefits administration is one of the key features Zenefits offers. Most reviews you'll find of Zenefits include a review of their insurance services. If you're looking for a Zenefits payroll review, you'll find the same applies - most people review all their services together.
What is Zenefits?
Zenefits is a Software as a Service (SaaS) company that provides a cloud-based platform for businesses of all sizes. With the help of their features, you are able to manage multiple HR services including health insurance, payroll, compliance, paid time off, benefits, and employee onboarding.
Where is Zenefits located?
Zenefits headquarters is located in San Francisco.