HubSpot Reviews, Pricing Information, and FAQs
Find out how HubSpot could help your business with customer reviews, pricing information, and frequently asked questions.
Updated on December 18th, 2019
The SMB Guide is reader-supported. When you buy through links on our site, we may earn an affiliate commission. Learn more
HubSpot is a comprehensive inbound marketing and sales platform. HubSpot has a customer relationship management (CRM) system, a marketing hub, and a sales hub to help you close deals. The unique thing about HubSpot is its high level of customization for developers and programmers.
Get Started with Hubspot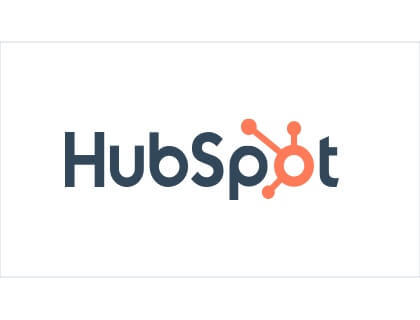 Free CRM, free email marketing tools, service software, and more.
Get Started
Integrate marketing and sales tools.
2,000 free email sends monthly.
Unlimited free CRM.
Pricing:
| Product | Monthly Price Range |
| --- | --- |
| HubSpot CRM | Free. |
| Marketing Hub | $0.00 - $3,200.00 |
| Sales Hub | $0.00 - $1,200.00 |
| Service Hub | $0.00 - $1,200.00 |
| Growth Suite | $0.00 - $4,200.00 |
Review:
HubSpot is our top ranking free CRM software as it offers unlimited access to almost everything a business could need to organize, track, and maintain leads and customer relationships. HubSpot also offers its free CRM to small businesses with any number of employees, with access to up to 1,000,000 contacts, users, and storage.
HubSpot is ranked above similar CRM solutions that offer wider ranges of features, such as Freshsales and Bitrix 24, as the free CRM packages offered by these companies usually limit access to their full suite of features.
Users of Hubspot can enjoy a wide range of expected CRM features, such as contact and lead management, tracking and storage of deals or opportunities as well as tasks and activities, reporting of deals, tasks, and activities, mobile optimization, reporting dashboards, and scheduling of meetings or appointments.
However, for features such as smart forms, team management, sales cycle reports, revenue analytics, trendline reports, and workflow automation you'll need something like ngDesk, a CRM solution that offers fewer features than HubSpot overall, and also allows unlimited access to its features. Another fairly common feature that HubSpot is missing is the capability to import or export data.
HubSpot also offers users an impressive range of less common CRM features. This includes company insights (a feature lacking in other top ranking free CRM software), custom support form fields, website traffic analysis, ticketing systems, native or in-app forms, advertisement management, shared emails, the ability to schedule outbound emails, canned snippets, a document library, a VoIP system, and native integration with other internal apps.
Despite the absence of some of the more common CRM features, HubSpot is our top recommendation for a free CRM software as it offers unlimited access, for any number of employees, to all its features.
Key Information:
| | |
| --- | --- |
| Co-Founders | |
| Founded | 2006 |
| Headquarters | Cambridge, MA |
| Number of Employees | 1,001-5,000 |
| Number of Customers | 44,500 |
| CEO | |
| Address | 25 First Street, 2nd Floor, Cambridge, MA 02141, United States |
| Phone Number | +1 888-482-7768 |
| Website | |
FAQs:
What is HubSpot used for?
HubSpot is a comprehensive inbound marketing and sales platform that businesses use to attract customers and convert leads into sales.
How much does HubSpot cost per month?
HubSpot's pricing ranges between $0.00 to $4,200.00 per month, depending on the plan you choose.
What do you get with HubSpot free?
HubSpot CRM offers a host of CRM, marketing, sales, and customer service tools for free. It is free for life, allows unlimited users, and you can store up to a million contacts and companies.
What are the benefits of using HubSpot?
The main benefit of using HubSpot is that you can capture more leads and convert them into sales more efficiently. HubSpot gives you a range of CRM, marketing, sales, and service tools, and integrates with common apps, tools, and software.
Is HubSpot Academy free?
Yes, HubSpot Academy offers a range of free courses to anyone who signs up.
Is HubSpot marketing free?
With HubSpot CRM you get some marketing tools for free. The full marketing hub can cost up to $3,200.00 a month.
Is HubSpot cloud based?
Yes, all of HubSpot's CRM, marketing, sales, and customer service tools are cloud-based.
Is HubSpot secure?
Yes. HubSpot protects your data with a web application firewall and a network-level firewall. HubSpot also protects your products with its DDoS prevention strategies. Security is incorporated into HubSpot's software development lifecycle.
How do I get HubSpot certified?
You can earn your HubSpot certificate by completing all the HubSpot Academy lessons and passing the assessment, which is made up of a certification exam and practical exercises.
Does HubSpot do outbound marketing?
Used correctly and with the right strategy, HubSpot can help you with your outbound marketing.
Does HubSpot have an app?
Yes, the HubSpot mobile app allows you access to your marketing and sales tools as well as your data.
Is HubSpot a SaaS?
HubSpot's Service Hub is a software as a service product.
Who are HubSpot's competitors?
What are the most popular HubSpot integrations?
Can I use one HubSpot login for all HubSpot products?
You can use the same HubSpot sign-in information whether you are using the CRM, sales system, or marketing software.
What is HubSpot email tracking?
With the HubSpot email tracking feature, you can know the second one of your leads opens an email so that you can time your follow-up perfectly. Email tracking also allows you to view your lead's entire history.
What is the HubSpot marketing grader?
The HubSpot marketing team hosts live "Marketing grader" sessions where they will analyze the strengths and weaknesses of three different websites. You can watch and use these HubSpot sales pro tips to improve your own website.
What is HubSpot sidekick?
Sidekick is now called HubSpot sales. HubSpot sales is a HubSpot inbound marketing tool that you can download as an extension in your browser to help you improve your marketing process.
Is HubSpot a publicly traded company?
Yes, you can buy HubSpot stock using the ticker symbol "HUBS."
What is HubSpot CRM?
HubSpot CRM is a free customer relationship management platform that businesses can use to get started in CRM. It gives users access to a range of free CRM, marketing, sales, and customer service tools. HubSpot's paid products and plans are built on top of HubSpot CRM.
How do I delete my HubSpot account?
You can only delete your account if you are the administrator of the account. If you are, go to "Settings", click on "Configurations", and then click on "Delete your CRM". If you're having problems, the HubSpot community can help.
Customer Reviews:
Tina Armstrong
Reviewed: May 20, 2017
Source: Quora
Personally I love Hubspot. I like what they stand for, their platform and how they fully train you on everything on the platform for FREE.