5 min read • Last updated on September 12th, 2018
BigCommerce Reviews
BigCommerce is one of the world's leading cloud-based e-commerce platforms for small-medium size businesses. It enables you to grow online sales at a fraction of the cost of on-premise software.
BigCommerce Pricing:
| Plan Name | Monthly Price |
| --- | --- |
| Standard | $29.95 /mo. |
| Plus | $79.95 /mo. |
| Pro | $249.95 /mo. |
| Enterprise | Quote only. |
BigCommerce Key Information Table:
| | |
| --- | --- |
| Co-Founders | Eddie Machaalani, Mitchell Harper |
| Founded | 2009 |
| Headquarters | Austin, TX |
| CEO | Brent Bellm |
| Number of Employees | 201-500 |
| Number of Customers | 60,000+ |
| Phone Number | 1 (888) 248-9325 |
| Address | 11305 Four Points Drive, Building 2, 3rd Floor, Austin, Texas 78726 |
| Website | |
BigCommerce FAQs:
What is the price range for BigCommerce?
BigCommerce pricing ranges from $29.95 to $249.95 per month depending on the size of your business. BigCommerce pricing plans for enterprises are quote only.
What is BigCommerce?
BigCommerce is a cloud-based eCommerce solution for businesses of all sizes. It powers thousands of small-medium size businesses and leading brands around the world. BigCommerce allows you to build an attractive online store, list your products on sites like Amazon and eBay, and scale your business with no hosting or maintenance expenses that come with on-premise software.
Where can I find BigCommerce themes?
You can find a wide range of free and paid BigCommerce themes on the BigCommerce theme store. Themes can be filtered by industry, collection size, and layout and all BigCommerce templates are responsive, simple to use, and ready for you to add your branding and products.
Where can I find the BigCommerce mobile login page?
Go to login.bigcommerce.com to log in to your BigCommerce store.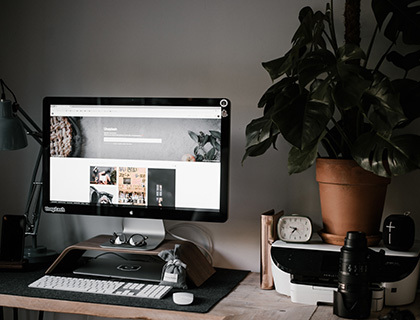 BigCommerce vs Shopify
Shopify pricing ranges from $9.00 to $299.00 per month for up to 15 users. Both platforms allow you to build beautiful online stores and offer a range of features, apps, and 3rd-party integrations. That being said, BigCommerce offers unlimited staff accounts and does not charge transaction fees.
What third-party integrations does the BigCommerce app store offer?
BigCommerce syncs with a wide range of free and paid apps no matter which industry you're in. Popular apps include MailChimp, ShipperHQ, Inventory Source, and BigCommerce Quickbooks integration. BigCommerce is compatible with iPhone and Android.
Who are BigCommerce' Partners?
BigCommerce partners with some of the best designers, developers, and marketers in the world to help businesses build successful online stores. Go to www.bigcommerce.com/partners/ to find a directory of BigCommerce SEO experts and partners.
Where can I read articles about BigCommerce website design?
On the BigCommerce website, select "Features" followed by "Design Your Store" to access the BigCommerce knowledge base. Here you will find a wide range of articles on launching and customizing your online store.
Where can I find good BigCommerce reviews?
You can read detailed BigCommerce reviews on TechRadar, Style Factory Productions, and Capterra.
Is there a BigCommerce API?
For those who want to become a BigCommerce developer, go to developer.bigcommerce.com/api/ to find BigCommerce API documentation.
Where can I find my BigCommerce login page?
On the BigCommerce webpage, click "Log In" in the top right corner or sign in directly at login.bigcommerce.com/login.
How do I get in touch with BigCommerce support?
Go to support.bigcommerce.com to access all BigCommerce guides and documentation. You can also ask a question 24/7 via the Bigcommerce forum. If you prefer to speak to a BigCommerce customer service representative, call 1 (888) 699-8911 (US and Canada), submit a case, or start a live chat online.
BigCommerce Reviews:
| Reviewer | Rating | Review |
| --- | --- | --- |
| Matt G. | 3/5 | Would switch if I could find something better. Easy to get up and running. Features are some of the best offered in this class. Pricing doesn't take a cut off of sales. Many advanced features lacking or cost extra, like filtered search and navigation. Bugs are fixed and new features are added based on number of requests as opposed to the severity or need of the fix or feature. As a result, some bugs can persist for years if only a few people have reported them. No release notes or detailed info on updates. |
| Rob S. | 5/5 | The BigCommerce platform is very easy to use and set up for your website. Very simple to set up shipping values and even payment systems. There is an app store within the back end that is full of additions you can add to your store. We use about 9 apps that range from SEO to live visitors on the website and analytics of where they are from and what pages/products they are looking at. I highly recommend BigCommerce mostly because of the ease of use and the 24/7 customer phone support you receive. |
| David H. | 3/5 | Bigcommerce has more features out of the box than most any other shopping cart including Shopify. It's just the little things like being able to put custom messages like "ships in 1-2 days" on each product. A lot of product options that you see on larger big box websites. Cost is reasonable when compared to other solutions. There is a huge gap from mid tier plan to the enterprise solutions. The Pro and Enterprise Solutions include some features that are only accessible when you pay 3 times as much. |
| Richelle R. | 5/5 | Good option for small businesses. BigCommerce in general is very easy to use. The e-commerce site that we set up looks lovely, and seems to work most of the time. Looks professional and syncs well with Paypal to process payment. There have been a few times that our site went down for unexplained reasons. Luckily customers have let us know and it was resolved. |
| Caitlin D. | 4/5 | BigCommerce has given our growing business great insight to the e-commerce world. Ease of use. This has been useful when training new hires. I do not like the analytics page. I do not find them effective. I wish they were easier to use and gave you straight forward data on the dashboard. Customizing reports is a challenge as well. This should be easier to use and more intuitive. |
| Eric A. | 5/5 | Powers both of our company websites and performs amazingly! There are a lot of things to love. Integrating this with Netsuite or Fishbowl ERP's is fairly easy and makes your life much easier. We've been able to maintain our companies on these sites since the very beginning of 4 employees and 1 customer all the way to 70+ employees and more than 1,000 customers. Makes our life very easy and makes growing an e-commerce company much easier. |
| Adrianna M. | 4/5 | Most of the e-commerce platforms that I faced are mostly oriented on the medium or small sizes businesses. And when such companies start to work with big corporations there are always lags and troubles. But that is not BigCommerce. This company provides excellent service with conventional systems of payment and shipping, wide abilities of customization and a large number of possible integrations. |
| Jennifer G. | 5/5 | We use BigCommerce in our small business to manage our online store. Easy to learn. We added online to our storefronts and we were able to easily train our existing employees to run this software. There are some things that are hard to add. It's hard to add more sections. We post things on our blog because that is easier to manage. |
| Cheryl | 4/5 | Easy to use, does everything I need it to. I have worked with BigCommerce with 2 different companies and they are by far the best and easiest way to maintain your website. The ability to monitor sales and inventory is so very useful on a day to day basis that I wouldn't use anything else. And any changes made to our listings is an immediate change. |
| Toby M. | 4/5 | BigCommerce is easy to set up and use; provides a lot of templates to begin with and you can also customize your site. The new releases Stencil theme performs better than the old template but also requires more skills to develop and manage the template. Some feature is lacking or still under development. |