Five9
Learn more about the Five9 contact center with comparisons to Ringcentral and Nextiva, customer reviews, pricing, and frequently asked questions.
Updated on February 3rd, 2023
The SMB Guide is reader-supported. When you buy through links on our site, we may earn an affiliate commission. Learn more
Updates:
Updated 24th of January 2023
We updated Five9's pricing to reflect its full package.
Five9 is a cloud contact center solution with VoIP technology for businesses. The Five9 platform can be used to make and receive phone calls via the internet. The software can also be used to direct calls and create extensions.
Also Consider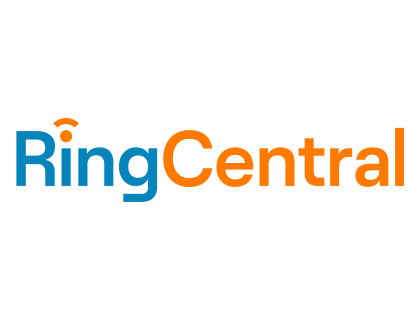 VoIP, Phone System, Video Conferencing, Fax, and more.
Get a Quote
Free trial available.
No contract required.
Get unlimited video meetings, conference calls, and phone calls.
Pricing:
| Plan | Monthly Pricing |
| --- | --- |
| Core | $149.00 |
| Premium | $169.00 |
| Optimum | $199.00 |
| Ultimate | $229.00 |
Review
Five9 is a robust VoIP-based call center solution thanks to its fully customizable plan that allows you to add the features your business needs. Users enjoy features rarely found in other contact center plans, including agent scripting, screen recording, and speech recognition IVR.
Pros:
While Five9 only offers one plan, it is feature-packed with contact center-specific tools like workforce and quality management, real-time reporting, and multichannel support.
Five9 provides excellent integration opportunities with UC and CRM solutions. The company also offers powerful cloud APIs.
Global Voice is Five9's cloud platform that allows businesses to connect to employees and customers in different countries.
Cons:
Unlike competitors RingCentral and Nextiva, Five9 does not provide multiple plans. This limits your options, especially if you're a small business just starting out. In addition, Five9 makes no pricing information available on its website. Instead, interested parties need to undergo a quote process.
Reputation:
Customers on Quora generally rated Five9's contact center solution between 4 and 5 stars, highlighting the company's excellent dialer solutions and CRM integration options. In addition, customers complimented the ease of use and simple setup process.
Five9 also received 82 reviews on Gartner, with the overwhelming majority rating the company 5 stars. Users once again were impressed with the fast and easy implementation process and overall UI performance.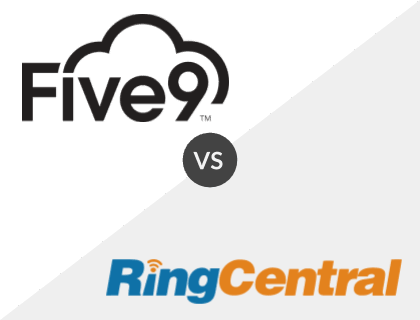 Five9 vs. RingCentral:
Both RingCentral and Five9 work on a quote-based system but users can expect more adaptability from RingCentral's solution as the competitor offers three plans in total. On the other hand, Five9 specializes in contact center software, providing users with all standard features including IVR, CTI, and ACD.
Five9 vs. RingCentral Comparison:
| Features | Five9 | RingCentral |
| --- | --- | --- |
| Setup Fees | Yes | Yes |
| Screen recording | Yes | Yes |
| Social, email, and chat | Yes | No |
| CRM integrations | Yes | Yes |
| Surveys | Yes | Yes |
| Reporting | Yes | Yes |
| Agent scripting | Yes | No |
| Campaign Management | Yes | Yes |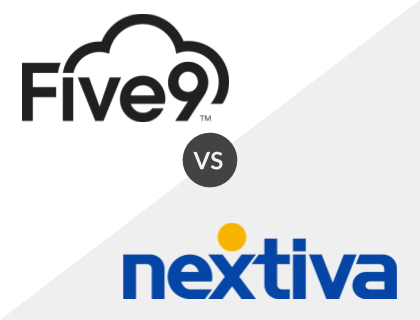 Five9 vs. Nextiva:
While Five9's contact center pricing starts at $149.00 per month, Nextiva's contact center pricing is not available on its website. That said, the two competitors both provide similar contact center-specific features, including IVR, screen pop, call queuing, and call recording.
Five9 vs. Nextiva Comparison:
| Features | Five9 | Nextiva |
| --- | --- | --- |
| Setup Fees | Yes | No |
| Screen recording | Yes | No |
| Social, email, and chat | Yes | No |
| CRM integrations | Yes | Yes |
| Surveys | Yes | Yes |
| Reporting | Yes | Yes |
| Agent scripting | Yes | No |
| Campaign Management | Yes | No |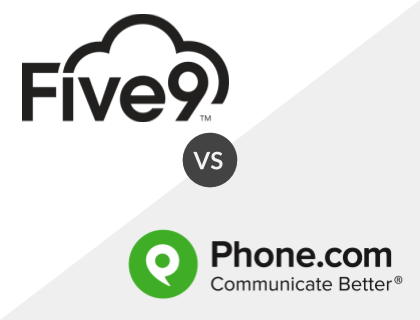 Five9 vs. Phone.com:
Five9 specializes in VoIP contact center communication solutions, whereas Phone.com offers business VoIP systems for businesses and solo entrepreneurs. Despite being limited to one package, Five9's contact center plan includes more robust tools, such as speech recognition, workforce management, and screen recording.
Five9 vs. Phone.com Comparison:
| Features | Five9 | Phone.com |
| --- | --- | --- |
| Setup fees | Yes | No |
| Screen recording | Yes | No |
| Caller ID | Yes | Yes |
| CRM integrations | Yes | Yes |
| Surveys | Yes | No |
| Reporting | Yes | No |
| Agent scripting | Yes | Yes |
| Campaign management | Yes | Yes |
Five9 Contact Center.
Five9's contact center software is an industry-leading platform that was designed to help contact centers of all sizes manage operations, enhance customer experiences, and automate workflow. Equipped with a comprehensive list of robust business phone system features, including conference calls, VoIP calling, omnichannel routing, and agent scripting, the Five9 software is ideal for customer support centers, lead development teams, and sales departments.
Five9 specializes in the field of contact center solutions, only offering this product with additional add-ons. While both Five9's competitors are more focused on providing VoIP business phone systems, users that require a unified communications solution should instead look towards Five9's impressive list of features.
With the Five9 software, businesses are able to effectively manage an inbound, outbound, or blended omnichannel business thanks to contact center-specific features like interactive voice response (IVR), real-time and historical dashboards and reporting, workforce management, and more.
Inbound vs. Outbound vs. Blended:
| Offer | Inbound | Outbound | Blended |
| --- | --- | --- | --- |
| Quality Monitoring | Yes | Yes | Yes |
| Computer Telephony Integration (CTI) | Yes | Yes | Yes |
| Automatic Call Distribution (ACD) | Yes | Yes | Yes |
| Interactive Voice Response (IVR) | Yes | No | Yes |
| Historical & Standard Reporting | Yes | Yes | Yes |
| Dialers | No | Yes | Yes |
Five9 works on a quote-system. Final pricing is based on your number of seats, usage, and the list of features you require. Five9 offers both month-to-month and contract payment options. You can request a free quote on the Five9 website.
Five9 Contact Center Features:
Predictive, progressive, power, and preview dialers.
Campaign and list management.
DNC compliance.
Web callback.
Omnichannel ACD.
Screen pop
Post-call surveys.
Skills-based routing.
Agent scripting.
Call conferencing.
Call recording.
Historical reporting.
Add To Your System:
Five9 offers an impressive list of high-quality add-ons designed to improve the overall contact center system. However, pricing for these add-ons is not provided on Five9's website. As you create a personalized quote with the help of a Five9 representative, you can mix and match features that benefit your business.
Five9 Add-Ons:
Telecom usage.
CRM integrations.
Screen recording.
Workforce and quality management.
Professional services.
Speech recognition IVR.
Agent, supervisor, and administrator licenses.
Multichannel.
Social, email, and chat.
Other Products by Five9:
Global Voice.
Using a cloud platform and various voice points of presence (PoPs) situated across the globe, Five9's global voice solution was created to connect your business with customers and employees situated in remote or foreign countries. The Global Reach solution was specifically designed for enterprise-sized businesses, connecting customers with support and tech departments 24/7 due to seamless integration with CRM, WFO, and UC systems.
You can request a quote on Five9's website.
Integrations:
The Five9 contact center solution can be integrated with CRM, Unified Communication (UC), or cloud API features. These adaptable options compliment most business applications, ensuring your communication and team collaboration is done on one complete system.
| Integration | Offer |
| --- | --- |
| Customer Relationship Management (CRM) | Salesforce, Microsoft Dynamics CRM, NetSuite CRM, Zendesk, Velocify, and ServiceNow |
| Unified Communication (UC) | Web connectors, built-In customizability, proactive productivity tools, and embedded agent interface. |
| Cloud API | CTI, configuration, reporting, and statistics web. |
Key Information:
| | |
| --- | --- |
| Legal Name | Five9, Inc. |
| Founder | |
| Founding Date | Mar 01, 2001 |
| Address | 4000 Executive Pkwy., Ste. 400, San Ramon, CA 94583 |
| Number of Employees | 983 |
| Number of Customers | 2000 |
| Email | |
| Telephone | |
| Website | |
FAQs:
What is Five9 software?
Five9 is a contact center solution that enables agents to effectively manage inbound and outbound calls, and improve sales and service. Features include reporting and analytics, CRM integrations, omnichannel solutions, and more.
How much does Five9 cost?
Five9's pricing ranges between $149.00 and $229.00 per month.
Can I use my Five9 login on any computer or device?
Yes. Five9 software is cloud-based, so you can use your Five9 login anywhere where you have an internet connection to gain access to your account.
What should I do if I am experiencing Five9 audio issues?
First, check to make sure that you have a strong internet connection. If the problem persists, you can call Five9 support at 1 (800) 553-8159, or you can send an email to cases@five9.com.
Are there any alternatives to Five9?
How much does it cost to purchase stocks in Five9 Inc.?
Stock prices are constantly changing, but you can find the latest Five9 stock price by doing a quick Google search for "FIVN."
Is there a Five9 smartphone app?
There is a Five9 app for Android and iPhone that you can download in your app store. You can use your Five9 login information to open the app and view your Five9 account dashboard.
What is the Five9 Agent Guide?
The Five9 Agent Guide was created by Five9 to help guide your new call center agents through the software so that they can learn all of the ins and outs and discover every feature.