Sales Strategies
Learn more about creating and implementing sales strategies. Includes a free sales strategy template and examples of each strategy.
Updated on January 28th, 2020
The SMB Guide is reader-supported. When you buy through links on our site, we may earn an affiliate commission. Learn more
A sales strategy is the way you plan to increase product and service sales. Sales strategies range from very simple to incredibly complex. Every business builds its own sales strategy based on thorough research and clearly defined and measurable goals, mapping out and executing strategic actions to drive sales.
Building a Sales Strategy:
1. Do your research.
To begin with, you will need to put together research and insights pertaining to your market, including an overview of the competitive landscape, market conditions, and outlook, perform a SWOT analysis, and review your sales history and success factors.
2. Define your goals.
Define realistic and measurable goals, such as sales targets, new customer acquisition targets, or gain of market share.
3. Create a roadmap and action plan.
Familiarize yourself with different types of sales strategies and techniques and start building your own sales strategy, keeping in mind the insights gained from your research. The following questions will help you get started:
What is your value proposition?
Who is your target market?
Which communication channels will you use?
How will you find, engage, and sell to customers?
What tools will you use to manage customer interactions?
Select and combine methods, tactics, and techniques that are best suited to helping you achieve your goals. Write up a clear outline that details what has to be done. Keep in mind that your sales and marketing functions should be aligned.
4. Brief your team.
Once your strategy has been developed and there is a clear action plan, it is time to execute the strategy. Make sure that your team understands the roadmap and action plan and has the tools and training (if required) to execute their tasks and work towards achieving the set goals.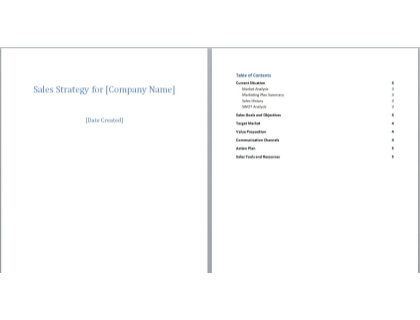 Sales Strategy Template
Download a free Sales Strategy Template in Microsoft Word format.
Popular Sales Strategies:
There are a number of different sales strategies, many of which may not be suitable or efficient in helping you achieve your goals.
Read on to find out about the most popular sales strategies and how to use them to your advantage.
1. Sell the benefit.
Sell a solution to a problem rather than product specifications. Clearly communicate a powerful value proposition. This does not mean that you should completely omit your product or service specs in your messaging, but that they serve a different purpose. The benefits you offer should tell customers why they should buy your product and the product specifications describe how the benefits are delivered.
Example of a Benefit-Focused Strategy:
Let's assume you sell vacuum cleaners. Your value proposition might be an easy and effortless way to remove any kind of dirt and your product specification will serve to explain how this is achieved, e.g. powerful suction, hygienic water filter, etc.
2. Create a compelling customer journey.
A popular strategy is to create sales experiences tailored to the customer and make the communication activities customer-centric. Great customer journeys and experiences increase the value of your offer, contribute to your competitive advantage, and help you build strong customer relationships.
How to create a great customer journey:
Identify the decision-maker and understand who they are, what drives them, and what they value. You will want to build an emotional connection with your customers.
Map out how and where to engage with your customers. Which channels do they use and what types of content do they prefer?
Engage with your customers on their terms. If social media is their preferred channel, that is where you should be as well.
Identify any barriers and objections your customers might have and provide solutions.
Listen to your customers, show empathy, and be responsive. This will help you build a strong connection.
Example of a Customer-Focused Strategy:
Continuing with the previous example, you would now map out the customer journey, perhaps starting with a customer clicking on an online ad to view your products. What are the customer's needs at this point?
Stepping into the shoes of a potential customer, you may identify their needs to be easy access to information about the product, including features and reviews. When shopping around for a new product, they will also want to compare their options.
You will want to make sure that your website is visually appealing and easy to navigate. Perhaps you would have a product filter for criteria such as "carpet cleaning," "upholstery," "tough stains," "steam cleaning," "environmentally friendly," etc.
You would have several pictures of each product to allow customers to see an item from different angles, display detailed descriptions with the specifications and uses, along with customer reviews and a video demonstrating the features. You might also offer a function that allows for three or four products to be viewed side-by-side for easy comparison.
3. Target niche markets.
Targeting a niche market can be a highly cost-effective strategy and is a popular choice for small businesses. Rather than spending your budget on a generic, one-size-fits-all approach, you would tailor your sales strategy to reach a smaller and more defined market, offering benefits that meet very specific needs.
You may already have noticed a specific group of consumers, a niche market, based on geographic area, lifestyle, profession, culture, or occasion that presents a distinct opportunity for your business.
How to target a niche market:
Conduct research and get to know the market. Research the potential buyer profile, unique needs, key issues, and preferred communication channels.
Determine how your product or service can solve the market's problems and meet their unique needs.
Research and assess competitors targeting the same market with a similar or related offer.
Ensure that your messaging resonates with the market by using the appropriate tone, language, expressions, etc.
Example of a Niche Market Strategy:
A niche market strategy would be a business that positions itself as the provider of cleaning solutions tailored to the unique cleaning needs of homes with pets.
Primary features that differentiate their products may be the ability to remove pet hair from all surfaces with ease and to remove odors and tough stains from carpets and upholstery. Another selling point could be organic detergents that don't pose a health risk to pets.
4. Tell a story.
Storytelling is another strategy for building strong connections with your target audience, prospects, and customers. Telling stories (typically based on positive customer experiences) of people who faced and overcame challenges brings what you are selling closer to your audience and illustrates the use and benefit of your product or service in real-life scenarios. Stories can be a powerful tool to trigger emotions and create empathy, making your sales pitch more engaging and impactful.
How to use storytelling in sales:
Identify what it is you want the audience to walk away with, the idea you want to communicate.
Keep the structure simple: One main character, a challenge they face, and how they overcome it (the solution you offer).
Keep it simple and use language and phrases your audience can relate to.
Make sure it feels authentic and personal. Storytelling is about making a strong human connection.
Example of a Storytelling Strategy:
You have a prospect on the phone who seems interested but uncertain. You might tell him about a recent customer whom you gave a follow-up call (reinforcing that you prioritize customer care and satisfaction) who was surprised and impressed at the performance of his vacuum cleaner.
The story might be that the customer's dog had been sick in the house, on a favorite carpet, and he was certain he would have to replace the carpeting. However, before doing so, he used the vacuum he'd bought from you on it and the stains and odor came out without a trace. At this point, you might also reinforce the specific features of your product. In this case, perhaps the water filter, a specific detergent add-on the customer in the story had used, etc.
5. Give something away.
Offering something for free, such as a free trial, sample, or a complimentary product or service, is a common strategy for boosting sales and is popular with small start-ups and multi-national enterprises alike. Offering customers a free trial or sample lets customers get to know you and increases the likelihood of a purchase.
Offering a complimentary product or service with a purchase is often perceived by customers as more valuable and appealing than receiving a discount. Research suggests that this may be due to an emotional response to being offered something more rather than something less or reduced.
How to incorporate giveaways and freebies:
Create a contest to drive awareness and encourage prospects to engage with your business.
Offer a free trial limited by the number of users, a specific time period (e.g. 30 days), or, depending on your product or service, a basic free plan that can be upgraded by purchasing add-ons.
If you do not want to offer a free trial without any commitment from the consumer, you can offer the first month free of any longer-term service subscription, such as a 3-month or 12-month subscription.
Depending on your product, you can also offer free samples to let customers get to know your product before committing to purchase.
Offer a complimentary product or service with a purchase to get customers interested in your other offerings.
Example of a Freebie Strategy:
A giveaway strategy for the cleaning business mentioned in the examples above might include a free demonstration at a customer's home. You could offer customers a free demonstration and remove the toughest stain in their homes. You could also offer a free starter kit of detergents for special types of stains with every purchase above a certain dollar amount.
6. Create urgency.
Creating a sense of urgency is a strategy designed to get prospects to move forward with a purchase by creating anxiety about the future availability of an offer. Creating a sense of urgency only works if your offer is something your prospect actively wants. The longer a prospect takes to consider their purchase, the unlikelier it is that they will follow through, often slowly talking themselves out of it.
How to create urgency:
Make the offer available for a limited time and count down to the deadline, e.g. "Only 3 days left".
Use time-related words, such as "hurry," "don't miss out," "one-time-only," etc.
Emphasize the scarcity of the offer by communicating how many products are still available or how many other customers are currently considering it.
Offer an incentive for making a purchase, such as a pending price increase.
Example of an Urgency-Focused Strategy:
A cleaning business might offer a limited-time price cut on cleaning products and services in the first three or four weeks of the spring season. The messaging for this type of campaign would be focused on customers getting their spring cleaning done.
7. Offer added-value.
This approach is about enhancing the value of your product or service in the eyes of your customers. The important thing to keep in mind is that any component you add must be something the customer considers to be of high worth. Be sure to research and understand your customers' needs and determine what more you can do to help them solve their problems.
What you can do to add value:
Create membership or loyalty programs.
Differentiate yourself by offering high-levels of customer support defined by professionalism, expertise, responsiveness, and efficiency.
Offer packages and bundles tailored to specific needs.
Offer tools that enable customers to solve their problems on their own, e.g. a self-service portal.
Example of an Added-Value Strategy:
An added-value strategy for a business that sells high-end vacuum cleaners might be a membership program that includes free annual service of a customer's vacuum cleaner and discounts for bulk purchases.
8. Sell more to existing customers.
Many sales strategies will focus more on customer acquisition than on the existing customer base. This, of course, will also depend on your current business goals. However, don't discount your existing customer base as an opportunity to increase revenue. Chances are that over time the needs of your existing customers have grown or changed.
How to increase sales within an existing customer base:
Look for cross-selling opportunities, i.e. encourage customers to purchase products or services in addition to their primary purchase.
Look for up-selling opportunities, i.e. encourage customers to upgrade purchases, opt for more comprehensive packages, and consider add-ons.
Be proactive and make recommendations based on current and potential future needs.
Ramp-up your after-sales service and follow-up activities.
Example of a Strategy Focused on Increasing Existing Customer Revenue:
A strategy aimed at increasing revenue from existing customers might involve trade-ins. Customers would be offered to return their current vacuum cleaner (that they initially bought from the business) and purchase a newer model at a discount. Once customers are actively interested in a better solution or upgrade, the business can introduce the customer to other new items and complementing products.
9. Leverage word of mouth.
Encouraging positive word of mouth (WOM) is among the most cost-effective strategies for driving sales. Consumers will rather trust the views of other people than any advertising messages, making the encouraging and sharing of consumer feedback an impactful way of spreading the word about your offers and getting referrals. Referrals also tend to deliver the best leads.
How to use WOM to drive sales:
Provide an exceptional product or service that people will want to tell others about.
Encourage user-generated content, such as the sharing of images. If you are using social media, be sure to have a unique hashtag.
Share customer reviews and testimonials with your target audience.
Create and implement a referral program.
Example of a WOM-Focused Strategy:
A business might run a weekly or monthly competition or draw that gives customers a chance to win a product upgrade or a basket with a selection of the business's best-sellers. Customers would enter the draw or competition by sharing pictures or videos with their reviews on social media. Participants would be asked to use a hashtag specific to the company and campaign which would also allow the business to track the posts as entries as well as the engagement the posts receive.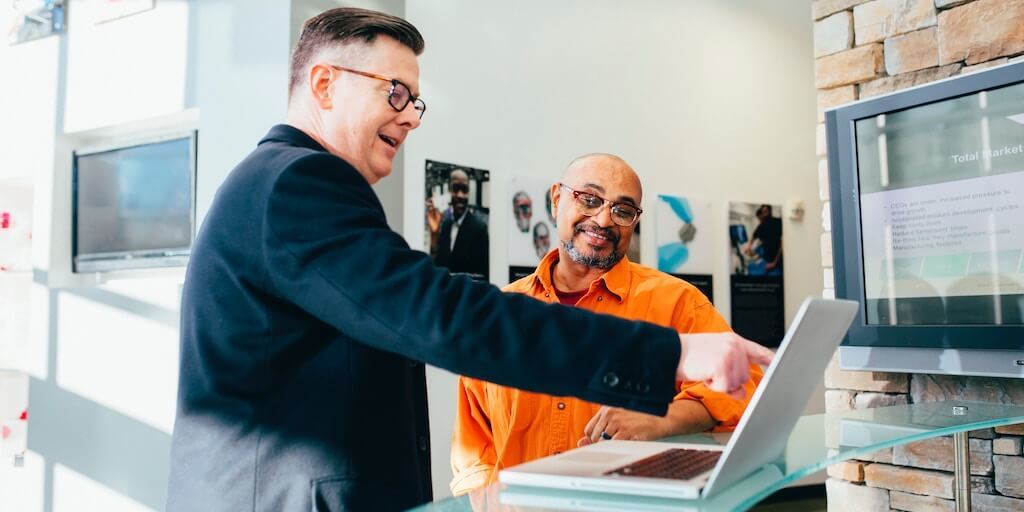 Learn how to generate sales leads with our detailed step-by-step guide. Includes practical tips, strategies, and frequently asked questions.
Jan 30, 2020
10. Social selling.
Social selling refers to the practice of finding and engaging with prospects on social media platforms. A great alternative to cold calling, social selling allows salespeople to build meaningful relationships with potential customers.
How to generate leads through social selling:
Identify relevant social networks (platforms used by your target audience).
Find, create, and share engaging and valuable content.
Actively participate in social groups and engage with other businesses.
Look for opportunities to respond to and like followers' and existing customers' posts.
Ask your existing connections for recommendations and endorsements.
Use existing connections to find new prospects.
Example of a Social Selling Strategy:
Let's go back to the example of a cleaning business specifically targeting households with pets. This business might look up and join local dog training groups, engage with pet-sitters, pet care, and pet apparel businesses on social media. They might develop some degree of partnership or make affiliate marketing arrangements with the businesses to broaden their prospective audience.
Sales Toolbox:
A robust CRM platform is an essential tool for any business. It helps you collect and organize all customer information and interaction records in one central platform. Many CRM software platforms offer an extensive range of tools to manage and streamline all customer-related communication activities.
We recommend:
HubSpot: Free and easy-to-use software that integrates well with other Hubspot functions.
Freshsales: Affordable and user-friendly platform with extensive features and powerful email capabilities.
Communicating with customers via email can be a time-consuming task. Email marketing software offers a range of useful tools that make creating and sending professional emails to large audiences easier and less time-intensive.
We recommend:
Constant Contact: Email marketing and contact management software with great reporting capabilities.
SendinBlue: Affordable email and marketing automation platform with resposive design templates.
Live chat software allows businesses to engage and interact with customers online in real-time. The ability to engage with customers immediately, while they are browsing your website, offers the opportunity to increase sales, as sales representatives can help customers with any questions they may have, overcome possible objections, and confidently reach a purchase decision.
We recommend:
LiveChat: User-friendly, all-in-one live chat platform with extended reporting and monitoring features.
Click Desk: Customizable live chat tool with social media integration. Free for up to 10 users.
eCommerce solutions help businesses promote and sell their products and services online. Most platforms include a good range of tools for online store design, online payments, order processing, inventory management, and marketing.
We recommend:
BigCommerce: Leading cloud-based platform with a range of templates, custom layouts, and great app integration capabilities.
Shopify: User-friendly multi-channel e-commerce platform with multiple payment options and customizable themes.
As POS systems are becoming more advanced, they can do much more than just process sales. Many systems offer employee and inventory management tools, advanced reporting features, and the ability to track customer details.
FAQs
What is a sales strategy plan?
A sales strategy plan is the way in which you plan to achieve your sales goals. It usually contains a clear definition of the revenue goals, the intended target market, value proposition, and an action plan that details the approach, method, and techniques that will be used to reach the revenue goals.