How to Write a Press Release for an Event
Learn how to write a press release for an event, along with a free template and frequently asked questions.
Updated on March 31st, 2020
The SMB Guide is reader-supported. When you buy through links on our site, we may earn an affiliate commission. Learn more
An event press release tells media outlets and current or potential customers about an upcoming event to be hosted by your company. It reveals important information including the theme of the event, who the key speakers are, and where the event will be taking place, among other details.
Here's how to write a press release for an event in four easy steps (with a free template).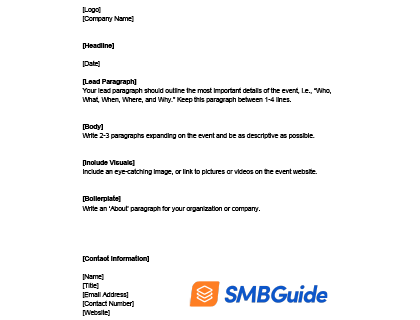 Event Press Release Template Download:
Download our free event press release template in Microsoft Word format.
Save $130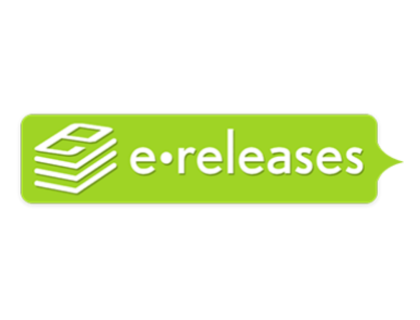 The oldest authentic press release newswire.
Start My Order
Distributes to top media.
100k subscribed journalists.
Custom U.S. national PR Newswire distribution.
How to Write a Press Release for an Event:
1. Know your target audience.
Determining who your target audience is will help you create a press release that resonates with your audience. The best way to do this is by creating a profile based on your audience demographics, i.e., their age, gender, income range, interests, and values. By knowing who your readers are, you can appeal to them directly and encourage them to attend your event.
2. Format your press release correctly.
Your press release should be broken down into several parts to ensure it is easy to read.
Write a catchy headline.
Write an attention-grabbing headline in title case. Keep it short and be sure to include important details like the name of the event, event theme, and the location.
Include a dateline and lead paragraph.
Include the date that you want the press release to be published followed by a lead paragraph. The lead paragraph should answer the five Ws: "Who, what, when, where, and why?" This will provide the reader with all the information they need to make a decision about attending your event. Be sure to keep the lead paragraph short (1 - 4 lines).
Write the body of your press release.
The body is where you will get to expand on the event and be as descriptive as possible. In 2-3 paragraphs, describe the theme of your event, the significance of the date and location, who the guest speakers/performers are and ultimately, why people should attend. At the end of the body, include a Call to Action telling readers where they can sign up for the event, purchase tickets, or visit the event website.
3. Include visuals.
If you have pictures or videos you would like to share with your audience, embed an image or two in the body and add links to a website where your readers can learn and see more.
4. Include a boilerplate and contact info.
A boilerplate is a short paragraph that provides details about your company, similar to an "About" page on your website. It describes your organization and its core principles. Finally, the contact info should include your organization's details, including a website link and the name and telephone number of the person who can be contacted for additional information.
FAQs:
When should you send a press release for an event?
Lead times differ from publication to publication. If you're targeting newspapers, it's best to send your press release 2-3 weeks in advance, or 3-6 months in advance for magazines.
Be sure to follow press release best practices when writing one. Tuesdays, Wednesdays, and Thursdays are the best days to send a press release to the media. Avoid Mondays and Fridays! Be sure to send it between 10 am - 2 pm, which is the likeliest time editors and journalists will read their email.
How do you write event details for a press release?
Write a catchy headline.
Include a dateline and lead paragraph.
Write the body of your press release, describing the event theme, attending guests, and activities that will be taking place.
Include visuals.
How can I distribute my event press release?
You can either email your press release or use a press release distribution service. These services will help you reach multiple media outlets and a wider audience than you would have by distributing the press release yourself.