How To Write A Media Advisory
Learn how to write a media advisory with our detailed step-by-step guide. Includes a free media advisory template and frequently asked questions.
Updated on December 2nd, 2021
The SMB Guide is reader-supported. When you buy through links on our site, we may earn an affiliate commission. Learn more
A media advisory is a one-page notice that alerts the media about upcoming events or news items. Also referred to as a media alert, the document provides all important details about an event, including where it's situated, why it's newsworthy, and when it will take place.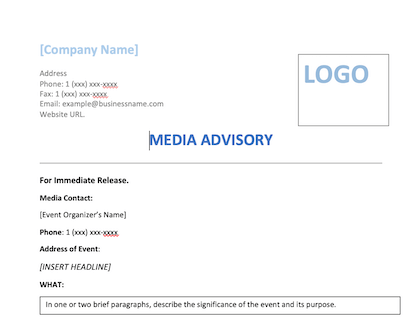 Media Advisory Template Download:
Download our free media advisory template in Microsoft Word format.
How to Write a Media Advisory:
1. List the important details of the event.
Before you start creating a media advisory announcement, you need to have all the information about the event laid out. Because a media advisory is seen as an official invitation to an event, you won't need to create a long, detailed press release. Instead, a media advisory will always stick to the facts.
Start by listing your who, what, when, why, and where. The main part of your media advisory will revolve around your four Ws. Keep your media advisory brief and only include the necessary information.
Media Advisory vs. Press Release:
A media advisory is an official invitation to an upcoming event that a media outlet may be interested in covering. A press release is similar to an article and is generally distributed after an event has taken place. The press release will detail who attended the event, what its purpose was, and if this goal was met.
2. Set up your media advisory format.
A media advisory is sent to all forms of media, including journalists, newscasters, bloggers, and online influencers. Therefore, you want to ensure the format of your document follows industry standards so that recipients know exactly where to look for event details.
Make use of a letterhead. Your media advisory should be printed with your business's letterhead. This significant detail will capture the attention of the media and show professionalism and credibility. Read through our guide on how to write a letterhead for more information about what a business letterhead should include.
Title your advisory. It should be titled "Media Advisory" to ensure the media knows exactly what to expect. Below this heading, write in the left corner, "For Immediate Release." This lets the recipient know that the document and all the information listed in it are ready for distribution.
Include contact information. After stating that the document is ready for immediate release, include the contact and address information. This information is typically placed directly to the left of the Media Advisory title or above the headline. Include the names of the event organizer and business, followed by a phone number for each. Thereafter, include the address where your event will take place.
3. Write a media advisory headline.
On average, media outlets and freelance journalists receive thousands of press releases and media advisories every day. Therefore, it's your headline's duty to stand out from the rest, grab the reader's attention and encourage them to read further.
Make use of numbers or words that create a vivid visual image. While you want to keep your headline short and concise, a headline can be up to four lines long. However, we recommend a headline that is only two lines long, as this gives you enough room to include all relevant information.
Mention a trending event. For instance, if you're hosting a fundraiser for a local restaurant, mention how the COVID-19 (Coronavirus) pandemic has negatively impacted the hospitality industry. This will attract journalists who would have otherwise overlooked the advisory and ensure your advisory is released at an opportune time.
4. Write your media advisory's body.
The body of your media advisory should be a short description of the event. This section should mainly highlight the five Ws mentioned in the first step. Start by listing each question, followed by a brief answer. All answers should not be longer than two sentences.
Add any additional information media outlets may be interested in. For example, a media outlet may be interested in conducting interviews and taking photographs. List all the speakers that will be attending the event and state whether journalists and photographers will have the opportunity to conduct interviews and take photographs. In many cases, the media advisory will ask the recipient to contact the organizer to set up interview times.
Conclude this section with a brief description of your business and four hashtags (####), as this signifies the end of the media advisory.
5. Start the distribution process.
Now that you've compiled a media advisory, it's time to send the document to the appropriate media outlets. Typically, a media advisory is distributed 5-14 days before the event, and again the morning of the event.
Identify the target audience. The best way to determine who your audience is for a media advisory is by looking at what type of event you're hosting. For example, if you're hosting a book launch, you'll want to invite lifestyle and social scene writers, as well as book reviewers and bloggers. Once you've identified your intended audience, you can then start tailoring your media advisory content to grab their attention.
Compile a contact list of media outlets. Start by focusing on local media outlets in your area. You can obtain the phone number and email address of the media outlet by visiting their official website. Once in contact, ask to be directed to the appropriate journalist or reporter that will be interested in covering the event. For example, if you're hosting a launch of a new cosmetics project, get the contact information of journalists that work in the beauty department.
Make use of press distribution services. This option guarantees that your document will be sent in a timely manner and to the appropriate media outlets. A distribution service will provide you with a media advisory template and let you choose the media outlets you'd like it to be sent to.
Our Recommendation:
We recommend our top pick eReleases because of its wide selection of distribution channels, including global news sites, websites, bloggers, social networks, media influencers, and more. In addition, users have access to real-time metrics, including traffic and engagement statistics.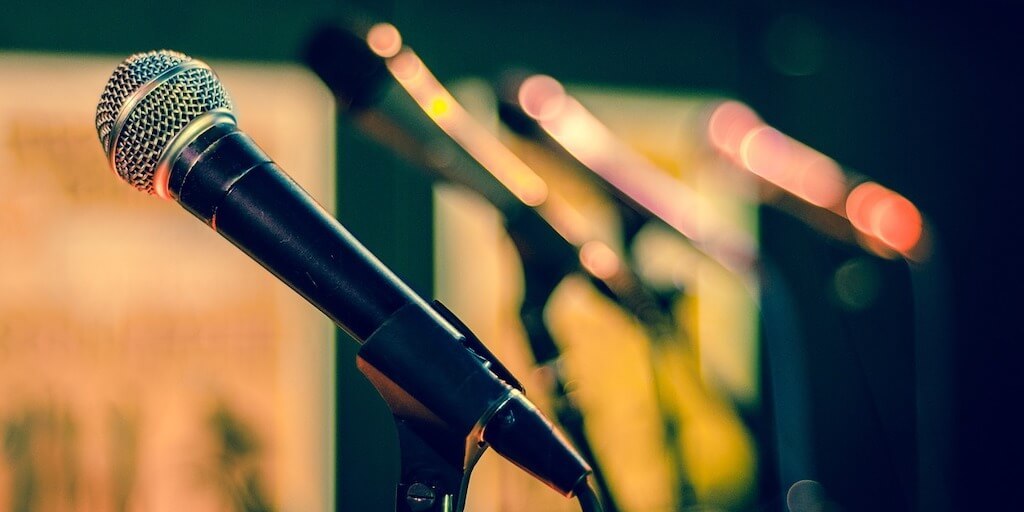 Compare eReleases, EIN Presswire, 24-7pressrelease.com, and other top press release services. See pricing, features, ratings, and reviews.
Sep 18, 2023
6. Conduct a follow-up.
After you've sent out your media advisory, follow up with news outlets two business days before your event. In many cases, journalists will read your advisory and not respond. However, this doesn't mean they're not interested in attending the event.
Phone the journalist to confirm attendance. If the person decided not to attend, a follow-up phone call also gives you an opportunity to list compelling reasons to change his or her mind. If you're unable to reach the relevant individual, leave a message that tells the person who you are, why you're calling, as well as the day and time you sent the media advisory.
FAQs:
When should I send a media advisory?
A media advisory should be sent to relevant media outlets 5-14 days before the event, and again the morning of the event.
What is the purpose of a media advisory?
A media advisory serves as an official invitation to media outlets to cover an event. Media advisories are generally sent out for fundraisers, press conferences, and grand openings.
What is the difference between a press release and media advisory?
The main differences between a media advisory and a press release are the timing and content of the release. A media advisory serves as an announcement of an upcoming event, detailing why the event is worth covering. A press release is often in the form of an article and is generally released after the event takes place.
How do I invite media to an event cover?
You can invite media to an event by sending out a media advisory. Make use of our generic media advisory template in Word format and tailor it to properly showcase your event.
How do I submit a media advisory?
You can either distribute the media advisory personally or make use of a distribution service.
What is Media Alert?
A media alert is another term used to describe a media advisory, a one-page document that details an upcoming event media outlets may be interested in covering.