How to Write a Backgrounder
Learn how to write an effective and informative backgrounder with our step-by-step guide. Includes a free template, examples, and frequently asked questions.
Updated on March 10th, 2022
The SMB Guide is reader-supported. When you buy through links on our site, we may earn an affiliate commission. Learn more
A backgrounder is a document that provides additional information about a business, issue, event, or product launch. Also referred to as white papers or a fact sheet, a backgrounder is often found in a media kit or accompanied by a press release or media advisory.
The main purpose of the document is to provide a media outlet with essential background information and facts to help create a more in-depth story. A backgrounder typically includes a summary of the document, the history of a business or product, and the mission or purpose of the business or event.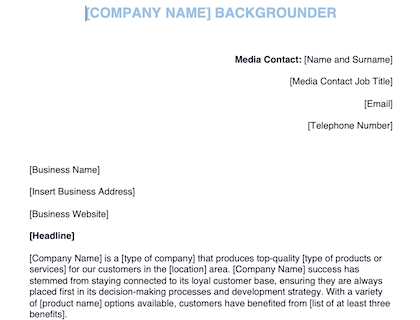 Backgrounder Template Download:
Stay on task and download our customizable backgrounder template in Word format.
Our Pick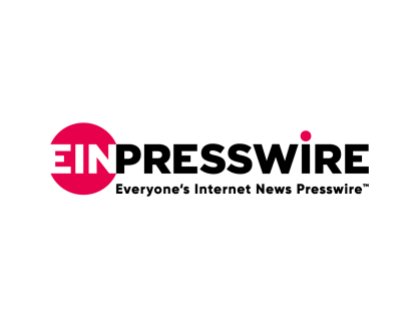 Get your press release seen by journalists, as well as business, industry, and government professionals.
Get Started Free
Indexed by search engines.
Distributed to U.S. TV and radio.
Distributed to World Media Directory.
How to Get a Backgrounder:
Hire a freelancer to write the backgrounder for you.
Hiring a freelancer is one of the more affordable options, as it won't require you to pay for professional services. And with the right freelancer, you can get the same quality you would get from a press release company. Most of the time, businesses hire freelancers to prepare an entire media kit which includes a backgrounder, employee biographies, case studies, product fact sheets, and more.
Write the backgrounder yourself.
This is generally the option startups and nonprofit organizations choose because it is completely free. However, before you consider this option, be sure to follow our detailed guide on how to write a backgrounder as your document should follow certain formatting and style preferences. You can also use our customizable backgrounder template.
Use a press release distribution service.
With this option, you place all responsibilities of crafting and submitting a backgrounder in the hands of the press release company. Typically, a representative from the press release company will discuss the content of your backgrounder with you to learn more about your business. This way they'll be able to capture the message you're trying to convey. Finally, an editor will review your backgrounder and ensure the style follows the AP guidelines.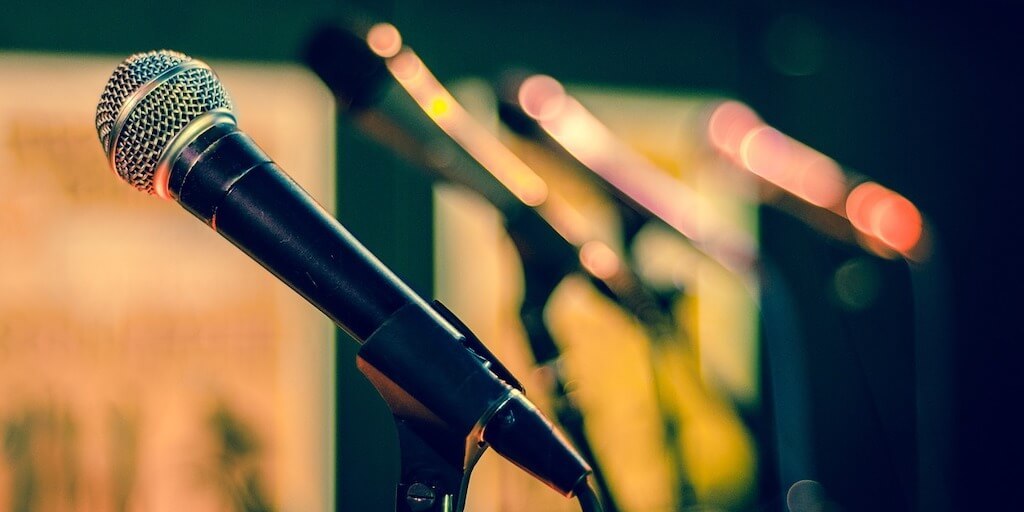 Compare eReleases, EIN Presswire, 24-7pressrelease.com, and other top press release services. See pricing, features, ratings, and reviews.
Sep 18, 2023
When to Use a Backgrounder:
A well-crafted backgrounder is great for credibility, as it will increase your chances of getting published by a news outlet. Backgrounders are also useful if the media outlet you're sending the document to has never heard of your business, the event you're hosting, or the product you're introducing.
For example, a globally-recognized company like Google or Amazon doesn't need to include a backgrounder as most media outlets would have heard of them. However, for a small business or start-up looking to introduce their products or services to the public via press releases, it's wise to include a brief backgrounder that highlights essential information about your business. This can include the origin story, the business's mission statement, and any other relevant details.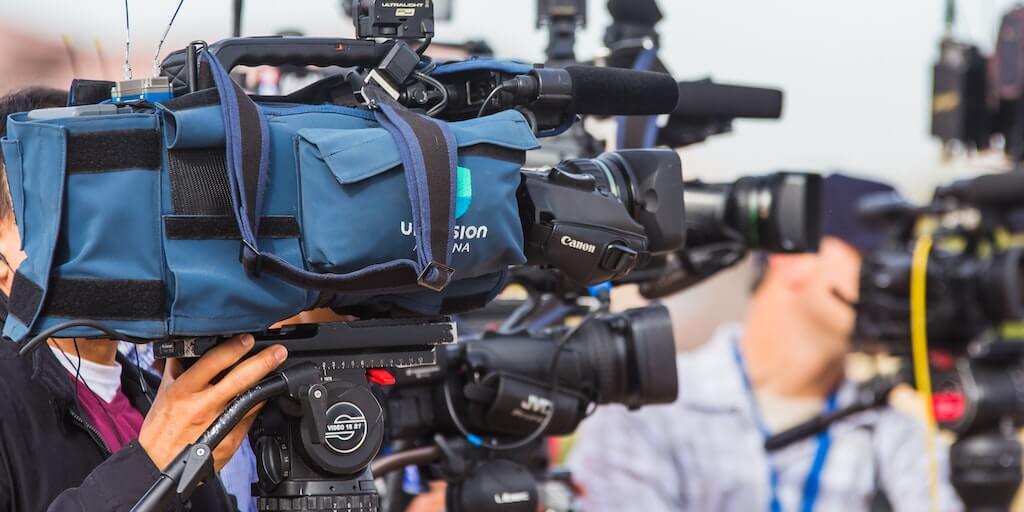 Learn how to write a media advisory with our detailed step-by-step guide. Includes a free media advisory template and frequently asked questions.
Dec 2, 2021
How to Write a Backgrounder:
1. Determine the tone and style of your backgrounder.
The tone and style of your backgrounder should meet industry standards. For the tone of your business, it's best to keep your backgrounder professional and concise. Your tone should also be written in third-person and not include any jargon or slang terms.
We recommend using the AP style, a set of standardized rules and guidelines that was created by American journalists working for or connected to the Associated Press (AP). This style guide is adopted across the country, with most journalists and media outlets following its rules for the publication of traditional and online media.
2. Include contact information.
Similar to a media advisory or press release, your backgrounder should start with the appropriate contact information. Make sure you include the contact details of the media contact, including their email and telephone number, as well as the address and website of the business.
3. Write about your business, products, or services.
This section is often looked at as the body of the backgrounder as it focuses on the scope of your business, product, or services on offer. Not to be confused with the history of your business. This section is mainly about what your business offers and how it has made an impact on its industry.
Highlight your approach to delivering excellent customer service and how you're working to earn the trust of your customers. This section should help the reader see why your business stands out from the rest, especially if you're trying to enter an already saturated market.
Avoid going off-topic. Only include relevant information about your business or the product, services, or event your press release focuses on. For example, if your backgrounder comes with a media advisory for a sports fundraising event, it would not make sense to talk about a beauty product your business offers.
Include facts and studies related to your press release. Journalists are always looking to include facts and valuable statistics that further showcase the credibility of a business or product, as this also helps them build trust with their readers.
4. Write about the history of your business.
Because backgrounders are typically sent to media outlets that are not familiar with your business, it's wise to include a brief section that details the history of how your business came to be. This section should include how the business was founded, who founded the business, what inspired the concept, and what the original vision was, as well as how the business has evolved over the years.
Include information about any awards or milestones your business has achieved. This is a great way to showcase credibility and the growth of your business. While your history section should be no longer than three paragraphs, we recommend listing your awards and milestones in number format if you have more than two.
5. Lead into your current vision and mission statement.
The history section is a great way to lead into the current state of your business and why it's worth supporting. Only include two to five sentences, as this gives you enough room to reveal the values your business supports and your mission statement.
Detail how you plan to move forward and what your goals are, especially if you're hoping to improve your community. If your business supports local community projects or charities, include this information as it speaks to the values of your business.
6. Write your conclusion.
Your conclusion should be a summary of your backgrounder so far, only highlighting the key aspects you want the reader to walk away with. Spend some time on this section as some journalists may skip to this section for a quick overview. If this section is informative enough, this could encourage the reader to go back and read the backgrounder in detail.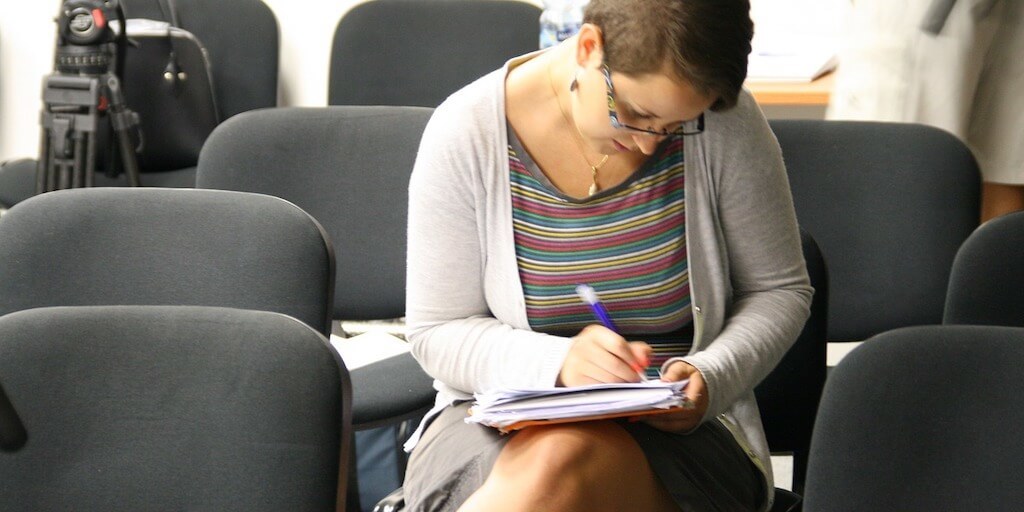 Learn how to write an attention-grabbing press release. Our guide takes you through each part of the process, with a free template and samples.
Jan 8, 2023
Backgrounder Example:
Media Contact: [Name and Surname]
[Business Name]
[Media Contact Job Title]
Email:
Telephone Number:
Address:
Business Website:
[Headline]
[Company Name] is a [type of company] that produces top-quality [type of products or services] for our customers in the [location] area. [Company Name] success has stemmed from staying connected to its loyal customer base, ensuring they are always placed first in its decision-making processes. With a variety of [product name] options available, customers have benefited from [list of at least three benefits].
Over the years, [company name] popular [product name] has grown in popularity, earning multiple awards and a total of [fact], with most customers stating the product greatly improved their lives thanks to its powerful [product details]. [Product name] was initially developed as a standalone product but has since expanded into [insert facts on how it's grown].
History of [Business Name]
[Company name] was created by [first and last name of founder/s] in [location] in [year of inception] when the then-budding entrepreneur saw a need for more [product or service] in [his/her] community. Looking for an opportunity to capitalize on [location] growing [industry name] industry, [first name of founder] came up with the idea to produce [product name] with the help of a small team of dedicated employees.
After nearly [number of years since inception] years in the business, the business has grown exponentially, with [number of stores] stores currently open in [number of states] states. Despite its great success, the company has remained loyal to its initial vision to provide affordable products to low-income families that struggle to afford the more expensive brands in the market.
Awards & Milestones
[Name and year of award]

[Name and year of award]

[Name and year of award]
Company Vision and Mission Statement
[Insert mission statement and company vision]
Conclusion
[Company name] is a successful [type of company] business that credits its success to hard work and a loyal customer base who has supported the business since its inception in [year of inception]. With over [number of awards] awards, including best [most significant award], the business has solidified itself as a top contender in the [type of industry] industry.
FAQs:
What is a backgrounder in public relations?
A backgrounder is an informational document that provides additional facts about a business. product, service, or event. Typically, a backgrounder is sent with a press release or media advisory.
What is a backgrounder in journalism?
A backgrounder is generally sent to a journalist or media outlet. Along with a press release, the backgrounder provides journalists with additional information about the business or the product/service it's trying to pitch in its press release. Journalists use the backgrounder to create a full and in-depth story.
How long is a backgrounder?
A backgrounder should be between 1-5 pages long. However, the length of a backgrounder depends on how much detail you want to add.
What is the purpose of a backgrounder?
The purpose of a backgrounder is to provide media outlets with more information about a business or product it's trying to showcase in a press release. Essentially, the backgrounder lives up to its name, providing a background into the business's history.
What is a PR fact sheet?
A PR fact sheet is another term used to describe a backgrounder.
What should be included in a backgrounder?
Contact information for both the media contact and business.
A headline.
A scope or background of the business, product, or services.
A history of the business.
Conclusion.