The Best Free Small Business Apps for 2020
Save money by discovering the best free small business apps. Includes customer ratings and frequently asked questions.
Updated on July 2nd, 2020
The SMB Guide is reader-supported. When you buy through links on our site, we may earn an affiliate commission. Learn more
Free small business apps can help you and your employees to be more productive without breaking the bank. You can use small business apps to send messages, organize your schedule, manage projects, pay bills, and more.
Below is our list of the 20 best free small business apps, complete with average customer ratings.
Read More:
The 20 Best Small Business Apps for 2020 - Learn more about paid Small Business Apps.
Top 10 Free Employee Scheduling Apps - Learn more about managing employee schedules.
Why We Chose Slack:
Slack allows team members to communicate in a number of different ways, including group chats, file sharing, calls and video conferences, and more. In addition to its many features, Slack offers excellent integration, storage, and reporting functions.
Slack is a highly secure platform that uses advanced security standards, encrypting your data in transit and at rest, guaranteeing personal and company data security
Slack has both a desktop app for Mac and PC computers. There is also a mobile app for iOS and Android devices. The Slack chat feature and other tools can be used directly through the app.
Things to Consider When Evaluating Free Small Business Apps:
Look for integrations. You get the most out of your software when you can seamlessly integrate it with the software you already have. Check to see product integrations before choosing them, and find out whether they integrate with the tools you already use.
Don't favor cost-cutting over productivity. Oftentimes, managers who invest in free software to avoid high costs do so at the expense of business productivity, as free software might not do the job you want it to, potentially adding to your workload. Don't choose a free app when the right one is available.
Do your research. Read online reviews of the product before integrating it into your business, or ask colleagues what they think of it.
Best Free Small Business Apps:
| Our Ranking | App Name | Average Customer Rating | Review |
| --- | --- | --- | --- |
| 1. | | 4.5 | Highly recommended business communication tool that offers plenty of external integrations. |
| 2. | | 4.2 | An excellent cloud-based accounting platform that offers a wide range of useful features, including payroll tools, financial report generation. |
| 3. | | 4.9 | Excellent cloud storage platform that supports multiple file types. |
| 4. | | 4.5 | A great note-taking and sharing app, whose more advanced features for businesses are available on the paid version. |
| 5. | | 4.9 | A password manager with a comprehensive set of features, including automatic form-filling and password generation, among others. Offers plenty of integrations. |
| 6. | | 4.5 | A good project management tool with excellent features and integrations with over 100 other applications. |
| 7. | | 4.0 | A great CRM platform with a rich feature range, including advanced customer insights and team collaboration tools. |
| 8. | | 4.3 | A handy tool for expense management. Has a user-friendly interface and offers a broad range of features. |
| 9. | HootSuite | 4.5 | An excellent social media marketing platform with excellent scheduling functionality. Used primarily for Twitter management. |
| 10. | | 4.6 | A highly recommended email service used by over a billion people. Secure and easy to use. |
| 11. | | 4.5 | A popular platform that excels in project management and team collaboration. |
| 12. | | 4.0 | An excellent CRM platform that offers over 35 collaboration tools. The free version has a limit of 12 users and a maximum of 5GB online storage. |
| 13. | | 4.5 | An excellent scheduling software that has a gentle learning curve and a great mobile app. Could benefit from email integration. |
| 14. | | 4.5 | A great invoicing platform with a rich feature range. Lacking a time and expense tracking feature in the free plan. |
| 15. | | 4.4 | A reliable remote access platform that offers online meetings and screen sharing, among other useful features. |
| 16. | | 4.4 | Offers a wide array of video conferencing features, with excellent video and audio quality. |
| 17. | Google Calendar | 4.6 | An excellent calendar app that integrates well with other Google products. Good user experience and great mobile app. |
| 18. | | 4.3 | Excellent communication tool for business, although voicemail and landline calls are not available in the free version. |
| 19. | | 4.5 | Comprehensive payroll platform with a host of useful features. |
| 20. | | 4.0 | Good project management platform with useful features like staff collaboration tools with file sharing, among many others. |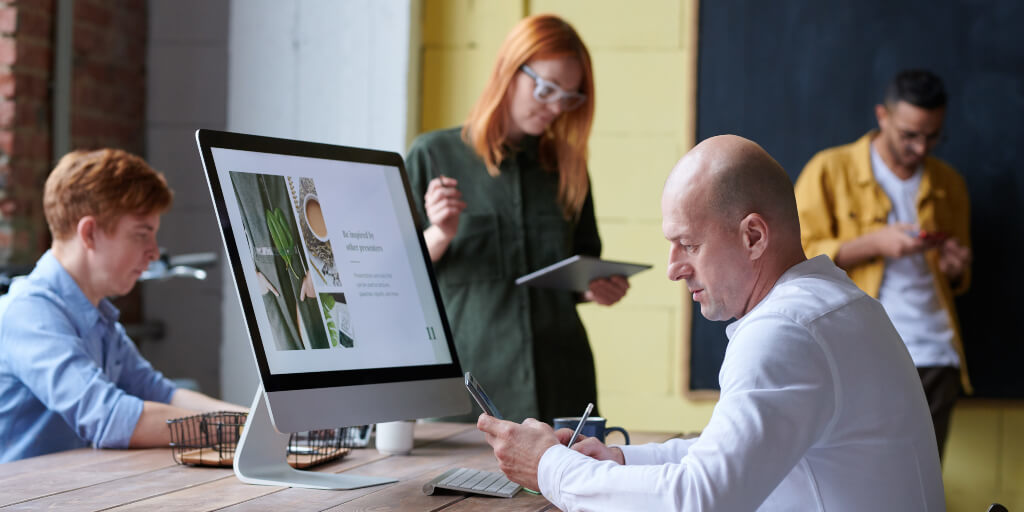 Discover more about digital transformation. Includes a step-by-step guide and frequently asked questions.
Jul 10, 2020
FAQs:
Can I trust free apps for small businesses?
All of the apps we reviewed were created by trusted tech companies that offer legitimate products to small businesses, so you don't need to worry about being spammed when you use them.
Can free small business accounting apps be used for tax preparation?
Most entrepreneurs use free small business accounting apps to track their expenses. At the end of the year, they can total these expenses and deduct the sum from their business' gross income. Free tools may have other accounting features, but these may be limited and you may need a more advanced version of the app to record or generate detailed accounting data.
Can my employees access free small business apps from their mobile devices?
Some free versions only allow for a single user, but apps like Slack can be used by multiple users. Your employees can download Slack on their phones to stay connected with the rest of the team.