Fattmerchant Reviews
Compare Fattmerchant with top competitors like Square and Braintree, see full info on their rates, and read what customers have to say.
Updated on July 7th, 2020
The SMB Guide is reader-supported. When you buy through links on our site, we may earn an affiliate commission. Learn more
Fattmerchant is a credit card processing company that provides simple payment solutions and data analytics to businesses of all sizes.
Updates:
Updated 19th of June 2020
We have added a news release to our news and activity section and updated our feature section regarding Fattmerchant's new Omni Connect product.
Updated 19th of February 2020
We have added the latest news release regarding Fattmerchant's Fintech 50 status award.
Updated 5th of February 2020
We have added extra information about Fattmerchant, including product reviews, pricing comparisons with Square and Braintree, and feature lists.
Updated 22nd of January 2020
We have updated the pricing according to the latest amounts on Fattmerchant's website.
Our Pick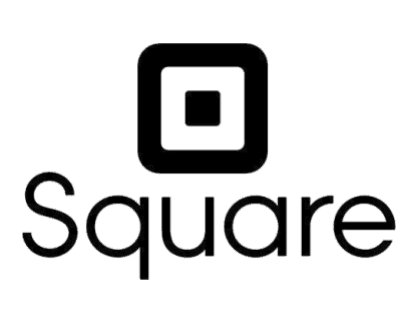 Credit Card Processor, Merchant Services, and POS System
Sign Up Free
Automatically tracks customer purchases.
Used by more than 2 million businesses.
Robust reporting.
Pros and Cons:
Pros
Accepts credit and debit cards, chip payments, EBT, HSA, and mobile wallets.
Membership fees have a 0% mark-up on transaction costs.
Next-day funding.
No early termination fee.
Features an integrated payment platform with reports, inventory, sales analytics, and customer management.
Offers a wide array of third-party integrations, including QuickBooks Online.
Cons
For U.S. based merchants only.
Users will pay a subscription fee for each terminal.
Can be expensive for small businesses and is better suited for mid-volume or higher transaction amounts.
Review:
Fattmerchant is a good payment processor for mid to large-sized companies. They offer transparent, subscription-based fees and a variety of features and integrations. While there have been some customer complaints about the subscription fees and incorrect fraud reports, Fattmerchant seems to be generally quite popular with users.
Highlights:
Fattmerchant offers a variety of credit card processing solutions, including online, in-person, mobile, and phone order payment processing. With Fattmerchant's subscription-based fees, there is a 0% mark-up on the transaction fees, so while you will still pay a per-transaction fee, you will only pay what the credit card companies ask. It is the best value for high-volume merchants as they build volume-based discounts into their flat fee.
Shortcomings:
While the monthly subscription fees offer a zero percent mark-up, users with multiple payment processing platforms will have to pay a subscription for each solution. So, if you accept payments in-store and via your online site, you will pay a separate subscription for each payment processing solution. This can quickly add up and, while you get a number of benefits with each subscription, your savings from the zero markup may not be enough to off-set the total subscription fees.
Reputation:
Fattmerchant is not BBB accredited but has an A- BBB rating. BBB has collected 6 customer complaints mostly centered on dissatisfaction with the subscription fees, withheld funds, and wrongful fraud allegations. All of the complaints were answered by Fattmerchant representatives and 3 of the complaints were resolved to the customers' satisfaction.
Capterra and GetApp have collected 17 customer reviews for Fattmerchant with a general rating of 4.8 out of 5. All of the customer reviews were positive with only a few tech and integration negatives noted.
At a Glance:
| | |
| --- | --- |
| Transparent rates and fees | Yes. |
| Accepts all major payment methods | Yes. |
| Offers a wide range of integrations | Yes. |
| User friendly interface | Yes. |
| Hardware | Dejavoo terminals and BBPOS mobile card readers. |
| Security | PCI DSS compliance, end-to-end encryption, Tokenization, and TLS1.3. |
| Access to funds | Transfer to bank account the next day or within 24 hours from the batch time. |
Industry specifics:
Fattmerchant is well-suited to the following industries:
Healthcare and wellness.
Professional services.
Field services.
Retail and e-commerce.
Food and beverage.
Rates and Fees:
| Plan Name | Monthly Rate |
| --- | --- |
| Swiped Payments of up to $500,000 Annual Processing | $99.00 + $0.08 per transaction & direct cost |
| Swiped Payments of Over $500,000 Annual Processing | $199.00 + $0.06 per transaction & direct cost |
| Keyed Payments of up to $500,000 Annual Processing | $99.00 + $0.15 per transaction & direct cost |
| Keyed Payments of Over $500,000 Annual Processing | $199.00 + $0.12 per transaction & direct cost |
| Enterprise | |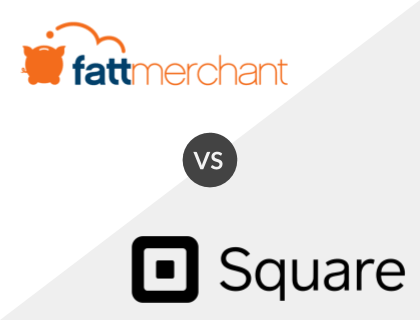 Fattmerchant vs Square:
Fattmerchant uses a subscription-based pricing structure and does not charge a merchant mark-up on the interchange. However, users will be required to pay a subscription for each payment platform they use. Square charges a flat monthly, which includes integrated in-store and online sales as well as inventory tracking.
Fattmerchant vs Square Comparison:
| Type of transaction | Fattmerchant | Square |
| --- | --- | --- |
| Swiped/in-person | $99.00 /mo. + $0.08 /transaction | 2.6% + $0.10 /transaction |
| Keyed/card-not-present | $99.00 /mo. + $0.15 /transaction | 3.5% + $0.15 /transaction |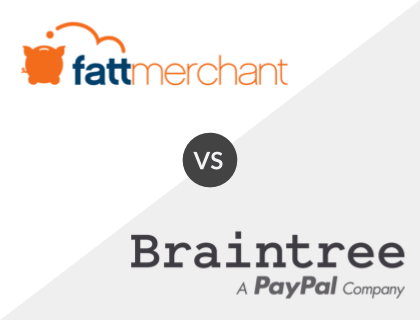 Fattmerchant vs Braintree:
Braintree also charges a flat fee but, unlike Fattmerchant, does not offer an integrated payment solution and is better suited for online payment processing. However, they do offer in-person payment processing solutions. Fattmerchant's subscription, then, is a more cost-effective solution even though users will pay for each payment gateway.
Fattmerchant vs Braintree Comparison:
| Type of transaction | Fattmerchant | Braintree |
| --- | --- | --- |
| Swiped | $99.00 /mo. + $0.08 /transaction | 2.9% + $0.30 /transaction |
| Keyed | $99.00 /mo. + $0.15 /transaction | 2.9% + $0.30 /transaction |
QuickBooks Online
Fattmerchant offers two-way integration with QuickBooks Online for easy data access to customer information, unpaid invoices, payments, and catalog items. This integration is simple to set up and your data will sync automatically throughout the day.
Features:
| Feature | Description |
| --- | --- |
| Card present payments | Accepts credit card swipes, taps, and dips as well as contactless payments. |
| Mobile payments | Accepts payments through Apple and Android devices. |
| Online invoicing | Accepts payments online or over the phone. |
| Business analytics | Business insights and data. |
| eCommerce | Connects to shopping carts and checkout pages. |
| Developer API | Integrates with various products and apps. |
Integrations:
Fattmerchant's main integration is with QuickBooks Online. However, they state that they integrate with over 90% of third-party solutions, including POS, e-commerce, and accounting tools. You only need to tell the Fattmerchant team what tools you prefer using and they will set up the integrations.
Some compatible gateways and platforms include:
First Data Omaha, Nashville, North, and Rapid Connect.
TSYS.
Authorize.net.
Blackline.
SPin.
Popular POS integrations include:
Aloha.
Micros.
Revel.
Vend.
ShopKeep.
Fattmerchant Terminals:
Fattmerchant has a line of Dejavoo terminals which can be used as standalone terminals, where users enter the payment amount and then swipe, dip, or tap a card. The Dejavoo terminals can also be integrated with the virtual terminal to complete a sale with lower interchange costs.
Fattmerchant also has 2 mobile card readers: the Chipper BT, which accepts magstripe and EMV compliant cards via Bluetooth on an iOS or Android device, and the Chipper 2XBT, which has the same functionality as the Chipper BT but also accepts Apple Pay.
Additional Products:
Virtual Terminal:
Fattmerchant's virtual terminal is an online invoicing and recurring billing solution for online payments. Users can directly key in payments or send payment links to customers, manage customer information, track catalog and inventory items, and automatically send receipts and payment notifications.
Physical Terminals:
Fattmerchant programs card machines to suit individual needs. These machines accept credit, debit, EBT, and contactless payments, have EMV technology for security, and can integrate with your virtual terminal.
Mobile Payment Processing:
Fattmerchant offers a line of mobile swipers that integrate with countertop terminals and Android and iPhone payment apps. Fattmerchant's mobile iOS and Android apps feature:
Mobile swipers.
Card scanning.
Cash payment tracking.
Invoice tracking.
Inventory and catalog management.
Phone and tablet functionality.
Catalog grid view.
Barcode scanning.
Key-in functionality.
Analytics dashboard.
eCommerce Shopping Cart:
Fattmerchant's e-commerce shopping cart is PCI compliant and offers a variety of other security features. Users can easily and quickly set up the shopping cart and checkout process and can customize it to match their brand and image. Fattmerchant's shopping cart integrates seamlessly with your online site and allows customers to complete the whole purchase process without having to leave your site.
OMNI:
OMNI is Fattmerchant's integrated payment processing platform and brings the entire payment experience into one platform. OMNI unifies your payment processing so that you can keep track of all your mobile, online, and in-store payments.
OMNI features:
Dashboard and analytics.
Virtual terminal.
Mobile solutions.
Developer tools.
Card present functionality.
Contactless payments functionality.
Key Information:
| | |
| --- | --- |
| Legal Name | Fattmerchant, Inc. |
| Founder | |
| Founding Date | Jan 01, 2014 |
| Address | 100 S Orange Ave #400, Orlando FL, 32801 |
| Number of Employees | 150 |
| Number of Customers | 1000 |
| Telephone | |
| Website | |
FAQs: