Bill.com
Compare Bill.com to top competitors including FreshBooks and Invoice Home. Learn more about their products, features, and packages.
Updated on February 9th, 2023
The SMB Guide is reader-supported. When you buy through links on our site, we may earn an affiliate commission. Learn more
Bill.com is a leading provider of cloud-based financial software for small and medium businesses. Businesses can use the AI-enabled platform to digitize financial processes, automate workflows, create and pay bills, send invoices, and process payments.
Get Started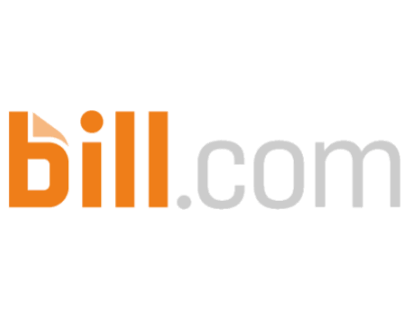 Start a Risk-Free Trial Today
Get Started
Find documents fast.
Automate bookkeeping.
Pay and approve from anywhere.
Pricing:
| Plan | Monthly Pricing |
| --- | --- |
| Essentials | $45.00 /user. |
| Team | $55.00 /user. |
| Corporate | $79.00 /user. |
| Enterprise | Contact for quote. |
Additional Services:
| Plan | Pricing |
| --- | --- |
| ePayment/ACH Processing | $0.49 /send & receive. |
| Check and Invoice Mailing | $1.69 /check payment or invoice. |
| Optional Payables Data Entry | $0.49 /bill. |
| Credit Card Payment Processing | Merchant fees: level 3 processing rates available. |
| International Wire Transfers | $0.00 /payment in local currency or $9.99 /payment in U.S. dollars. |
| Vendor Direct virtual card payment | $0.00 /payment. |
| Pay Faster by ACH | $9.99 /payment (same day or next). |
| Pay Faster by Check | Overnight: $22.00; two days: $17.99; three days: $11.99. |
Review:
Bill.com is unique in that it unites businesses, accountants, and banks in business payments. It brings together systems, documents, and people to simplify the process of paying bills, receiving payments on invoices, and keeping books up-to-date.
While their accounts payable product is excellent, as an invoicing solution alone there are better options with more features, customizations, and designs, such as Invoice Ninja and Invoicera.
Pros:
The platform is user-friendly.
A range of features, such as custom user roles and approval policies, help improve visibility and control over processes.
Bill.com's AI-powered Intelligent Virtual Assistant (IVA) automatically extracts and enters invoice and vendor information.
Integrations with popular accounting software, including QuickBooks and Sage Intacct, allow users to auto-sync data.
Bill.com automates accounts payable and receivable processes to a large degree, which saves time and effort.
Supported payment methods include ACH, international transfer, check, credit card, and virtual card.
Bill.com has a network of more than 3 million vendors.
The platform features an enterprise-level fraud protection plan to safeguard sensitive information.
The software is tailored to meet the needs of small and medium businesses.
Cons:
Not every plan includes all 15 integrations.
Phone support is only available on the enterprise-level plan.
Reputation:
Bill.com is not accredited by the Better Business Bureau (BBB) but has a B+ rating on the site. On TrustRadius, Bill.com received a score of 7.1 out of 10 based on more than 50 reviews. While many users lauded the platform's ease of use, document management features, and accounting integrations, some were dissatisfied with the customer service.
On G2, Bill.com has a rating of 4.4 out of 5 stars based on feedback from more than 340 users. Reviewers reported the software to be easy to use with many convenient features that save time and improve efficiencies, such as seamless accounting integrations and workflow automation. Some thought the user interface could be improved.
At-a-Glance:
| | |
| --- | --- |
| Automated processes | AI-powered automatic data entry and payment reminders. |
| Integrations | 15 accounting software integrations. |
| Simplified payments | ✓ |
| Payment capabilities | ACH, international payments, by card, via Bill.com's network of vendors. |
| Financial analysis | Tracks accounts payable and accounts receivable and syncs with accounting software. |
| Document management | ✓ |
| eCommerce integrations | ✓ (Users can select ACH processing, credit cards, check, or PayPal). |
| Subscription billing | ✓ |
| Customizations | ✓ |
A Cloud-Based Option:
Bill.com is a cloud-based platform and does not require installations or downloads. It is compatible with most devices that have an internet connection and an up-to-date browser. Bill.com also has mobile apps for both Android and iOS.
Bill.com Packages:
Bill.com's packages are scalable for different-sized businesses and offer a range of useful features. All plans include standard approval workflow, unlimited document storage, payment support, and AI-powered data entry.
While the Team plan includes integrations with QuickBooks and Xero, these are not available on the Essentials plan. However, the Essentials plan does allow users to manually import and export CSV files into accounting software.
Both plans only allow users to manage their accounts payable or receivable, but not both. In order to manage both accounts payable and receivable, users must upgrade to the Corporate plan. This plan offers the same integrations as the Team plan, but users have access to a more robust financial management platform.
The Enterprise plan offers the same integrations, as well as NetSuite and Sage Intacct syncing. It also allows users to have API access to Bill.com for more effective analytics and includes premium phone support, single sign-on, dual control, as well as multi-entity, multi-location accounting file capabilities.
Bill.com also offers an Accountant Partner Program for accounting firms, helping accountants with auto-entering data for review, managing accounting practices, and growing bill payment practices, among other things.
Packages:
| Plan | Accounting Management | Integrations | User Essentials |
| --- | --- | --- | --- |
| Essentials | Payables or receivables. | No integrations. | Choose from 5 standard user roles. |
| Team | Payables or receivable; includes accounting integrations. | QuickBooks Pro, QuickBooks Premier, QuickBooks Online, and Xero. | Custom user roles. |
| Corporate | Both payables and receivables; includes workflow options. | QuickBooks Pro, QuickBooks Premier, QuickBooks Online, and Xero. | Custom user roles and custom approval limits. |
| Enterprise | Both payables and receivables; includes workflow options with additional integration features and custom pricing. | QuickBooks Pro, QuickBooks Premier, QuickBooks Online, QuickBooks Enterprise, NetSuite, Sage Intacct, Microsoft Dynamics, and Xero. | Custom user roles, custom approval limits, and multi-entity/location/accounting files. |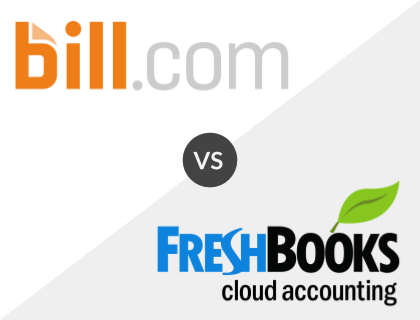 Bill.com vs. FreshBooks:
Bill.com and FreshBooks offer a similar range of features, with customizable invoices, payment processing, and accounting functionalities. However, Bill.com offers unlimited document storage, which FreshBooks doesn't, and FreshBooks offers integrated time-tracking, where Bill.com doesn't.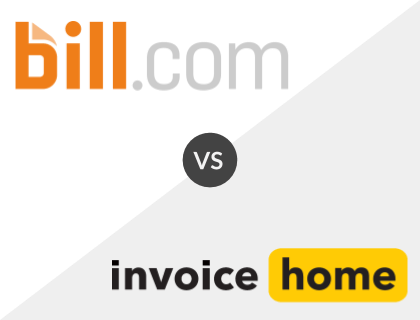 Bill.com vs. Invoice Home:
With a starting price of $45.00 per user per month, Bill.com is costlier than Invoice Home, which offers a free plan. However, Invoice Home is limited to invoicing templates with an integrated payment gateway. Bill.com offers more capabilities, including accounting features.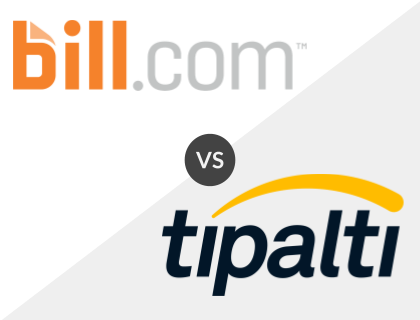 Bill.com vs. Tipalti:
Tipalti and Bill.com both offer accounts payable automation tools and employ AI to help businesses accelerate financial workflows. Bill.com supports several tech stack integrations that Tipalti doesn't, including Tallie, Expensify, and Earth Class Mail. Bill.com is also the more affordable option of the two.
Features:
| Feature | Description |
| --- | --- |
| Accounts Payable | Electronically pay domestic and international vendors via check, ACH, and credit card. |
| Accounts Receivable | Use digital invoices with customizable templates, automatic reminders, and electronic payments to get paid faster. |
| Approval | Users can set up custom approval policies for bill or vendor credit; designated groups and/or single-user approvers; and dynamic approvals to maintain separation of duties and reduce potential fraud. |
| Bill.com Mobile App | Review, approve, and pay your bills on the go. |
| Controls | A range of features, including a dashboard tracking the real-time status of payments, secure access, custom user roles and permissions, enhanced approval policies, and dual control, give businesses more control and increased visibility for managing workflows. |
| Customer Support | Online and phone support, depending on the plan. |
| Document Storage | Store your documents online for easily retrievable invoices, proof of payment, and supporting documents. |
| Intelligent Virtual Assistant (IVA) | The Bill.com IVA automates data entry by extracting and entering invoice and vendor data, eliminating human error and accelerating workflows. |
| Payment Gateway | Schedule and send payments by ACH, wire transfer, virtual card, and check. |
| Security | Bills.com employs multiple layers of powerful technology, including Transport Layer Security (TLS), industry-standard cipher suites, and HIPAA compliance, to guard against payment fraud, network security breaches, unauthorized account access, and to protect sensitive customer data.* |
*Bill.com is a regulated financial institution and has a federal money transfer license in all 50 states, ensuring full compliance with the federal financial regulations and laws. Rigorous programs and audits are also in place to confirm security protocols.
Bill.com Blog:
Bill.com features a blog on its webpage with articles on a variety of financial topics. Readers can search the blog by selecting a preferred category, such as Accountant, Bookkeeper, Bank, Developer, Small and Medium Business, Product, Business, Technology, Training, Customer Profile, Company and Culture, or Event.
Available Products:
Accounts Payable:
The accounts payable product of Bill.com helps businesses to pay international and domestic vendors as well as 1099 contractors. Payments can be made via check, ACH, credit card, virtual card, or international wire transfer.
Powered by AI, the software extracts and enters data for users to review, remembers custom approval policies that have been set up, and notifies users if there's an error, duplication, or issue. Bill.com's vendor network has more than 3 million members via which users can easily and securely connect with vendors to make ACH or virtual card payments.
With accounts payable, users can see their payments in and out in a single overview screen and sync with their accounting software to keep their books up to date. Users also have access to accounts payable on the mobile app from where they can perform key tasks, such as approving or paying bills on the go.
Accounts Receivable:
The accounts receivable product of Bill.com helps businesses to send electronic invoices to their customers and to track their invoice statements and payments. Invoices are automated and users can select the payment option, including ACH, credit card, and PayPal. With accounts receivable, users can send personalized, automated payment reminders and sync their accounts with their accounting software.
Users can also schedule when to send invoices or set up recurring invoices for regular customers. Invoices are easy to track and users can set up auto-reminders or manually send reminders for late payments from Bill.com. The accounts receivable product is also available on the mobile app.
International Payments:
Using Bill.com for international payments allows users to streamline their payments with automated workflows. Bill.com has one simple process for both domestic and international payments to over 130 countries. Bill.com can also save users money on international wire transfer fees since wire transfers sent in the local currency are free.
If an international wire transfer is sent in U.S. dollars, users will be charged $9.99 per transaction. Bill.com automatically syncs bills in local currencies and U.S. dollars with Inuit QuickBooks, Xero, Sage Intacct, Oracle NetSuite, Microsoft Dynamics GP, and Microsoft Dynamics 365 Business Central, so users only have to enter the data once.
Expense Management:
Divvy, recently acquired by Bill.com, offers an all-in-one platform for spend management, including expense management and AP management solutions. Supported by a corporate credit line, Divvy provides tools to set up budgets and control spending while giving businesses the flexibility to spend how they need to. Users can easily track spending in real time, approve or deny requests for funds, and sync data with their accounting system.
Social Media:
Bill.com has profiles on Facebook, Twitter, LinkedIn, YouTube, and Instagram. These channels can also be used for any questions, blog posts, or reviews.
Integrations and Partners:
| Category | Third Party |
| --- | --- |
| Accounting | Sage Intacct, Oracle NetSuite, Intuit QuickBooks, Microsoft Dynamics, and Xero. |
| Bookkeeping | Receipt Bank. |
| Expense Management | Expensify and Tallie. |
| Document Management | Hubdoc. |
| Tax Management | Tax1099.com. |
| Customer Relationship Management | |
| Digital Mailroom | Earth Class Mail. |
Key Information:
| | |
| --- | --- |
| Legal Name | Bill.com, LLC. |
| Founder | |
| Founding Date | Jan 01, 2006 |
| Address | 6220 America Center Dr., San Jose, CA 95002 |
| Number of Employees | 1850 |
| Number of Customers | 126200 |
| Telephone | |
| Website | |
FAQs:
Is Bill.com a legitimate site?
Bill.com is a reputable bill payment platform that helps businesses manage cash inflows and outflows with ease. The cloud-based software is AI-enabled and allows businesses to automate complex, back-office financial operations.
What is Bill.com used for?
Bill.com is used to manage end-to-end financial workflows and to process payments. The software is suitable for small to medium businesses.
What kind of company is Bill.com?
Bill.com is a provider of cloud-based financial software. The company partners with several of the largest U.S. financial institutions, including the majority of the top 100 U.S. accounting firms, and popular accounting software providers.
How much does Bill.com cost?
Bill.com's pricing ranges from $45.00 to $79.00 per user per month. Pricing for enterprises is only available by quote.
What features does Bill.com include?
Bill.com software allows you to enter and send electronic invoices quickly and easily, pay vendors across devices, choose your preferred payment method, and receive payments into your bank account via ePayment, ACH, credit card, or PayPal. Bill.com also syncs with popular accounting software.
How do I submit payments via Bill.com?
From your dashboard, click on "Payables." From there, you'll be able to review your upcoming bill payments, schedule outgoing payments, and select the bank account from which you'd like to pay your vendors.
Is there a Bill.com app?
Yes. The Bill.com mobile app for iOS and Android integrates with several accounting software platforms, including QuickBooks, Microsoft Dynamics, Xero, Oracle Netsuite, and Sage Intacct.
Where is the Bill.com headquarters?
Bill.com is headquartered in San Jose, California.
What are some Bill.com competitors?