Bill.com Reviews
Compare Bill.com to top competitors including FreshBooks and Invoice Home. Learn more about their products, features and packages.
Updated on June 21st, 2020
The SMB Guide is reader-supported. When you buy through links on our site, we may earn an affiliate commission. Learn more
Updates:
Updated 19th of February 2020
We have added more information about Bill.com, including their features, additional products, and price comparisons.
Our Pick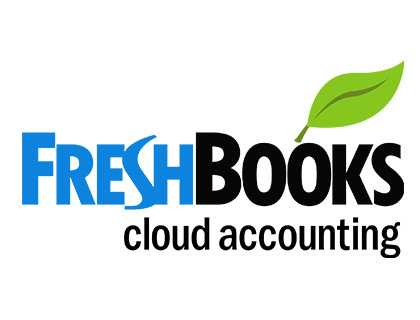 Pros and Cons:
Pros
Great range of features.
Offers strong accounting integrations.
Best suited for mid to large-sized companies.
Cons
It can be expensive.
The 12 available integrations are not available on every plan.
Only offers online support forms.
Review:
Bill.com is unique in that it unites businesses, accountants, and banks in business payments. It brings together systems, documents, and people to make paying your bills, receiving payments on your invoices, and keeping your books up to date much easier. However, while their accounts payable product is excellent, as an invoicing solution alone there are better options with more features, customizations, and designs.
Highlights:
Bill.com offers a great range of features from automated invoicing to accounting integrations. It also features an enterprise-level fraud protection plan to safeguard your financial transactions. Bill.com automates the accounts payable process to a large degree, which saves time and effort, and it is an easy-to-use platform.
Shortcomings:
Bill.com's invoicing feature offers limited customization options and lacks functions like time-tracking and estimates. Bill.com may also be too expensive for small companies, especially those that are already paying monthly fees for accounting software with invoicing and accounts payable features. They do not offer phone support, so users are limited to their online resource center and, while Bill.com offers good accounting integrations, there is only a total of 12 integrations. Not all of these integrations are available on all the plans.
Reputation:
Bill.com is not accredited with the Better Business Bureau, but it has an A rating. BBB has collected two customer reviews for Bill.com, one negative and one positive. The negative review states that Bill.com was unable to deposit a company's money into their account due to a technical glitch, causing late fees from missed bills which Bill.com did not compensate the company for. The positive customer review highlights Bill.com's quick and helpful customer support.
TrustRadius has collected 89 customer reviews for Bill.com with an average rating of 8.5 out of 10. Positive customer comments highlight the ease of use, great document management, and QuickBooks integration while negative comments highlight a lack of control, slow payment processing, and poor syncing capabilities.
Capterra has collected 310 Bill.com reviews with an average rating of 4.2 out of 5. Customers have listed the pros of Bill.com as the great approval features, the payment security, and the ease of use. On the other hand, the customers have stated that the cons of Bill.com are slow electronic payments, limited or poor technical support, syncing issues, and the poor design of the new interface.
At a Glance:
| | |
| --- | --- |
| Automated processes | Automatic invoice data entry and payment reminders. |
| Simplified payments | Yes. |
| Financial analysis | Tracks accounts payable and accounts receivable and syncs with accounting software. |
| Document management | Yes. |
| eCommerce integrations | Yes, users can select ACH processing, credit cards, or PayPal. |
| Subscription billing | Yes. |
| Customizations | Yes. |
A Cloud-Based Option:
Bill.com is a cloud-based platform and does not require installations or downloads. It is compatible with most devices that have an internet connection and an up-to-date browser. Bill.com also has mobile apps for both Android and iOS.
Pricing:
| Plan Name | Monthly Pricing |
| --- | --- |
| Essentials | $39.00 per employee. |
| Team | $49.00 per employee. |
| Corporate | $69.00 per employee. |
| Enterprise | Quote only. |
Extra Costs:
| Additional Cost | Pricing |
| --- | --- |
| Accountant Partner Program | $49.00 /mo. |
| ePayment/ACH Processing | $0.49 /send & receive. |
| Check and Invoice Mailing | $1.69 /check payment or invoice. |
| Optional Payables Data Entry | $0.49 per bill |
| Credit Card Payment Processing | Merchant Fees: Level 3 processing rates available. |
| International Wire Transfers | $0 /payment in local currency or $9.99 /payment in USD. |
Bill.com Packages:
Bill.com's packages are scalable for different sized businesses and offer a range of useful features. All plans include standard approval workflow, unlimited document storage, and payment support.
While the Team plan includes integrations with QuickBooks and Xero that is not available on the Essentials plan, both plans only allow users to manage their accounts payable or receivable, but not both. In order to manage both accounts payable and receivable, users must upgrade to the Corporate plan. This plan offers the same integrations as the Team plan, but users have access to a more robust financial management platform.
The Enterprise plan offers the same integrations, as well as NetSuite and Intacct syncing. It also allows users to have API access to Bill.com for more effective analytics.
Bill.com also offers the Accountant Partner Program for accounting firms, helping accountants with auto-entering data for review, managing accounting practices, and growing bill payment practices, among other things.
Packages:
| Essentials | Team | Corporate | Enterprise |
| --- | --- | --- | --- |
| Manages payables or receivables. | Manages payables or receivable and includes accounting integrations. | Manages both payables and receivables and includes workflow options. | Manages both payables and receivables and includes workflow options with additional integration features and custom pricing. |
| No integrations. | Integrates with QuickBooks Pro, QuickBooks Premier, QuickBooks Online, and Xero. | Integrates with QuickBooks Pro, QuickBooks Premier, QuickBooks Online, and Xero. | Integrates with QuickBooks Pro, QuickBooks Premier, QuickBooks Online, QuickBooks Enterprise, NetSuite, Intacct, and Xero. |
| Choose from 5 standard user roles. | Custom user roles. | Custom user roles and custom approval limits. | Custom user roles, custom approval limits, and multi-entity/location/accounting files. |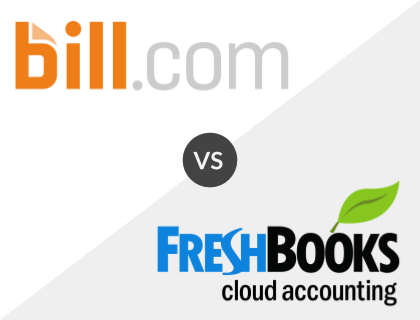 Bill.com vs. FreshBooks:
Bill.com and FreshBooks offer a similar range of features, with customizable invoices, payment processing, and accounting functionalities. However, Bill.com offers unlimited document storage where FreshBooks doesn't, and FreshBooks offers integrated time-tracking where Bill.com doesn't.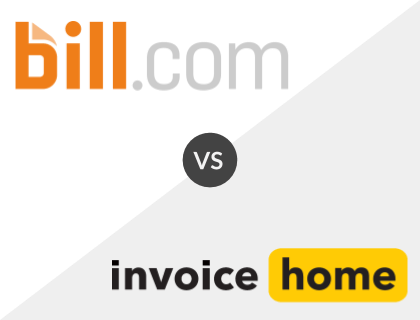 Bill.com vs. Invoice Home:
With a starting price of $39.00 per user per month, Bill.com is one of our more expensive recommendations, especially when compared to Invoice Home's free plan. However, Invoice Home is limited to invoicing templates with an integrated payment gateway. Bill.com offers a wider range of features, including accounting features.
Features:
| Feature | Description |
| --- | --- |
| Accounts Payable | Electronically pay domestic and international vendors. |
| Accounts Receivable | Use digital invoices, automatic reminders, and electronic payments to get paid faster. |
| Document Storage | Store your documents online for easily retrievable invoices, proof of payment, and supporting documents. |
| Bill.com Mobile App | Review, approve, and pay your bills on the go. |
| Customer Support | Get help from the online support team. |
| Payment Gateway | Schedule and send payments by ACH, wire transfer, virtual card, and check. |
Bill.com Blog:
Bill.com features a blog on their webpage with articles on a variety of finance topics. You can search the blog by selecting your preferred category, such as Accountant, Bookkeeper, Bank, Developer, Small and Medium Business, Product, Business, Technology, Training, Customer Profile, Company and Culture, and Event.
Available Products:
Accounts Payable:
The Accounts Payable feature of Bill.com helps businesses to pay international and domestic vendors as well as 1099 contractors. The program auto-enters invoice data for you to review, remembers custom roles and policies you have set, and notifies you if there's an error, duplication, or issue. With Accounts Payable, you can see your payments in and out in a single view and sync with your accounting software to keep your books up to date. You will also have access to Accounts Payable on the mobile app.
Accounts Receivable:
The Accounts Receivable feature of Bill.com helps businesses to send electronic invoices to their customers and track their invoice statements and payments. Invoices are automated and you can select the payment option, including ACH, credit card, or PayPal. With Accounts Receivable, you can send personalized, automated payment reminders and sync your account with your accounting software.
International Payments:
Using Bill.com for international payments will allow you to streamline your payments with automated workflows. Bill.com has one simple process for both domestic and international payments to over 130 countries. Bill.com can also save you money on international wire transfer fees as, if you send the wire transfer in the local currency, your transfer is free. However, if you send an international wire transfer in USD, you will be charged $9.99 per transaction.
Social Media:
Bill.com has profiles on Facebook, Twitter, LinkedIn, YouTube, and Instagram. These channels can also be used for any questions, blog posts, or reviews.
Integrations and Partners:
| Category | Third-Party |
| --- | --- |
| Accounting | Sage Intacct, Oracle NetSuite, Intuit QuickBooks, and Xero. |
| Bookkeeping | Receipt Bank. |
| Expense Management | Expensify and Tallie. |
| Document Management | Hubdoc. |
| Tax Management | Tax1099.com. |
| Customer Relationship Management | Salesforce. |
| Project Management | Workflow Max. |
| Digital Mailroom | Earth Class Mail. |
Key Information:
| | |
| --- | --- |
| Legal Name | Bill.com, LLC. |
| Founder | |
| Founding Date | Jan 01, 2006 |
| Address | 1810 Embarcadero Road, Palo Alto, CA 94303 |
| Number of Employees | 350 |
| Number of Customers | 3000000 |
| Telephone | |
| Website | |
FAQs:
How much does Bill.com cost?
Bill.com ranges from $39.00 to $69.00 per employee per month. The price range for enterprises is available by quote only.
What features does Bill.com include?
Bill.com software allows you to enter and send electronic invoices quickly and easily, pay vendors across devices, choose your preferred payment method, and receive payments into your bank account via ePayment, ACH, credit card, or PayPal. Bill.com also syncs with popular accounting software.
How do I submit payments via Bill.com?
From your dashboard, click on "Payables." From there you'll be able to review your upcoming bill payments, schedule outgoing payments, and select the bank account from which you'd like to pay your vendors.
Is there a Bill.com app?
Yes. The Bill.com mobile app for iOS and Android integrates with several accounting software platforms, including Salesforce, Quickbooks, and Sage Intacct.
Where is the Bill.com headquarters?
Bill.com is headquartered in Palo Alto, California.
What are some Bill.com competitors?
FreeAgent.
Due.
Invoice2go.