The Best Salon POS Software for 2022
Compare the best POS software designed specifically for salon use, including DaySmart Salon, Shedul, and Vagaro. Includes rankings, pricing, and FAQs.
Updated on October 26th, 2022
The SMB Guide is reader-supported. When you buy through links on our site, we may earn an affiliate commission. Learn more
Specialized POS software for salons allow users to simplify their salon operations. Salon POS software often includes salon-specific features to help you manage your salon, such as appointment booking, commissions, mobile invoicing, and retail features.
Why We Chose DaySmart Salon:
DaySmart Salon is a salon and spa management software that comes with its own great POS hardware. The software features online booking and appointment reminders so that you never miss taking a new booking and your clients won't forget to go to their appointments.
DaySmart Salon offers integrated payments with features like cancellation fees, prompts for tips, online deposits, and membership billing. DaySmart Salon will also save your clients' credit cards in a secure file. Every transaction with DaySmart Salon's payment processing is PCI/PA-DSS validated. They also offer a free mobile chip reader so that users who make house-calls or go to markets and fairs can still process payments.
DaySmart Salon also features automated marketing with the option for recurring marketing campaigns. You will also have access to analytical data on your campaigns to see what's working and what isn't.
With DaySmart Salon, users will have access to fully-featured mobile apps for Android and Apple. Users can access appointment books, check clients in and out, and review notes. Users will also have access to employee management and payroll features with DaySmart Salon.
Things to Consider When Evaluating Salon POS Software:
Since appointments are the most important aspect of keeping your salon business running, it's vital that your POS software comes with or integrates with appointment scheduling software. You'll also want to consider employee tracking and payroll processing software integrations.
Since most salons sell beauty and self-care-related products, your POS system will need great inventory management capabilities.
You will want to be able to process loyalty programs, gift cards, and other promotions to build a strong base of clients who will continue to head to your salon for pampering.
Best Salon POS Software:
| Rank | Name | Offer | Review | Learn More |
| --- | --- | --- | --- | --- |
| 1. | | $29.00 /mo. | Offers different packages for different sized businesses and features appointment reminders, online and Instagram booking, credit card processing, client management, marketing, a mobile app, and great reporting. | |
| 2. | | Free. | Booking software designed specifically for salons and spas, Shedul features appointment booking, automated reminders, client management, an activity dashboard, and fully integrated POS. | |
| 3. | | 2.75% /swipe. | The POS software seamlessly integrates with their scheduling software and is suitable for all types of beauty and fitness businesses. Vagaro features online sales, credit cards on file, and recurring membership payments. | |
| 4. | | 2.6% + $0.10 /transaction. | An all-in-one platform for beauty businesses, Square Appointments features a fantastic POS for checking out clients, online booking, client history management, payment processing, and attractive hardware. | |
| 5. | | $14.00 /mo. | While not specifically designed for salons, Clover is fully customizable so that you can build your POS system with devices, apps, and accessories to suit your business needs. There are several apps that suit salon businesses, such as Salon Scheduler, Booker, and Appointments Pro. | |
| 6. | | $99.00 /mo. | Featuring a health and beauty POS, Vend offers a simple, intuitive design with easy bookings, client management, and payment processing. Vend also has an offline mode. | |
| 7. | | $79.00 /mo. | Features cloud-based POS, good customer support, online platform integration, and reporting and analytics. Lightspeed works particularly well for beauty supply stores. | |
| 8. | | $39.00 /mo. | Works with a wide range of health and beauty businesses, from salons and fitness clubs to tattoo parlors and pet grooming. Features customer management and scheduling, employee management, inventory systems, and customer marketing. | |
DaySmart Salon vs Shedul vs Vagaro:
Of our top 3 POS software providers, DaySmart Salon is the more expensive option at $109.00 a month for unlimited users. Shedul is free and Vagaro is an affordable option for a single user. However, Vagaro's price increases the more employees you have so, for more than 7 users, Vagaro ends up being $85.00 a month.
DaySmart Salon's Basic package gives users access to all the necessary scheduling, booking, and credit card processing software needed for salon management. However, advanced features such as payroll, employee management, and marketing require an upgrade to a more advanced package.
Shedul, on the other hand, features appointment scheduling, client management, online bookings, and POS on one platform for free. However, it is predominately a scheduling software and lacks some of the more advanced features that are available to users of DaySmart Salon.
Vagaro's pricing only differs based on the number of users, the available features stay the same. They offer all the basic tools required to successfully run a salon, spa, or fitness center.
Despite the higher cost, we chose DaySmart Salon as our top pick because it is a complete salon POS and business management system. Users will be hard-pressed to find a feature that DaySmart Salon is missing.
DaySmart Salon Basic vs. Shedul vs. Vagaro:
| Offer | DaySmart Salon Basic | Shedul | Vagaro |
| --- | --- | --- | --- |
| Pricing | $29.00 /mo. | Free. | $25.00 /mo. |
| Users | 1 | Unlimited. | 1 |
| Appointment Scheduling | Yes, includes reminders. | Yes. | Yes, calendar. |
| Online Booking | Yes, with Facebook and Instagram integrations. | Yes, with Facebook integration. | Yes, with Yelp, Instagram, and Faebook integrations. |
| Credit Card Processing | CardConnect integration. | Requires integration. | Yes. |
| Customer Management | Only with upgraded plans. | Yes. | Yes. |
| Mobile Apps | Yes. | Salon scheduling app. | Booking and check-in apps. |
DaySmart Salon Deluxe vs. Shedul vs. Vagaro:
DaySmart Salon Deluxe is suitable for small businesses with 3 to 5 employees that are looking to grow. It includes some features that are not available on the Basic plan, such as client management and loyalty points, reporting and dashboard, and recurring email marketing.
However, all of these features are available on any of Vagaro's plans. Vagaro's pricing only changes according to the number of bookable staff who require their own calendar that a business has.
Shedul also does not change as they are a free scheduling app and, as such, as somewhat limited in their features. In this case, Shedul does not offer loyalty programs or marketing functions as can be found with DaySmart Salon Deluxe and Vagaro.
DaySmart Salon Deluxe vs. Shedul vs. Vagaro Comparison:
| Offer | DaySmart Salon Deluxe | Shedul | Vagaro |
| --- | --- | --- | --- |
| Pricing | $59.00 /mo. | Free. | $45.00 /mo. |
| Users | 3 ($9.00 each for additional users). | Unlimited. | 3 |
| Loyalty Programs | Yes. | No. | Yes, gift certificates. |
| Reports and Dashboards | Yes. | Offers a dashboard. | Yes. |
| Marketing | Yes, email marketing. | No. | Yes, email and text marketing. |
DaySmart Salon Premier vs. Vagaro:
DaySmart Salon Premier is best suited for medium to large salons that want to expand their brands and allows for an unlimited number of users. DaySmart Salon Premier offers all of the same features as DaySmart Salon Deluxe, the only change is the number of users.
Vagaro's features also remain the same, the pricing only changes based on the number of bookable staff who require their own calendar.
DaySmart Salon Premier vs. Vagaro Comparison:
| Offer | DaySmart Salon Premier | Vagaro |
| --- | --- | --- |
| Pricing | $109.00 /mo. | $65.00 /mo. |
| Users | Unlimited. | 5 |
DaySmart Salon Professional vs. Vagaro:
DaySmart Salon Professional is best suited to large salons and is available for an unlimited number of users. It offers additional features such as detailed payroll based on unique rates, commissions, and exceptions. Users can also access payroll reports and print payroll checks. DaySmart Salon Professional also connects multiple locations to allow for easier oversight.
Vagaro's pricing for more than 7 bookable staff who require their own calendars seems to be fixed at $85.00 a month. Our research has found that additional staff (above 7) can be added at no extra cost and that there is no maximum limit on the number of staff that can be added. Vagaro also features payroll but it is offered through integration with Gusto so users will be required to pay Gusto's monthly fee. Unlike DaySmart Salon, Vagaro is not suitable for overseeing multiple locations.
DaySmart Salon Professional vs. Vagaro Comparison:
| Offer | DaySmart Salon Professional | Vagaro |
| --- | --- | --- |
| Pricing | $119.00 /mo. | $85.00 /mo. |
| Users | Unlimited. | 7+ (no max cap). |
| Detailed Payroll | Yes. | Yes, with Gusto. |
| Multi-Location Oversight | Yes. | No. |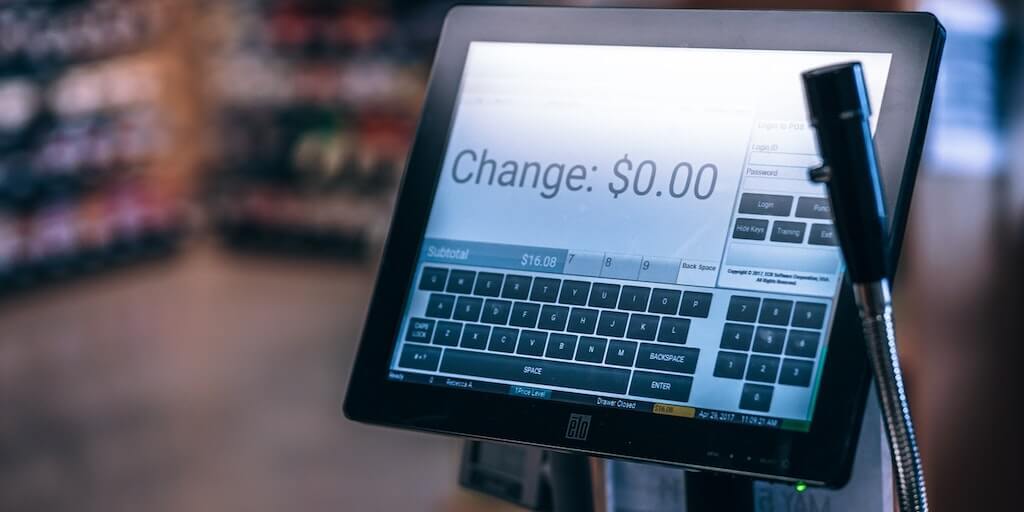 Ratings and pricing for the best POS systems, including POS systems for restaurants, bars, retail, online and more. Includes answers to common questions.
Mar 30, 2022
FAQs:
What is the best salon POS software?
How much does salon POS software cost?
Most salon POS software platforms charge around $30 to $130 a month. Some platforms have per-transaction fees ranging from about 0.5% to 3% and some, such as Shedul, are free.
How do you use salon POS software?
Make appointment bookings at the POS and integrate online bookings with the in-store POS.
Assign staff to various bookings.
Assign commissions to individual employees based on the services booked.
Pre-authorize credit cards to ensure payment.
Collect down-payments in case of no-shows.
Handle discounts, free services, and loyalty programs.
Handle mobile invoicing for employees working on sites (such as weddings) or doing house-calls.
Add retail functions for selling beauty and self-care products.