The 2023 SMS Marketing Software Guide
Discover the best SMS marketing tools with ratings, pricing information, and frequently asked questions about SMS marketing.
Updated on February 2nd, 2023
The SMB Guide is reader-supported. When you buy through links on our site, we may earn an affiliate commission. Learn more
SMS marketing uses text messages to market promotions, products, and special events to consumers. Companies use SMS marketing to interact directly with their customers and direct their attention to limited-time offers.
Below you'll find a list of the top SMS marketing software platforms with average customer ratings and starting prices. There's also an FAQ section that answers some frequently asked questions about SMS marketing.
Read More:
Free SMS Marketing - Find the best free SMS marketing tools for promoting your business via text messaging.
Top Marketing Tools for Small Businesses - Discover the best marketing tools to promote your small business.
Promotional Products - Learn more about using promotional products to support your business.
Best Email Marketing Services for Small Businesses - Discover the best services for using emails to promote your business.
Why We Chose Avochato:
Avochato offers a range of key features, such as bulk messaging options, Slack, Salesforce, Microsoft, and Zapier integrations, and message templates. Avochato offers SMS, call, and messenger marketing services.
Users of Avochato can optimize their contacts list and create automated responses using keywords and surveys. They are also SOC2 compliant.
Avochato features free iPhone and Android apps and a fully-featured mobile website. Avochato offers competitive pricing to suit your budget.
Things to Consider When Evaluating SMS Marketing Software:
Go through the sign-up process that the vendor offers and test it for ease of access and flexibility so that you can easily grow your marketing list.
Look for software that offers seamless integrations with your existing marketing and IT tools.
Make sure that the software is compliant with the legal regulations for SMS Marketing.
Best SMS Marketing Software:
| Rank | Name | Offer | Review | Learn More |
| --- | --- | --- | --- | --- |
| 1. | | $49.00 /mo. | Easy to use with great customer support but lacks email and call center management tools. | |
| 2. | | Quote only. | Offers great analytics and integrations but the automation options could use improvements. | |
| 3. | | From $29.00 /mo. | Is affordable and easy to use with a great reporting tool. The API lacks some important features. | |
| 4. | | $29.00 /mo. | User-friendly with great customer support and training material but there is no mobile app. | |
| 5. | | Quote only. | Easy to use with a range of key features but managing your campaigns can be complicated. | |
| 6. | | $49.00 /mo. | Offers useful features and a good customer support team but does not perform mass texting | |
| 7. | | $25.00 /mo. | Offers great interactive features but the amount of characters in the text feature is limited. | |
| 8. | | Quote only. | Offers strong integration capabilities and good customer support but lacks a self-service dashboard for admins. | |
| 9. | | $49.00 /mo. | Easy to use with a good mass texting feature but there is no text automation. | |
| 10. | | $29.00 /mo. | Features templates and good customer support but lacks an email management feature. | |
| 11. | | $44.95 /mo. per user. | Fast and easy to set up with a great mobile app but there is no conference call feature and the customer support could use improvement. | |
| 12. | | $9.00 /mo. | Offers ready-made templates and a wide range of support options but there is no multi-threaded push notification feature. | |
| 13. | | Quote only. | Offers an easy to use interface with great customization tools but lacks a search marketing feature. | |
| 14. | | $99.00 /mo. | Offers useful features and a simple, intuitive interface but the CRM needs improvement. | |
| 15. | | Free. | Offers great integration capabilities but limited marketing automation tools. | |
| 16. | | Free. | A great CRM software that features multi-channel messaging but the free plan offers limited features. | |
| 17. | | Free and paid options. | Offers customizable messages and marketing automation tools. | |
FAQs:
What is SMS marketing?
SMS marketing refers to a technique that uses permission-based text messaging to spread promotional messages, new product updates, specials, and more.
How do you use SMS marketing?
Establish an SMS Marketing campaign.
Know your customer. Try a Customer Relationship Management software.
Write clear and brief messages.
Use call-to-action options.
Establish a timeline.
Target your active clients.
Is SMS marketing effective?
It depends on the scale and objective of your campaign. SMS marketing has proven to be one of the most effective marketing methods because of high conversion and the ability to boost other channels.
How do I send a text message blast?
You can try Avochato or SlickText for bulk SMS marketing features. Both solutions offer mass text messaging options which will allow you to reach a large audience, increase profit and strengthen brand awareness.
What is an SMS marketing campaign?
An SMS campaign is a marketing technique that allows businesses to interact with their customers via text message. Similar to an email marketing campaign, SMS marketing can be faster and easier to create, depending on your campaign.
How much does text marketing cost?
SMS marketing costs between $0.00 and $95.00, depending on the software and plan you choose.
Why is SMS marketing important?
All of the platforms listed above are designed to give small businesses the ability to create and manage SMS campaigns with ease. Even someone who is unfamiliar with SMS advertising can use these tools to create automated campaigns that reach customers using the most direct means possible.
Is SMS text marketing better than email marketing?
Email marketing is still an effective tool, but research shows that SMS open rates are at 82.1% vs. just 24% for emails. Text messages are hard to ignore and easier to access than emails, so they can be more effective.
What is the difference between SMS marketing services and SMS marketing software?
These two names are often used interchangeably, which can lead to confusion. Technically, an SMS marketing service is a company that handles all of your SMS marketing for you, while SMS marketing software is a platform that you can use to manage SMS marketing campaigns on your own.
Can I sync my SMS and email marketing campaigns to work together?
You can coordinate your email marketing efforts to compliment your SMS marketing. If you're using an all-in-one platform like Sendinblue or Agile CRM, you will be able to control everything from one dashboard. This will help you to manage your contacts and make sure you aren't sending them too many emails and text messages at the same time.
Does Shopify have an SMS marketing tool?
In Shopify's app store you can download SMS marketing automation apps like SMSBump that will help you to connect with your customers and send notifications or reminders.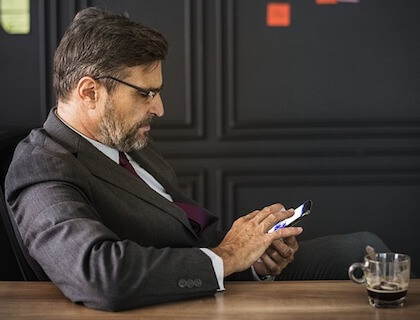 Can you suggest some SMS marketing platforms for my business?
Are there any free SMS marketing options I can take advantage of?
Yes, you can check out our article on free SMS marketing.