OpenCart Reviews, Ratings, Pricing Info and FAQs
Learn more about the OpenCart e-commerce platform with customer reviews, ratings, pricing info and frequently asked questions.
Updated on December 11th, 2018
The SMB Guide is reader-supported. When you buy through links on our site, we may earn an affiliate commission. Learn more
OpenCart is an online management system for e-commerce stores. OpenCart has a wide host of features, from administrative dashboard tools to payment gateways and integrated shipping. With the OpenCart e-commerce platform, online stores of all sizes can simplify management and improve order efficiency.
OpenCart Pricing:
| Plan Name | Monthly Price |
| --- | --- |
| Bronze | £25.00 /mo. |
| Silver | £50.00 /mo. |
| Gold | £150.00 /mo. |
OpenCart Key Information Table:
| | |
| --- | --- |
| Founder | Daniel Kerr |
| Founded | 2012 |
| Headquarters | Hong Kong, China |
| Phone Number | 1 (852) 2499 0996 |
| Address | Unit 16, 26/F, Tuen Mun Central Square, 22 Hoi Wing Road, Tuen Mun, Hong Kong |
| Website | |
OpenCart FAQs:
What is the price range for OpenCart subscriptions?
The OpenCart cloud e-commerce platform ranges in price from £25.00 to £150.00 per month.
Are OpenCart themes free?
If you visit the OpenCart marketplace, you'll find that some OpenCart themes are free and some are paid. You can filter your search by free options to see all of the Open Cart themes that are available to you at no charge.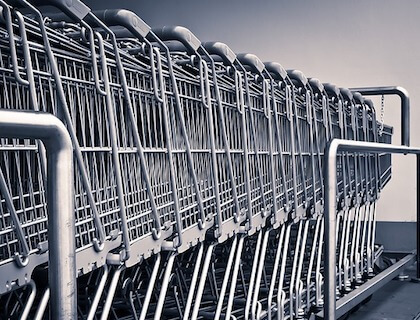 OpenCart vs. Magento
Magento is best for large stores with big budgets that need to be able to continue to scale their operations. OpenCart is a better solution for small to medium-sized stores that are looking for an affordable e-commerce platform.
When can I find the OpenCart download page?
Just go to opencart.com and click "Free Download" to start using the platform right away.
How much storage space will I get with OpenCart hosting?
You can get up to 5GB, 25GB or 75GB depending on the plan that you choose.
Is there a Quickbooks/OpenCart plugin or extension?
There are several Quickbooks extensions that you can purchase through the OpenCart marketplace. With the Quickbooks OpenChart integration sync, you can synchronize your Quickbooks inventory with your online store.
I have a T-shirt e-commerce store. Is there a T-shirt e-commerce OpenCart template?
OpenCart has dozens of t-shirt and apparel store templates in their marketplace. Just go to opencart.com, click "Marketplace," and search "t shirt" to find options that might suit your website.
OpenCart Reviews:
| Reviewer | Rating | Review |
| --- | --- | --- |
| Jelena U. | 3/5 | A very simple interface that can easily be run from the cloud. One problem is that OpenCart is very difficult to modify or update. |
| Eivind B. | 4/5 | A superb solution for newcomers in the e-commerce community because there is so much product support in the forums. |
| David D. | 3/5 | Very fast with affordable plugins. However, updates can be bulky and slow. |
| Stavros D. | 5/5 | OpenCart allows you to build a shop from scratch without paying a fortune for hosting. |
| Tajammal H. | 5/5 | OpenCart has all of the basic features that you need for an online store, and it will save you money! |
| Simon P. | 5/5 | Easy to install and set up for the first time. I would say that OpenCart has definitely increased my sales. |
| Shikhil S. | 5/5 | Great for small and medium e-commerce shops. Plugins available for almost every task. |
| Joanne M. | 4/5 | Community feedback is readily available when you have issues or need to learn something new about the software. |
| Rahul J. | 5/5 | This platform has made it so much easier to explain things to clients and set up new e-commerce stores! |
| Michael A. | 5/5 | OpenCart has a wide range of extensions that don't cost an arm and a leg but still allow you to do what you want. |