Vimtag VT-361 Reviews
Learn more about Vimtag VT-361 features and pricing, see what customers have to say, and answers to common questions.
Updated on November 21st, 2019
The SMB Guide is reader-supported. When you buy through links on our site, we may earn an affiliate commission. Learn more
Pricing:
| Camera Type | List Price |
| --- | --- |
| Indoor 361 camera | $99.95 |
| Outdoor B1 camera (3 pack) | $279.99 |
| P1 2MP camera | $89.95 |
| F1 FishEye 3MP camera | $89.95 |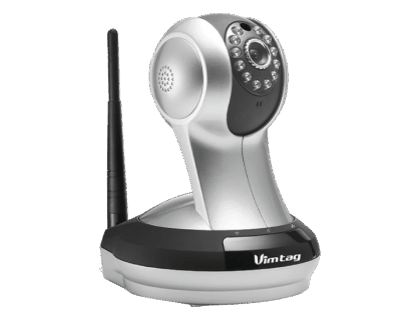 Review:
Pros: Easy set-up, good two-way audio, clear image quality.
Cons: Customers have complained of software bugs.
Bottomline: A simple to use security camera that can be viewed from multiple devices.
Key Features:
| Feature | Description |
| --- | --- |
| Image Resolution | 720p |
| View Field | 55° |
| Placement | Indoor |
| Storage | Cloud, up to 2 TB via the Vimtag S1 Storage CloudBox (sold separately); Local, up to 32 GB (MicroSD card not included); mini NVR |
| Power | Cord |
| Smart Home Compatibility | No |
| Night Vision | Yes |
| Tilt | Yes |
| Pan | Yes |
| Zoom | Yes |
| Audio | 2-way |
| Notifications | Push |
| App | Mobile (Google Play and App Store) |
| Motion Detection | Yes |
| Streaming | Yes |
Reviews:
| Source | Review |
| --- | --- |
| | Vimtag vt361 worked really well for us. |
| | I have one called Vimtag VT-361, which allows multiple cameras on the same account. It mounts to the wall and doesn't have to be mounted upright. It's accessible via computer or through the app - all controls work through the app too. Wide range of vertical and horizontal motion. I can hear him or talk to him through it. If you use the memory card (purchased separately) you can take pictures or video clips of live video and it stores live sessions for a set period of time. It has settings to notify you if there's movement. Im happy with how this system works for me. The only issue I've had is that it connects via wifi so if the network at home goes down then I can't view the camera - the internet provider is really the one at fault for this issue. |
FAQs:
How much does the Vimtag VT-361 security camera cost?
Vimtag VT-361 camera costs range between $89.95 and $279.99?
Vimtag P1 vs VT-361; which security camera should I choose?
Both Vimtag security cameras have similar features, but the Vimtag P1 is more compact and has a higher resolution (1280 x 960p).
Where can I find Vimtag VT-361 review information?
The Vimtag VT-361 has been reviewed on Amazon more than 4,000 times and gets 4.0 out of 5.0 stars.
Can I set up multiple VT 361 cameras and connect it to one phone or PC?
Yes. You can set up as many cameras as you like from your smartphone, tablet, or PC.
Where can I find information about the VT 361 set-up?
There are various tutorials and instruction manuals available for download online. You can also visit the Vimtag support page for further information.
What is the resolution of the Vimtag VT-361?
The Vimtag VT-361 has a resolution of 1280 x 720.
What are some Vimtag VT-361 alternatives?