Netgear Arlo Q Pricing, FAQs & Reviews
Learn more about the Netgear Arlo Q security camera with pricing information, frequently asked questions and customer reviews.
Updated on February 15th, 2019
The SMB Guide is reader-supported. When you buy through links on our site, we may earn an affiliate commission. Learn more
The Netgear Arlo Q is a wireless security camera for home or office use. The camera has 2-way audio and motion alerts for added security.
Buy Now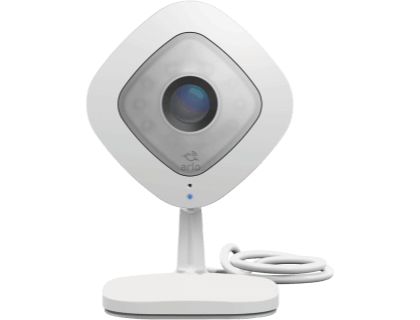 Buy on Amazon
1080P HD resolution.
Enhanced night vision.
Motion detection.
Netgear Arlo Q Pricing:
| Number of Cameras | List Price |
| --- | --- |
| Arlo Q (1 pack) | $149.99 |
| Arlo Q (2 pack) | $279.99 |
| Arlo Q (3 pack) | $397.98 |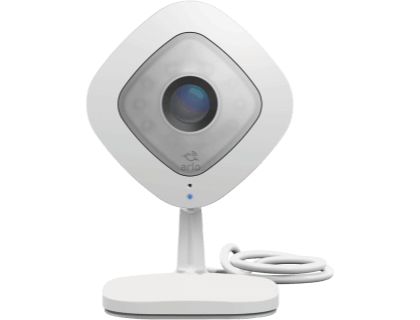 Netgear Arlo Q Summary:
Pros: Easy to set-up and install, smart notifications, works with Google Assistant.
Cons: Connection problems.
Bottomline: Good security camera for monitoring home or office remotely.
Netgear Arlo Q Key Features:
| Feature | Description |
| --- | --- |
| Image Resolution | 1080p |
| View Field | 130° |
| Placement | Indoor |
| Storage | Cloud, Free for 7 days |
| Power | Cord |
| Smart Home Compatibility | Alexa, Google Assistant |
| Subscription | Optional |
| Night Vision | Yes |
| Zoom | Yes |
| Audio | 2-way |
| Notifications | Email, Push |
| App | Mobile (App Store and Google Play) |
| Motion Detection | Yes |
| Streaming | Yes |
| Person Detection | With subscription |
Netgear Arlo Q FAQs:
How do I change the settings on my Netgear camera?
You can control the Netgear Arlo Q using the Arlo app on your mobile device. Motion alerts will be sent directly to your mobile device if you have the app.
What is the purpose of the camera's 2-way audio function?
With the Netgear Arlo Q 2-way audio feature, you can hear audio from your camera's location on your mobile device, and you can speak into your device to have your voice played at the camera's location.
How much cloud storage is available for the Arlo camera?
With the Arlo Q, you get 7-days worth of free cloud storage for your video files. You can store video footage for playback if you need to do a security review.
What are some Netgear Arlo Q alternatives?
Netgear Arlo Q Reviews:
| Reviewer | Review |
| --- | --- |
| | I wish the zones worked better! They work for a few days and then NOTHING is triggered.. (ugh!) :) but I LOVE the smart notifications!! |
| | Got 3 Arlo Pro and one Q. I've had mine for about a month or so now, and have had no problems at all with it. Works great for me. I pay for 24/7 recording so I can scroll back when ever I want. With any of Arlo product you will find the recordings cut about 3 sec off from the motion detection so suspect is in man frame and you can miss what they did at the start. Other than that this thing has been awesome. |
| | Arlo Q driving me to insanity. I got an Arlo Q to assist my grandmother in monitoring my elderly great-grandmother with severe dementia. Upon trying to set it up, it would indefinitely "discover my device." I thought I had a "lemon," and purchased another, on which I had the same issue. And yes, Netgear support, I have tried restarting, resetting, and rebooting everything. Yes. EVERYTHING. Even getting a new one. Even WPS. Even a Netgear account. I then did some troubleshooting, and found out that it was on my Wi-Fi network, but couldn't connect to Netgear servers. Upon some Googling, I found that they are having a service outage without any sort of notification to their customers. |