Netgear Arlo Q Pricing, FAQs & Reviews
Compare the Arlo Q to the Logitech Circle 2 and the Blink XT 2, get pricing info, details about the features it offers, and customer reviews.
Updated on February 10th, 2022
The SMB Guide is reader-supported. When you buy through links on our site, we may earn an affiliate commission. Learn more
Buy Now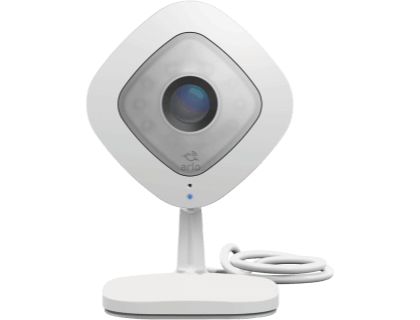 Buy on Amazon
1080P HD resolution.
Enhanced night vision.
Motion detection.
Review:
The Arlo Q is a smartly designed indoor camera that connects to the Wifi network. It has a wide field of views, offers 1080p resolution, motion-triggered recording that is adjustable up to 50 ft., and 2-way audio. Unlike the Arlo Q plus, the Arlo Q does not come with an ethernet adapter.
Pros:
Smart and discrete design.
Smart Home compatibility.
Motion-triggered recording.
Free 7-day cloud recording service.
Cons:
No ethernet port.
Slight lag on transmitted video and audio data.
Reputation:
Netgear's Arlo Q is highly rated on Amazon with over 80% of reviewers awarding 4 or 5 stars. The most cited criticisms of the camera relate to connection issues and slightly lagging footage, with some reviewers also expressing strong dissatisfaction with the levels of customer support.
At a Glance:
| | |
| --- | --- |
| Camera Type | Wireless |
| Suitable for | Indoor use |
| Storage | Cloud |
| Image Resolution | 1080p |
| Audio | 2-way audio |
| Integrations | Amazon Alexa, Google Assistant, IFTTT, Stringify |
| Alerts/Notifications | Yes |
| Customer Support | Phone and live chat |
Pricing:
| Number of Cameras | List Price |
| --- | --- |
| Arlo Q (1 pack) | $199.99 |
| Arlo Q Plus (with PoE adapter) | $249.99 |
| Arlo Q (2 pack) | $349.99 |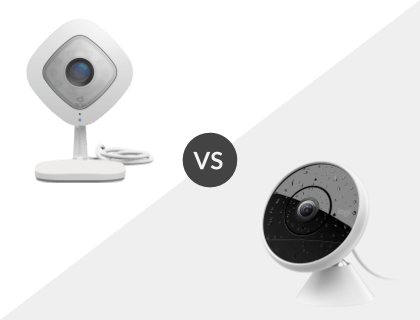 NETGEAR Arlo Q vs. Logitech Circle 2:
The Arlo Q and Logitech Circle 2 are both excellent wireless camera options that both integrate with smart home applications, offer 2-way audio, and deliver great image quality. Unlike the Logitech, the Arlo Q is purely for indoor use and offers a greater night vision range, but is also more expensive.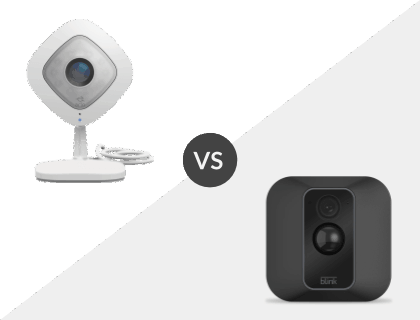 NETGEAR Arlo Q vs. Blink XT2:
The Arlo Q is notably more expensive than the Blink XT2, but also offers more in terms of features, such as a wider viewing angle (130° vs. 110°), 8x digital zoom, and motion detection that is adjustable up to 50 feet.
Key Features:
| Feature | Description |
| --- | --- |
| Image Resolution | 1080p |
| View Field | 130° |
| Placement | Indoor |
| Storage | Cloud, Free for 7 days |
| Power | Cord |
| Smart Home Compatibility | Alexa, Google Assistant, IFTTT, Stringify |
| Subscription | Optional |
| Night Vision | Yes |
| Zoom | Yes |
| Audio | 2-way |
| Notifications | Email, Push |
| App | Mobile (App Store and Google Play) |
| Motion Detection | Yes |
| Streaming | Yes |
| Person Detection | With subscription |
Smart Plans.
NETGEAR offers subscription plans that give users access to more features, such as e911 Emergency Call Service and person, vehicle, and animal detection. The subscription plans costs range from $2.99 to $14.99 per month.
FAQs:
Does Arlo Q have an alarm?
Yes, Netgear Arlo Q cameras have detection alarms.
What is the difference between Arlo Q and Arlo Q Plus?
The Arlo Q Plus has all the same features as the Arlo Q but with Power over Ethernet (PoE) and local storage added.
During setup, enter the hidden network name.
Enter the password for that network.
Click "Submit".
Follow instructions.
How long is the Arlo Q power cord?
The Arlo Q power cable is 10ft long.
Is Arlo Q secure?
Strict password requirements, limited login attempts, account authentication, and AES-128 bit encryption, keep your information and videos secure.
Can Arlo Q detect motion through glass?
No. Both kinds of Arlo Q motion detection are inhibited by windows.
How do I change the settings on my Netgear camera?
You can control the Netgear Arlo Q using the Arlo app on your mobile device. Motion alerts will be sent directly to your mobile device if you have the app.
What is the purpose of the camera's 2-way audio function?
With the Netgear Arlo Q 2-way audio feature, you can hear audio from your camera's location on your mobile device, and you can speak into your device to have your voice played at the camera's location.
How much cloud storage is available for the Arlo camera?
With the Arlo Q, you get 7-days worth of free cloud storage for your video files. You can store video footage for playback if you need to do a security review.
What are some Netgear Arlo Q alternatives?