Amazon Cloud Cam Reviews
Learn about Amazon Cloud Cam to protect your business premises. Includes Amazon Cloud Cam pricing, reviews, average customer ratings, and FAQs.
Updated on May 15th, 2019
The SMB Guide is reader-supported. When you buy through links on our site, we may earn an affiliate commission. Learn more
The Amazon Cloud Cam is an indoor security camera system for homes and small businesses. The camera features full HD resolution, auto alerts, infrared LED lights for night vision, and captures up to 30 frames per second.
Pricing:
| Number of Cameras | List Price |
| --- | --- |
| 1 | $119.00 |
| 2 | $199.98 |
| 3 | $289.97 |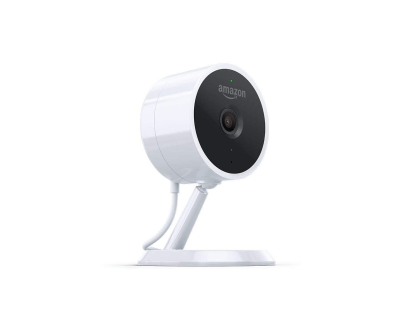 Review:
Pros: Affordable and easy to use. Great video quality.
Cons: Monthly subscription required to access all of the features.
Bottomline: The Amazon Cloud Cam is a good option for people who want an affordable camera that works seamlessly with Amazon Alexa.
Key Features:
| Feature | Description |
| --- | --- |
| Image Resolution | 1080p |
| View Field | 120° |
| Placement | Indoor |
| Storage | Cloud |
| Power | Cord |
| Smart Home Compatibility | Amazon Alexa |
| Subscription | Optional |
| Night Vision? | Yes |
| Audio | 2-way |
| Notifications | Email, Push |
| App | Mobile |
| Motion Detection | Yes |
FAQs:
What is Amazon Cloud Cam?
Amazon Cloud Cam is an indoor cloud security camera that allows you to view footage in real-time via your Amazon Cloud app when activity is detected. The camera features full HD video with advanced alerts and person detection and allows you to watch your live feed or video clips from a computer. It does allow Amazon Cloud Cam multiple users, but only if you install the app on different devices.
How much does the Amazon Cloud Cam cost?
You can buy the Amazon Cloud Security Camera online at amazon.com for $119.00. Amazon also offers a subscription plan ranging from $6.99 to $19.99 per month.
Is the Amazon Cloud Cam weatherproof?
No. However, Amazon does sell a weather-proof cover so that you can use the Amazon Cloud Cam outdoors.
What features does the Amazon Cloud Cam have?
1080p full HD resolution.
8 IR LEDs for night vision.
30 frames per second.
Ambient light sensor.
Speaker and 1 omni-direction microphone.
USB port.
Works with Alexa.
Check-in/Watch clips from your Cloud Cam app.
Is the Amazon Cloud Cam setup easy?
Yes, the Amazon Cloud Camera is easy to set up and install, and can be placed on a flat surface or wall.
Does Amazon Cloud Cam work with Ring?
No, it does not integrate with the Ring security system.
Amazon Cloud Cam vs Nest; which is the best security camera for my business?
Both security cameras support Alexa's smart assistant. However, the Nest camera only captures static images when it senses motion, whereas the Amazon Cloud Cam capture's video clips for you to review.
Is there an Amazon Cloud Cam free plan?
Yes. Amazon offers a 30-day free trial for up to 3 cameras. This plan features 24 hours of Cloud storage, notifications, and unlimited sharing capability.
Where can I learn more about Amazon Cloud Cam?
Visit the Amazon Cloud Cam website at cloudcam.amazon.com.
Where can I read an Amazon Cloud Cam review?
The Amazon Cloud Cam has been reviewed on Amazon more than 3,000 times and gets 4.0 out of 5.0 stars. You can also read customer reviews below.
Are there any Amazon Cloud Cam alternatives?
Reviews:
| Source | Review |
| --- | --- |
| | We use it for the dogs. I love it. Can see and hear crystal. I just bought one for the living room so I can monitor her in the swing while I take the dogs out to pee and burn off some energy. (& maybe so I can peak on her while I am at work.) I wouldn't use it as my primary overnight monitor because you can't close the app or the 24/7 monitoring stops.... you would only get a notification of movement. We have a separate system for overnight monitoring. |