YI Dome Camera Reviews, Pricing and FAQs
Learn more about the YI Dome Camera with user reviews, ratings, pricing information and frequently asked questions.
Updated on February 15th, 2019
The SMB Guide is reader-supported. When you buy through links on our site, we may earn an affiliate commission. Learn more
The YI Dome Camera is a security camera that is made and sold by YI Technology. The camera can be controlled through the cloud and offers 360-degree coverage of rooms for enhanced security. The camera features motion detection technology and can be mounted on a wall, table or ceiling.
Buy Now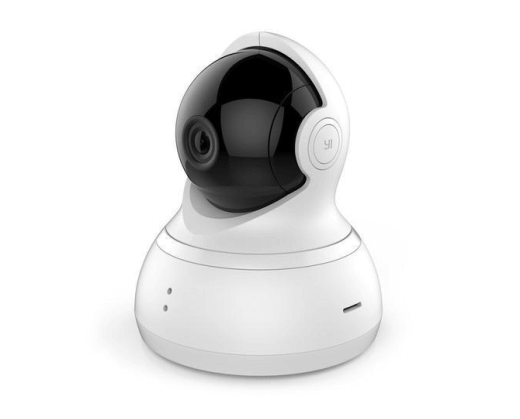 YI Dome Camera Pricing
| Model | List Price |
| --- | --- |
| 720p HD | $39.98 |
| 1020p HD | $59.99 |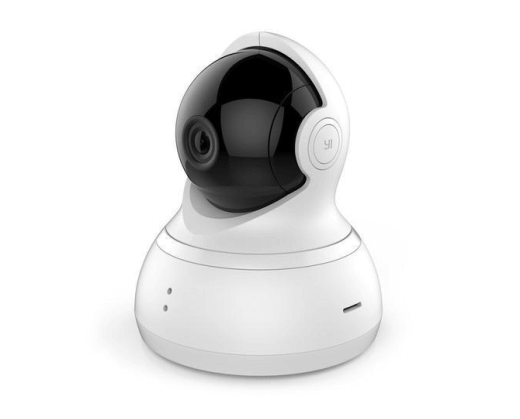 YI Dome Camera Summary:
Pros: Good image quality, easy to pair with phone.
Cons: Access permissions, difficult to set up.
Bottomline: Affordable, plug-and-play security camera to keep an eye on your home or office.
YI Indoor Camera Key Features:
| Feature | Description |
| --- | --- |
| Image Resolution | 1080p |
| View Field | 110° |
| Placement | Indoor |
| Storage | Cloud, Free trial for 30 days (new users); Local, up to 32 GB (MicroSD card not included) |
| Power | Cord |
| Smart Home Compatibility | No |
| Subscription | Optional |
| Night Vision | Yes |
| Zoom | Yes |
| Audio | 2-way, with 3D noise reduction |
| Notifications | Push |
| App | Mobile (App Store and Google Play) |
| Motion Detection | Yes |
| Streaming | Yes |
YI Dome Camera FAQs:
How do I reset the YI Dome Camera?
There is a reset button on the bottom of the camera that you can press and hold to reset the camera if you are experiencing any issues.
Is the YI Dome camera 1080p HD?
The camera is available in 720p and 1080p HD resolution. Obviously, the 1080p model is more expensive.
Does the instant alert send a picture to my phone?
If you activate motion detection, the YI Dome Camera will record a 6-second video when it detects movement. If you set the camera to 24/7, it will record continously and you will be able to access video recordings via your timeline on the app.
Does the YI Dome camera work with a cord or is it battery operated, or both?
The YI Dome connects via a power cord.
How long can the YI Dome camera record for?
The seller recommends a maximum recording of 32GB. When the SD card is full, the camera will automatically delete earlier videos and overwrite with new footage. The YI Dome can record approximately four days of continuous video footage.
How do I download the YI Dome Camera app?
The app is available from the App Store or Google Play. Download it to your smartphone, and you'll be able to adjust and control your YI camera wirelessly.
What are some YI Dome Camera alternatives?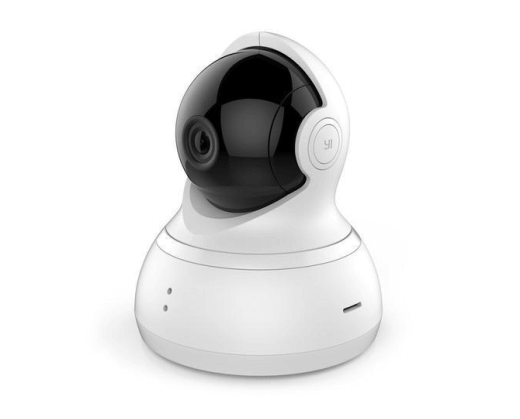 What's in the YI Dome Camera box?
Yi Dome Camera.

Power cord/USB cable.

Adapter.

Mounting bracket.

User manual.
YI Outdoor Camera Reviews:
| | Nice. I've been using the Yi outdoor cameras. I like the motion tracking feature. Might have to get this (dome camera) one too. |
| --- | --- |
| | I don't like the way that the camera clicks repeatedly when it goes from night vision to day vision early in the morning as mine is pointing out of my bedroom window and it can sometimes wake me up. Other than that, it's spotty dog. |
| | Hello. I would like an Alexa Skill. Apple TV app and the ability to UPGRADE your subscription (at an adjusted cost for remaining time) when you add more cameras to your setup. I have a 1 camera subscription running till June next year but now have 3 more cams. |