TriNet Reviews
Get recent customer reviews of TriNet payroll services, along with pricing, essential company information, and answers to common questions.
Updated on June 14th, 2019
The SMB Guide is reader-supported. When you buy through links on our site, we may earn an affiliate commission. Learn more
Also Consider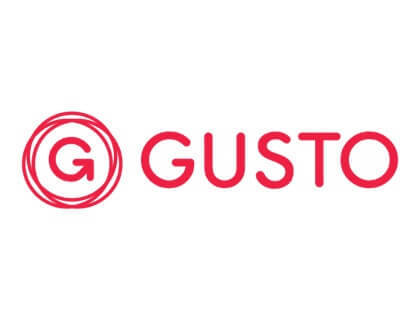 Get 1 month of Gusto FREE!
Start Free Trial
No extra fees.
Made for mobile.
Auto tax filing and digital paystubs.
Pricing:
Pricing is between $80.00 and $600.00 per month per employee, according to our research. TriNet does not publish their pricing.
Review:
Pros: Easy-to-use, simple interface. Very organized.
Cons: No built-in pre-onboarding process.
Bottomline: A complete solution for businesses that want to outsource human resources tasks.
Key Information:
| | |
| --- | --- |
| Founder | |
| Founded | 1988 |
| Headquarters | Dublin , CA |
| Number of Employees | 3,760 |
| Number of Customers | 13,000 |
| CEO | [Burton Goldfield] (https://www.linkedin.com/in/goldfield/) |
| Address | One Park Place Suite 600 Dublin, CA 94568 |
| Phone Number | +1 510-352-5000 |
| Website | |
News & Activity:
Reviews:
| Source | Review |
| --- | --- |
| | I know TriNet isn't a local outfit but they feel more like it, they were responsive and helpful to my prior small business. Whereas ADP feels more like the Evil Empire, nobody who works for ADP cares and if there is a problem, dealing with it requires hours of telephone work dealing with people whose job appears to be to cover up their own incompetence rather than solve problems they themselves caused. |
| | We use Trinet. Good benefits and some decent HR tools. |
| | TriNet is excellent. As my company considered a number of different payroll/healthcare/HR outsourcing options and providers TriNet was a clear winner. As a small business it is helpful to affordably outsource items that are time-consuming and not part of your core business. |
| | We use TriNet at my company as well. It's our HR in a box and lets me not worry about any of it very much. There is a good, affordable selection of health care plans, a great self-service website and payroll takes just a couple minutes. I found the setup great and I find the minimal extra cost well worth the peace of mind and times savings. Everyone at Wallaby is happy with TriNet. |
| | Having worked with TriNet for over 4 years I can attest to the level of service and support they offer. Although several good points have been made regarding the pros and cons of PEO, I think some of the comments are highly misleading. TriNet has never made me wait 20 minutes on the phone or even 10. All requests I have made are answered in a timely manner. Their employee online portal gives me 24-7 access to all my information and I can manage all my HR needs in a fast and efficient manner. Regarding medical increases, I know Trinet works primarily with white-collar companies which places your employees in a low-risk pool allowing for more predictability and stability regarding your healthcare increases year over year. Companies that underwrite ALL types of businesses will not offer you this type of value and predictability. |
| | We are a new 501c3 as of last summer, with a staff of about 18 people. We went through a pretty extensive process of reviewing various PEOs, including ADP, Insperity, and TriNet. We eventually settled on TriNet. Their price was lower that Insperity, although we could have negotiated with them more. One fo the things we liked was that they offered a wider choice of health insurance plans for staff. We didn't have to pick out 3 or 4 for everyone to choose from. Different organizations will come to different conclusions, and I think any of the ones we interviewed would have been ok, but we've been pretty happy wiht TriNet so far. |
| | We are a staff of two at the Austin Young Chamber and use TriNet for our PEO. We can't say enough great things about working with them. |
FAQs:
How much does Trinet cost?
The Trinet cost ranges from $80.00 to $600.00 per employee per month, depending on what options you choose.
What is Trinet HR Passport?
TriNet Passport is a self-service HR solution specially designed for startup companies and entrepreneurs. It handles payroll, benefits, and other HR functions.
What do TriNet employee benefits offer?
Trinet benefits for your employees can include health, retirement, accident, auto, home and many other types of insurance. It also ensures legal compliance for the company benefits plan.
How can I get in contact with TriNet customer service?
You can call Trinet HR Corporation at (800) 638-0461. This is also the Trinet Passport phone number. You can call the Trinet Passport customer service number if you need help with your account and would like to speak directly to a Trinet HR Passport contact.
What makes TriNet different from other payroll and HR services?
TriNet PEO, or professional employer organization services, is different from many of its competitors because it can co-employ your employees, enabling it to completely take over many of your HR burdens. TriNet payroll is really an addition to this service. One of the few other web-based PEOs you'll find is Justworks.
Is TriNet a certified PEO?
Yes, TriNet is a certified professional employer organization (PEO) created for small to medium-sized businesses.
What is TriNet SOI?
Strategic Outsourcing, Inc. (SOI) is one of the United State's leading Professional Employer Organizations (PEOs), representing more than $2.5 billion in annual payroll. TriNet acquired SOI, becoming the nations largest independent Professional Employer Organization (POE).
What are some TriNet alternatives I should consider?