Nest Security Camera Reviews
Learn more about the Nest Security Camera for your home or small business. Includes pricing, customer reviews, ratings, and FAQs.
Updated on November 26th, 2019
The SMB Guide is reader-supported. When you buy through links on our site, we may earn an affiliate commission. Learn more
The Nest Security Camera range consists of high-definition indoor and outdoor security cameras. Features include live streaming, night vision, person alerts, and a mobile app allowing you to keep an eye on your property while you're away.
Pricing:
| Number of Cameras | List Price |
| --- | --- |
| 1 Indoor Camera | $172.00 |
| 3 Indoor Cameras | $497.00 |
| 1 Outdoor Camera | $169.99 |
| 2 Outdoor Cameras | $348.00 |
| 4 Outdoor Cameras | $679.99 |
| Nest IQ Security Cameras | Starting at $214.99 |
| Nest Aware Subscription | $5.00 - $30.00 /mo |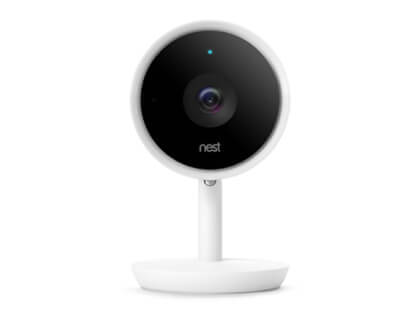 Review:
Pros: Excellent video quality and night vision, person tracking, activity zones.
Cons: Nest Aware app subscription is costly; connection drops occasionally.
Bottomline: Affordable, quality security cameras for surveillance in homes or businesses.
Features:
| Feature | Description |
| --- | --- |
| Color | White. |
| Camera | 1/3-inch, 3-megapixel sensor with millions of colors and 8x digital zoom. |
| Video | Up to 1080p (1920 x 1080) at 30 frames/sec, H.264 encoding. |
| Field of View | 130° diagonal. |
| Night Vision | 8 high-power infrared LEDs (850 nm) with IR cut filter. |
| Audio & Lights | Speaker, Microphone, RGB LED. |
| Operating Temperature | –4° to 104°F (–20° to 40°C). |
| Weather Resistance | IP65 rating. |
| Power | AC adapter input: 100-240V AC, 50/60Hz, 0.2AAC adapter output: 5V DC, 1.4ACamera input: 5V DC, 1.0A. |
| Security | 128-bit AES with TLS/SSL. |
| | Wi-Fi 802.11a/b/g/n, 2.4GHz or 5GHz (WEP, WPA, WPA2 encryption supported), Bluetooth Low Energy (BLE). |
| Connectivity | Wi-Fi connection. Working broadband internet connection with at least 2 Mbps upload speed (DSL may not qualify). |
| Bandwidth Requirements | At 720p, each camera requires 200 to 500 Kbps of upload bandwidth while streaming video. At 1080p, each camera requires 450 to 1200 Kbps of upload bandwidth while streaming video. |
| Warranty | 2-year limited warranty. |
Reviews:
| Source | Review |
| --- | --- |
| | Lately one of my indoor cams has been showing the bottom half of the feed as green but the top half is fine. This doesn't always happen but more than a few times a week. I can't help but think the cam is dying, this one was already replaced once by Nest. |
| | I have 4 Arlo Pro's and one Nest Outdoor. I love my Nest Outdoor, it has superior video and audio, infinitely better night vision, and the app isn't complete garbage like the Arlo. But more importantly, I can rest easy knowing that the Nest is always on and always recording so even if it does miss a beat, there is an archive with the extra benefit of seeing the lead up to the event and the aftermath. None of which any of the other non continuous devices are going to offer me. Everyone's counter argument is always "we don't need continuous if the device works as designed" but that's a big IF and something that in a hypothetical situation like burglary or home invasion I am not sure if I am willing to rely on. |
| | What you get for free is totally useless, free cloud storage with a good camera and interface is my main concern. I hear Nest has the best interface and camera, but their free cloud storage is non-existent. If there's no way to use it without cloud storage then it's not useful to me. The other options may not have the best interfaces or cameras, but they're at least functional at the free level. |
| | We have a Nest indoor camera that we use as a baby monitor. It is viewed on an iPad Pro 9.7. Up until the last update, we only had occasional issues with it dropping off for no reason, but nothing major. |
| | I have the Nest Cam on my front porch and the IQ on my back deck. I think it all comes down to the face tracking and how much traffic it's going to get. The tracking is cool and the quality is a bit better but the Cam does the job too. I actually prefer the IQ to get less traffic and just concentrate on things/people I want it to notice. The Cam has activity zones which makes all the difference anyway. For instance, I don't want alerts or tracking on my road so I set a zone to hone in on my driveway. It works great, the IQ functionality isn't needed to me, which is why I got the Cam for my front porch. |
FAQs:
Does Nest have wireless cameras?
All of Nest's cameras are wireless. The cameras need a Wi-Fi connection or working broadband internet connection with at least 2 Mbps upload speed.
Does Nest's outdoor camera have night vision?
Yes. The camera includes a 8 high-power infrared LEDs (850 nm) with IR cut filter.
Who is Nest owned by?
Nest is owned by Alphabet Inc.
Is there a monthly fee for Nest Cam?
A Nest Aware subscription costs between $5.00 - $30.00 /mo.
Can I use a Nest outdoor camera inside?
Yes, but Nest recommends using outdoor cameras outdoor.
Does Nest Cam record continuously?
Nest Aware records 24/7 for up to 30 days at a time.
Do Nest cameras have audio?
Yes, all Nest cameras have audio. The IQ range has HD audio.
Does the Nest outdoor camera have an alarm?
Nest security cameras have a person alert feature that sends an alert to your mobile phone.
Does Nest Cam need to be plugged in?
Yes. Every camera comes with a power cable and AC adaptor.
Can you talk through a Nest camera?
Yes, Nest cameras have onboard speakers and microphones.
What is Nest Cam IQ?
Nest Cam IQ is a range of outdoor and indoor security camera models that offer a close-up tracking view, 4K sensor, HD onboard microphones and speakers, and familiar face alerts.
How does a Nest Cam work?
Nest Cam stores video on the cloud, allowing you to view live footage from your phone or computer. And if coupled with a Nest Aware subscription, your camera will record everything 24/7 and store a history of up to 30 days.
Does Nest Camera work with Alexa?
Yes.
Why does my Nest camera go offline?
Nest cameras might go offline during high bandwidth usage, or when you've changed your router settings, or if there is wireless interference, but there are a number of reasons.
How far can a Nest camera see?
Nest Security cameras have a wide-angle lens that allows you to see clearly within a 130° diagonal field of view and can see as far as you can.
How much data does Nest Cam use per month?
Depending on the camera, data usage ranges between 18GB and 140GB on average when recording 24/7.
Is Nest Cam waterproof?
Yes, with an IP65 rating, Nest cameras can handle heavy rain.
Does Nest Cam record without subscription?
Yes, Nest cameras record without a subscription and you can view the footage live, but for advanced features and the ability to store video in the cloud to be viewed later, you will need a Nest Aware subscription.
How long is Nest Cam cord?
15ft.
What is a Nest Cam?
A Nest cam is an indoor and outdoor security camera that protects your home or small business from intruders.
Where can I buy the Nest Security Camera system?
You can buy the Nest security camera range directly through Nest or via the Nest Security Camera Amazon page.
What is the difference between a Nest Cam IQ and Nest Cam original?
The Nest Cam original is the basic version with HD video, a 130-degree wide-angle view, and night vision. The Nest Cam IQ is more intelligent, boasting a six-core processor, stronger microphone, noise and echo suppression, and if you sign up with Nest Aware, it can even recognize faces.
How do I view footage from my Nest WiFi Camera?
You can view clips via the Nest security camera app.
How many Nest cam smart security camera options are there?
There are four Nest cam options; the Nest Cam Indoor Security Camera, Nest Cam Outdoor Security Camera, Nest Cam IQ Indoor, and the Nest Cam IQ Outdoor.
How can I set up the Nest Home Security Camera system?
For all support questions and troubleshooting, visit the Nest Support page at nest.com.
Where can I find Nest Security Camera review information?
The nest cam high definition security camera has been reviewed over 3,000 times on Amazon and scores 4.0 out of 5.0 stars.
What color is the Nest home camera available in?
You'll find the Nest cam outdoor 1080p security camera in white or black.
Is there a Nest cam outdoor security camera 2 pack available?
Yes. The outdoor security camera 2-pack costs $348.00.
What are some Nest Security Camera alternatives?