Marketo Reviews
View Marketo's marketing automation software for you business. Includes info on Marketo, reviews, pricing, and FAQs.
Updated on July 10th, 2019
The SMB Guide is reader-supported. When you buy through links on our site, we may earn an affiliate commission. Learn more
Marketo is marketing automation software by Adobe. Marketo empowers marketers to grow revenue, build brand value and prove impact. Marketo is used by thousands of CMOs. This platform is easy for marketers without technical skills to use.
Pricing:
| Plan Name | Monthly Pricing |
| --- | --- |
| Spark | $1,195.00 to $2,495.00 |
| Standard | $1,995.00 to $7,195.00 |
| Select | $3,195.00 to $11,995.00 |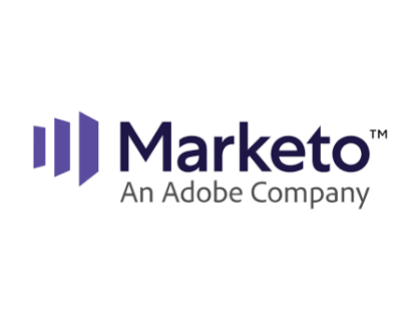 Review:
Pros: Enables you to design landing pages and high-quality emails for your campaigns. Native integration with Microsoft Dynamics and Salesforce. Feature-rich.
Cons: No HubSpot or Odoo integration capabilties.
Bottomline: Enables you to grow your brand and increase revenue.
Key Information:
| | |
| --- | --- |
| Co-founders | |
| Founded | 2006 |
| Headquarters | San Mateo, CA |
| Number of Employees | 1,001–5,000 |
| Number of Customers | More than 2,300 |
| CEO | |
| Address | 901 Mariners Island Boulevard, San Mateo, CA 94404 |
| Phone | +1 650-376-2300 |
| Website | |
News & Activity:
| Date | News or Activity |
| --- | --- |
| October 3, 2018 | Marketo Recognized as a Leader in the 2018 Gartner Magic Quadrant for CRM Lead Management for Seventh Consecutive Year |
| September 20, 2018 | |
| August 28, 2018 | Marketo Appoints Mika Yamamoto as Global President to Deliver End-to-End Customer Experience |
| July 23, 2018 | Marketo Teams With Bombora to Bring Intent Data Directly to Marketers |
| June 21, 2018 | Marketo Named One of the Denver Business Journal's Best Places to Work |
| May 15, 2018 | Marketo Announces Partnership With The Pedowitz Group to Provide Marketing Services to Mid-Market Manufacturers |
| May 1, 2018 | Marketo Debuts New Product Innovations at Marketing Nation Summit to Empower Marketers to Plan, Engage, and Measure in Less Time and With High Precision |
| April 30, 2018 | Marketo Acquires Bizible to Create Industry's Leading Analytics and Engagement Platform |
| April 30, 2018 | Marketo Announces Collaboration With Google Cloud to Drive Artificial Intelligence Innovation |
| April 30, 2018 | Marketo Celebrates Bold and Brave Marketers With 2018 Revvie Awards |
Reviews:
| Source | Review |
| --- | --- |
| | Marketo is not transparent with its pricing at all. It refers to "bundles" for each feature. However, the basic price is something around $895.00/month for the Basic plan. It includes customer engagement engine, lead scoring, lead segmentation, lead nurturing, SEO, emails, landing pages, forms, social media marketing, events, webinars, A/B testing, sales intelligence, CRM integration, campaign dashboards and reports, and marketing calendar. I, for one, found Marketo pretty costly. Secondly, after having used Marketo, I felt it is heavily inclined towards emails. For a startup or SMB, I don't find Marketo budget-friendly at all. Large enterprises often opt for customised pricing plans, which might make Marketo reasonable at the end of the day. SMBs look to leverage their digital medium with cutting edge solutions. They need cost-effective solutions that can give them robust campaigns, brand presence building, and lot more engagement for better conversions. In such scenarios, Aritic PinPoint is the most optimal solution that I have used. The highlight, for me, was the multi-channel marketing approach. I could schedule SMS campaigns, drip push notifications, emails—all at the same time and within the same application. Add to that intuitive landing pages with smart web forms, progressive profiling, and gated video—simply makes lead generation lot more easier. Aritic PinPoint is ideally designed for SMBs. You will find various options to launch automated drip email campaigns and re-engagement campaigns, trigger behaviour-based segmentation and marketing campaigns, and boost the overall marketing ROI. Features like lead scoring and lead management makes it easy to know which leads are most active. Based on their activity and engagement, you can launch account-based campaigns as well. Aritic PinPoint acts as the perfect bridge between your sales rep and marketing team. And we all know how marketing-sales alignment contributes to more lead engagement and conversions. The pricing starts at $19.00/month for 1,000 contacts. Take a look at the pricing plan here. Take a quick demo to believe me or sign up for a free account now. PS: For up to 500 contacts, it is free forever. Hope this helps. |
| | So my company recently switched from Marketo to Pardot because we added Salesforce, and supposedly the integration was better with Pardot. From my perspective, Pardot can't do a lot of the things that Marketo was able to do for me. In terms of complex user journeys, I think Marketo is a much better solution. If you can provide any more detail on what you're trying to accomplish, I can give you a bit more insight. |
| | Don't waste your money on Marketo. Unless you're using the analytics, lead tracking and other features, its not worth it. Go with MailChimp and save yourself $2k month. Been using Marketo for a few months now. Its garbage. |
FAQs:
What can Marketo do?
Marketo is a marketing automation platform that helps businesses to centralize all digital marketing efforts to targeted audiences and allows you to segment your database and push your marketing leads to various campaigns and programs.
Get more information on Marketo.
How much does Marketo cost per month?
Marketo will cost your business between $1,195.00 and $11,995.00 per month according to SMBGuide research. Marketo does not provide pricing information on their website.
Learn more about Marketo.
Is Marketo a SaaS?
Marketo's marketing automation is key to converting trial/demo users into paying customers that Software-as-a-Service (Saas) providers aim for. Marketo allows SaaS providers to discover how their product is being used so that they can effectively engage prospective customers.
Get more information on Marketo.
What solutions does Marketo offer?
Lead Management.
Account-Based Marketing.
Consumer Marketing.
Customer Base Marketing.
Mobile Marketing.
Financial Services.
See more details about Marketo.
Is there a Marketo free trial?
Marketo does not offer free trials, but they do offer free demos here.
See more details about Marketo.
What are some Marketo alternatives?
See our full list.