IM Creator Review
Learn about IM Creator's website builder for small businesses. Includes comparisons with competitors Wix and Weebly, pricing, reviews, and FAQs.
Updated on September 27th, 2021
The SMB Guide is reader-supported. When you buy through links on our site, we may earn an affiliate commission. Learn more
IM Creator is a cheap website builder for businesses. Features include easy editing, SEO, e-commerce functionality, templates, themes, and more. IM Creator can be used for personal and professional purposes.
Updates:
Updated 15th of June 2020
We have included the most recent pricing from IM Creator's website and have made it easier to compare IM Creator to Wix and Weebly.
Pros and Cons:
Pros
Free version.
Affordable pricing.
Wide range of responsive templates.
Customizable features with e-commerce functionality.
Offers multimedia functionality.
Cons
Lacks third-party integrations and apps.
No drag-and-drop feature, only point-and-click.
Pre-configured block design is clunky and limited.
Slight learning curve is required to feel comfortable with the features.
Review:
IM Creator offers efficient and complete web hosting and e-commerce functionality at affordable prices. However, while it also offers robust and responsive templates, this builder has a learning curve for most users. IM Creator is therefore more suited to users with experience in web design.
Highlights:
IM Creator is a cost-effective option, with unlimited website hosting for a flat monthly fee as well as a free plan for artists, non-profit organizations, and students. IM Creator offers a range of great, customizable templates with e-commerce functionality that are responsive on a mobile device. IM Creator's templates also feature multimedia functionality so that users can add videos, photos, and more.
Another great feature is that websites created with IM Creator can be recreated in different languages. Users will be able to make as many copies of their website as needed in a variety of languages without the need for additional fees, plug-ins, or apps.
Shortcomings:
IM Creator is a more challenging platform to use than its competitors, such as Wix and Weebly. In order to add extra features, apps, and third-party integrations, users will require coding skills.
While IM Creator offers great templates, they have a content block design called "stripes." These blocks are clunky and offer limited design options, preventing users from custom-arranging the blocks on their webpage. IM Creator is also limited in its customer support, only offering email support and self-help tools to its users.
Reputation:
IM Creator is not registered with the Better Business Bureau (BBB) but it does have an A+ rating. On Capterra, IM Creator has received 40 customer reviews with an average rating of 4.8 out of 5 stars. These customers have rated IM Creator so highly for its ease of use, customizable templates, and affordable options. Customers have also liked IM Creator because it supports artists by offering its services for free.
However, some of the cons that customers have reported include limited editing options, lack of customer support except via email, and the fact that users cannot change templates during the building process.
Trustpilot has gathered 318 customer reviews for IM Creator, with 80% of reviews being 5-star ratings. Positive customer reviews enjoyed the easy-to-use templates and liked the fact that there is a free version. However, negative customer reviews focused on poor customer support, limited editing options, and difficulties in canceling subscriptions.
At a Glance:
| | |
| --- | --- |
| Free basic package with advertisements | Yes. |
| Wide range of professional templates | Yes. |
| 24/7 support | Yes, on premium plans. |
| Suitable for beginners | No. |
| Wide range of apps available | No. |
| Mobile friendly | Yes. |
Pricing:
| Plan | Pricing |
| --- | --- |
| Students, Artists, and Non-Profits | $0.00 |
| Premium Account | $8.00 /mo. |
| Unlimited Licenses and Whitelabels | $350.00 /yr. |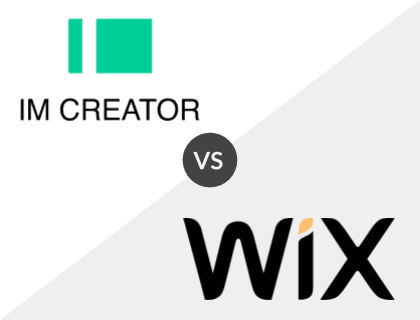 IM Creator vs. Wix:
IM Creator has more limited design and customization options than Wix. Wix is also a simpler platform to use than IM Creator as it offers a drag-and-drop function that is lacking in IM Creator. IM Creator does not have any apps or third-party integrations unless you manually program them in, which requires coding skills, unlike Wix.
IM Creator vs. Wix Comparison:
| Offering | IM Creator | Wix |
| --- | --- | --- |
| Free version | Yes. | Yes. |
| Good for beginners | No. | Yes. |
| Phone support | No. | Yes. |
| Template customization | Yes. | Yes. |
| SEO features | Yes. | Yes. |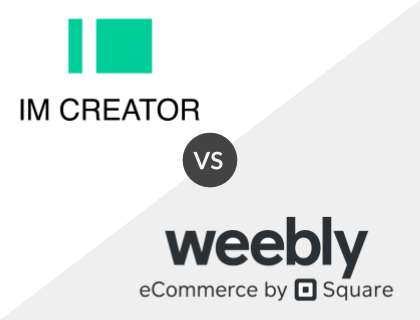 IM Creator vs. Weebly:
Neither IM Creator nor Weebly offer phone support, only email support, but Weebly is more suitable for beginners. IM Creator requires coding skills to add third-party integrations or apps while Weebly offers great built-in features, like marketing, e-commerce, and blogging. Weebly also offers the drag-and-drop function lacking in IM Creator.
IM Creator vs. Weebly Comparison:
| Offering | IM Creator | Weebly |
| --- | --- | --- |
| Free version | Yes. | Yes. |
| Good for beginners | No. | Yes. |
| Phone support | No. | No. |
| Template customization | Yes. | Yes. |
| SEO features | Yes. | Yes. |
Key Information:
| | |
| --- | --- |
| Legal Name | IM Creator Ltd. |
| Founder | |
| Founding Date | Jan 01, 2011 |
| Address | W 12th St, New York, New York 10014, U.S. |
| Number of Employees | 68 |
| Number of Customers | 99 |
| Email | |
| Website | |
FAQs:
What is IM Creator?
IM Creator is a free website builder that provides e-commerce functionality. Features include domain registration, web design, blogging, and more.
How much does IM Creator cost?
IM Creator pricing starts at $8.00 per month. For unlimited licenses and whitelabels, there is a yearly fee of $350.00.
Is there a free trial?
IM Creator has a free plan that offers unlimited hosting and e-commerce functionality for students, artists, and non-profits.
What are some IM Creator alternatives?