Best Free Construction Management Software Solutions
Learn more about the best free construction management software solutions. Includes frequently asked questions.
Updated on June 30th, 2020
The SMB Guide is reader-supported. When you buy through links on our site, we may earn an affiliate commission. Learn more
Free construction management software can be used to manage construction projects. The software is an affordable option for contractors and other trade-related businesses to keep their building projects on schedule and within their budget.
Read More:
Best Construction Management Software for 2019 - Find the best 2019 project management software for the construction industry.
Best Free Project Management Software for Small Businesses - Learn more about the best software for planning and organizing small business projects.
Equipment Financing - Learn more about qualifying and applying for loans and leases for financing your business equipment and assets.
Why We Chose OrangeScrum:
OrangeScrum can be used for project management and includes features like task linking, timesheets, and resource availability. You can use OrangeScrum to quickly check your team's availability and scheduling.
OrangeScrum offers a time-tracking feature to evaluate your team's performance as well as a great project management platform. You can also use OrangeScrum to prioritize and manage your tasks.
OrangeScrum offers a mobile app on Android and iOS so that you and your team can access the app anywhere. There is also an interactive Gantt Chart for simple and intuitive visual project planning.
OrangeScrum is a paid platform, with a 30-day free trial. There is a wide range of affordable plans for various size businesses, ranging from $9.00 to $109.00 per month.
Things to Consider When Evaluating Free Construction Management Software:
Evaluate the software's integration capabilities and whether it is compatible with your current systems to help you save time and money.
Test out your options for ease and convenience of use.
Keep in mind that changing trends mean that mobile support and Software as a Service is becoming more prevalent than on-site software.
Best Free Construction Management Software Solutions:
| Rank | Name | Offer | Review | Learn More |
| --- | --- | --- | --- | --- |
| 1. | | Free 30-day trial | Solid platform with good automated summaries but there are sometimes database connection errors. | |
| 2. | | Free - unlimited | Feature-packed, simple platform with good time-tracking tools but no mobile application for Android. | |
| 3. | | Free with no data sharing or data sync | Easy to use with robust task functions but lacks import/export capabilities for certain file types. | |
| 4. | | Free up to 5 users | Easy to use app but lacks a search function, access control, and alert features. | |
| 5. | | Free - unlimited | User-friendly interface. Lacks a mobile app. | |
| 6. | | Free up to 5 users | An intuitive app with great workflow tools but there is no single user license. | |
| 7. | | Free - unlimited | Requires technical skills to operate but is functional and highly streamlined. | |
| 8. | | Free - unlimited | A customizable option with great features but no mobile version. | |
FAQs:
What is the best construction management software?
What is Construction Management Software?
Construction project management software is used to coordinate daily tasks in the construction process and keep track of progress made.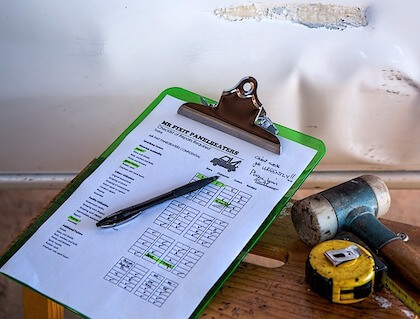 What are some free Construction Estimating Software?
Does free construction software have limited features?
Generally speaking, free solutions limit the number of projects that you can create and files that you can store at any given time. If your company manages multiple projects at once, you may need to upgrade to a paid platform.
What is the purpose of construction scheduling software?
Construction scheduling software is used to schedule jobs and tasks within a project in order of importance so that they can be completed on time. This saves your company money and ensures that all projects are completed on schedule.