SumUp
Learn about SumUp's mobile payment service for businesses. Includes info on SumUp, free trials, pricing, customer reviews, and FAQs.
Updated on February 8th, 2023
The SMB Guide is reader-supported. When you buy through links on our site, we may earn an affiliate commission. Learn more
Updates:
Updated 23rd of March 2020
Added pros and cons, updated our review to include more details as well as highlights and shortcomings. Added chargebacks and virtual terminal fees to the pricing list. Included technical specifications of the card reader and an app features-rundown. Updated the news.
Updated 25th of August 2020
We updated SumUp's pricing information.
SumUp is a mobile credit card reader for businesses. SumUp's solutions include a free app, virtual terminal, and contactless and chip card payment processing. Businesses can use SumUp to securely process mobile payment transactions.
Overview:
Free shipping.
Free app.
Flat rate pricing.
EMV compliant.
Accepts contactless payments.
Secure.
iOS / Android devices.
No long-term commitments.
30-day money-back guarantee.
Offers a business card.
Review:
SumUp is an excellent solution for small businesses with lower sales volumes. If you're looking for a streamlined solution that accepts many types of payments, has no long-term contracts, and is easy to use, SumUp is a good option. And with its recently launched SumUp business card in partnership with Mastercard, merchants can access their funds from transactions the next day.
Not being attached to a powerful POS system, and having been developed to make accepting cards simple for entrepreneurs, SumUp is missing a few features most would want in a mobile POS such as inventory tracking, gift cards, tipping, and barcode scanning.
Highlights:
Accepts a wide range of cards.
Unlimited employee accounts.
Can track cash payments.
Next-day access to funds via SumUp/Mastercard business card.
Shortcomings:
No 24/7 support. Only email and phone support are offered and only during 9 am and 7 pm on workdays.
No inventory tracking.
No barcode scanning.
No gift cards or tipping.
Reputation:
SumUp is a big company, and it is trusted by a number of major industry leaders such as Staples, DHL, Bosch, and My Taxi.
There are over 27,000 reviews on the Google Play Store, where customers have given SumUp a 4 out of 5. There are far fewer ratings on the Apple App Store, only 194. There, customers have given the app and card reader 3.6 out of 5.
Reviewers and review sites have all given the app and card reader high ratings. Affordability, ease-of-use, and solid features have been the major factors driving positive reviews.
Pros and Cons:
Pros
No monthly payments.
SumUp app is free.
EMV / NFC compliant.
PCI DDS certified.
Online dashboard.
Accepts a wide range of cards.
Phone support.
Next-day payments.
Cons
No 24/7 support.
Basic inventory management.
Does not accept Samsung Pay.
No barcode scanning.
No loyalty program or gift cards.
No monthly minimum sales.
Pricing:
| Product | Pricing | Transaction Fee |
| --- | --- | --- |
| SumUp App | Free | 2.75% |
| SumUp Card Reader | Free | 2.75% |
| Virtual Terminal | Free | 3.95% + $0.15 |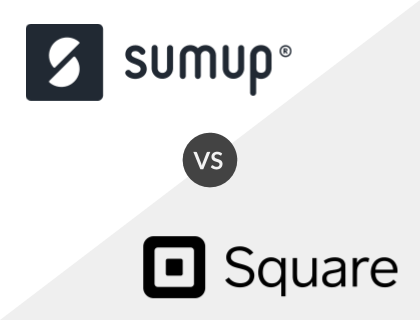 SumUp vs. Square POS:
Both apps are stripped of unnecessary features. Both are free and easy to use. Square offers more features, such as CRM and a loyalty program, but SumUp allows unlimited employee accounts and tracks cash payments. SumUp is slightly more expensive at 2.75% per transaction, while Square charges 2.6% + $0.10.
SumUp vs Square POS comparison:
| | SumUp | Square |
| --- | --- | --- |
| App Price | Free | Free |
| Card Reader Price | Free | Free |
| Swiped transaction fee | 2.75% | 2.6% + $0.10 |
| Keyed-in transaction fee | 3.25% + $0.15 | 2.9% + $0.30 |
| Contracts | No | No |
| Chargebacks | $10.00 | 2.6% + $0.10 |
| Reader Warranty | 12 months | 6 months |
SumUp Mobile Point of Sale:
SumUp POS app:
The SumUp app is built for small businesses with low transaction volumes. It accepts an impressively large range of cards, and contactless payments, Google Pay and Apple Pay, and the virtual terminal allow keyed-in transactions. Not as feature-rich as other card reader software, SumUp nevertheless offers a range of basic features that make accepting payments hassle-free.
SumUp POS app features:
| | |
| --- | --- |
| Accept cash payments. | Transaction tracking and status. |
| Virtual terminal. | Accounting function. |
| Refunds. | Unlimited employee accounts. |
| Accepts Bitcoin. | Transaction, revenue, and payout reports. |
| Email / phone support. | Print / text / email receipts. |
SumUp Air Card Reader:
Price: $19.00.
Warranty: 12 months.
The SumUp Air Card Reader can accept a wide range of chipped, PIN, and contactless payments. On a single charge, it can process around 500 transactions.
Technical specifications:
Bluetooth connectivity.
Tap, dip, swipe.
Goole Pay and Apple Pay.
White.
Sleek design.
SumUp Accepts these Cards:
American Express.
Mastercard.
Maestro.
Diner's Club.
Discover.
Visa.
Key Information:
| | |
| --- | --- |
| Legal Name | SumUp Payments Limited |
| Founder | |
| Founding Date | Jan 01, 2011 |
| Address | 34 Great Marlborough St, Soho, London W1F 7JB, United Kingdom |
| Number of Employees | 3000 |
| Number of Customers | 99 |
| Email | |
| Telephone | |
| Website | |
FAQs:
Can you take SumUp payments over the phone?
Yes, you can take SumUp payments over the phone. Follow these steps:
Choose a virtual terminal provider.
Make sure you are PCI DSS compliant.
Log in to your payment provider account and select "Virtual Terminal."
Enter your long card number, card expiration date, and card security code (3 digits at the back of your card).
Provide additional security information, such as the cardholder's name or postal code.
Submit the information using the "Submit" or "Complete Transaction" button.
Ask the customer how they would like to receive their receipt. Provide the option to email the receipt to the customer.
Remember to write "paid by phone" on your copy of the receipt for later reference.
How do I connect my SumUp card reader?
Open the SumUp App and log in with your email and password.
Select "Settings" at the bottom of the screen.
Open "Payment Methods" and select "SumUp Air" to initiate the setup.
Click "Connect" once the 3-digit number shown within the app matches the 3-digit serial number on the back of your reader.
Your card reader will now sync your account information.
What is SumUp card reader?
SumUp is a mobile credit card reader for businesses. Its features include a virtual terminal and chip card payments. SumUp can be used to securely process mobile payment transactions.
How long does SumUp take to pay?
Transactions are typically processed within 2–3 working days. With the new SumUp Card, a merchant can access funds the next day.
Does SumUp need WiFi?
Not necessarily. In order to process transactions, you will require a connection to the internet via WiFi or data transfer (minimum 3G).
How do I connect my SumUp to my phone?
Go to "Settings."
Select "Card Reader."
Select "Connect your SumUp Reader."
Enter the email address and password that you used when you requested the machine. This account is the one that you registered with SumUp.
Confirm the permission.
On your phone, select "PIN+."
Click "Connect."
Click "Next" in the footer.
How do I reset my SumUp card reader?
Turn off your card reader.
Hold down the power button of your card reader for 10 seconds. You should see "Hold for BT." Another message will pop up saying "Release for BT."
Release the power button once you hear a beep.
How much does SumUp cost?
SumUp charges 2.75% per in-person transaction. There are no monthly fees or recurring costs.
Is there a SumUp free version?
No, SumUp does not offer a free trial.
What are a few SumUp alternatives?