Braintree
Compare Braintree Payments to Square and Stax by Fattmerchant, read up on fee structures, and learn about integrations and features.
Updated on February 9th, 2023
The SMB Guide is reader-supported. When you buy through links on our site, we may earn an affiliate commission. Learn more
Updates:
Updated 3rd of February 2023
We updated pricing and refined the flow of the article.
Updated 3rd of February 2020
We have added more information about Braintree, including comparisons between Braintree, Square, and Fattmerchant, product features and reviews, and pros and cons of using Braintree.
Braintree is a business payment processing platform owned by PayPal. Braintree can accept multiple payment types from your customers for a seamless checkout experience online or in person. You can also use Braintree to set up recurring billing.
Also Consider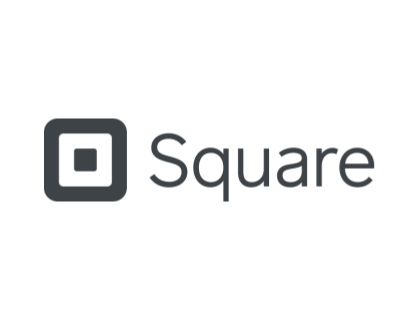 POS and Credit Card Processing
Sign Up Free
Used by more than 2 million businesses.
Robust reporting.
Custom invoices.
At-a-Glance:
| Feature | Braintree |
| --- | --- |
| Pricing | 2.59% + $0.49 /transaction. |
| Transparent rates and fees | ✓ |
| Accepts all major payment methods | ✓ |
| Offers a wide range of integrations | ✓ |
| User friendly interface | ✓ |
| Hardware | PayPal Here card readers. |
| Security | 3D Secure 2, PCI compliant. |
| Access to funds | Bank transfer in 2-5 business days. |
Review:
Braintree is a great online payment processing platform that offers one, transparent, flat rate as well as great conversion rates for international sales. While Braintree can process multiple pay-in options, it does require technical skills on the user's part to set up and successfully navigate. Braintree is also not suitable for businesses that want to integrate their in-store and online sales.
For integrated in-store and online sales, Square is a better option. Square's APIs allow you a complete view of your business's online and in-store sales. Square also offers more categories of integrations than Braintree and offers POS systems for retail and restaurants, as well as integrated booking software.
Stax by Fattmerchant also offers more in terms of payment terminals, including countertop terminals, stand-alone or integrated credit card terminals, and two types of mobile credit card readers.
Pros:
Braintree offers great developer, marketplace, and subscription tools with a wide range of integrations. They are also a good platform for processing international sales as they have multi-currency options. Braintree also processes payments from all major debit and credit cards, as well as PayPal, Android Pay, Apple Pay, Bitcoin, ACH, and Venmo.
Cons:
Braintree can take a long time to set up as it requires some technical skills to use the developer tools. It is also not suitable for high-risk industries as some customers have reported issues with the fraud prevention software, such as not receiving reports detailing any fraudulent payments. Lastly, at this time, Braintree does not offer online and in-store payment processing integration.
Reputation:
Braintree is not BBB accredited, but it does have an A+ BBB rating. BBB has collected more than 30,000 customer complaints about Braintree, of which over 9,000 were answered by the company.
On other sites, the positive customer reviews mostly mention Braintree's low rates, easy payment processing, and great APIs. The customer complaints all refer mainly to unfriendly customer support, withheld payments, excessive chargebacks, and hidden fraud reports.
Braintree is owned by PayPal:
Braintree Payments is one of the top 8 companies owned by PayPal and was acquired by PayPal in 2013 for $800 million. In 2017, Braintree began processing over a billion transactions per quarter.
Pricing:
Braintree charges a standard fee of 2.59% + $0.49 per transaction. There are no monthly or annual fees.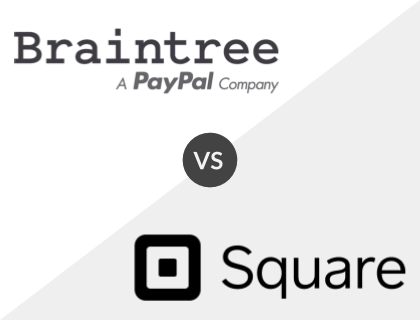 Braintree vs. Square:
Between Braintree and Square, only the former offers one flat, per-transaction rate. Square offers an integrated payment solution for combining both in-store and online payments and keeping track of inventory from all sales. They do, however, charge a monthly fee that starts at $29.00 per month.
Braintree vs Square Comparison:
| Type of Transaction | Braintree | Square |
| --- | --- | --- |
| In-person payments | 2.59% + $0.49 /transaction | Free and paid options. |
| eCommerce transactions | 2.59% + $0.49 /transaction | Free and paid options. |
| ACH direct deposit | 0.75% /transaction | N/A |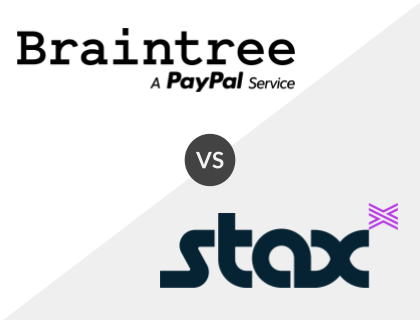 Braintree vs. Stax:
Stax by Fattmerchant offers a membership pricing structure with a 0% markup on interchange rates, while Braintree charges a merchant markup. Stax also offers more in terms of integrated payment features and equipment. For large transaction volumes, Stax subscription-based pricing is more cost-effective than Braintree's blended pricing.
Braintree vs. Stax Comparison:
| Type of Transaction | Braintree | Stax |
| --- | --- | --- |
| Swiped payments | 2.59% + $0.49 /transaction. | $99.00 /mo. + $0.08 /transaction. |
| Keyed payments | 2.59% + $0.49 /transaction. | $99.00 /mo. + $0.15 /transaction. |
| ACH direct deposit | 0.75% /transaction. | Included in monthly subscription. |
Features:
| Feature | Description |
| --- | --- |
| Fraud Protection Tools | Authentication with 3D Secure 2; Advanced fraud tools from Kount. |
| Data Security | Level 1 PCI compliance; Data encryption via the Braintree Vault; Transport Layer Security; Automated vulnerability scans. |
| Reporting | Transactions, disputes, settlement batches, Webhook notifications, and custom reports. |
| Payouts | Global payouts; Diverse payout options; Hyperwallet. |
| In-store Payments | POS tools; PayPal Here card readers; All major credit and debit cards, as well as contactless payments. |
| Third Party Integrations | Shopping carts, recurring billing, accounting, card swipers, analytics, and miscellaneous. |
In-Store Payments:
Braintree only launched its in-store payments processing platform in 2019. Customers should look for future integrations with online sales.
Integrations:
| Category | Third Party Integration |
| --- | --- |
| Partner Integrations | 3dcart, BigCommerce, WooCommerce, Yodle. |
| Enterprise Plug-Ins | Demandware, IBM Sterling Commerce, Adobe Commerce, NetSuite, Oracle E-Business, Oracle ATG Commerce, Salesforce, SAP, SAP Hybris. |
| Vetted by Braintree | Chargehound, Recurly, Spree, Zuora. |
| Shopping Carts | 3dcart, Acart.biz, ASecureCart, BigCommerce, Bizness Apps, Cartfunnel, CoreCommerce, Demandware, Drupal Commerce, Ecommerce Templates, Fleapay, Foodstorm, Formsite, FoxyCart, LemonStand, Adobe Commerce, Miva, OpenCart, RazorCart, ShopSite, Spree, U-Commerce, UberCart, UltraCart, WooCommerce, Yahoo! Small Business, X-cart PHP. |
| Recurring Billing | Chargebee, Chargify, Churn Buster, Metricsco, Recurly, TeamUp, Wallee, Wallkit, Zuora. |
| Accounting, Invoicing, and Tax Solutions | Avalara, Bolt, ChargeDesk, Elorus, Hiveage, HostBill, Invoiced, Quaderno, Taxamo, TaxCloud. |
| Card Swipers | App Ninjas, Innerfence. |
| Analytics | Baremetrics, BTMetrics, ChartMogul, Main Metrics, Putler, Slemma, Stride. |
| Miscellaneous | ActiveCollab, AgilCommerce, Agile CRM, Easy Digital Downloads, FlexBooker, JotForm, GrowSumo, MemberGate, Nonprofit CMS, ProfitWell, Social Taste, Stitch, SurchX, ThunderTix, Wufoo, Yodle, Zapier. |
Global Payments:
Braintree operates in more than 45 countries/regions worldwide and processes payments in more than 130 currencies. Funds will be converted and deposited in USD for a 1% fee. Braintree is currently available to merchants in the following regions:
The United States.
Canada.
Australia.
Europe.
Singapore.
Hong Kong.
Malaysia.
New Zealand.
Key Product Mini-Reviews:
Braintree Direct:
An online payment processing platform for Android, iOS, and web-based e-commerce stores. Braintree Direct offers a ready-made drop-in UI or a custom UI that is flexible and secure.
Braintree Direct features:
Global reach.
Accepts all popular payment methods.
Level 1 PCI compliance.
Scalability.
One easy integration.
Web and mobile optimization.
Braintree Extend:
A set of data-sharing tools to grow your business by creating secure connections to partners and service providers. Braintree Extend requires some technical skills as users can:
build native checkout flows in places where people may be inclined to buy,
streamline secure data sharing by layering additional security into transactions, and
create purchase incentives and rewards to motivate and reward customers.
Braintree Auth:
Braintree Auth allows Braintree merchants to connect to merchant service providers, such as invoicing, analytics, or billing providers. This means that, if you are a service provider, your customers can connect their Braintree merchant account to your platform. You can then act on your customers' behalf, with their authorization.
Braintree Marketplace:
Point of sale systems for marketplace businesses. Braintree Marketplace offers customizable APIs to create tailored payment solutions, a mix of pay-in methods in a single integration, and a Hyperwallet connection for seamless payouts.
Braintree Marketplace features:
Advanced fraud prevention tools.
Automated chargebacks, retrievals, and pre-arbitrations.
PCI DSS compliance validation.
New payment methods based on market conditions and technological advances.
International and multi-currency support.
A single integration with PayPal.
Braintree Payments:
Braintree accepts payments from:
PayPal.
Venmo.
Credit and debit cards.
Digital wallets: Apply Pay, Google Pay, Samsung Pay, Visa Checkout, Masterpass, and AmEx Express Checkout.
Local payment methods: ACH Direct Debit, Bancontact (Belgium), eps (Austria), giropay (Germany), iDEAL (Netherlands), Klarna Pay Now (Europe), MyBank (Italy), Przelewy24 (Poland), and SEPA Direct Debit (Germany and Austria).
Key Information:
| | |
| --- | --- |
| Legal Name | PayPal |
| Founder | |
| Founding Date | Jan 01, 2007 |
| Address | 222 W. Merchandise Mart Plaza, Ste. 800, Chicago, IL 60654 |
| Number of Employees | 500 |
| Number of Customers | 999 |
| Email | |
| Telephone | |
| Website | |
FAQs:
How does Braintree make money?
Braintree makes money by charging a 2.59% fee and $0.49 per transaction to companies processing more than $50,000 per year.
Is Stripe better than Braintree?
Both Braintree and Stripe are excellent products, but Braintree edges Stripe by having a wider array of features. While Stripe is a third-party processor that aggregates payments, Braintree gives merchants their own merchant accounts. Additionally, Stripe charges a small fee for extra services, while Braintree does not.
What is the price range for Braintree Payments?
Braintree charges as a standard per transaction fee of 2.59% + $0.49.
What is a Braintree merchant account?
A merchant account is a Braintree account for businesses. You can use your merchant account to accept payments from customers and clients through the Braintree payment gateway.
Can Braintree process Bitcoin payments?
Yes, as of 2015 Braintree can accept and process Bitcoin payments.
How do I contact Braintree customer service?
You can contact Braintree support by calling 1 (877) 434-2894, or you can fill out the contact form.
Why do I see braintreecharge.com on my credit card statement?
The charge to your account originates from a business that uses the Braintree gateway to accept payments.
Where is the Braintree office?
Braintree's headquarters are in Chicago, Illinois, where the company was founded.
How do I set up Braintree recurring payments for my customers?
Add the customer's payment information into your system.
Set up an amount for recurring payments.
Have the customer authorize it.
Is Braintree the same as Paypal?
Braintree is owned by Paypal, but they are two distinct entities. Paypal is used primarily for money transfers, but Braintree is a business payment gateway.
What are some Braintree Payments alternatives?