Free Invoice Template - Free and Easy to Copy and Paste
Get a free invoice template for Word, Excel, Sheets, or just copy and paste to make drafting an invoice fast and easy. Copy and paste into Word or any software.
Updated on March 24th, 2022
The SMB Guide is reader-supported. When you buy through links on our site, we may earn an affiliate commission. Learn more
An invoice is a bill or statement of goods or services that you or your business has sold to a customer or another business. An invoice is written proof of the transactional agreement between a buyer and seller.
Below you will find several free downloadable invoice templates, including an invoice template Word, invoice template Google Docs, and invoice template Excel.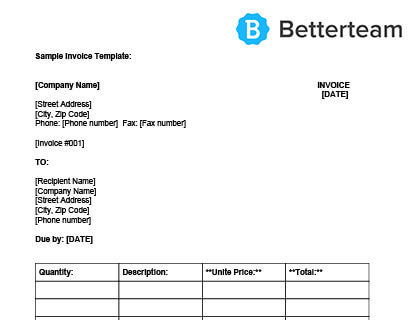 Invoice Template Word Download:
Download this blank invoice template in Word format and create an invoice in just a few minutes.
Sample Invoice Template:
[Company Name]
INVOICE
[DATE]
[Street Address] [City, Zip Code] Phone: [Phone number] Fax: [Fax number]
[Invoice #001]
TO:
[Recipient Name] [Company Name] [Street Address] [City, Zip Code] [Phone number]
Due by: [DATE]
Quantity: Description: Unit Price: Total: [Presented in Table format]
Make all bank transfers/checks payable to [Company Name]:
[Insert Banking Details]:
If you have any questions concerning this invoice, contact [Name, phone, email].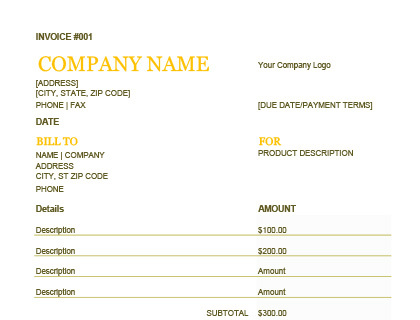 Invoice Template Excel:
Download this invoice template Excel as an invoice template PDF.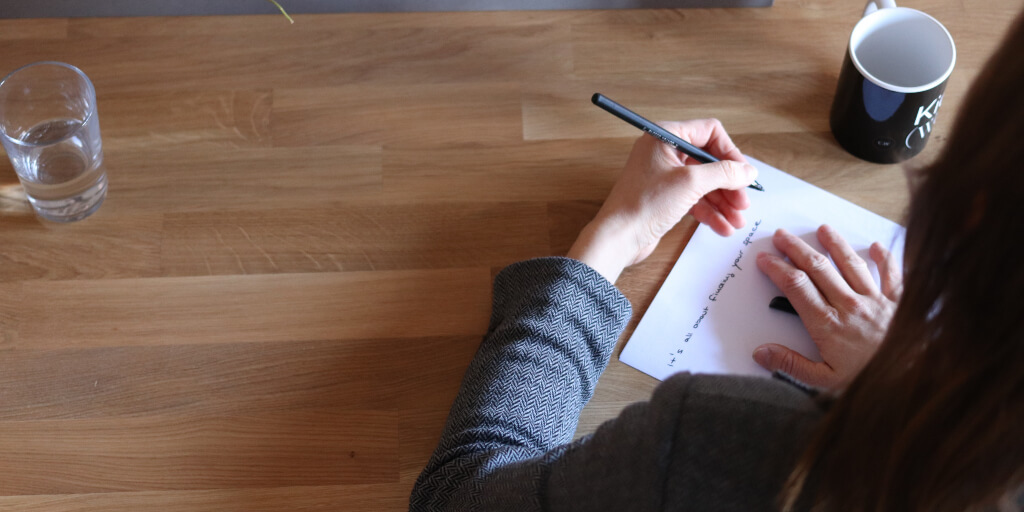 Learn what's included in a letter of intent, and download a free LOI template. Includes frequently asked questions.
Oct 4, 2021
FAQs:
Does Microsoft Word have invoice templates?
Yes. Microsoft Word does provide invoice templates that you customize to suit your business needs. You can access it by opening Microsoft Word and locating the template bar on the left side of the screen.
How do I create an invoice template in Word?
Open Microsoft Word.
Locate the template bar on the left.
Type "invoice template" in the template search bar.
Select an invoice template to preview it.
Click "Create" to open the template.
Fill in your information on the template.
Click "Save" once you have completed the invoice.
How do I make an invoice online?
Ensure that you have accurate records of your work.
Decide how often you want to send an invoice.
Define the methods of payment you will accept.
Ensure that your invoice has a "Payment Due By" date.
Ensure that your invoice looks professional.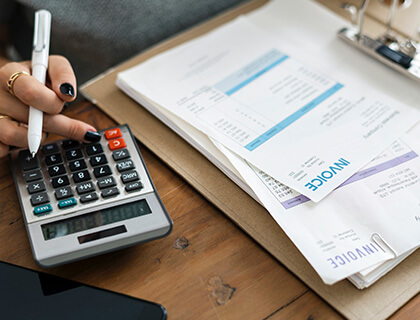 What does an invoice need to include?
Date.
Company name.
Invoice number.
Company address.
Recipient's name.
Recipient's address.
Payment terms/due date.
Quantity and description of goods or services.
Price/s.
Sales Tax.
Shipping and Handling cost (if applicable).
Total.
Your banking details.
Contact name and number of an employee in the Accounts dept.
Does a commercial invoice template differ from a freelance invoice template?
Invoice templates are customizable and vary from company to company. Most companies use a simple invoice template whereas freelance photographers, graphic designers, and other creatives prefer to use specially designed invoices that reflect their style and creativity. Nevertheless, every invoice should include the basic information mentioned above.
Are there any tips on how to write an invoice for freelance work?
Most freelancers dislike the admin involved in drafting invoices, but it doesn't have to be complicated. There is a wide variety of invoice software available to help you create professional-looking online invoice templates quickly and easily.
How do I send someone an invoice?
You can either send an invoice by email or post. Be sure to follow up with your client to ensure they've received your invoice and understand the payment terms.
Where can I get free printable invoice templates?
Microsoft has a Word invoice template and Excel has free printable invoice templates that you can edit according to your needs. There are also QuickBooks invoice templates for accounting professionals.