How to Lease Commercial Real Estate
Find out how your business could lease commercial real estate with a step-by-step guide and frequently asked questions.
Updated on February 3rd, 2022
The SMB Guide is reader-supported. When you buy through links on our site, we may earn an affiliate commission. Learn more
When your small business starts to grow, you will reach a point where the home office or shared office space that you are working out of isn't large enough. If you operate a retail store, you will need a commercial space to display your products almost immediately. A company needs to be large and well-established to purchase real estate, so the most sensible solution for most small businesses is to lease commercial real estate.
Leasing commercial real estate can help you take your business to the next level by giving you more space for your operations. The steps below will tell you what you need to do to lease commercial real estate for your business.
How to Lease Commerical Real Estate:
1. Set a monthly budget.
The most obvious barrier to leasing the space that you need will be financing. If you know how much space you need, the first thing you need to do is determine what you can afford to pay for every month. If you need the bank to finance your lease, then speak with your business banker and find out how much of a loan you can be approved for.
People sometimes forget that the cost of leasing may not include other expenses like electricity, water, internet, etc. Ask the building owner who is responsible for these expenses (these details should be included in the terms of your lease).
2. Speak to an agent.
You don't need to use a real estate agent, but the benefit of working with a professional is that they will be able to find out exactly what you are looking for and then match you with the right real estate in your area. An agent will also look out for your best interests when they are negotiating with commercial property owners.
3. Look at several options.
Keep an open mind as you look at commercial leasing options. The ideal space may only need some paint or some new office furniture, so don't expect to find the perfect solution right away. If the space is unfinished, it also means that you can customize it to suit the look and feel of your business. This is particularly important for retail spaces.
4. Enter into a lease agreement.
The lease agreement is the most important part of the commercial leasing process. If a commercial property owner is offering a building or space for lease, chances are that they will have their own lease agreement for you to sign. Before you sign it, you should have it reviewed by your attorney and request changes to any terms that you do not find to be reasonable.
The terms that are included in the lease agreement include the duration of the lease, the rate that you will pay for leasing the property, any restrictions and limitations that are imposed on your use of the property, and clauses that allow one or both of the parties to terminate the lease if necessary. If both parties consent to all of the terms, you can sign the lease.
FAQs:
How do commercial real estate leases work?
A commercial real estate lease is a contract between a business and a landlord that stipulates the terms and conditions of commercial property rental. Depending on the type of lease, costs such as property taxes, insurance, and maintenance can either be included in the rental agreement or the sole responsibility of the tenant.
What should I look for when leasing a commercial property?
When leasing commercial property, you should look for properties that fit your budget and operating needs. Be sure to understand the type of lease you are looking at, the dimensions and rates you are being charged for, and the lease agreement's terms and conditions.
How long are commercial leases?
The term of the lease is generally at the discretion of the property owner. A lease could be for 2 years, 5 years, 10 years or even more if the arrangement is seen as long-term.
How are commercial leases calculated?
There are several types of square-feet measurements that can be used to calculate monthly commercial rents. Commercial lease calculations are most commonly based on rentable square footage.
How do you negotiate a commercial property lease?
Since commercial property leases are binding legal contracts that can have a serious impact on your business, it is always advisable to engage a commercial real estate agent to ensure that the chosen property meets your needs and to look out for your best interests when negotiating with commercial property owners. Also, be sure to have an attorney review a lease agreement before it is signed.
Do tenants of commercial property pay the property tax?
Whether commercial tenants need to pay property tax depends on the type of lease and its terms.
What is a ground lease in commercial real estate?
A ground lease is a long-term lease of usually 50 to 99 years and allows the tenant to make significant improvements and build on the property.
What are the different types of commercial leases?
There are basically three different types of commercial leases:
Full-service lease - A lease the includes maintenance, property taxes, and janitorial services in the building.
Modified gross lease - With a modified gross lease, the tenant pays for things like property taxes and insurance as a monthly lump sum.
Net lease - This type of lease requires a lower lease payment, but all other costs are the responsibility of the tenant.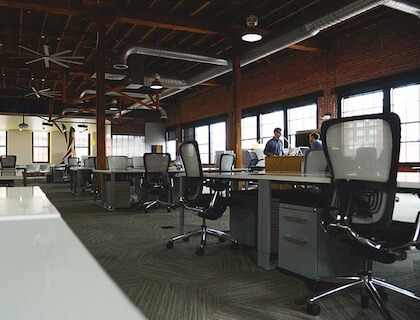 What are the steps for entering a commercial real estate lease?
Can a commercial lease be extended?
Yes. You can renegotiate the terms of your lease with your landlord and come up with a new agreement if you would like to continue leasing the property. Of course, the landlord is not obligated to grant you a new one once the previously agreed-upon term is over.