Cyber Security Software
Learn more about the leading cyber security software with a list of the top platforms, pricing info, and frequently asked questions.
Updated on July 10th, 2019
The SMB Guide is reader-supported. When you buy through links on our site, we may earn an affiliate commission. Learn more
Cyber security software is used to protect the confidentiality and security of information that is stored on computers. Most businesses now store information in the cloud or on a local network, so cyber security is a very common concern, particularly when businesses are protecting sensitive information.
Business owners sometimes purchase cyber insurance just in case their cyber security measures fail.
Best Cyber Security Software:
| Our Rank | Software Name | Starting Price |
| --- | --- | --- |
| 1. | | $45.00 /yr. per user |
| 2. | | $39.99 /yr. |
| 3. | | $49.99 /yr. |
| 4. | | $1.00 /mo. per user |
| 5. | | $119.95 /yr. |
| 6. | | Quote only. |
| 7. | | $99.95 /yr. |
| 8. | | $29.99 /yr. |
| 9. | | $37.75 /yr. per user |
| 10. | | $44.24 /yr. |
| 11. | | $0.00 |
FAQs: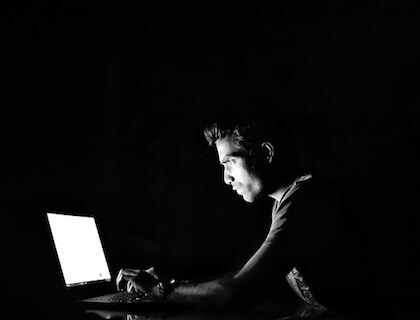 What is the best cyber security software?
How does cyber security software work?
Cyber security software scans and searches for any dangerous and destructive applications and programs such as ransomware, spyware, adware, and any other threats.
What is the best security for your computer?
Is cyber security important?
Yes. Cyber-threats have increased dramatically, and everyone is at risk of a cyber attack. Cyber security protects you and your business from such attacks.
What is the price range for cyber security software?
Every cyber security solution is different, so the prices vary widely. Most software providers charge an annual fee between that can be anywhere between $1.00 and $120.00 per user.
Do cybersecurity systems protect against computer viruses?
One purpose of a cybersecurity system is to stop viruses before they corrupt your device or network. Viruses can disable your system to corrupt your information or erase it entirely. Most cyber security systems have a firewall that can stop a virus before it does any damage.
Is cyber security management software cloud-based?
Cloud-based cyber security solutions are the most affordable options for small businesses, but many cybersecurity software companies also offer on-premise solutions at an additional cost. However, on-premise solutions are usually only necessary in large businesses.
Does Norton have a cyber security app?
Yes. You can download the Norton Security and Antivirus app for your mobile device and manage your cybersecurity software from anywhere. The app will send notifications to your device if there are any threats to your network.