Collection Letter
Find out more about how to use collection letters to settle unpaid accounts. Includes FAQs and a free collection letter template for download.
Updated on March 24th, 2022
The SMB Guide is reader-supported. When you buy through links on our site, we may earn an affiliate commission. Learn more
A collection letter is a letter that a business will send to another business or a customer when there is an unpaid account or payments for an invoice are overdue. The point of the letter is to remind the debtor that their payments are late and give them an opportunity to settle the debt before more serious steps are taken.
If the first letter is unsuccessful, several collection letters may be sent before any legal action is taken.
When a collection agency is involved, the collection letter will be issued from the agency instead of being sent directly from the organization that is seeking compensation.
Read below to learn how to write a collection letter and download a free copy of our collection letter template.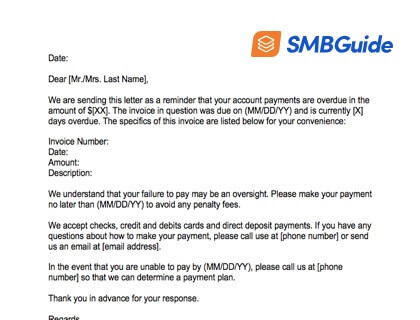 Collection Letter Sample
Download a free Collection Letter Sample in Microsoft Word Format.
Collection Letter Sample:
Date:
Dear [Mr./Mrs. Last Name],
We are sending this letter as a reminder that your account payments are overdue in the amount of $[XX]. The invoice in question was due on (MM/DD/YY) and is currently [X] days overdue. The specifics of this invoice are listed below for your convenience:
Invoice Number:
Date:
Amount:
Description:
We understand that your failure to pay may be an oversight. Please make your payment no later than (MM/DD/YY) to avoid any penalty fees.
We accept checks, credit and debits cards and direct deposit payments. If you have any questions about how to make your payment, please call use at [phone number] or send us an email at [email address].
In the event that you are unable to pay by (MM/DD/YY), please call us at [phone number] so that we can determine a payment plan.
Thank you in advance for your response.
Regards,
Signature
[Name]
[Business name]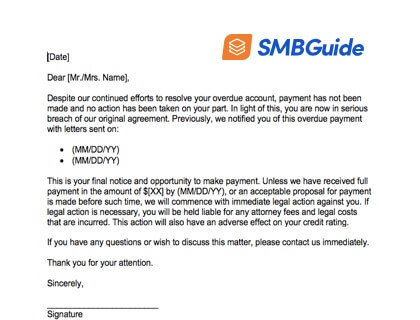 Final Collection Letter Template
Download our free Final Collection Letter template.
How to Write a Collection Letter:
1. Include all of the relevant details.
If you are in the position of having to write a collection letter, you need to include all of the details that are relevant to the party receiving the letter. This includes the exact sum of money owed, description of the service or goods provided at the time the transaction took place, what the original payment agreement was, etc. In other words, it needs to be abundantly clear that you upheld your end of the deal but the debtor failed to pay on time.
2. Be professional and courteous.
Do not include any emotional language or threatening phrases in your letter. The debtor is probably a customer whose business you would value in the future, so try to maintain a professional tone throughout the letter. If this is the first letter you have had to send, be extra cautious. For all you know, the missed payment could genuinely be a mistake.
3. Explain what the next steps are.
Tell the recipient of the letter what happens next, whether that means they have two weeks to pay without penalty, or whether it means you will send two more letters and begin to charge interest on their debt. Adding deadlines will help to make the situation more urgent and give the debtor an incentive to resolve the issue quickly.
4. Always keep copies of the letters and any response you receive.
Documenting your communication with the company or individual that owes you money could be important if they refuse or are unable to pay. In the unfortunate event that you need to take legal action, you can refer back to these letters and use them as evidence that you did everything you could to notify the debtor and resolve the issue.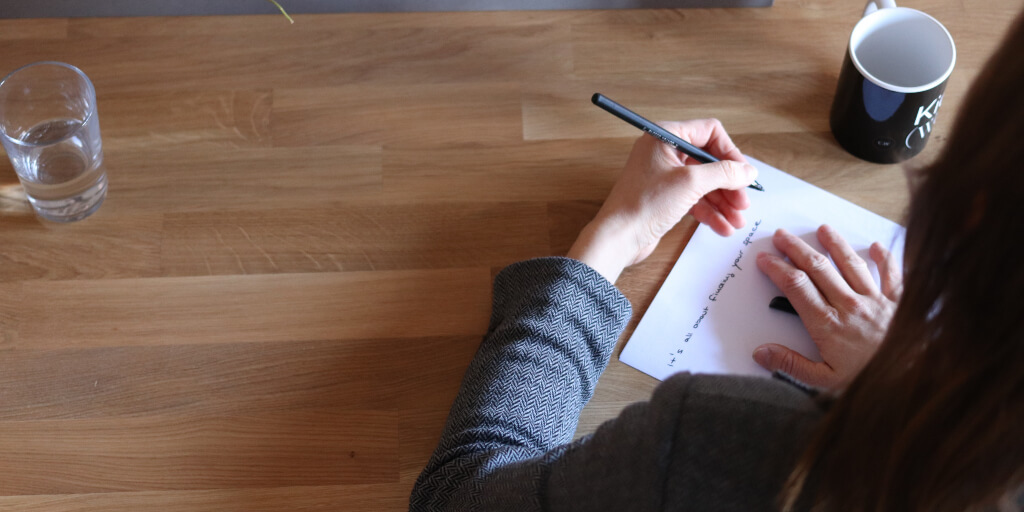 Learn what's included in a letter of intent, and download a free LOI template. Includes frequently asked questions.
Oct 4, 2021
Final Thoughts:
No one wants to be in the unfortunate position of having to send out a collection letter, but doing it the right way could help you to recover money that is owed to your business for good or services that you have already rendered.
While collection letters aren't always effective, in some cases they can solve your accounts receivable problems and help your business to get more cash flow.
FAQs:
What should I write in a collection letter?
You should include the amount of money owed, description of the service or goods provided, and the original payment agreement. Explain what their next steps are to pay the debt, and give dates for any additional penalties they will incur.
How do I write a collection letter?
Ensure that it is clear and simple.
Use a company letterhead.
Enclose copies of the relevant statements/invoices.
Type the letter instead of a handwritten one.
Highlight acceptable payment options for the debtor.
Specify the final date that the account needs to be settled by.
Add your business contact details.
Include a postage-paid envelop if the debtor wishes to post a check.
What is a collection letter?
A collection letter is a letter that informs an individual or business of an overdue/unpaid debt.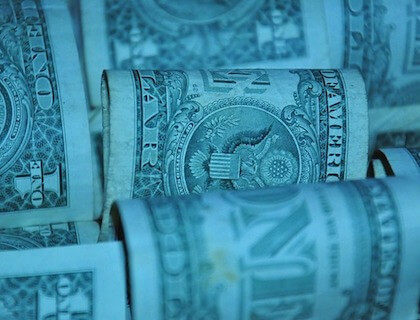 How can collections be effective?
Include dates, dollar amounts, and other relevant information.
Be professional and courteous.
Explain the next steps and how you can be contacted.
Document all letters that are sent or received.
Can I use a sample letter for collection of payment?
You can use one of our sample collection letters if you need to send a letter to one of your customers. Just customize the blank portions with the appropriate information and include any other information that you would like to convey.
How many collection letters should I send before taking legal action?
It is typical for businesses and collection agencies to send three letters before taking more serious steps. Usually, each letter is more serious than the last one. The final letter makes it very clear that the debtor is being notified of their last chance to pay the debt without facing legal consequences.
What is the Fair Debt Collection Practices Act?
The Fair Debt Collection Practices Act (FDCPA) is a federal law that restricts the activity of third-party debt collectors. The legislation limits the ways and times a collection agency can contact a debtor. Under the Fair Debt Collection Practices Act, a demand letter can still be used.