Best AI Website Builders for 2023
Leverage powerful AI technology to create your website or online store in under a minute. Check out our list of easy-to-use and affordable AI website builders.
Updated on September 18th, 2023
The SMB Guide is reader-supported. When you buy through links on our site, we may earn an affiliate commission. Learn more
An AI website builder is a software tool or platform that uses artificial intelligence (AI) to help users build powerful and user-friendly websites. AI algorithms can analyze users' preferences to generate personalized suggestions for design elements, content creation, automated workflows, and overall website aesthetics.
Compared to traditional web development methods, AI website builders are generally easier to use and eliminate the need for advanced technical skills. We've rounded up the top AI website builders with both free and paid options to help you find the best one.
Also Consider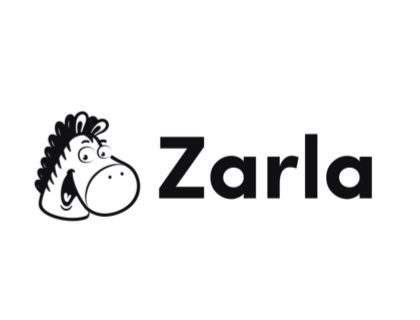 Start a free trial.
Create Your Website
No credit card required.
Fast setup.
SEO-optimized content.
Why We Chose Zarla, Durable, and Hostinger:
In first place is Zarla, an all-inclusive AI website builder that is well-suited to users in search of a simple yet professional-looking website. The platform's competitively priced plan includes mobile-friendly editing tools and a helpful customer support team that can assist users in setting up their sites.
Unlike many competitors, Zarla focuses on eliminating the need for users to edit HTML, code, or design. Its prioritization of speed, accessibility, and SEO makes it a valuable resource for creating a powerful website in under a minute. Prices start at $9.00 month-to-month or $97.00 per year.
Our second pick is Durable, an AI-driven platform that leverages powerful technology to build a fully designed website with copy, images, and a contact form in under a minute. It also features additional AI marketing tools, an AI assistant, CRM services, and access to both phone and live chat customer onboarding.
The platform offers a free trial, as well as various packages that start at $15.00 month-to-month or $144.00 per year and are tailored to both personal sites and online stores. Users also have access to an AI-powered business name generator to build out their brand.
Hostinger is our third choice and offers designer-made templates, ecommerce functionalities, and marketing integrations for users to easily create and manage their website or online store.
The platform has a free trial period, as well as a single affordable plan that costs $2.99 month-to-month or $35.99 per year, and features automated content creation, drag-and-drop editing tools, mobile-optimized pages, and robust SEO management. Additional services include step-by-step video walkthroughs and guides to assist users during the site-building process.
Things to Consider When Evaluating AI Website Builders:
More affordable packages generally have fewer features or limited access to robust themes and site management.
Consider taking advantage of your chosen plan's free trial to verify the authenticity of AI usage. Follow the setup process until you reach the website preview and observe if any text is generated or if your information is directly added to a template.
Consider mobile compatibility, site performance, and simplified editing processes when choosing an AI website builder.
The Best AI Website Builders:
| Rank | Name | Offer | Review | Learn More |
| --- | --- | --- | --- | --- |
| 1. | | From $97.00 /yr. | Zarla's all-in-one AI website-building service is both affordable and user-friendly, providing mobile-first editing tools, automatic SSL security, and SEO-optimized content for efficient design workflows. | |
| 2. | | From $144.00 /yr. | Durable is ideal for users looking to create simple and effective websites with automated site design, copywriting, marketing, and SEO tools. The platform also includes phone and live chat customer onboarding. | |
| 3. | | From $35.88 /yr. | The platform offers AI-powered features that allow users to customize design templates, generate website copy via ChatGPT, and access comprehensive site analytics. It also includes ecommerce functionalities for businesses of all sizes. | |
| 4. | | Free and paid options. | Hocoos turns users' text input and prompts into custom content via its powerful AI site builder. Its free plan is well-suited to those with basic needs, such as site hosting, image uploads, and marketing integrations. | |
| 5. | | From $84.00 /yr. | The platform is an AI-powered, multi-page site generator with a variety of plans that include customizable URLs, an easy-to-use editing tool, and SEO capabilities. | |
| 6. | | From $120.00 /yr. | A user-friendly site builder that features a wide variety of comprehensive website-building tools, such as an AI assistant, custom forms, and advanced analytics. Site translation tools are available to create multilingual pages. | |
| 7. | | Free and paid options. | Pineapple Builder caters to startups looking to build a blog or online store with robust services, including online payments, AI-powered content creation, and site analytics. | |
| 8. | | Free. | The free-to-download AI site builder gives users access to drag-and-drop editing tools, pre-designed templates, and performance optimization for a seamless website creation process. | |
| 9. | | Free and paid options. | GetResponse offers a code-free website builder that features personalized website templates and a drag-and-drop editing tool that's well-suited to users looking to create a business page, event website, or online portfolio. | |
| 10. | | From $143.88 /yr. | The platform's AI design assistant helps users create professional-looking websites with ease. Though costlier than some competitors, Bookmark features additional ecommerce services, including social selling and inventory management. | |
| 11. | | From $119.88 /yr. | An intuitive platform with a drag-and-drop editor that allows users to generate AI-powered content, create dynamic landing pages, and add personalized images to their websites for additional customization options. | |
| 12. | | Free and paid options. | Site123's free plan includes mobile-friendly design templates and SEO tools that are ideal for users with basic needs, while its paid package includes additional ecommerce functionalities. | |
| 13. | | From $888.00 /yr. | Unbounce gives users access to unlimited landing pages and popups, as well as intuitive AI-powered editing and copywriting tools for a user-friendly site-building process. | |
| 14. | | Free and paid options. | A simple yet robust AI website and landing page builder that allows users to sell digital products, validate business ideas, and launch professional-looking sites with ease. | |
| 15. | | Free and paid options. | Ideal for professional service providers, the website builder provides a wide range of AI-powered design, editing, and management tools to help users easily engage with clients and streamline their online business operations. | |
| 16. | | Free and paid options. | The ChatGPT website builder offers basic customization options, content generation, and publishing tools for users to easily build professional-looking websites without any technical expertise. | |
| 17. | | Free and paid options. | The platform features a straightforward, AI-powered website creation process with additional ecommerce functionalities, marketing tools, site analytics, and ad-free pages. | |
| 18. | | Free and paid options. | Weblium is an easy-to-use platform with AI-powered site design and editing tools, as well as ecommerce features, team collaboration, and advanced marketing integrations. | |
| 19. | | Free and paid options. | The platform's simple UI and beginner-friendly website creation process make it ideal for small businesses looking to establish their online presence with SEO- and mobile-friendly site pages. | |
Some companies offer month-to-month pricing and discounted rates on the first billing cycle.
Pros & Cons:
Pros
Users can simply input some text, keywords, and/or prompts and an AI site builder will create a professional-looking website in under a minute.
AI website builders eliminate the need for users to edit HTML, code, or design and are ideal for those with no technical expertise.
Several platforms offer free plans or free trial periods for users wanting to try the service before committing to a paid package.
Cons
Some website builders may falsely claim to use AI. It will typically not ask for any prompts and immediately drop users into a web editor or drag-and-drop template.
Depending on users' needs, premium packages with additional ecommerce or analytics tools can become costly.
Many AI builders with drag-and-drop features may not be easy to modify on mobile screens since they were initially designed for full-size screens.
Zarla Website Builder vs. Durable Starter vs. Hostinger Website Builder:
While Zarla Website Builder stands out with mobile-first design solutions and SEO-optimized pages, Durable Starter may be the better option for users in search of unlimited storage and a wide selection of free stock images. Of the three, only Hostinger Website Builder features ecommerce functionalities and robust marketing integrations.
Zarla offers one plan that costs $97.00 per year, while Durable Starter is billed at $144.00 per year. Hostinger Website Builder is the most affordable of the three, charging $35.88 for the first year and renewing at $83.88 per year. All three platforms offer a free trial.
Comparisons Between Zarla Website Builder, Durable Starter, and Hostinger Website Builder:
| Feature | Zarla Website Builder | Durable Starter | Hostinger Website Builder |
| --- | --- | --- | --- |
| Month-to-month price | $9.00 | $15.00 | $2.99 |
| Annual price | $97.00 | $144.00 | $35.88 |
| Free trial | 30-day trial. | 90-day trial. | 90-day trial. |
| Free site hosting | ✓ | ✓ | ✓ |
| AI content generation | ✓ | ✓ | ✓ |
| Ecommerce functionalities | x | x | ✓ |
| Website analytics | x | ✓ | ✓ |
| Mobile-optimized pages | ✓ | ✓ | x |
| Customer support | Email. | Email and live chat. | Email and live chat. |
FAQs:
What is the best AI to create a website?
What is the best AI to build a website for free?
Hocoos, Pineapple Builder, and Leia are among the top free AI website builders. When choosing a free site builder, look for user-friendly editing and copywriting tools that require no advanced coding or technical knowledge.
Can AI create websites?
Yes, AI can build websites quickly and easily by automating various aspects of the site creation process. AI-powered platforms can generate personalized design recommendations, assist in creating website content, optimize sites for different screen sizes, and provide automated suggestions for comprehensive SEO.
Is there an AI website builder that's open-source?
Yes, Appy Pie and Webbrain AI offer free, open-source site-building tools.
What can I use to create free AI-generated websites?
Depending on your needs, beginner-friendly website builders such as B12, Stunning.so, and Weblium are among our top choices. These platforms are ideal for users on a tight budget or those wanting to try the service before upgrading to a paid or premium plan.
How can I create a website with AI?
Typically, AI website builders include comprehensive design themes, layouts, customization options, content generation, and SEO tools to help users create and manage a site with ease.
Can AI create a website for me for free?
Yes, there are several AI-powered website builders that offer a free plan, such as Leia and Site123. Some platforms also offer limited free trials for users interested in trying out its services before committing to a paid package.
What is AI-generated website content?
AI-generated website content is any written piece, such as blog posts, landing pages, or marketing copy created by machine with certain human input, including prompts and parameters. Users can feed keywords and questions into an AI-powered content generator to create SEO-friendly, high-quality copy.
What does AI website design cost?
While several platforms, such as Hocoos and Stunning.so, offer a free plan, paid options generally range between $2.99 to $625.00 per month billed annually, depending on the package.
How long does AI website redesign take?
Because AI website builders typically offer a fast turnaround time for site building, redesigning your website should take no more than a few days, depending on your website's size, amount of content, and ecommerce needs.