UpKeep Review
Compare UpKeep to eWorkOrders, Hippo, and other CMMS software, see pricing, customer reviews, details on features and answers to common questions.
Updated on January 9th, 2023
The SMB Guide is reader-supported. When you buy through links on our site, we may earn an affiliate commission. Learn more
UpKeep is a maintenance management system (CMMS) created for various businesses, including property, restaurants, and manufacturing. UpKeep allows users to access the software via desktop and mobile devices. Features include customization tools, tasks updates, alerts, and costs reports.
Updates:
Updated 17th of February 2022
We've updated UpKeep's logo and pricing information.
Updated 16th of March 2020
We have added more information about UpKeep, including features, products, pricing, and comparisons with top CMMS competitors.
Pricing:
| Plan | Monthly Pricing |
| --- | --- |
| Starter | $47.00 /user. |
| Professional | $75.00 /user. |
| Business PLus | Contact for quote. |
Review:
UpKeep is a mobile-first preventative maintenance solution that is designed to be used by in-the-field technicians on their smartphones. It is a great, all-purpose maintenance management product that has received very few customer complaints. UpKeep offers an impressive set of features that automates workflows, reduces response time, and expertly handles preventative maintenance.
Pros:
UpKeep is a highly versatile tool that can create work orders, communicate with technicians, receive real-time notifications, and receive a complete overview of their facilities. UpKeep's unique features automate just about everything to do with asset and facility management and maintenance and it offers a free version.
UpKeep is one of the few preventative maintenance solutions designed to be mobile-first and offers amazing functionality on its mobile apps. It also offers an intuitive and very easy-to-use UI as well as great customer support.
Cons:
While UpKeep is a user-friendly product, the sheer number of features on offer can be overwhelming at first and it may take some time and training to get used to all of the features. UpKeep also lacks flexibility in setting user permissions. Finally, while UpKeep does offer a variety of integrations, they are only available on the Business Plus and Enterprise plans.
Reputation:
UpKeep has been accredited with the Better Business Bureau since 2018 and has an A+ rating. BBB has also gathered 23 customer reviews for UpKeep; 21 5-star reviews and two 4-star reviews. These customers recommend UpKeep as they say it is easy to use and navigate, the support team is quick to respond, and the software does what it should. One customer does note that there is a slight version variance between the iOS and Android models which can cause confusion when switching devices.
GetApp has received 1,097 customer reviews for UpKeep with an average rating of 4.7 out of 5. Customers have praised the software for its ease of use and its usability and its great iPhone application. Customers have, however, noted that there is a slight learning curve, some errors with notifications and integrations, and a lack of flexibility in the pricing tiers.
Trustpilot, on the other hand, has collected 26 customer reviews for UpKeep, of which 69% are 5-star reviews. Positive customer reviews have noted that UpKeep helped them to streamline their business operations for maximum efficiency and that the support teams are excellent and highly responsive. Some customers have noted that the mobile and desktop versions are not the same, it is not very customizable, and there are sometimes glitches in the work orders function.
UpKeep Packages:
UpKeep's 4 packages all feature work orders, work requests, and asset management, as well as working with the mobile app.
Work Orders:
All four packages offer basic features, such as unlimited work orders, time and cost tracking, checklist templates, shared work orders, preventative maintenance, and monthly PM schedulers, but the Starter package lacks the signature capture feature available on the Professional package. Both the Business Plus and Enterprise packages offer daily and weekly PM schedulers, workflow automation, and an offline mode, features lacking on the Starter and Professional packages.
Work Requests:
All packages feature unlimited work requests and image attachments, but the Professional, Business Plus, and Enterprise packages also feature a request portal.
Asset Management:
All packages offer basic features, such as unlimited assets, locations, and parts, inventory management, and meter readings, but the Starter package lacks the PDF and video upload feature offered by the Professional Package. Both the Business Plus and Enterprise packages also feature asset downtime, depreciation, and warranty tracking, asset lockout tagout, and purchase orders. These extra features are not available on the Starter and Professional packages.
Reporting:
The Starter package features PDF and CSV reporting and full work order histories, while the Professional package also includes a reporting dashboard. The Business Plus and Enterprise packages offer these features as well as API access.
Integrations:
The Starter and Professional packages do not offer any integrations. On the Business Plus package, users have access to Slack, business integrations, and APIs. The Enterprise package offers these integrations as well as Monnit Sensors and other custom integrations.
Support:
All plans come with articles, training webinars, and chat support. The Professional plan also includes phone support while the Business Plus plan includes access to a dedicated account manager. The Enterprise plan offers all of these support options as well as on-site implementation and training.
Free Version:
There is a free version of UpKeep that is designed for maintenance technicians who want to streamline their individual workdays. The free version is designed for single users looking to manage their own tasks and does not allow users to view their work order history.
Package Comparison:
| Plan Name | Best for | Basic Functions | User Essentials |
| --- | --- | --- | --- |
| Starter | Small and mid-sized businesses. | Advanced reporting around maintenance activities. | 1 - 5 users can pay monthly or annually, 6 or more users can only pay annually. |
| Professional | Mid-sized businesses. | Advanced asset tracking, maintenance scheduling, and reporting w/ APIs. | Only annual plans are available with a minimum of 5 users. |
| Business Plus | Enterprises. | Streamline maintenance at a multi-level facility. | Only annual plans are available with a minimum of 25 users. |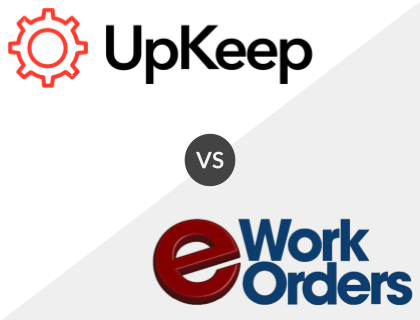 UpKeep vs. eWorkOrders:
While UpKeep is slightly more expensive than eWorkOrders, it offers far more support options than eWorkOrders. UpKeep also offers more solutions, such as asset, facility, and property management, while eWorkOrders focuses on CMMS. eWorkOrders is also module-based while UpKeep is all-inclusive, depending on the selected price plan.
UpKeep vs. eWorkOrders Comparison:
| Offer | UpKeep | eWorkOrders |
| --- | --- | --- |
| Starting Price | $45.00 /user /mo. | $1,980.00 /yr. |
| Highest Price | $75.00 /user /mo. | $120.00 /user /mo. |
| Free Trial/Demo | Software demo and 14-day free trial. | Software demo. |
| Customer Support | Articles, training, videos, chat, phone, account manager. | Training, videos, phone, email. |
| Mobile Support | iOS and Android apps. | Windows, Android, and iOS apps. |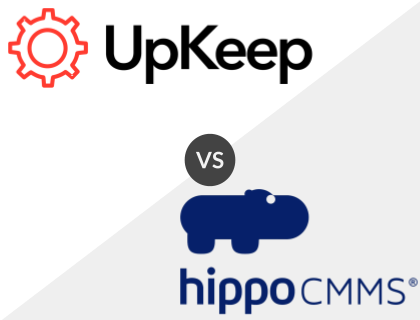 UpKeep vs. Hippo:
UpKeep may be more expensive than Hippo (although Hippo's pricing depends on their clients' customization choices) but it does offer more in terms of customer and mobile support. UpKeep also offers a free version while Hippo only offers a 14-day free trial. UpKeep also offers a range of solutions while Hippo only focuses on maintenance management.
UpKeep vs. Hippo Comparison:
| Offer | UpKeep | Hippo |
| --- | --- | --- |
| Starting Price | $45.00 /user /mo. | $39.00 /mo. |
| Highest Price | $75.00 /user /mo. | $99.00 /mo. |
| Free Trial/Demo | Software demo and 14-day free trial. | 14-day trial and software demo. |
| Customer Support | Articles, training, videos, chat, phone, account manager. | Articles, training, videos, email, phone. |
| Mobile Support | iOS and Android apps. | Web-enabled tablets. |
Features:
| | |
| --- | --- |
| Work Orders | Work Requests |
| PM Scheduling | Maintenance Checklists |
| Inventory Management | Mobile CMMS |
| Workflow Automation | Depreciation Tracking |
| Warranty Tracking | Downtime Tracking |
| Time and Cost Tracking | QR Codes |
| Meter Readings | Lockout Tagout |
| Purchase Orders | Maintenance Reports |
Industries:
UpKeep's maintenance management software works particularly well for the following industries:
Manufacturing.
Equipment.
Facilities.
Farming/Agriculture.
Building.
Property.
Hospitality.
Restaurants.
Small Businesses.
Churches and Non-Profits.
Fleets.
Schools.
City Municipalities.
Gyms and Fitness.
Integrations:
| Category | Third-Party Integration |
| --- | --- |
| Communication | Microsoft Teams, Slack, and Zendesk. |
| Customer Relationship Management (CRM) | Salesforce. |
| Enterprise Asset Management (EAM) | Infor and IBM Maximo. |
| Enterprise Resource Plannning (ERP) | QuickBooks Online, Microsoft Dynamics, and Oracle Netsuite. |
| Sensors and Hardware | Monnit, Drone Deploy, and Titan GPS. |
| Security and Privacy | Microsoft Azure Active Directory, OneLogin, and Okta. |
| Other | Looker, Domo, REST API, Webhooks, Coupa, Xero, Tableau, Zapier, and Power BI. |
Additional Products:
Asset Management:
UpKeep's asset management software allows users to automate their preventative maintenance tasks but creating maintenance requests and assigning work orders to technicians. Assets include machines, equipment, vehicles, and facilities.
Users can manage and track every asset from one platform and create one-time or recurring work orders. You can also manage your inventory for replacement parts, liquids, and accessories and keep track of inventory used in work orders and received from purchase orders.
Technicians can be assigned work orders and business owners can view open and pending work orders for each technician as well as review a technician's full work order history. Also, equipment operators, drivers, and machinists can create maintenance requests when they notice an issue from their smartphones.
Facility Management:
UpKeep's facility management software allows business owners to manage their facility's technicians, assets, and inventory and increase productivity with scheduled inspections and live reporting. With the facility management software, users can create equipment-specific work orders, inspection checklists, troubleshooting documents, and visual references for each asset. Users can also add parts to work orders and create purchase orders for vendors, which will be tracked for inventory management.
Business owners can assign work orders to in-house maintenance technicians and external service providers as well as generate shareable links to transfer knowledge to the external service providers. Finally, owners can allow anyone in their facility to submit maintenance requests from their smartphones without having full access to the owner's account.
Property Management:
UpKeep's property management software allows users to schedule regular maintenance, receive maintenance requests from guests and tenants, and assign work orders for emergency repairs. Property owners can avoid complaints with recurring work orders and keep their tenants updated on repairs.
Users can view pending or completed work orders for any building or room and schedule recurring work orders for preventative maintenance. Work orders can be assigned to the in-house maintenance team who then update the work orders on their smartphones when completed while owners keep track of any parts used in work orders.
Owners can view complete maintenance histories for any unit and add notes, floorplans, and other documentation. Information can be shared with plumbers, electricians, and other contractors with public links and property owners can communicate with them directly through the app.
Inventory Management:
UpKeep's inventory management software allows users to manage inventory with barcode scanning, maintain stock levels of vital supplies, add parts to work orders and automatically update the inventory count, and restock the inventory with purchase orders.
There is also an inventory management app so that users can manage their inventory from their tablet or smartphone, add parts manually or with QR code scanning, and request parts from the storeroom manager with the in-app messaging feature.
Enterprise (EAM):
UpKeep for Enterprise Asset Management is designed for multi-level facility management and is ideal for more than 25 technical users. The Enterprise dashboard features advanced reporting for insights into each facility, how facilities compare, and an overall view as well as team account management across facilities. Users can link multiple accounts or allow each facility to own and customize their specific account. UpKeep's EAM solution focuses on the overall equipment effectiveness of a plant to improve the plant's reliability.
UpKeep Sensors:
UpKeep offers a sensor that uses the Internet of Things to monitor asset health and facility conditions and to track downtime in real-time. The temperature sensor allows users to set high and low limit thresholds and receive notifications to prevent damage or overheating.
The following sensors are not available yet but coming soon:
GPS/mileage sensor: track fleets and vehicles and run preventative maintenance based on mileage.
Voltage meter sensor: view energy used, receive notifications when equipment is powered down, and track downtime.
Pressure sensor: view the amount of compressed gas in a tank and receive alerts when tanks need refills.
Vibration sensor: see when a motor is malfunctioning and trigger downtime in UpKeep.
Humidity sensor: monitor the humidity in a building or within a room and create triggers for when the humidity gets too high or low.
Key Information:
| | |
| --- | --- |
| Legal Name | UpKeep Maintenance Management |
| Founder | |
| Founding Date | Jan 01, 2014 |
| Address | 10880 Willshire Blvd., 850 Los Angeles, CA 90024 Unites States |
| Number of Employees | 150 |
| Number of Customers | 3000 |
| Email | |
| Telephone | |
| Website | |
FAQs: