The Best Sources for Office Supplies in 2019
Check out our list of the best suppliers companies supplies. Get your office supplies online discounted, from the best sources.
Updated on July 15th, 2019
The SMB Guide is reader-supported. When you buy through links on our site, we may earn an affiliate commission. Learn more
Office supply companies provide everyday business items like paper and pencils to ink cartridges, staplers, paper shredders and beyond. Many of these provide online office supply services that let companies refill supplies without leaving the office.
Top Places to Order Office Supplies Online:
| Our Rank | Office Supply Company |
| --- | --- |
| 1. | |
| 2. | |
| 3. | |
| 4. | |
| 5. | |
| 6. | |
| 7. | |
| 8. | |
| 9. | |
| 10. | |
FAQs:
What office supplies do I need?
It depends on your business needs. However, the most popular office supplies include:
Pens and pencils.
Highlighters.
Permanent markers.
Scissors.
Paper clips.
Binder clips.
Stapler.
See our list of the top places to order office supplies online.
Can I get a discount for order a large volume of business office supplies?
Some companies, like AAA Business Supplies, offer volume discounts and special discounts for recurring orders of business supplies.
Does Amazon have an office supply store?
You can order a wide variety of business office supplies from Amazon.com by navigating to the office supplies category, or by searching for the specific supplies that you would like to purchase.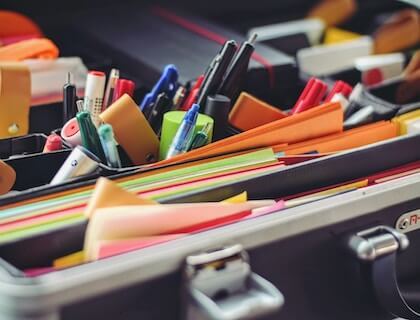 Where can I find office supplies near me?
Where can I find discount office supplies?
Try large sites like Amazon. Besides Amazon, there are multiple 3rd party sellers that may have discounts. You might also check Craigslist and Facebook Marketplace for cheap office supplies.