Best Free Logo Makers for 2023 — Ranked and Reviewed
Learn about the best free online logo makers and decide which is best for your business. Includes pricing and answers to common questions.
Updated on June 12th, 2023
The SMB Guide is reader-supported. When you buy through links on our site, we may earn an affiliate commission. Learn more
Free logo makers, also known as logo generators, are online logo design tools that allow small businesses to create and use unique business logos without having to compromise their budget. Free logo makers generally offer free low-resolution files and charge for high-resolution formats.
Read More:
Best Logo Makers - Learn more about paid logo generators.
How to Name a Business - Discover tips and strategies to giving your business a memorable name.
Promotional Products - Learn more about products that can be marked with your company's logo.
Create a Free Logo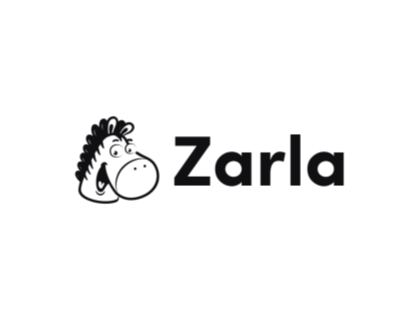 Create an amazing logo in minutes, 100% free.
Create Your Logo
Create hundreds of logos with a few clicks.
Multiple file types and instant download.
Why We Chose Zarla:
Zarla is entirely free and does not spring hidden costs at users just before they hit the download button. Other logo makers' free plans offer limited access to their features, have company watermarks all over the design, or limit the commercial rights of logos, diminishing their value to a business. Zarla is free of all gimmicks.
Zarla's logos are crafted by professional graphic designers, so all logos are of the highest quality. These logos are fully customizable, where colors, fonts, and icons can be tweaked to fit any visual style.
The platform has a user-friendly interface that makes for quick and easy logo creation with minimal design input. Design novices will find the software intuitive and not be intimidated by it.
Logos can be downloaded in every file type, including PNG files with transparent backgrounds and SVG files for easy resizing without loss in quality. Downloaded logos come in different dimensions that are ready-made for different social media platforms, giving users a versatile set of images to work with.
To utilize logos to their best advantage, check out our article on promotional products that you can print your logos on and use for marketing.
Things to Consider When Evaluating Free Logo Makers:
Evaluate the logo makers' library and the ease of browsing for a graphic that could suit your needs.
Consider how easily you, as a possible non-designer, can make an attractive logo.
See how much latitude you have to be creative with the designs.
Best Free Logo Makers:
| Rank | Name | Offer | Review | Learn More |
| --- | --- | --- | --- | --- |
| 1. | | Free. | A fast, simple logo maker that's user-friendly, powered by AI, and 100% free. Downloads include a range of file types and dimensions cut to the size of each social media platform. | |
| 2. | | Free and paid options. | Has a good library and easy-to-use platform, but does not have offline capabilities. | |
| 3. | | Free and paid options. | A fast and easy logo creation process with various file types, full customization options, and social media-ready graphics. | |
| 4. | | Free. | The free package includes social media assets but has limited graphics and design tools. | |
| 5. | | Free and paid options. | A user-friendly option with a large library but access is limited in the free version. | |
| 6. | | Free and paid options. | A simple and efficient design process with full customization, full usage rights, but no downloadable vector files. | |
| 7. | | Free. | An easy-to-use option but with limited design tools and fonts. | |
| 8. | | Free and paid options. | Plenty of customization options but the logo creation process is difficult and free logos have low image resolution. | |
| 9. | | Free. | Easy to use but all graphics are sourced from a third-party service, and there is little in the way of customization tools. | |
| 10. | | Free and paid options. | Offers easy-to-use design tools as well as a graphic design service. | |
| 11. | | Free. | Plenty of great designs and customization options are tempered by a lack of commercial rights over free logos. | |
| 12. | | Free. | Free downloads do not come with usage rights, and there are no vector downloads available. | |
| 13. | | Free and paid options. | Offers a large selection of templates and design tools that are user-friendly. | |
| 14. | | Free and paid options. | Offers beautiful templates that are easy to customize, but the free plan only allows for a landing page with few integrations. | |
| 15. | | Free. | Has limited design tools and does not offer ownership or copyrights. | |
FAQs:
What is the best free logo maker?
How can I create my own logo for free?
Choose a free logo design tool.
Enter basic info about your company.
Choose a color palette.
Choose your typography.
Choose a company symbol.
Review the logos generated.
Select a logo and customize it to your liking.
Is there a logo maker that is actually free?
Many logo makers claim to be free but spring hidden costs on you just as you're about to download your design. We've vetted the free plans of all such logo makers to weed out the imposters. Our most recommended free logo maker is Zarla, while Canva is a close second.
Should I use a free logo maker?
You should use a free logo maker if you want to create a logo without spending too much time thinking about the design, if you're hosting a low-key social event and want a logo for it without too much hassle, or if you're a small business with a tight branding budget. There are plenty of great free logo makers that would do the job for you.