ZOSI 8CH 1080P CCTV DVR System Reviews
Learn more about ZOSI 8CH 1080P CCTV DVR System features and pricing, see what customers have to say, and get answers to common questions.
Updated on March 30th, 2022
The SMB Guide is reader-supported. When you buy through links on our site, we may earn an affiliate commission. Learn more
The ZOSI Security Recorder range consists of several high-definition DVRs for security camera systems. The ZOSI 8-channel 1080P CCTV DVR System comes with four indoor/outdoor HD bullet cameras with night vision and motion detection.
Buy Now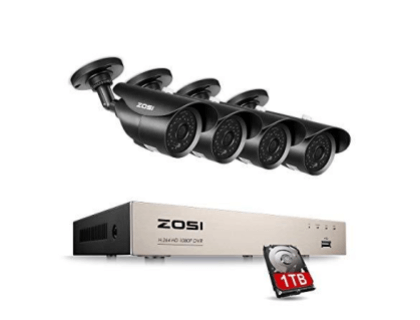 Outdoor Weatherproof Surveillance Camera System
Buy on Amazon
Motion alert.
100ft night vision.
Smartphone and PC easy remote access.
Pricing:
| DVR Type | List Price |
| --- | --- |
| ZOSI 8CH 1080P CCTV DVR System and 4 x 1080P Bullet Security Camera | $179.99 |
| ZOSI 16CH 1080P 4-in-1 DVR Free Smart Detection Alert App | $159.99 – $339.99 |
| ZOSI 8CH 1080P 2MP DVR for CCTV Security Camera System | $119.99 – $199.99 |
| ZOSI 1080P 4 Channel TVI DVR Free Motion Detection App | $109.99 – 159.99 |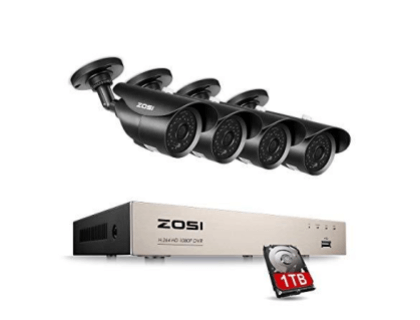 Review:
Pros: Easy to set-up and install, clear image quality, good night vision.
Cons: Issues with remote viewing.
Bottomline: Affordable security camera system with HD video and excellent night vision.
Key Features:
| Feature | Description |
| --- | --- |
| Image Resolution | 1080p |
| View Field | 75° |
| Placement | Indoor/Outdoor |
| Storage | Local, H.264 8CH 1080P HD-TVI DVR with 1TB Hard Drive pre-installed |
| Power | Cord |
| Smart Home Compatibility | No |
| Night Vision | Yes |
| Notifications | Email |
| App | Mobile (App Store and Google Play)` |
| Motion Detection | Yes |
| Other Features | The 4-in-1 DVR supports 4 kinds of camera models: Analog, AHD, TVI and CVI |
Reviews:
| Source | Review |
| --- | --- |
| | If anybody looking to get cameras Zosi Technology is the way to go!!!! |
| | IMHO, the Zosi system is useless. It's old technology coax instead of IP. The cameras are 1080 at 15FPS instead of 30FPS industry standard. The compression is also old technology with H264 instead of H265. With 4 cameras running 1080@15fps. 24/7 recording, you'd need 1.6TB to get 14 days recording. The degree of the camera is determined by the cameras focal point (2.8mm, 4mm, 6mm, 8mm etc). Finally the IRs are only 65ft, which in reality is probably less than that. Do yourself a favor and spend a little more to get much better quality. |
| | I had recently bought the security camera system. I couldn't be more than happier. The installation was a little hard but the tech support was absolutely wonderful. I recommend this to anybody who's thinking about getting security cameras to protect their home business or anywhere else. I love this system. It was easy to install and the tech support was amazing. You won't be disappointed . |
FAQs:
Where can I buy the ZOSI 8CH 1080P CCTV DVR System?
You can buy the ZOSI 8CH 1080P CCTV DVR System online directly from Zosi Tech or from Amazon.
Do I need a computer to see my cameras remotely or is my wireless router and smartphone all I need?
The free Zosi Smart app allows you to view all of your cameras from one device, as long as you have an internet connection. The app supports iPhone, Android, and iPad.
Is the ZOSI 8CH 1080P CCTV DVR System expandable?
Yes, the ZOSI 8CH 1080P CCTV DVR System is a 4-in-1 DVR that supports analog, HD-TVI, CVI, and AHD cameras. The 8-channel system allows you to add an additional four 720P or 1080P bullet or dome cameras.
How far can the ZOSI 8CH 1080P CCTV DVR System "see" at night?
The ZOSI DVR System can record up to 65 feet at night.
Where can I find ZOSI 8CH 1080P CCTV DVR System review information?
The ZOSI 8CH 1080P CCTV DVR System has been reviewed over 1,000 times on Amazon and gets 3.8 out of 5.0 stars.
What are some ZOSI DVR System alternatives?