Free Digital Signage Software
Learn more about the best free digital signage software providers, with frequently asked questions and info on free offers.
Updated on January 18th, 2023
The SMB Guide is reader-supported. When you buy through links on our site, we may earn an affiliate commission. Learn more
Digital signage is used by businesses in various industries to advertise or display menus, promotional deals, or other information using technology such as LCD screens and graphic displays. Free digital signage software allows you to create your own digital signage so that you can advertise your brand to customers.
Read More:
Best Digital Signage Providers - Learn more about paid digital signage providers.
Why We Chose Concerto:
Concerto is an excellent digital signage platform that is entirely free. Among its many features it offers are categorized feeds, multimedia displays, multi-platform functionality, and the ability to optimize the selection and management of multiple projects.
Concerto users laud its minimalist approach to data, updates, and reports, while going beyond merely tracking and reporting to deliver a comprehensive digital signage platform.
Things to Consider When Evaluating Free Digital Signage Software:
Ensure that it handles all media formats, including 4K video and live streaming.
Pick a platform that allows for automated content delivery, ensuring that you can schedule your content beforehand and allow for better planning.
As with any free software, you need to determine your unique business needs and find out whether the free version of the software caters to all those needs. If not, you might have to upgrade to a paid account.
Best Free Digital Signage Software:
| Rank | Name | Offer | Review | Learn More |
| --- | --- | --- | --- | --- |
| 1. | | Free. | A highly recommended digital signage platform that is open-source, offering plenty of customization options although requiring some technical expertise. | |
| 2. | | Free and paid options. | A great open-source platform that offers useful features like customized templates and widgets, among others. | |
| 3. | | Free. | Offers a comprehensive set of features and an intuitive user-experience. | |
| 4. | | Free. | A great open-source option with a wide range of features. Requires some technical expertise. | |
| 5. | | Free 14-day trial. | A good platform with great support and useful features. | |
| 6. | | Free 14-day trial. | Offers a rich feature range with Google Docs and Calendar integrations. Steep learning curve. | |
| 7. | | Free. | A Google Chrome plugin that offers plenty of useful features, but functions more like a content scheduler than a digital signage tool. | |
| 8. | | Free 30-day trial. | Has a wide range of useful features and is extremely easy to use. | |
| 9. | | Free 28-day trial. | A comprehensive digital signage tool that supports a wide range of file types. | |
| 10. | | Free 14-day trial. | A powerful and intuitive platform that has iPad compatibility. | |
FAQs: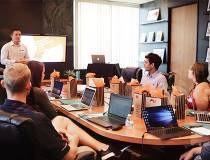 What is the best free digital signage software?
Should I consider paid digital signage?
Possibly. Free digital signage software is flexible and allows you to create appealing content, and manage your digital display from a content management system (CMS) at no cost.
With that said, most free options have basic functionality so you'll have to pay for a premium plan if you want custom videos, digital menu boards or weather updates. Check out our article on paid digital signage.
What can I do with free digital signage?
With free digital signage, you can create simple advertising content such as digital signs or displays using text and images.
Is there a Google Chrome digital signage app?
There is a Chrome app for digital signage that can be used on devices with a Chrome operating system or on the free Chrome web browser. The app can be downloaded for free and includes signage scheduling and management features.
Can I play free digital signs for business on any digital signage player?
Yes. You can display your digital signage content on almost any remote screen or digital signage media player. However, if you want to operate more than one screen you'll have to pay for a premium plan, as most software providers only allow the use of one screen on a free plan.
This, of course, differs with open-source digital signage but if you're not tech-savvy you'll probably have to hire a web designer to create signage for you.
Where can I find a free digital signage software download?
Whether you need to create business signs or electronic signs, there's no need to visit a sign company. Simply download and install free digital signage solutions on your desktop and start creating beautiful digital signs today.