The Best Trucking Factoring Companies for Small Businesses
Learn more about invoice factoring services for trucking companies to help manage your cash flow. Includes pricing and FAQs.
Updated on September 19th, 2023
The SMB Guide is reader-supported. When you buy through links on our site, we may earn an affiliate commission. Learn more
Trucking factoring, also known as invoice factoring, is when trucking companies and owner-operators sell their invoices to a factoring company for instant funding after they've delivered goods. This allows trucking companies to manage their cash flow while they wait for payment from shippers or freight brokers.
Things To Consider When Evaluating Trucking Factoring Companies:
Be sure to read the fine print for any hidden fees. Along with factoring rates you'll have to pay, there are sometimes extra charges for credit checks, subscriptions, etc.

Learn as much as you can about invoice factoring. If badly understood, it can become costly due to penalties, etc. Learn about how payments should be directed, and what can and cannot be factored.

Invoice Factoring is not ideal for long-term financing. It is expensive. If you can get it, bank credit is better for a small business.
Best Invoice Factoring Companies for the Trucking Industry:
| Trucking Factoring Company | Discount/Factor Rate | Funding Amount | Reviews |
| --- | --- | --- | --- |
| | Starting at 1.0% | Quote only. | Easy to use, but only available to small businesses. |
| | - | Quote only. | 24-hour turnaround time, does not offer free credit checks. |
| | Starting at 1.0% | $25,000 to $10 million | Factors for select brokers only, but do offer 100% advances. |
| | - | $5,000 to $3 million | Accepts high-risk customers, but has a $2 million accounts receivable ceiling. |
| | 1.25% – 2.0% invoice amount for 30 days | Quote only. | Good reputation. Charges a termination fee. |
| | 1.0% – 4.0% per month | $50,000 to $20 million | Very strict contracts, but excellent customer service and support. |
| | 1.0% – 6% per month | $50,000 to $5 million | No credit score required, ideal for B2B businesses. |
| | 0.5% – 5% per month | $30,000 to $5 million | $5 million in funds available if your monthly earnings are greater than $30,000. |
FAQs:
What is a factoring company in trucking?
Factoring companies buy invoices for the freight you have already delivered. Factoring is money advanced on accounts receivable and is an easy way to manage cash flow.
How much does trucking factoring cost?
Freight factoring companies typically charge between 1% – 6% based on the total value of your invoice amount which can be paid either weekly or monthly. Your advance will depend on the length of time it takes for your client to make payment (usually within 30 - 60 days).
How does trucking factoring work?
Trucking factoring (a.k.a freight factoring and accounts receivable factoring) is a financing option that allows trucking companies to be paid immediately for services rendered.
A factoring company will fund between 80% – 90% of the invoice amount within 24 hours and then pay out the remaining amount, less any fees, once the client has paid off the invoice. Trucking factoring is beneficial for small owner-operators as it enables them to take on additional work in the interim and manage cash flow.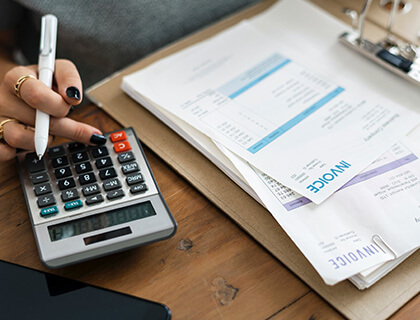 What are the minimum requirements to qualify for freight factoring?
Qualifying terms vary from company to company, but the minimum requirements are that your business has been in operation for at least 3 – 6 months, your annual revenue is at least $20,000, and that you've not had bankruptcies within the last two years.
What are the pros and cons of accounts receivable factoring?
Pros:
Provides you with cash immediately.
Maintains cash flow.
Allows you to offer payment terms to clients.
Easy to obtain compared to a business loan, etc.
Invoices are used as collateral.
Allows you to outsource a time-consuming task.
Cons:
Fees can be steep for a small business.
You may be liable for unpaid invoices.
Your customers' payment history will be checked.
You are forced to hand over financial control to a third-party.
How do I choose a factoring finance company?
It's important that you do your research and not rush the process when looking at freight factoring companies. Here are a few things to consider:
How long has the factoring company been in business? Choose a factoring company that has been in business for a few years and has experience in dealing with small businesses like yours.

What are the terms and rates? Consider a factor's fee structure and payment terms carefully and be wary of those with extremely low factoring rates – they could make up for it by lumping you with hidden fees or charges.

Does the factor offer recourse or non-recourse funding? Although a recourse loan is more cost-effective, the business owner is required to provide a full refund if the invoice is not paid by the customer. Because you are assuming all risk, rates are generally lower. With a non-recourse loan, the factor assumes all risk but will inevitably charge higher fees.