Vivint Outdoor Camera Pro
Learn more about the Vivint Outdoor Camera Pro. Includes information on key features, customer reviews, and frequently asked questions.
Updated on November 4th, 2019
The SMB Guide is reader-supported. When you buy through links on our site, we may earn an affiliate commission. Learn more
The Vivint Outdoor Camera Pro is an outdoor security camera with a 1080p video, HD zoom, 140 degree angle lens, night vision, and a hybrid wired Wi-Fi connection. This camera's Smart Security™ feature identifies possible intruders and sends an alert to notify loiterers that they've been spotted.
Pricing:
Vivint does not list pricing on their website, but you can call them on 1 (877) 560-6050 to request a free quote or more information.
Also Consider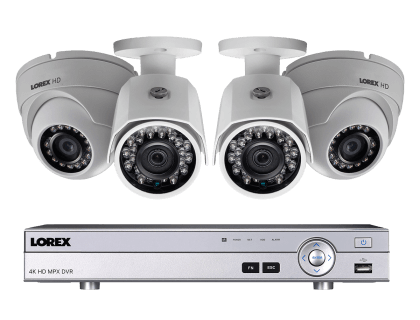 with Night Vision Cameras
Buy on Amazon
HD video.
Auto-on detection.
Up to 150 ft. night vision.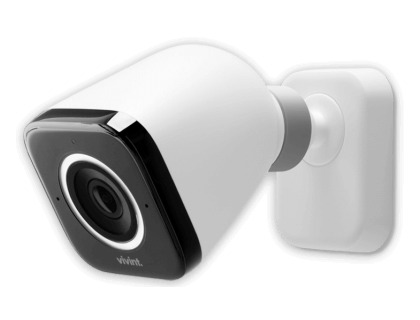 Review:
Pros: Includes Smart Security™. Mobile app allows you to live stream or watch archived feeds.
Cons: Requires professional installation.
Bottomline: A secure outdoor camera that will sound a tone to alert loiterers that they've been spotted.
Key Features:
| Feature | Description |
| --- | --- |
| Image sensor | 4K Ultra HD with high dynamic range |
| Maximum video resolution | 1080p |
| Field of view | 140° |
| Connectivity | PoE, PLC & Wi-Fi bridge |
| Zoom | 3x HD Zoom, 10x Digital |
| Night Vision Range | 55 ft. |
| Weatherproof rating | IP 65 |
| Clip length | Event-based 10-90 seconds |
| Speaker | 85dB |
| Microphone | Two far-field mics with echo canceling |
| Size | 2.8" w x 5.9" d |
| Still photographs | High resolution digital color photos saved to your mobile device. |
Reviews:
| Source | Review |
| --- | --- |
| | If you are a current Vivint customer, and have a single outdoor security camera or multiple cameras, it's worth considering this new 4k HD outdoor camera. The picture quality is clear and crisp, especially when you compare it to any other camera as well as Vivint's own smart video doorbell videos. The Smart Sentry is also a nice touch, and two-way communication turns the camera almost into a smart video doorbell — but without the doorbell. If you are not a Vivint customer, this camera could make you want to become one. The device is that good and works nicely with the company's smart home security system. We have seen and tested many outdoor security cameras and can tell you none have had the picture quality like this specific camera. When you add in Smart Sentry technology, as well, it becomes a powerful security device to help alert you of unwanted visitors who might be lingering a little too long outside your home. |
| | The Vivint Outdoor Camera Pro is a pricey security cam with a useful intruder alert feature, but it's designed exclusively for use with the company's security system and requires professional installation. |
FAQs:
What outdoor camera does Vivint use?
Vivint features the Outdoor Camera Pro and the Doorbell Camera.
Are Vivint cameras good?
Vivint's outdoor cameras cover pretty much everything you could need. The Outdoor Camera Pro features a 4K image sensor, person and lurker detection, two-way talk, a siren, and infrared night vision.
How much does a Vivint outdoor camera cost?
Vivint does not list pricing on their website, but you can call them on 1 (877) 560-6050 to request a free quote or more information.
How do I set up my Vivint outdoor camera?
The Vivint Outdoor Camera Pro requires professional installation, which will be provided by Vivint.
Are Vivint outdoor cameras wireless?
Yes. Vivint uses a Hybrid Wired Wi-Fi Connection, giving you the speed of a wired connection with the flexibility of a wireless camera.
Do Vivint cameras work without Wi-Fi?
No. Vivint cameras run off of a Wi-Fi connection which is also needed to transfer all security images and video clips to your Vivint Smart Drive cloud storage.
Can I use Vivint equipment without monitoring?
No. Vivint equipment must be used with Vivint's monitoring service, which is included in the pricing.
Do Vivint cameras have audio?
Yes. The Vivint Outdoor Camera Pro includes a speaker and microphone for two-way talking.
How many cameras does Vivint support?
Vivint does not provide this information on their website.