Excede by Viasat Business
Learn more about Exede by Viasat Business. Includes information on pricing, reviews, and frequently asked questions.
Updated on September 21st, 2023
The SMB Guide is reader-supported. When you buy through links on our site, we may earn an affiliate commission. Learn more
Exede by Viasat is a global communications company that offers fast, nation-wide business internet with unlimited data plans available. Exede offers broadband capabilities to multiple business types, from farms, warehouses, and restaurants to the military or people in the air or at sea, as well as offering a satellite internet backup option.
Pricing:
Exede's plans start at $50.00 per month. For the exact pricing for internet and unlimited data plans in your area, go to Exede's website and enter your ZIP code or contact Exede directly on 1 (855) 863-6566.
Pricing for Business Internet Add-ons:
| Add-on feature | Pricing per month |
| --- | --- |
| Business Voice | $25.00 |
| Business Hotspots | $40.00 |
| Secure Network Accelerator | Contact Exede for a consultation. |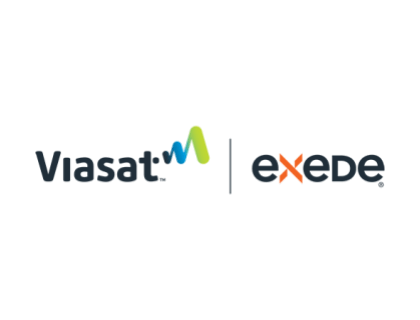 Review:
Pros: Offers broadband speeds of up to 100 Mbps. Installations completed in 3 to 5 business days.
Cons: Exede charges a cancellation fee of $15.00 for every month remaining on your contract. Exede increases your contract price after 3 months.
Bottomline: Exede by Viasat is a fast, affordable, and global business internet solution that works well in a wide range of places and situations.
Key Information:
| | |
| --- | --- |
| Co-Founders | Mark Dankberg, Steve Hart, and Mark Miller |
| Founded | 1986 |
| Headquarters | Carlsbad, California |
| Number of Employees | 5,001-10,000 |
| CEO | |
| Address | 6155 El Camino Real, Carlsbad, CA 92009 |
| Phone number | 1 (855) 810-1308 |
| Website | |
Reviews:
| Source | Review |
| --- | --- |
| | We have Exede, and before that we had HughesNet. Of the two companies we MUCH prefer Exede- great customer service, we've gotten a real English-speaking person each time we've called. Our service is much more reliable with Exede than it was w/ HughesNet, but it will go out in heavy rain. The main issue I would say is the download limit. We have a higher-up plan, with the Liberty Pass. It does cost more $#$, but we run out of allowance regularly by the last week before our monthly renewal. WIth the Liberty Pass, I have no problem with my kids watching a few videos during school hours that last week. As far as robbing allowance, HughesNet was terrible about that! We watch our allowance at least once per day, and we shut off internet availability (disconnect router) anytime we are not actively using the Net. Having both companies, and watching so close, I would strongly recommend Exede over HughesNet, even if the plan looks like it's better. |
| | I spoke to a few people who had Exede who expressed satisfaction. However, all but one were names given to me as references by the dealer. In my area more people seem to have HughesNet, but I had decided to choose Exede because it was supposed to give better, faster service in terms of the internet connection itself. |
| | We have Exede. No complaints - it is exactly as advertised for us. My lRents have Hughes Net and their internet speeds. Are much slower than ours. |
| | I have Exede and am very happy with them. In fact, I just upgraded to the Liberty 30 plan. |
FAQs:
Is Viasat internet any good?
Exede by Viasat offers global internet services with speeds ranging from 12 to 100 Mbps. They also offer a satellite internet backup connection. However, satellite internet can be somewhat unreliable depending on the weather and the correct placement of the satellite dish.
How much does Viasat cost?
Exede by Viasat's plans start at $50.00 /mo. with some add-on features starting at $25.00 /mo. For more detailed pricing, go to Exede's website and enter your ZIP code or contact Exede directly at 1 (855) 863-6566.
Does Viasat offer unlimited internet?
Yes. Exede by Viasat recently introduced new unlimited internet plans with no hard caps. New and existing customers can choose from 3 or 4 unlimited internet plans, depending on your location.
Is Viasat affected by weather?
Severe thunderstorms or snow showers could temporarily disrupt Exede by Viasat's connectivity, but cloud cover and light rain or snow should not disrupt your connection.
Is Viasat truly unlimited?
Yes, Exede by Viasat offers unlimited data plans. However, your data speed will be capped after you reach a certain limit.
Is Viasat better than HughesNet?
Exede by Viasat and HughesNet's pricing is similar, but HughesNet offers fixed pricing, while Exede's pricing increases after 3 months. Exede's internet speeds are much faster than HughesNet, ranging from 12 Mbps to 100 Mbps, while HughesNet's speed is fixed at 25 Mbps. HughesNet's data cap limits are also lower than Exede's.
Does Viasat check credit?
Yes. Exede by Viasat will run a preliminary credit check before approving any internet services.
Does Viasat have TV?
Exede by Viasat offers an internet bundle with DIRECTV with a minimum base TV package of $29.99 /mo. Pricing on Exede's internet services varies based on your area. However, this bundle offers you a saving of $10.00 /mo. on your internet services for the first 12 months.
Can I use my own modem with Viasat?
Yes. Exede by Viasat works with any modern router.