Ting Review
Learn more about Ting's services with our review, pricing, key information, and answers to frequently asked questions.
Updated on March 31st, 2020
The SMB Guide is reader-supported. When you buy through links on our site, we may earn an affiliate commission. Learn more
Ting is a mobile virtual network operator (MVNO) and internet service provider that offers services such as calls, text messaging, data, and international coverage using two networks - Sprint and T-Mobile.
Pricing:
| Number of Users | Monthly Base Price |
| --- | --- |
| 1 | $6.00 |
| 2 | $12.00 |
| 3 | $18.00 |
| 4 | $24.00 |
| 5 | $30.00 |
| 6+ | $36.00 + $6.00 per additional user (maximum of 100 users) |
Additional Voice Package:
| Number of Minutes (Calls) | Price |
| --- | --- |
| 1 - 100 | $3.00 |
| 101 - 500 | $9.00 |
| 501 - 1,000 | $18.00 |
| 1,001 - 2,100 | $35.00 |
| 2,100+ | $35.00 + $1.90 per added minute |
Additional SMS Package:
| Number of Texts | Price |
| --- | --- |
| 1 - 100 | $3.00 |
| 101 - 1,000 | $5.00 |
| 1,001 - 2,000 | $8.00 |
| 2,001 - 4,800 | $11.00 |
| 4,800+ | $11.00 + $0.25 per added text |
Additional Data Package:
| Data Limit | Price |
| --- | --- |
| 1 - 100 MB | $3.00 |
| 101 - 500 MB | $10.00 |
| 501 MB - 1 GB | $16.00 |
| 1.1 - 2 GB | $20.00 |
| 2 GB+ | $20.00 + $10.00 per added GB |
International Roaming Features:
| Feature | Price |
| --- | --- |
| International Calls | Minimum of $0.30 per minute, depending on the country. |
| International SMS - Inbound | Free. |
| International SMS - Outbound | $0.12 per message, depending on the location. |
| International Data | Minimum of $0.25 per MB, depending on the country. |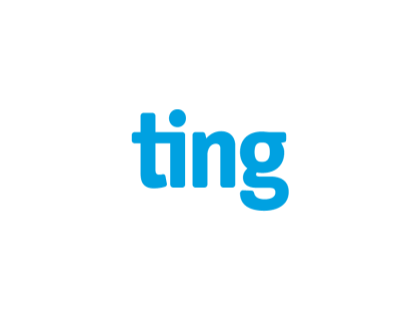 Review:
Pros: Offers good benefits at low monthly costs with no contracts. Coverage is available over two nationwide networks.
Cons: International coverage is available in fewer countries than with competitor's international plans. Phones and data costs can be expensive.
Bottomline: Ting is an easy-to-use network with no hidden fees, device flexibility, low costs for international roaming.
Key Information:
| | |
| --- | --- |
| Founder | |
| Founded | 2012 |
| Headquarters | Toronto, Ontario, Canada |
| Parent Company | |
| CEO | |
| Number of Employees | 50 |
| Address | 96 Mowat Avenue, Toronto, ON M6K 3M1 Canada |
| Phone Number | 1 (855) 846-4389 |
| Website | |
Reviews:
| Source | Review |
| --- | --- |
| | I am no longer a Ting customer, but I had a good experience under them. |
| | FWIW my Ting GSM coverage in Europe has been generally even better than in the US. Texts and calls while roaming should be cheaper and more convenient than buying a prepaid SIM. Data is where you need to be very, very careful. Review the rates, make sure you understand how much data you're using, and strongly consider a prepaid SIM if it will be more than a little bit. By the way: there is a toggle in your settings on Ting's website to enable international roaming. Be sure to enable it. It's off by default. |
| | I just got back from spending 12 days in Canada. I'll admit I was very nervous about how this was going to work. My old carrier charged me $5/day to use Telus or Bell. Since I was going to be paying by the MB with Ting, I was concerned that my bill would be crazy high. I was wrong! I was very conservative with my data usage and was able to only have about $10 in international data for the whole trip! That would have been $60 on my old carrier! The coverage was great too. I drove from Victoria to Ottawa and coverage only dropped in a couple spots. Thanks for being awesome. Now if only I didn't keep hitting dead spots around NH ;-) |
| | I have 5 phones on my ting account in 4 different cities for the last 5 years and I love it. I pay about $120 a month for all those phones together and no issues. Sure, if you go off the main road in south carolina, you have no signal, but you can hear the banjos better. If you want perfect service and like to pay a lot, get verizon. |
| | International roaming - ultralight usage We had no unexpected charges last summer in Nepal and India. We were just charged for what we used, only added a few dollars to our trip. And keeping you normal SIM/number is really useful when keeping in contact, checking hotel reservations, etc. However you may want to check the bands your phone supports against those used in India. This is based on our experience that or coverage was spotty with our phones tailored for the US market. |
FAQs:
Is Ting reliable?
Ting offers coverage across Sprint and T-Mobile networks as well as international roaming. You will need to check if your area is covered by either Sprint or T-Mobile before signing on to Ting but, if covered, you will benefit from some of the same offers as a larger carrier.
Who owns Ting?
Ting was founded in 2012 by Scott Swedorski and is a subsidiary of Tucows Inc.
What network does Ting use?
Ting offers coverage across two networks - Sprint and T-Mobile.
Is Ting free?
No. Unlike some phone plans, Ting only charges for what you use. Typically, Ting users pay on average $23.00 a month per phone, on top of the base price.
Which phones work on Ting?
Ting can use CDMA and GSM phones and tablets. T-Mobile and Sprint-branded phones work best with Ting, but you can use Ting's phone compatibility checker to see if your phone will be compatible with Ting.
Does Ting have unlimited data?
No. Ting users will be billed according to what they use. High data usage can result in quite high monthly bills.
Does Ting work with an iPhone?
Any T-Mobile iPhone and unlocked Apple iPhone will work with Ting. There are some models of the iPhone that do not work with Ting's GSM network, so before switching to Ting or buying a new iPhone, use Ting's phone compatibility checker.
Are Ting phones locked?
Some Ting phones are locked to Sprint's network and neither Sprint nor Ting unlock phones. Before buying a phone from Ting, contact their customer service line to check the phone's locked status.
Find Ting's customer service contact details here.
How much is Ting?
Ting's phone plans have a base price of $6 per line and you pay separately for minutes, texts, and data.
Take a look at our pricing guide.
Does Ting use Verizon's towers?
No. Ting uses Sprint's CDMA, EV-DO 3G, and 4G LTE network as well as T-Mobile's GSM service network.
Can you use Ting in Canada?
Yes. Ting's rates are $0.30 /min for voice calls, $0.12 /text message sent, free text messages received, and $0.20 /MB of data usage.
What is Ting Internet?
Ting Internet is a gigabit fiber network for home and business use. To read about Ting internet networks available in your town, go to Ting's website.
How do I activate my Ting phone?
Go to Ting.com and click Activate.
Sign in to your Ting account.
If you see the phone or GSM SIM you are activating, click Select. If not, click Select under Bring Your Own Device and enter your phone's IMEI.
If asked, enter your SIM card number (found on your card) then click Continue.
Click Select under Use An Existing Ting Number, find your number, then click Next Step.
Confirm or edit your billing information, then click Continue.
Confirm your details, read and agree to the Terms of Service, and click Continue.
Follow the next steps to finish your activation, make a test call, and click on It Worked!
Once your number transfer is completed, you will receive an email from Ting with the next steps.
Does Ting support Apple Watch?
As yet Ting does not support Apple watches.
How many customers does Ting have?
Ting has approximately 286,000 subscribers.
For more information on Ting, read our detailed guide.
Does Ting allow tethering?
Yes. You can enable tethering on your phone and any data used will count towards your monthly bill. Tethering with Ting is not an option when roaming domestically and sometimes when roaming internationally.
Is Ting prepaid?
No, Ting is post-paid. You pay for what you use.
How do I sign up for Ting?
Go to Ting.com.
Click BYOD, enter your phone's identification number, check the CAPTCHA box, and click Check to see if your phone is compatible with Ting's network. You will also see here which network your phone will work on.
Choose which network you prefer and click either Get a SIM Card or Activate Now.
If buying a SIM card, select your preferred card and create a Ting account.
Once you receive your SIM card, go to Ting.com, click Activate to activate your account, and follow the steps.
Once your account is activated, you will receive an email from Ting.
Is Ting international?
Ting supports international roaming in over 60 countries.
Is Ting available in my area?
Ting GSM services are available on a nation-wide 3G, HSPA, and LTE network.
What are some Ting alternatives?