Tello Mobile
Everything you need to know about Tello Mobile's services, pricing, key information, and frequently asked questions.
Updated on June 10th, 2022
The SMB Guide is reader-supported. When you buy through links on our site, we may earn an affiliate commission. Learn more
Tello Mobile is a mobile provider in the United States that offers calls, text messaging, international coverage, and wireless network services through the T-Mobile network.
Pricing:
Tello Mobile offers the Pay As You Go service for international calls and texts. Subscribers can load their balance using Pay As You Go Credit with the following amounts:
Tello's Pay As You Go credits can be used for minutes and texts. Rates vary for different countries, for example, Columbia's rates are 1.1 cents/min. for mobile, and 1 cent/SMS. Nigeria's rates are 9.9 cents/min. and 1 cent/SMS and Spain's rates are 2.4 cents/min. and 1 cent/SMS. You can check out Tello's destination breakdown in the blue block on the right-hand side of the page.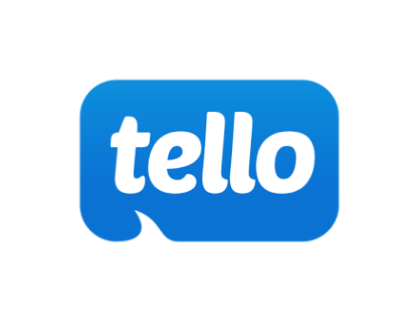 Review:
Pros: There are no contracts, activation fees, or cancellation fees. Pay-as-you-go credit can be used for international calls, texts, and data.
Cons: No unlimited data plans available.
Bottomline: Tello offers a competitive pay-as-you-go rate for people who do not have high data usages.
Key Information:
| | |
| --- | --- |
| Founder | |
| Founded | 2016 |
| Headquarters | Atlanta, Georgia, United States |
| Parent Company | Miron Enterprises |
| Managing Director | Silvana Tatu |
| Number of Employees | 50 |
| Address | 4780 Ashford Dunwoody Rd, Ste A 236, Atlanta, GA, 30338 USA |
| Phone Number | 1 (678) 306-1436 |
| Website | |
FAQs:
Does Tello have good coverage?
Tello uses T-Mobile's GSM network for nationwide coverage. As long as your area is covered by T-Mobile's network, you can use Tello without any problems.
Is Tello any good?
Tello offers good coverage, pay-as-you-go prepaid services, and international roaming. However, there is no unlimited data plan.
Do Tello minutes roll over?
Any unused balance will roll over for the following 30 days if you renew or change your plan before the end of your current billing cycle. So, if your new plan has minutes and data, then your unused minutes and data will roll over for another 30 days. If you don't renew or change your plan, any unused balance will expire at the end of your billing period.
Does Tello have Wi-Fi calling?
Yes, but you must have the Tello app (which is available on Android and iOS) to use Wi-Fi calling.
What towers does Tello mobile use?
Tello is a mobile virtual network operator (MVNO) and uses T-Mobile's GSM network.
Is Tello a GSM or CDMA?
Since Tello uses T-Mobile, which uses GSM, you will need a GSM phone to join and use Tello.
Is Tello prepaid?
Yes. You can select Pay As You Go credit to the value of $20, $30, $40, or $50. This credit is used for minutes, texts, and data and can also be used for international calls and texts.
Does Tello charge tax?
Tello collects the following fees and taxes:
Federal Universal Service Fee Charge (legal requirement).
The Federal cost recovery fee.
E911 taxes for emergency dialing.
State, Local, County, or City level taxes (depending on your address).
These taxes and fees are legally required. Tello does not charge any extra fees.
How does Pay As You Go work?
This is a prepaid credit that Tello subscribers can use for calls, texts - both locally and internationally. Credits can be added to the balance by logging in to your Tello Online Account, via the My Tello app, or by speaking to the Support Team at 1 (866) 377-0294.
Does Tello work in Romania?
Yes, you can use Pay As You Go in Romania. For additional information, you can check out this link to check the availability of the service within a specific country.
Is unlimited data included in Pay As You Go?
No. Unlimited data only applies to active data plans. Subscribers can use data from their PAYG balance as long as they have available balance and Pay As You Go data is ON (activated) on their online account.
Once the Pay As You Go balance goes below $0.50, the data is disabled and customers won't be able to share data through tethering.
Can I send international SMS and MMS using the service?
Yes, you can refer to this list to check the SMS and MMS availability per country.
Does my credit expire?
Yes. If there is no account activity for a period of three months, the credits will expire. This is effective as of September 1, 2017.
I want to automatically recharge my account. What should I do?
Auto Recharge helps Tello subscribers from worrying about getting a low balance on their accounts. Simply enable the feature on your online account and specify the amount to be automatically credited once your balance drops below $2.00.
Are calls charged per minute?
All calls are rounded up to 1-minute increments for both Pay As You Go or plan balances. For example, if you just had a call of 14 minutes and 23 seconds, you will be charged for 15 full minutes.
Can I bring my current device to Tello?
Yes, Tello offers the Bring Your Own Device program for subscribers who wish to use their current phone when signing up for services. However, you need to check if your phone is unlocked and T-Mobile Network ready. To check your device's compatibility with Tello, you can check this link. You can also call your current carrier to ensure that the phone is unlocked.
What are some Tello alternatives?