SumUp Reviews
Learn about SumUp's mobile payment service for businesses. Includes info on SumUp, free trials, pricing, customer reviews, and FAQs.
Updated on July 15th, 2019
The SMB Guide is reader-supported. When you buy through links on our site, we may earn an affiliate commission. Learn more
SumUp is a mobile credit card reader for businesses. SumUp's solutions include a virtual terminal, and contactless and chip card payments. Businesses can use SumUp to securely process mobile payment transactions.
Pricing:
SumUp charges 2.65% per transaction with no monthly fees or recurring costs.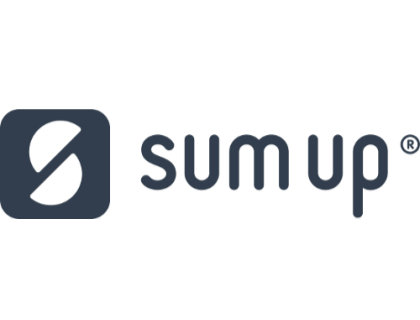 Review:
Pros: Easy-to-use and fixed transaction rates.
Cons: No customer support outside of business hours.
Bottomline: Great tool to securely process mobile payments.
News & Activity:
| Date | News or Activity |
| --- | --- |
| March 20, 2018 | |
Key Information:
| | |
| --- | --- |
| Founder | |
| Founded | 2011 |
| Headquarters | London, United Kingdom |
| Number of Employees | 1,001-5,000 |
| CEO | |
| Address | 34 Great Marlborough St, Soho, London W1F 7JB, United Kingdom |
| Phone | +44 20 3510 0160 |
| Website | |
Reviews:
| Source | Review |
| --- | --- |
| | I can recommend Sumup as another way to take payment using a mobile card reader. It makes you look more professional taking electronic payments rather than cash or cheques. It's a great bit of kit and easy. I use the Sum Up card reader to take payments by card on the road. Really low rates less than 1.69% with no fixed fee or monthly fee. Much better and cheaper than paypal. You can also take payments over the phone too. |
| | A great product !! - as an Accountant in practice, I will definitely recommend SumUp to all my clients who have a business and wish to take card payments. There are no monthly fees and no minimum transaction spend, so those with a conventional CC terminal would be better handing the terminal back and signing-up, and buying a SumUp mobile card reader. |
| | Just purchased the sumup at £19 and its so easy to set up. Payments go through fast aswell. |
FAQs:
Can you take SumUp payments over the phone?
Choose a virtual terminal provider.
Make sure you are PCI DSS-compliant.
Log into your payment provider account and select Virtual Terminal
Enter your long card number, card expiration date and card security code(3 digits at the back of your card).
Provide additional security information, such as the cardholder name or postal code.
Submit the information using the 'Submit' or 'Complete Transaction' button.
Ask the customer how they would like to receive their receipt. Give the option to email the receipt to the customer. Remember to write 'paid by phone' on your copy of the receipt for later reference.
How do I connect my SumUp card reader?
Open the SumUp App and log in with your email and password.
Select "Settings" at the bottom of the screen.
Open "Payment methods" and select "SumUp Air" to initiate the setup.
Click "Connect" once the 3 digit number shown within the app matches the 3-digit serial number on the back of your reader.
Your card reader will now sync your account information.
What is SumUp card reader?
SumUp is a mobile credit card reader for businesses. Its features include a virtual terminal and chip card payments. SumUp can be used to securely process mobile payment transactions.
See what customers have to say about SumUp here.
How long does SumUp take to pay?
Transaction processes time typically takes between 2-3 working days.
Does SumUp need WiFi?
Not necessarily. In order to process transactions, you will require a connection to the internet via WiFi or data transfer (minimum 3G).
How do I connect my SumUp to my phone?
Go to Settings.
Select Card Reader.
Select Connect your SumUp Reader.
Enter your email and password that you used when you requested the machine. This account is the one you registered with SumUp.
Confirm the Permission.
On your phone, select "PIN+".
Click Connect.
Click Next in the footer.
How do I reset my SumUp card reader?
Turn off your card reader.
Hold down the power button of your card reader for 10 seconds. You should see "Hold for BT". Another message will pop up saying "Release for BT".
Release the power button once you hear a beep.
How much does SumUp cost?
SumUp charges 2.65% per transaction with no monthly fees or recurring costs.
Is there a SumUp free trial?
Unfortunately no free trial is available for SumUp.
See more pricing information here.